Abstract
In the southernmost Brazilian city of Rio Grande, the chemical treatment of animal fur named carroting was performed between the eighteenth and twentieth century. This type of industry has led to contamination of urban soil with mercury down to the groundwater level. The present study has revealed that the dissolved mercury concentrations in groundwater in the mercury contaminated areas was up to 13 times higher than that found in the reference site. The association between SO42−, Ca2+ and dissolved mercury indicate that urban man-made grounds composed by soil, construction and demolition waste, urban rubbish and mud contaminated by "carroting mercury" serve as a source of this metal to groundwater. Despite the high level of contamination, mercury concentrations found in groundwater were below the permissible level established for potable water. Most of the dissolved mercury was chemically combined, probably with organic matter.
Access options
Buy single article
Instant access to the full article PDF.
USD 39.95
Price includes VAT (USA)
Tax calculation will be finalised during checkout.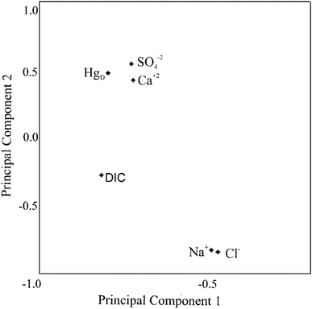 References
CONAMA Ministério do Meio Ambiente (2008) Conselho Nacional do Meio Ambiente. Resolução no. 396 (portuguese)

Fragomeni LP, Roisenberg A, Mirlean N (2010) Mercury pollution in land reclamation fills from the colonial period of the Brazil's southernmost. Quim Nova 33:1631–1635 (portuguese)

Lacerda LD, Malm O (2008) Contaminação por mercúrio em ecossistemas aquáticos: uma análise das áreas críticas. Estudos Avançados. https://doi.org/10.1590/S0103-40142008000200011 (portuguese)

Lindberg SE, Wallschlager D, Prestbo EM, Bloon NS, Price J, Reinhart D (2001) Methylated mercury species in municipal waste landfill gas sampled in Florida. Atmos Environ 35:4011–4015

Machado W, Moscatelli M, Rezende LG, Lacerda LD (2002) Mercury, zinc, and copper accumulation in mangrove sediments surrounding a large landfill in southeast Brazil. Environ Pollut 120:455–461

Mirlean N, Oliveira C (2006) Mercury in coastal reclamation fills in southernmost Brazil: historical and environmental facets. J Coastal Res 22:1573–1676. https://doi.org/10.2112/04-0352.1

Mirlean N, Calliari L, Baisch P, Loitzenbauer E, Shumilin E (2009) Urban activity and mercury contamination in estuarine and marine sediments (Southern Brazil). Environ Monit Assess 157:583–589. https://doi.org/10.1007/s10661-008-0558-1

Muccillo-Baisch AL, Mirlean N, Carrazzoni D, Soares MCF, Goulart GP, Baisch P (2011) Health effects of ingestion of mercury-polluted urban soil: an animal experiment. Environ Geochem Health 34:43–53

NRCC (2004) HISS-1, MESS-3, PACS-2 Marine Sediment Reference Material for Trace Metals and other Constituents, Canada

Pimentel F (1944) Aspectos Gerais do Município do Rio Grande. Instituto Brasileiro de Geografia e Estatística, Rio de Janeiro (portuguese)

USEPA Method 1631 Revision E (2002) Mercury in water by oxidation, purge and trap, and cold vapor atomic fluorescence spectrometry. USEPA, Washington, DC

USEPA Method 7471 (1986) Digestion of solids and semi-solids for mercury. USEPA, Washington, DC

Varekamp JC, Kreulen B, Buchholtz MR, Mecray EL (2003) Mercury contamination chronologies from Connecticut wetlands and Long Island Sound Sediments. Environ Geol 43:268–282

WHO (1989) Mercury environmental health criteria 86. WHO, Geneva
Acknowledgements
The research was founded by the Foundation for Research Support of the State of Rio Grande do Sul, Brazil (FAPERGS, Grant 12/0290-2).
About this article
Cite this article
Quintana, G.C., Mirlean, N. Groundwater Contamination by Mercury from the Aforetime Carroting Practice. Bull Environ Contam Toxicol 100, 839–842 (2018). https://doi.org/10.1007/s00128-018-2333-5
Received:

Accepted:

Published:

Issue Date:
Keywords
Mercury

Groundwater

Contamination

Carroting