Abstract
To evaluate the impact of uranium tailings on soil composition and soil microbial, six soil samples at different distance from the uranium tailings (Beishan City, China) were collected for further analysis. Concentrations of radionuclides (238U and 232Th), heavy metals (Mn, Cd, Cr, Ni, Zn, and Pb) and organochlorine pesticide were determined by ICP-MS and GC, they were significantly higher than those of the control. And the Average Well Color Development as well as the Shannon, the Evenness, and the Simpson index were calculated to evaluate the soil microbial diversity. The carbon utilization model of soil microbial community was also analyzed by Biolog-eco. All results indicated that uranium tailings leaded to excessive radionuclides and heavy metals, and decreased the diversity of the soil microbial community. Our study will provide a valuable basis for soil quality evaluation around uranium tailing repositories and lay a foundation for the management and recovery of uranium tailings.
Access options
Buy single article
Instant access to the full article PDF.
USD 39.95
Price includes VAT (USA)
Tax calculation will be finalised during checkout.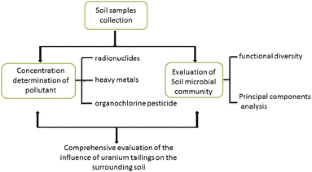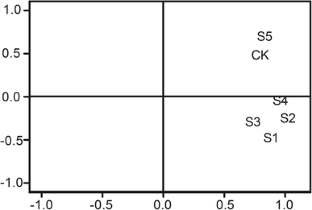 References
Álvarez-Martín A, Hilton SL, Bending GD, Rodríguez-Cruz MS, Sánchez-Martín MJ (2016) Changes in activity and structure of the soil microbial community after application of azoxystrobin or pirimicarb and an organic amendment to an agricultural soil. Appl Soil Ecol 106:47–57

Azarbad H, van Straalen NM, Laskowski R, Nikiel K, Röling W F, Niklińska M (2016) Susceptibility to additional stressors in metal-tolerant soil microbial communities from two pollution gradients. Appl Soil Ecol 98:233–242

Bergeijk VHN, Lembrechts J, Frissel M (1992) Influence of pH, soil type and soil organic matter content on soil-to-plant transfer of radiocesium and-strontium as analyzed by a nonparametric method. J Environ Radioact 15:265–276

Bowen HJM (1979) Environmental chemistry of the elements. Acad Press 163:174–174

Chander KPCB, Harding SA (1995) Microbial biomass dynamics following addition of metal-enriched sewage sluges to a sandy loam soil. Soil Biol Biochem 27:1409–1421

Doong RA, Liao PL (2001) Determination of organochlorine pesticides and their metabolites in soil samples using headspace solid-phase microextraction. J Chromatogr A 918(1):177–188

Fritze SN, Mikkola K, Mäkinen A (1989) Soil microbial effects of a Cu–Ni smelter in southwestern Finland. Biol Fert Soils 8:87–94

Griffiths BS, Philippot L (2013) Insights into the resistance and resilience of the soil microbial community. FEMS Microbiol Rev 37(2):112–129

Gryta A, Frac M, Oszust K (2014) The application of the Biolog EcoPlate approach in ecotoxicological evaluation of dairy sewage sludge. Appl Biochem Biotechnol 174:1434–1443

Hu Q, Qi HY, Zeng JH, Zhang HX (2007) Bacterial diversity in soils around a lead and zinc mine. J Environ Sci (China) 19:74–79

Mondani L, Benzerara K, Carriere M, Christen R, Mamindy-Pajany Y, Fevrier L, Marmier N, Achouak W, Nardoux P, Berthomieu C, Chapon V (2011) Influence of uranium on bacterial communities: a comparison of natural uranium-rich soils with controls. PLoS ONE 6:e25771

Muniz JLS, Pata MP, Jiménez JJ, Navarro E (2014) Analysis of the diversity of substrate utilisation of soil bacteria exposed to Cd and earthworm activity using generalised additive models. PLoS ONE 9:e85057

Sanming LRP (1992) Investigation of natural radionuclide contents in soil in China. Radiat Prot 12:122

Sproull GJ, Sher E, González (2015) Long-term changes in composition, diversity and distribution patterns in four herbaceous plant communities along an elevational gradient. J Veg Sci 26:552–563

Xiong W, Jousset A, Guo S, Karlsson I, Zhao Q, Wu H, Kowalchuk GA, Shen Q, Li R, Geisen S (2017) Soil protist communities form a dynamic hub in the soil microbiome. ISME J. https://doi.org/10.1038/ismej.2017.171

Yan X, Luo X (2015) Radionuclides distribution, properties, and microbial diversity of soils in uranium mill tailings from southeastern China. J Environ Radioact 139:85–90

Yang H (2016) China's soil plan needs strong support. Nat News 536(7617):375

Yang H, Huang X, Thompson JR, Flower RJ (2014) China's soil pollution: urban brownfields. Science 344:691–692

Zhang W, Wei HL, Gao HW (2005) Advanced of studies on soil microbial diversity and environment impact factors. Chin J Ecol 24:48–52

Zhang H, Li XG, Song D, Yang Y, Li J, Qiao J, Zhang S (2013) Changes in soil microbial functional diversity under different vegetation restoration patterns for Hulunbeier Sandy Land. J Acta Ecol Sin 33:38–44
Acknowledgements
The authors were financially supported by the Postdoctoral Foundation No. 6zx716901, China Postdoctoral Science Foundation No. 17zd312701 and Heilongjiang Education Office Foundation No. 135209225.
About this article
Cite this article
Xun, Y., Zhang, X., Chaoliang, C. et al. Comprehensive Evaluation of Soil Near Uranium Tailings, Beishan City, China. Bull Environ Contam Toxicol 100, 843–848 (2018). https://doi.org/10.1007/s00128-018-2330-8
Received:

Accepted:

Published:

Issue Date:
Keywords
Uranium tailings

Radionuclide

Heavy metal

Organochlorine pesticide

Microbial functional diversity