Abstract
The present study reports partial sequences of a group of genes used as exposure and effect biomarkers of organic contaminants and/or heavy metals in Syacium gunteri. In order to isolate these sequences, cDNA was used to amplify fragments between 200 and 800 bp, which were then cloned and sequenced. The sequences presented high percentages of identity with genes involved in the metabolism of xenobiotic biotransformation (cytochrome P4501A and glutathione S-transferase), oxidative stress (catalase, glutathione reductase, glutathione peroxidase and superoxide dismutase), reproductive system (vitellogenin) and with the tumor suppressor protein p53 reported in the GenBank database. Subsequently, from the deduced sequence of amino acids of each fragment, their tridimensional structure was predicted, using homologous proteins from the Protein Data Base. This study generates an important base of molecular biomarkers for the monitoring of environmental health in the Gulf of Mexico.
Access options
Buy single article
Instant access to the full article PDF.
USD 39.95
Price includes VAT (USA)
Tax calculation will be finalised during checkout.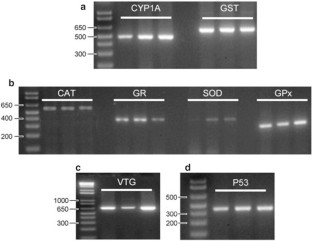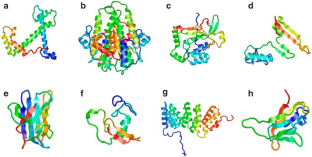 References
Abdel-Shafy HI, Mansour MSM (2016) A review on polycyclic aromatic hydrocarbons: source, environmental impact, effect on human health and remediation. Egypt J Pet 25:107–123

Altschul SF, Madden TL, Schaffer AA, Zhang J, Zhang Z, Miller W, Lipman DJ (1997) Gapped BLAST and PSI-BLAST: a new generation of protein database search programs. Nucleic Acids Res 25:3389–3402

Aris AZ, Shamsuddin AS, Praveena SM (2014) Occurrence of 17α-ethynylestradiol (EE2) in the environment and effect on exposed biota: a review. Environ Int 69:104–119

Beltrán J, Villasol A, Botello AV, Palacios F (2005) Condición actual del ambiente marino-costero de la región del Gran Caribe. In: Botello A, Rendón-von Osten J, Gold-Bouchot G, Agraz-Hernández C (eds) Golfo de México Contaminación e Impacto Ambiental: Diagnóstico y Tendencias, 2da Edición. Universidad Autónoma de Campeche, Universidad Nacional Autónoma de México, Instituto Nacional de Ecología, Campeche, pp 1–24

Bordoli L, Kiefer F, Arnold K, Benkert P, Battey J, Schwede T (2009) Protein structure homology modeling using SWISS-MODEL workspace. Nat Protoc 4(1):1–13. https://doi.org/10.1038/nprot.2008.197

Brock-meier E, Jayasinghe B, Pine W, Wilkinson K, Denslow N (2014) Exposure to paper mill effluent at a site in north central Florida elicits molecular-level changes in gene expression indicative of progesterone and androgen Exposure. PLoS ONE 9:e106644. https://doi.org/10.1371/journal.pone.0106644

Brown-Peterson NJ, Krasnec M, Takeshita R, Ryan CN, Griffitt KJ, Lay C, Mayer GD, Bayha KM, Hawkins WE, Lipton I, Morris J, Griffitt RJ (2015) A multiple endpoint analysis of the effects of chronic exposure to sediment contaminated with Deepwater Horizon oil on juvenile Southern flounder and their associated microbiomes. Aquat Toxicol 165:197–209. https://doi.org/10.1016/j.aquatox.2015.06.001

Celis-Hernández O, Rosales-Hoz L, Carranza-Edwards A (2013) Heavy metal enrichment in surface sediments from the SW Gulf of Mexico. Environ Monit Assess 185:8891–8907. https://doi.org/10.1007/s10661-013-3222-3

Flick RW, Bencic DC, See MJ, Biales AD (2014) Sensitivity of the vitellogenin assay to diagnose exposure of fathead minnows to 17α-ethynylestradiol. Aquat Toxicol 152:353–360

Glisic B, Mihaljevic I, Popovic M, Zaja R, Loncar J, Fent K, Kovacevic R, Smital T (2014) Characterization of glutathione-S-transferases in zebrafish (Danio rerio). Aquat Toxicol 158:50–62. https://doi.org/10.1016/j.aquatox.2014.10.013

Gold-Bouchot G, Rubio-Piña J, Montero-Muñoz J, Ramírez-Miss N, Echeverría-García A, Patiño-Suarez V, Puch-Hau CA, Zapata-Pérez O (2017) Pollutants and biomarker responses in two reef fish species (Haemulon aurolineatum and Ocyurus chrysurus) in the Southern Gulf of Mexico. Mar Pollut Bull 116:249–257. https://doi.org/10.1016/j.marpolbul.2016.12.073

Gräns J, Wassmur B, Celander M (2010) One-way inhibiting crosstalk between aryl hydrocarbon receptor (AhR) and estrogen receptor (ER) signaling in primary cultures of rainbow trout hepatocytes. Aquat Toxicol 100:263–270. https://doi.org/10.1016/j.aquatox.2010.07.024

Higgins LG, Hayes JD (2011) Mechanisms of induction of cytosolic and microsomal glutathione transferase (GST) genes by xenobiotics and pro-inflammatory agents. Drug Metab Rev 43:92–137. https://doi.org/10.3109/03602532.2011.567391

Hockley SL, Arlt VM, Jahnke G, Hartwig A, Giddings I, Phillips DH (2008) Identification through microarray gene expression analysis of cellular responses to benzo(a)pyrene and its diol-epoxide that are dependent or independent of p53. Carcinogenesis 29:202–210. https://doi.org/10.1093/carcin/bgm227

Huang G, Ying G, Liang Y, Liu S, Liu Y (2014) Expression patterns of metallothionein, cytochrome P450 1 A and vitellogenin genes in western mosquitofish (Gambusia affinis) in response to heavy metals. Ecotoxicol Environ Saf 105:97–102. https://doi.org/10.1016/j.ecoenv.2014.04.012

Khan RA (2010) Two species of commercial flatfish, winter flounder, Pleuronectes americanus, and American Plaice, Hippoglossoides platessoides, as sentinels of environmental pollution. Bull Environ Contam Toxicol 85:205–208. https://doi.org/10.1007/s00128-010-0050-9

Kim RO, Kim BM, Hwang DS, Au DWT, Jung JH, Shim WJ, Leung KMY, Wu RSS, Rhee JS, Lee JS (2013) Evaluation of biomarker potential of cytochrome P450 1A (CYP1A) gene in the marine medaka, Oryzias melastigma exposed to water-accommodated fractions (WAFs) of Iranian crude oil. Comp Biochem Physiol C 157:172–182. https://doi.org/10.1016/j.cbpc.2012.11.003

Kumari K, Khare A, Dange S (2014) The applicability of oxidative stress biomarkers in assessing chromium induced toxicity in the fish Labeo rohita. BioMed Res Int. https://doi.org/10.1155/2014/782493

Meek DW (2009) Tumour suppression by p53: a role for the DNA damage response? Nat Rev Cancer 9:714–723. https://doi.org/10.1038/nrc2716

Mirbahai L, Yin G, Bignell JP, Li N, Williams TD, Chipman JK (2011) DNA Methylation in liver tumorigenesis in fish from the environment. Epigenetics 6:1319–1333

Ponce Vélez G, Botello A (2005) Niveles de hidrocarburos en el Golfo de México. In: Botello A, Rendón-von Osten J, Gold-Bouchot G, Agraz-Hernández C (eds) Golfo de México Contaminación e Impacto Ambiental: Diagnóstico y Tendencias, 2da Edición. Universidad Autónoma de Campeche, Universidad Nacional Autónoma de México, Instituto Nacional de Ecología, Campeche, pp 269–298

Uno T, Ishizuka M, Itakura T (2012) Cytochrome P450 (CYP) in fish. Environ Toxicol Pharmacol 34:1–13. https://doi.org/10.1016/j.etap.2012.02.004

Vidal-Liñan L, Bellas J, Campillo JA, Beiras R (2010) Integrated use of antioxidant enzymes in mussels, Mytilus galloprovincialis, for monitoring pollution in highly productive coastal areas of Galicia (NW Spain). Chemosphere 78:265–272

Vidal-Martínez VM, Centeno-Chalé OA, Torres-Irineo E, Sánchez-Ávila J, Gold-Bouchot G, Aguirre-Macedo ML (2014) The metazoan parasite communities of the shoal flounder (Syacium gunteri) as bioindicators of chemical contamination in the southern Gulf of Mexico. Parasit Vectors 7:1–14. https://doi.org/10.1186/s13071-014-0541-3

Williams R, Hubberstey AV (2014) Benzo(a)pyrene exposure causes adaptive changes in p53 and CYP1A gene expression in Brown bullhead (Ameiurus nebulosus). Aquat Toxicol 156:201–210. https://doi.org/10.1016/j.aquatox.2014.09.001

Williams TD, Davies IM, Wu H, Diab AM, Webster L, Viant MR, Chipman JK, Leaver MJ, George SG, Moffat CF, Robinson CD (2014) Molecular responses of European flounder (Platichthys flesus) chronically exposed to contaminated estuarine sediments. Chemosphere 108:152–158
Acknowledgements
We thank PEMEX Exploracion y Produccion (PEP), for the financial support granted during the environmental monitoring services of the Gulf of Mexico carried out by the CINVESTAV-IPN Campus Merida and the Sector Fund CONACyT - SENER - Hydrocarbons, project 201441. This is a contribution from the Gulf of Mexico Research Consortium (CIGoM).
About this article
Cite this article
Puch-Hau, C., Quintanilla-Mena, M., Rubio-Piña, J. et al. Partial mRNA Sequences of the Biomarkers CYP1A, GST, CAT, GR, SOD, GPx, VTG and p53 in Flatfish Syacium gunteri from Gulf of Mexico. Bull Environ Contam Toxicol 100, 798–802 (2018). https://doi.org/10.1007/s00128-018-2329-1
Received:

Accepted:

Published:

Issue Date:
Keywords
Molecular biomarkers

Contaminants

Environmental monitoring

Syacium gunteri