Abstract
The concentrations of total mercury (THg) in different organs of the Antarctic toothfish (Dissostichus mawsoni) collected from CCAMLR research blocks in Subarea 88.3 and Division 58.4.1 off the coast of Antarctica were determined. The results revealed THg concentrations of 0.165 ± 0.095 mg/kg (0.023–0.454 mg/kg, wet weight) in the Antarctic toothfish. In muscle, methyl mercury (MeHg) accounted for approximately 40% of the THg. In a comparison analysis, muscle and liver tended to bioaccumulate the highest levels of THg, and both THg and MeHg contents showed correlations with fish length and weight. Compared with international guidelines, fish contained 2.5–6.4% and 4.0–10.3% of the provisional tolerable weekly intake for THg recommended by the Joint FAO/WHO Expert Committee on Food Additives and the tolerable weekly intake for MeHg proposed by the European Food Safety Authority, respectively. These results suggest that consumption of the Antarctic toothfish presents no health risk to humans.
Access options
Buy single article
Instant access to the full article PDF.
USD 39.95
Price includes VAT (USA)
Tax calculation will be finalised during checkout.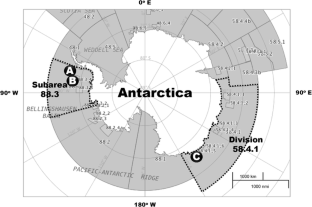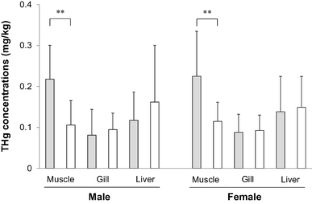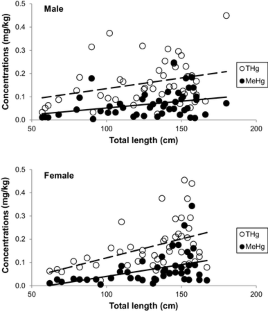 References
Agusa T, Kunito A, Sudaryanto T, Monirith SK, Klap A, Iwata H (2007) Exposure assessment for trace elements from consumption of marine fish in Southeast Asia. Environ Pollut 145:266–777

AMAP (2011) Arctic pollution 2011. Arctic monitoring and assessment programme, Oslo (vi+ pp 38. ISBN 13 978-82-7971-066-0)

AOAC International (2002) AOAC guidelines for single laboratory validation of chemical methods for dietary supplements and botanicals. AOAC International, Gaithersburg

Bloom NS (1992) On the chemical form of mercury in edible fish and marine invertebrate tissue. Can J Fish Aquat Sci 49:1010–1017

Bravo AG, Cosio C, Amouroux D, Zopfi J, Chevalley P-A, Spangenberg JE, Ungureanu V-G, Dominik J (2014) Extremely elevated methyl mercury levels in water, sediment and organisms in a Romanian reservoir affected by release of mercury from a chlor-alkali plant. Water Res 49:391–405

CAC (2009) CODEX STAN 193–1995. Codex general Standard for contaminants and Toxins in food and feed

Cascorbi A (2002) Seafood watch, seafood report: Chilean seabass: Patagonian toothfish (Dissostichus mawsoni) and Antarctic toothfish (Dissostichus mawsoni). Draft Report No. 1, Monterey Bay Aquarium, USA

CCAMLR (2011) Scientific observers manual. CCAMLR, Hobart

Chaulk A, Stern GA, Armstrong D, Barber DG, Wang F (2011) Mercury distribution and transport across the ocean-sea-ice-atmosphere interface in the Arctic Ocean. Environ Sci Technol 45:1866–1872

Cizdziel J, Hinners T, Cross C, Pollard J (2003) Distribution of mercury in the tissues of five species of freshwater fish from Lake Mead, USA. J Environ Monit 5:802–807

Cossa D, Heimbuerger L-E, Lannuzel D, Rintoul SR, Butler ECV, Bowie AR, Averty B, Watson RJ, Remenyi T (2011) Mercury in the southern ocean. Geochim Cosmochim Acta 75:4037 – 4052

EC (2008) Regulation (EC) no 629//2008 of 2 July 2008 amending regulation (EC) no 1881/2006 setting maximum levels for certain contaminants in foodstuffs

EFSA (2012) Scientific Opinion on the risk for public health related to the presence of mercury and methylmercury in food. EFSA J 10:2985

FAO (2013) Consumption of Fish and Fishery Products 2013. http://www.fao.org/fishery/statistics/global-consumption/en. Accessed 08 Jun 2017

Fisher NS, Hook SE (2002) Toxicology tests with aquatic animals need to consider the trophic transfer of metals. Toxicology 182:531–536

FSANZ (2004) Mercury in fish. Food Standards Australia and New Zealand, Toronto

Gionfriddo CM, Tate MT, Wick RR, Schultz MB, Zemla A, Thelen MP, Schofield R, Krabbenhoft DP, Holt KE, Moreau JW (2016) Microbial mercury methylation in Antarctic sea ice. Nat Microbiol 1:16127

Goldsworthy SD, Lewis M, Williams R, He X, Young JW, van den Hoff J (2002) Diet of Patagonian toothfish (Dissostichus eleginoides) around Macquarie Island, South Pacific Ocean. NZ Mar Freshw Res 53:49–57

Hanchet SM, Tracey D, Dunn A, Horn P, Smith N (2012) Mercury concentrations of two toothfish and three of its prey species from the Pacific sector of the Antarctic. Antarct Sci 24:34–42

Hogstrand C, Haux C (1990) Metallothionein as an indicator of heavy-metal exposure in two subtropical fish species. J Exp Mar Biol Ecol 138:69–84

Honda K, Sahrul M, Hidaka H, Tatsukawa R (1983) Organ and tissue distribution of heavy metals, and their growth-related changes in Antarctic fish, Pagothenia borchgrevinki. Agric Biol Chem 47:2521–2532

Horn PL (2002) Age and growth of Patagonian toothfish (Dissostichus eleginoides) and Antarctic toothfish (D. mawsoni) in waters from the New Zealand subantractic to the Ross Sea. Antarct Fish Res 56:275–287

JECFA (2003) Summary and conclusions of the 61st meeting of the Joint FAO/WHO Expert Committee on Food Additives (JECFA). JECFA/61/SC, Rome

JECFA (2011) Evaluation of certain contaminants in food. The seventy-second report. WHO, Geneva, pp 1–115

Kannan K, Smith RG, Lee RF Jr, Windom HL, Heitmuller PT, Macauley JM, Summers JK (1998) Distribution of total mercury and methyl mercury in water, sediment, and fish from south Florida estuaries. Arch Environ Contam Toxicol 34:109–118

Kucuksezgin F, Uluturhan E, Kontas A, Altay O (2002) Trace metal concentrations in edible fishes from Izmir Bay, Eastern Aegean. Mar Pollut Bull 44:816–832

McArthur T, Butler ECV, Jackson GD (2003) Mercury in the marine food chain in the Southern Ocean at Macquarie Island: an analysis of a top predator, Patagonian toothfish (Dissostichus eleginoides) and a mid-trophic species, the warty squid (Moroteuthis ingens). Polar Biol 27:1–5

Méndez E, Giudice H, Pereira A, Inocente G, Medina D (2001) Preminary report on the total mercury content of Patagonian toothfish (Dissostichos eleginoide). J Food Compos Anal 14:547–549

Peng X, Liu F, Wang WX (2016) Organ-specific accumulation, transportation, and elimination of methylmercury and inorganic mercury in a low Hg accumulating fish. Environ Toxicol Chem 35:2074–2083

Soerensen AL, Mason RP, Balcom PH, Jacob DJ, Zhang Y, Kuss J, Sunderland EM (2014) Elemental mercury concentrations and fluxes in the tropical atmosphere and ocean. Environ Sci Technol 48:11312–11319

Son KT, Kwon JY, Jo MR, Yoon M, Song KC, Choi WS, Yeon IJ, Kim JH, Lee TS (2014) Total mercury contents of Antarctic toothfish Dissostichus Mawsoni caught in the Antarctic Sea. Fish Aquat Sci 17:427–431. https://doi.org/10.5657/FAS.2014.0427

Stevens DW (2006) Stomach contents of sub-adult Antarctic toothfish (Dissostichus mawsoni) from the western Ross Sea, Antarctica. Document WG-FSA-06/27. CCAMLR, Hobart, p 15

Tom M, Chen N, Segev M, Herut B, Rinkevich B (2004) Quantifying fish metallothionein transcript by real time PCR for its utilization as an environmental biomarker. Mar Pollut Bull 48(7):705–710

UNEP (2002) Global mercury assessment. UNEP Chemicals, Geneva

US FDA (2010) Mercury levels in commercial fish and shellfish

Walpole SC, Prieto-Merino D, Edwards P, Cleland J, Stevens G, Roberts I (2012) The weight of nations: an estimation of adult human biomass. BMC Public Health 12:439

Wintle NJP, Sleadd IM, Gundersen DT, Kohl K, Buckley BA (2015) Total mercury in six Antarctic Notothenioid fishes. Bull Environ Contam Toxicol 95:557–560
Acknowledgements
This work was supported by a grant from the National Institute of Fisheries Science in Korea (R2018056).
About this article
Cite this article
Yoon, M., Jo, M.R., Kim, P.H. et al. Total and Methyl Mercury Concentrations in Antarctic Toothfish (Dissostichus mawsoni): Health Risk Assessment. Bull Environ Contam Toxicol 100, 748–753 (2018). https://doi.org/10.1007/s00128-018-2326-4
Received:

Accepted:

Published:

Issue Date:
Keywords
Antarctic toothfish

Dissostichus mawsoni

Total mercury

Methylmercury

International guidelines