Abstract
Earthworms are bioindicators of soil pollution. The ecotoxicity of tailings from selected gold mines in South Africa was investigated utilizing Eisenia andrei bioassays and biomarkers. Samples were obtained from unrehabilitated, rehabilitated and naturally vegetated sites. Biomass, neutral red retention time (NRRT), survival and reproduction were assessed using standardized protocols. Earthworm biomass, NRRT and reproductive success in rehabilitated tailings (comparable to naturally vegetated site) were significantly higher (p < 0.05) than in unrehabilitated tailings. In addition, significantly lower (p < 0.05) body tissue concentrations of As, Cd, Co, Cu and Ni contents were found in the rehabilitated tailings compared to the unrehabilitated. Further, significantly lower (p < 0.05) soil Mn and Zn concentrations were obtained in unrehabilitated tailings than the rehabilitated and naturally vegetated sites. Overall, reduced ecotoxicity effects were confirmed in rehabilitated compared to unrehabilitated tailings. This suggests that rehabilitation as a post-mining restorative strategy has strong positive influence on mine tailings.
Access options
Buy single article
Instant access to the full article PDF.
USD 39.95
Price includes VAT (USA)
Tax calculation will be finalised during checkout.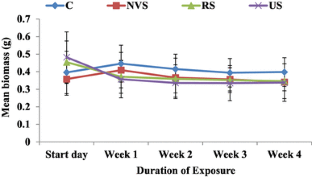 References
Acosta JA, Faz A, Martinez-Martinez S, Zornoza R, Carmona DM, Kabas S (2011) Multivariate statistical and GIS-based approach to evaluate heavy metals behaviour in mine sites for future reclamation. J Geochem Explor 109:8–17

Bouyoucos GF (1962) Hydrometer method improved for making particle size analysis of soils. Agron J 54(5):464–465

Cele EN, Maboeta M (2016) A greenhouse trial to investigate the ameliorative properties of biosolids and plants on physicochemical conditions of iron ore tailings: implications for an iron ore mine site remediation. J Environ Manag 165:167–174

Chamber of Mines (2017) Modernisation: towards the mine of tomorrow fact sheet 2017

Chen M, Lu W, Hou Z, Zhang Y, Jiang X, Wu J (2017) Heavy metal pollution in soil associated with a large-scale cyanidation gold mining region in southeast of Jilin, China. Environ Sci Pollut Res 24:3084–3096

DEAT (Department of Environmental Affairs) (2014) South African National Environmental Management, Waste act, 331 (act no. 59 of 2008). National norms and standards for the remediation of contaminated land and soil quality

Demuynck S, Grumiaux F, Mottier V, Schikorski D, Lemière S, Lelprêtre A (2007) Cd/Zn exposure interactions on metallothionein response in Eisenia andrei (Annelida, Oligochaeta). Comp Biochem Physiol 145:658–668

Edrakia M, Baumgartla T, Mulligana D, Fegana W, Munawar A (2017) Geochemical characteristics of rehabilitated tailings and associated seepages at Kidston gold mine, Queensland, Australia. Int J Min Reclam Environ. https://doi.org/10.1080/17480930.2017.1362542

Gastaldi L, Ranzato E, Capri F, Hankard P, Pérès G, Canesi L, Viarengo A, Pons G (2007) Application of a biomarker battery for the evaluation of the sublethal effects of pollutants in the earthworm Eisenia andrei. Comp Biochem Physiol C 146:398–405

ISO (International Organization for Standardization) (2012) Soil quality—effects of pollutants on earthworms—part 1: determination of acute toxicity to Eisenia andrei/Eisenia andrei. ISO, Geneva

Jain MK, Das A (2017) Impact of mine waste leachates on aquatic environment: a review. Curr Pollut Rep 3:31–37

Jubileus MT, Theron PD, van Rensburg L, Maboeta MS (2013) Utilizing Eisenia andrei to assess the ecotoxicity of platinum mine tailings disposal facilities. Ecotoxicology 22:331–338

Maboeta MS, Claassens S, van Rensburg L, van Rensburg PJ (2006) The effects of platinum mining on the environment from a soil microbial perspective. Water Air Soil Pollut 175(1–4):149–161

Maboeta MS, van Rensburg L, van Rensburg PJ (2008) Earthworm (Eisenia fetida) bioassay to assess the possible effects of platinum tailings disposal facilities on the environment along a gradient. Appl Ecol Environ Res 6:13–19

Marrugo-Negrete J, Enamorado-Montes G, Durango-Hernández J, Pinedo-Hernández J, Díez S (2017) Removal of mercury from gold mine effluents using Limnocharis flava in constructed wetlands. Chemosphere 167:188–192

MBendi Information Services (Pty) Ltd (2016) Mining in South Africa-overview. MBendi Information Services, Cape Town

OECD (2016) OECD guideline for the testing of chemicals draft updated TG 222. Earthworm reproduction test (Eisenia andrei/Eisenia andrei)

Oladipo OG, Olayinka A, Awotoye OO (2016a) Maize (Zea mays) performance in organically remediated mine site soils. J Environ Manag 181:435–442

Oladipo OG, Awotoye OO, Olayinka A, Ezeokoli OT, Maboeta MS, Bezuidenhout CC (2016b) Heavy metal tolerance potential of Aspergillus strains isolated from mining sites. Bioremediat J 20(4):287–297

Oladipo OG, Awotoye OO, Olayinka A, Bezuidenhout CC, Maboeta MS (2018) Heavy metal tolerance traits of filamentous fungi isolated from gold and gemstone mining sites. Braz J Microbiol 49:29–37. doi.https://doi.org/10.1016/j.bjm.2017.06.003

Pavilonis B, Grassman J, Johnson G, Diaz Y, Caravanos J (2017) Characterization and risk of exposure to elements from artisanal gold mining operations in the Bolivian Andes. Environ Res 154:1–9

Reinecke AJ, Reinecke SA (2003) The influence of exposure history to lead on the lysosomal response in Eisenia andrei (Oligochaeta). Ecotoxicol Environ Saf 55:30–37

Rocco A, Scott-Fordsmand JJ, Maisto G, Manzo S, Salluzzo A, Jensen J (2011) Suitability of lysosomal membrane stability in Eisenia andrei as biomarker of soil copper contamination. Ecotoxicol Environ Saf 74:984–988

Svendsen C, Spurgeon DJ, Hankard PK, Weeks JM (2004) A review of lysosomal membrane stability measured by neutral red retention: is it a workable earthworm biomarker? Ecotoxicol Environ Saf 57:20–29

USEPA (US. Environmental Protection Agency) (1996) Acid Digestion of sludges, solids and soils. Method 3050B. https://www.epa.gov/sites/production/files/2015-06/documents/epa-3050b.pdf. Accessed 19 July 2017

van Coller-Myburgh C, van Rensburg L, Maboeta M (2014) Utilizing earthworm and microbial assays to assess the ecotoxicity of chromium mine wastes. Appl Soil Ecol 83:258–265

van Coller-Myburgh C, van Rensburg L, Maboeta M (2015) Assessing the ecotoxicity of gold mine tailings utilizing earthworm and microbial assays. Water Air Soil Pollut 226:218

Wilke BM (2010) Determination of chemical and physical soil properties. In: Margesin R, Schinner F (eds), Manual of soil analysis: monitoring and assessing soil bioremediation, pp 47–95

Yasmin S, D'Souza D (2007) Effects of pesticides on the reproductive output of Eisenia andrei. Bull Environ Contam Toxicol 79:529–532

Zaragoza VMD, Castorena EVG, Castorena MCG, González RC, Solorio CAO, Santos AT (2015) Heavy metals contamination in soils around tailing heaps with various degrees of weathering in Zimapán, Mexico. Int J Environ Sci 72(1):24–40

Zhiyuan L, Zongwei M, Tsering JK, Zengwei Y, Lei H (2014) A review of soil heavy metal pollution from mines in China: pollution and health risk assessment. Sci Total Environ 468–469:843–853
Acknowledgements
The financial assistance of the National Research Foundation (NRF) towards this research is hereby acknowledged. Opinions expressed and conclusions arrived at, are those of the authors and are not necessarily to be attributed to the NRF.
Ethics declarations
Conflict of interest
We hereby declare that the research has no possible conflicts of interest and that animals (earthworms) used in this study was handled according to ethical compliant standards.
About this article
Cite this article
Maboeta, M.S., Oladipo, O.G. & Botha, S.M. Ecotoxicity of Mine Tailings: Unrehabilitated Versus Rehabilitated. Bull Environ Contam Toxicol 100, 702–707 (2018). https://doi.org/10.1007/s00128-018-2322-8
Received:

Accepted:

Published:

Issue Date:
Keywords
Biomarkers

Eisenia andrei

Gold mine tailings

Soil pollution

Rehabilitated and unrehabilitated sites

Post-mining restoration strategy