Abstract
Polychaetes that inhabit the sediments of estuaries are important prey to many species all around the world. Laeonereis acuta is a deposit feeder living in estuaries along the Atlantic coast of South America. Ragworms accumulate metals from the sediment, and represent a means of entry of sediment contaminants into the trophic network. The concentrations of Zn, Pb, Cu, Cr and Cd were determined in polychaetes and sediments (total and extractable) from six estuarine beaches of Río de la Plata. The associations between total and extractable concentrations in sediment and accumulated concentrations in L. acuta were analyzed. Sediments extracted by weak acid digestion appear to be a good proxy model of bioavailable metal fractions in the sediment. The association between metals in sediment and polychaetes denotes the role of L. acuta as an important link in metal trophic transfer from sediments to potential fish and bird predators of the worm.
Access options
Buy single article
Instant access to the full article PDF.
USD 39.95
Price includes VAT (USA)
Tax calculation will be finalised during checkout.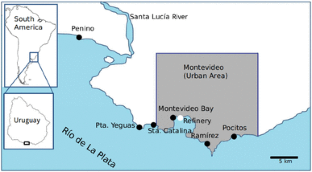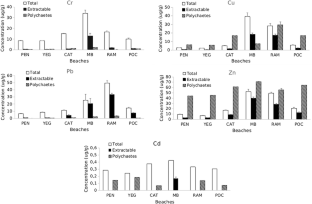 References
Allen HE (1993) The significance of trace metal speciation for water, sediment and soil quality criteria and standards. Sci Total Environ 134:23–45

Bryan GW, Langston WJ (1992) Bioavailability, accumulation and effects of heavy metals in sediments with special reference to United Kingdom estuaries: a review. Environ Pollut 76:89–131

Dang F, Rainbow PS, Wang WX (2012) Dietary toxicity of field-contaminated invertebrates to marine fish: effects of metal doses and subcellular metal distribution. Aquat Toxicol 120:1–10

García-Alonso J, Castiglioni D (2017) Pollution in coastal areas: an integrated perspective in environmental risk studies, Chapter 16. In: Araújo CVM, Shinn C (eds) Ecotoxicology in Latin America. Nova Science Publisher, New York, pp 254–270. ISBN: 978-1-53610-600-8

García-Alonso J, Greenway GM, Munshi A, Gómez JC, Mazik K, Knight AW, Hardege JD, Elliott M (2011) Biological responses to contaminants in estuaries: disentangling complex relationships. Mar Environ Res 71(4):295–303

García-Alonso J, Lercari D, Araujo BF, Almeida MG, Rezende CE (2017) Total and extractable elemental composition of the intertidal estuarine biofilm of the Río de la Plata: disentangling natural and anthropogenic influences. Estuar Coast Shelf Sci 187, 53–61

Geracitano LA, Luquet C, Monserrat JM, Bianchini A (2004) Histological and morphological alterations induced by copper exposure in Laeonereis acuta (Polychaeta, Nereididae). Mar Environ Res 58:263–267

Lercari D, Defeo O (2015) Large-scale dynamics of sandy beach ecosystems in transitional waters of the Southwestern Atlantic Ocean: species turnover, stability and spatial synchrony. Estuar Coast Shelf Sci 154:184–193

Luoma SN, Rainbow PS (2008) Metal contamination in aquatic environments: science and lateral management. Cambridge University Press, Cambridge, p. 588

Martello L, Fuchsman P, Sorensen M, Magar V, Wenning R (2007) Chromium geochemistry and bioaccumulation in sediments from the lower Hackensack River, New Jersey. Arch Environ Contam Toxicol 53:337–350

Mouneyrac C, Mastain O, Amiard J-C, Amiard-Triquet C, Beaunier P, Jeantet AY, Smith BD, Rainbow PS (2003) Trace-metal detoxification and tolerance of the estuarine worm Hediste diversicolor chronically exposed in their environment. Mar Biol 143:731–744

Muniz P, Danulat E, Yannicelli B, García-Alonso J, Medina G, Bıcego MC (2004) Assessment of contamination by heavy metals and petroleum hydrocarbons in sediments of Montevideo Harbour (Uruguay). Environ Int 29:1019–1028

Muniz P, Venturini N, Martins CC, Munschi A, García-Rodriguez F, Brugnoli E, Lindroth AL, Bícego MC, García-Alonso J (2015) Integrative assessment of contaminants and monitoring of an urbanized temperate harbour (Montevideo, Uruguay): a twelve year comparison. Braz J Oceanogr 63(3):311–330

Pearson RG (1963) Hard and soft acids and bases. J Am Chem Soc 85:3533–3539

Petti MAV, Nonato EF, de Paiva PC (1996) Trophic relationships between polychaetes and brachyuran crabs on the southeastern Brazilian coast. Revista Brasileira de Oceanografia 44:61–67

Rainbow PS (1995) Biomonitoring of heavy metal availability in the marine environment. Mar Pollut Bull 31:183–192

Rainbow PS, Wang WX (2001) Comparative assimilation of Cd, Cr, Se, and Zn by the barnacle Elminius modestus from phytoplankton and zooplankton diets. Mar Ecol Prog Ser 218:239–248

Reish DJ (1979) Bristle worms (Annelida: Polychaeta). In: Hart CW (ed) Pollution ecology of estuarine invertebrates, vol 3, Academic Press, Cambridge, pp 77–125

Renfro W (1973) Transfer of 65Zn from sediments by marine polychaete worms. Mar Biol 21:305–316

Venturini N, Bícego MC, Taniguchi S, Sasaki ST, García-Rodríguez F, Brugnoli E, Muniz P (2015) A multi-molecular marker assessment of organic pollution in shore sediments from the Río de la Plata Estuary, SW Atlantic. Mar Pollut Bull 91:461–475
Acknowledgements
Our thanks are due to the valuable assistance given by Dr Stanislav Strekopitov (Natural History Museum of London) and Dr. Marcelo Almeida (UENF, Brasil) for helping on ICP-MS and ICP-OES analyses respectively. We are grateful to Bch. Martin Brito for helping with the collection and processing of samples. JGA and PM acknowledge SNI-ANII for the research fellowship.
About this article
Cite this article
Castiglioni, D., Rezende, C.E., Muniz, P. et al. Trace Metals Bioavailability Approach in Intertidal Estuarine Sediments and Bioaccumulation in Associated Nereidid Polychaetes. Bull Environ Contam Toxicol 100, 472–476 (2018). https://doi.org/10.1007/s00128-018-2301-0
Received:

Accepted:

Published:

Issue Date:
Keywords
Bioavailability

Trace metals

Sediment

Laeonereis acuta

Río de la Plata