Abstract
The toxicity of cadmium (Cd) has posed major public health concern in crops grown in the Cd-contaminated soils. The effects of five amendments, nano-hydroxyapatite (n-HA) and it combined with lime, zeolite, bone mill and fly ash on Cd immobilization in soils and uptake in potatoes, were investigated in a contaminated soil by pot experiments. The result showed that the applications of combined amendments significantly decreased the bioavailable Cd concentrations extracted by TCLP, DTPA–TEA and MgCl2 in the contaminated soils, and changed the soluble and exchangeable and specifically sorbed fractions to oxide-bound and organic-bound fractions. Compared to the control group, the concentrations of Cd in the potato tubers grown in n-HA, n-HA + Fly ash, n-HA + Lime, n-HA + Bone mill and n-HA + Zeolite soil were reduced 17.4%, 20.7%, 15.2%, 32.6% and 39.1%, respectively. Nano-hydroxyapatite combined amendments was more effective in reducing bioavailable Cd concentrations and Cd accumulations in potatoes, especially for n-HA + Z.
Access options
Buy single article
Instant access to the full article PDF.
USD 39.95
Price includes VAT (USA)
Tax calculation will be finalised during checkout.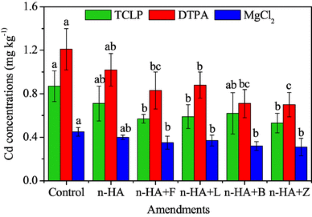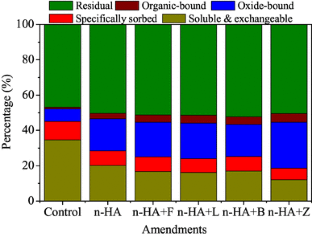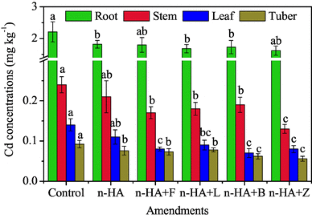 References
Chen C, Lu Y, Yin W, Deng X, Lian J (2011) Effect of bone meal and zeolite on bioavailability of lead and cadmium in contaminated soils. Guangdong Agricul Sci 14:60–62 (Chinese with English Abstract)

Cui HB, Ma KQ, Fan YC, Su BB, Hu YB, Zhou J (2016a) Effects of simulated acid rain on distribution, leachability and bioaccessibility of cadmium in a contaminated soil immobilized by hydroxyapatite. J Agro-Environ Sci 35(7):1286–1293 (Chinese with English Abstract)

Cui H, Fan Y, Xu L, Zhou J, Zhou D, Mao J et al (2016b) Sustainability of in situ remediation of Cu- and Cd-contaminated soils with one-time application of amendments in Guixi, China. J Soil Sediment 16(5):1498–1508

Du B, Li P, Feng X, Qiu G, Zhou J, Maurice L (2016) Mercury exposure in children of the Wanshan mercury mining area, Guizhou, China. Int J Environ Res Public Health 13:1107

Fuentes JP, Bezdicek DF, Flury M, Albrecht S, Smith JL (2006) Microbial activity affected by lime in a long-term no-till soil. Soil Tillage Res 88(1–2):123–131

Gallego SM, Pena LB, Barcia RA, Azpilicueta C, Iannone MF, Rosales EP, Zawoznik MS, Groppa MD, Benavides MP (2012) Unravelling cadmium toxicity and tolerance in plants: insight into regulatory mechanisms. Environ Exp Bot 83:33–46

Hamidpour M, Akbari L, Shirani H (2017) Effects of co-application of zeolites and vermicompost on speciation and phytoavailability of cadmium, lead, and zinc in a contaminated soil. Commun Soil Sci Plant Anal 48(3):262–273

Huang M, Zhu Y, Li Z, Huang B, Luo N, Liu C, Zeng J (2016) Compost as a soil amendment to remediate heavy metal-contaminated agricultural soil: mechanisms, efficacy, problems, and strategies. Water Air Soil Pollut 227(10):359

Huang S, Yang Y, Li Q, Su Z, Yuan C, Ouyang K (2017) Evaluation of the effects of lime–bassanite–charcoal amendment on the immobilization of cadmium in contaminated soil. Bull Environ Contam Toxicol 98:433

Islam MN, Nguyen XP, Jung HY, Park JH (2016) Chemical speciation and quantitative evaluation of heavy metal pollution hazards in two army shooting range backstop soils. Bull Environ Contam Toxicol 96(2):179–185

Jala S, Goyal D (2006) Fly ash as a soil ameliorant for improving crop production – a review. Bioresour Technol 97(9):1136

Jin Y, Liu W, Li XL, Shen SG, Liang SX, Liu C, Shan L (2016) Nano-hydroxyapatite immobilized lead and enhanced plant growth of ryegrass in a contaminated soil. Ecol Eng 95:25–29

Jönsson EHL, Asp H (2011) Influence of nitrogen supply on cadmium accumulation in potato tubers. J Plant Nutr 34:345–360

Jönsson EHL, Asp H (2013) Effects of pH and nitrogen on cadmium uptake in potato. Biol Plant 57(4):788–792

Koptsik GN (2014) Modern approaches to remediation of heavy metal polluted soils: a review. Eurasian Soil Sci 47(7):707–722

Lin D, Zhou Q (2009) Effects of soil amendments on the extractability and speciation of cadmium, lead, and copper in a contaminated soil. Bull Environ Contam Toxicol 83(1):136–140

Lindsay WL, Norvell WA (1978) Development of a DTPA soil test for Zn, Fe, Mn and Cu. Soil Sci Soc Am J 42:421–428

Olsen SR, Cole CV, Watanabe FS, Dean LA (1954) Estimation of available phosphorus in soils by extraction with sodium bicarbonate, United States Department of Agriculture, Circular 939. United States Government Printing Office, Washington, DC

Page AL, Millar RH, Keeney DR (1982) Methods of soil analysis: part 2. American Society of Agronomy/Soil Science Society of America, Madison, WI

Pratt PF (1965) Potassium. In: Black CA (ed) Methods of soil analysis. Part 2. Chemical and microbiological properties. American Society of Agronomy, Inc, Madison

Rehman ZU, Rizwan M (2015) Effect of inorganic amendments for in situ stabilization of cadmium in contaminated soils and its phyto-availability to wheat and rice under rotation. Environ Sci Pollut Res 22(21):16897–16906

Shi WY, Shao HB, Li H, Shao MA, Du S (2009) Progress in the remediation of hazardous heavy metal-polluted soils by natural zeolite. J Hazard Mater 170(1):1–6

Shu R, Wang Y, Zhong H (2016) Biochar amendment reduced methylmercury accumulation in rice plants. J Hazard Mater 313:1

Sun YB, Xu YM, Shi X, Wang L, Lin DS, Liang XF (2012) The immobilization remediation of Cd contaminated soils in wastewater irrigation region and its ecological effects. Chin Environ Sci 32:1467–1473

Tajudin SAA, Azmi MAM, Nabila ATA (2016) Stabilization/solidification remediation method for contaminated soil: a review. IOP Conf Ser 136(1):012043

Tang X, Li Q, Wu M, Lin L, Scholz M (2016) Review of remediation practices regarding cadmium-enriched farmland soil with particular reference to China. J Environ Manag 181:646–662

USEPA (1992) Method 1311: test methods for evaluating solid waste, physical/chemical methods, SW-846, 3rd ed. US Environmental Pollution Agency, Washington, DC

Wei L, Wang S, Zuo Q, Liang S, Shen S, Zhao C (2016) Nano-hydroxyapatite alleviates the detrimental effects of heavy metals on plant growth and soil microbes in e-waste-contaminated soil. Environ Sci Proc Impact 18(6):760–767

Woldetsadik D, Drechsel P, Keraita B, Marschner B, Itanna F, Gebrekidan H (2016) Effects of biochar and alkaline amendments on cadmium immobilization, selected nutrient and cadmium concentrations of lettuce (Lactuca sativa) in two contrasting soils. SpringerPlus 5(1):397

Wu C, Zhang Z, Fei Y, Wu G, Qian Y (2016) Mercury fractionation in superficial sediment and paddy soil samples from Tianjin, northern China. Bull Environ Contam Toxicol 97(2):225

Xu L, Cui H, Zheng X, Zhou J, Zhang W, Liang J, Zhou J (2017) Changes in the heavy metal distributions in whole soil and aggregates affected by the application of alkaline materials and phytoremediation. Rsc Adv 7(65):41033–41042

Xue D, Jiang H, Deng X, Zhang X, Wang H, Xu X, Hu J, Zeng D, Guo L, Qian Q (2014) Comparative proteomic analysis provides new insights into cadmium accumulation in rice grain under cadmium stress. J Hazard Mater 280:269–278

Zagury GJ, Bello JAR, Guney M (2016) Valorization of a treated soil via amendments: fractionation and oral bioaccessibility of Cu, Ni, Pb, and Zn. Environ Monit Assess 188(4):1–11

Zhang P, Zhang C, Pan L, Yang W, Li C, Xu G, Li F, Lu M (2016) Effects of amendments and water conditions on the chemical speciation of cd and pb in contaminated paddy soil in a mining area. Soil Sediment Cont 25(7):717–726

Zhou QX, Sun TH (2002) Effects of chromium(VI) on extractability and plant uptake of fluorine in agricultural soils of Zhejiang Province, China. Water Air Soil Pollut 133:145–160. https://doi.org/10.1023/A:1012948131082

Zhou J, Feng X, Liu H, Zhang H, Fu X, Bao Z, Wang X, Zhang Y (2013) Examination of total mercury inputs by precipitation 300 and litterfall in a remote upland forest of southwestern China. Atmos Environ 81:364–372

Zhou J, Liu H, Du B, Shang L, Yang J, Wang Y (2015) Influence of soil mercury concentration and fraction on bioaccumulation process of inorganic mercury and methylmercury in rice (Oryza sativa L.). Environ Sci Pollut Res 22:6144–6154
Acknowledgements
This research was financially supported by Hebei Province Science and Technology Plan projects (16227508D), 2011 plan of Hebei Province and College Science Technology Research Project of Hebei Province (QN2016134).
About this article
Cite this article
Liu, C., Wang, L., Yin, J. et al. Combined Amendments of Nano-hydroxyapatite Immobilized Cadmium in Contaminated Soil-Potato (Solanum tuberosum L.) System. Bull Environ Contam Toxicol 100, 581–587 (2018). https://doi.org/10.1007/s00128-018-2299-3
Received:

Accepted:

Published:

Issue Date:
Keywords
Cadmium

Potato

Soil remediation

Bioavailable fraction

Sequential extraction