Abstract
American bur-reed (Sparganium americanum Nutt.), a common aquatic plant in the middle and eastern United States and Canada, is often located in water-retaining drainage areas. The purpose of this study was to determine the leaf composition of S. americanum, paying attention to the cuticular waxes and the epidermis, and its ability to sorb pesticides. S. americanum leaves (n = 100) were collected in both early (June) and late (August) summer. Transverse sections of S. americanum were stained and studied with brightfield and fluorescence microscopy to estimate the structural and chemical nature of the leaf tissues cross sections. Mean total lipid content in early summer leaf samples (1.47 ± 0.83 mg mL−1) was significantly greater (alpha 0.05) than late summer leaves (0.15 ± 0.36 mg mL−1). In vitro analysis of epidermal peel permeability exposed to atrazine and malathion determined little to no sorption by the plant. Therefore, the structure of S. americanum leaves suggest this species does not have the capacity of sorbing these pesticides from runoff water.
Access options
Buy single article
Instant access to the full article PDF.
USD 39.95
Price includes VAT (USA)
Tax calculation will be finalised during checkout.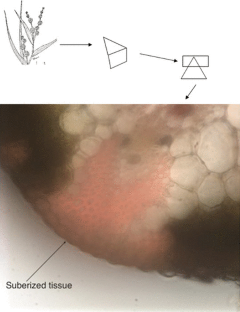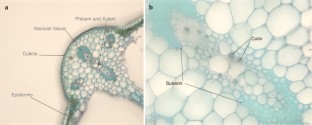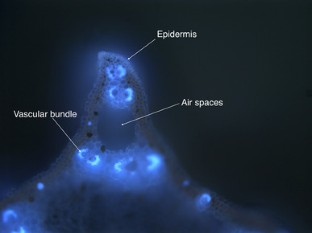 References
Alfonso M, Yruela I, Almárcegui S, Torrado E, Pérez MA, Picorel R (2001) Unusual tolerance to high temperatures in a new herbicide-resistant D1 mutant from Glycine max (L.) Merr. cell cultures deficient in fatty acid desaturation. Planta 212(4):573–582

Anderson B, Phillips B, Hunt J, Largay B, Shihadeh R, Tjeerdema R (2011) Pesticide and toxicity reduction using an integrated vegetated treatment system. Environ Toxicol Chem 30(5):1036–1043

Bennett ER, Moore MT, Cooper CM, Smith S Jr (2000) Method for the simultaneous extraction and analysis of two current use pesticides, atrazine and lambda-cyhalothrin, in sediment and aquatic plants. Bull Environ Contamin Toxicol 64:825–833

Biggs AR (1984) Intracellular suberin: occurrence and detection in tree bark. IAWA J 5(3):243–248

Bligh EG, Dyer WJ (1959) A rapid method of total lipid extraction and purification. Can J Biochem Physiol 37(8):911–917

Buda GJ, Isaacson T, Matas AJ, Paolillo DJ, Rose JC (2009) Three-dimensional imaging of plant cuticle architecture using confocal scanning laser microscopy. Plant J 60(2):378–385

Cain AJ (1947) The use of Nile blue in the examination of lipoids. Q J Microsc Sci 3(3):383–392

Cold Spring Harbor Laboratory (2009) PEM fixation buffer. Cold Spring Harb Protoc. https://doi.org/10.1101/pdb.rec11730

Elsaesser D, Blankenberg AB, Geist A, Mæhlum T, Schulz R (2011) Assessing the influence of vegetation on reduction of pesticide concentration in experimental surface flow constructed wetlands: application of the toxic unit approach. Ecol Eng 37(6):955–962

Gahan PB (1984) Plant histochemistry and cytochemistry: an introduction. Academic Press, London, p 301

Gene Technology Access Centre (GTAC) (2018) Prepare a leaf epidermal peel. https://www.gtac.edu.au/wp-content/uploads/2016/01/Leaf-Epidermal-Peel_LabPreparation.pdf

Gou JY, Yu XH, Liu CJ (2009) A hydroxycinnamoyl transferase responsible for synthesizing suberin aromatics in Arabidopsis. Proc Natl Acad Sci USA 106:18855–18860

Grover A, Agarwal M, Katiyar-Agarwal S, Sahi C, Agarwal S (2000) Production of high temperature tolerant transgenic plants through manipulation of membrane lipids. Curr Sci 79(5):557–559

Holloway PJ (1994) Plant cuticles: physicochemical characteristics and biosynthesis. In: Percy KE, Cape JN, Jagels R, Simpson CJ (eds) Air pollutants and the leaf cuticle. Springer, Berlin, pp 1–13

Ito Y, Cota-Sánchez JH (2014) Distribution and conservation status of Sparganium (Typhaceae) in the Canadian prairie provinces. Great Plains Res 24(2):119–125

Kao JT, Titus JE, Zhu W-X (2003) Differential nitrogen and phosphorus retention by five wetland plant species. Wetlands 23(4):979–987

Kirkwood RC (1999) Recent developments in our understanding of the plant cuticle as a barrier to the foliar uptake of pesticides. Pest Sci 55(1):69–77

Kolattukudy PE (1984) Biochemistry and function of cutin and suberin. Can J Bot 62(12):2918–2933

Locke MA, Weaver MA, Zablotowicz RM, Steinriede RW, Bryson CT, Cullum RF (2011) Constructed wetlands as a component of the agricultural landscape: mitigation of herbicides in simulated runoff from upland drainage areas. Chemosphere 83(11):1532–1538

Moore MT, Tyler HL, Locke MA (2013) Aqueous pesticide mitigation efficiency of Typha latifolia (L.), Leersia oryzoides (L.) Sw. and Sparganium americanum Nutt. Chemosphere 92(10):1307–1313

Pollard M, Beisson F, Li Y, Ohlrogge JB (2008) Building lipid barriers: biosynthesis of cutin and suberin. Trends Plant Sci 13(5):236–246

Refat NA, Ibrahim ZS, Moustafa GG, Sakamoto KQ, Ishizuka M, Fujita S (2008) The induction of cytochrome P450 1A1 by Sudan dyes. J Biochem Mol Toxicol 22:77–84

Rittinger PA, Biggs AR, Peirson DR (1987) Histochemistry of lignin and suberin deposition in boundary layers formed after wounding in various plant species and organs. Can J Bot 65(9):1886–1892

Skoss JD (1955) Structure and composition of plant cuticle in relation to environmental factors and permeability. Bot Gaz 117:55–72

Soler M, Serra O, Molinas M, Huguet G, Fluch S, Figueras M (2007) A genomic approach to suberin biosynthesis and cork differentiation. Plant Physiol 144(1):419–431

Somerville C (1991) Plant lipids: metabolism, mutants, and membranes. Science 252(5002):80–87

Taiz L, Zeiger E (2010) Plant physiology, 5th edn. Sinauer Associates Inc., Sunderland

Zee SY, O'Brien TP (1970) A special type of tracheary element associated with "xylem discontinuity" in the floral axis of wheat. Aust J Biol Sci 23(4):783–792
Acknowledgements
Thanks to Renee Russell for pesticide analyses. Mention of trade names and commercial products in this article are solely for providing specific information and do not imply recommendation or endorsement by the US Department of Agriculture (USDA). USDA is an equal opportunity employer and provider.
About this article
Cite this article
Alsharekh, A., Swatzell, L.J. & Moore, M.T. Leaf Composition of American Bur-Reed (Sparganium americanum Nutt.) to Determine Pesticide Mitigation Capability. Bull Environ Contam Toxicol 100, 576–580 (2018). https://doi.org/10.1007/s00128-018-2298-4
Received:

Accepted:

Published:

Issue Date:
Keywords
Epidermal peel permeability

Atrazine

Malathion

Plant