Abstract
In this research, the thin film microextraction method was applied for the extraction of Ni(II) ion from aqueous matrixes. Chemically modified cellulosic filter paper with phosphorus was used as a thin film extractor. After extraction, the thin film was treated with a solution of dimethylglyoxime. The colored film was captured by flatbed scanner and the absorbance of the images was extracted by some suitable software. Under the optimum conditions and at the pH 7.0, with the sample volume of 100 mL, the stirring rate of 800 rpm, and the extraction time of 50 min, the calibration curve was obtained in the range of 0.05–5 mg/L Ni(II) (R2 = 0.989). Limit and relative standard deviation were achieved to be 18 µg/L and less than 6.7%, respectively. Relative recoveries were obtained in the range of 87%–105%. Finally, the proposed method was found to be simple and cost-effective, with adequate analytical performance for the rapid detection of Ni(II) in river and wastewater samples.
Access options
Buy single article
Instant access to the full article PDF.
USD 39.95
Price includes VAT (USA)
Tax calculation will be finalised during checkout.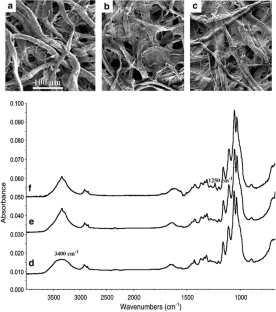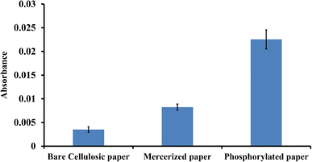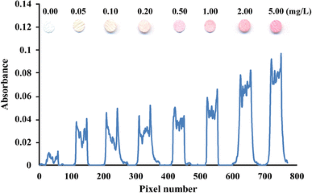 References
Allafchian A, Akhgar A, Ielbeigi V, Tabrizchi M (2016) Determination of xylene and toluene by solid-phase microextraction using au nanoparticles–thiol silane film coupled to ion mobility spectrometry. Bull Environ Contam Toxicol 97(5):670–676

Allafchian A, Mirahmadi-Zare SZ, Gholamian M (2017) Determination of trace lead detection in a sample solution by liquid 3-phase microextraction–anodic stripping voltammetry. IEEE Sens J 17(9):2856–2862

Aloma I, Martin-Lara MA, Rodriguez IL, Blazquez G, Calero M (2012) Removal of nickel(II) ions from aqueous solutions by biosorption on sugarcane bagasse. J Taiwan Inst Chem Eng 43:275–281

Angeyo KH, Patel JP, Mangala JM (1998) Measurement of trace element levels in Kenyan cigarettes with the energy dispersive X-ray fluorescence spectroscopy technique. J Trace Microprobe Tech 16:233–246

Ass BAP, Belgacem MN, Frollini E (2006) Mercerized linters cellulose: Characterization and acetylation in N,N-dimethylacetamide/lithium chloride. Carbohydr Polym 63:19–29

Azizi P, Golshekan M, Shariati S, Rahchamani J (2015) Solid phase extraction of Cu2+, Ni2+, and Co2+ ions by a new magnetic nano-composite: excellent reactivity combined with facile extraction and determination. Environ Monit Assess 187:185

Bagheri H, Aghakhani A (2012) Polyaniline-nylon-6 electrospun nanofibers for headspace adsorptive microextraction. Anal Chim Acta 713:63–69

Bakoglu A, Bagci E, Ciftci H (2009) Fatty acids, protein contents and metal composition of some feed crops from Turkey. J Food Agric Environ 7(2):343–346

Blazsek M, Istvanfy O, Roman S (2004) Application of high-performance thin-layer chromatography and a flatbed scanner for the quantitation of cometabolites of antibiotic salinomycin. Chem List 98:989–992

Ciftci H, Bagci E (2009) Protein contents and metal composition of some feed crops from Turkey. Int J Chem Tech Res 1(3):577–580

Ciftci H, Bakal U (2009) The effect of lipoic acid on macro and trace metal levels in living tissues exposed to oxidative stress. Anticancer Agents Med Chem 9(5):560–569

Clemens MR, Wochenschr K (1991) Free radicals in chemical carcinogenesis. Klin Wochenschr 69:1123–1134

Cudjoe E, Vuckovic D, Hein D, Pawliszyn J (2009) Investigation of the effect of the extraction phase geometry on the performance of automated solid-phase microextraction. Anal Chem 81:4226–4232

Deng Q, Chen M, Kong L, Zhao X, Guo J, Wen X (2013) Novel coupling of surfactant assisted emulsification dispersive liquid-liquid microextraction with spectrophotometric determination for ultra trace nickel. Spectrochim Acta A 104:64–69

Ensafi AA, Allafchian AR, Rezaei B (2015) Polytetrafluorethylene membrane-based liquid three-phase micro extraction combined with in situ differential pulse anodic stripping voltammetry for the determination of cadmium ions using Au-nanoparticles sol-gel modified pt-wire. J Braz Chem Soc 26:1482–1490

Filik H, Aksu D, Apak R, Boz I (2009) Rapid sensing of molybdenum by combined colorimetric solid-phase extraction-Reflectance spectroscopy. Sens Actuators B 141:491–497

Grandy JJ, Boyaci E, Pawliszyn J (2016) Development of a carbon mesh supported thin film microextraction membrane as a means to lower the detection limits of benchtop and portable GC/MS instrumentation. Anal Chem 88:1760–1767

He Y, Wu Y, Fu JZ, Wu WB (2015) Fabrication of paper-based microfluidic analysis devices: a review. Rsc Adv 5:78109–78127

Hokkanen S, Bhatnagar A, Sillanpää M (2016) A review on modification methods to cellulose-based adsorbents to improve adsorption capacity. Water Res 91:156–173

Jiang R, Pawliszyn J (2012) Thin-film microextraction offers another geometry for solid-phase microextraction T. TrAC 39:245–253

Jiang L, Zhang J, Xu X, Zhang J, Liu H, Guo Z, Kang Y, Li Y, Xu J (2015) Characterization and application of expanded graphite modified with phosph, oric acid and glucose for the removal of Ni(II) from aqueous solution. Appl Surf Sci 357:2355–2363. https://doi.org/10.1016/j.apsusc.2015.09.241

Jurgens JF, Reid JD, Guthie JD (1948) Phosphorylated cotton cellulose as a cation-exchange material. Text Res J 18:42–44

Klemm D, Philipp B, Heinze T, Heinze U, Wagenknecht W (1998) Comprehensive cellulose chemistry (functionalization of cellulose). Wiley, Weinheim

Klemm D, Heublein B, Fink HP, Bohn A (2005) Cellulose: fascinating biopolymer and sustainable raw material. Angew Chem Int Ed Engl 44:3358–3393

Lewis B, Rathman S, McMahon RJ (2003) Detection and quantification of biotinylated proteins using the Storm 840 optical scanner. J Nutr Biochem 14:196–202

Mirza MA, Khuhawar MY, Arain R (2008) Determination of uranium, iron, copper, and nickel in rock and water samples by MEKC. J Sep Sci 31 (16):3037–3044

Nieboer E, Templeton DM (1994) Nickel biogeochemistry. Sci Total Environ 148:109–138

Nuryantini AY, Mahen ECS, Sawitri A, Nuryadin BW (2017) Do it yourself: optical spectrometer for physics undergraduate instruction in nanomaterial characterization. Eur J Phys. https://doi.org/10.1088/1361-6404/aa7dbb

Qin Z, Bragg L, Ouyang G, Pawliszyn J (2008) Comparison of thin-film microextraction and stir bar sorptive extraction for the analysis of polycyclic aromatic hydrocarbons in aqueous samples with controlled agitation conditions. J Chromatogr A 1197:89–95

Rakow N, Suslick KS (2000) A colorimetric sensor array for odour visualization. Nature 406:710–713

Ruckenstein E, Guo W (2001) Crosslinked mercerized cellulose membranes and their application to membrane affinity chromatography. J Memb Sci 187:277–286

Saraji M, Farajmand B (2008) Application of single-drop microextraction combined with in-microvial derivatization for determination of acidic herbicides in water samples by gas chromatography-mass spectrometry. J Chromatogr A 1178:17–23

Saraji M, Farajmand B (2013) Chemically modified cellulose paper as a thin film microextraction phase. J Chromatogr A 1314:24–30

Wagner KA, McDaniel RC, Self D (2001) Collection and preparation of sidestream cigarette smoke for trace elemental determinations by graphite furnace atomic absorption spectrometry and inductively coupled plasma mass spectrometry. J AOAC Int 84:1934–1940

Weinstein IB (1988) The origins of human cancer. Cancer Res 48:4135–4143
About this article
Cite this article
Allafchian, A.R., Farajmand, B. & Koupaei, A.J. A Paper-Based Analytical Device Based on Combination of Thin Film Microextraction and Reflection Scanometry for Sensitive Colorimetric Determination of Ni(II) in Aqueous Matrix. Bull Environ Contam Toxicol 100, 529–535 (2018). https://doi.org/10.1007/s00128-018-2297-5
Received:

Accepted:

Published:

Issue Date:
Keywords
Thin film microextraction

Chemically modified cellulose

Nickel (II)

Colorimetry

Reflection

Scanometry