Abstract
Ammonia levels were evaluated in the urban environment of Madrid City, Spain. A total of 110 samplers were distributed throughout the city. Vehicle traffic density, garbage containers and sewers were identified as local emission sources of ammonia. The average ammonia concentrations were 4.66 ± 2.14 µg/m3 (0.39–11.23 µg/m3 range) in the winter and 5.30 ± 1.81 µg/m3 (2.33–11.08 µg/m3 range) in the summer. Spatial and seasonal variations of ammonia levels were evaluated. Hotspots were located in the south and center of Madrid City in both winter and summer seasons, with lower ammonia concentrations located in the north (winter) and in the west and east (summer). The number of representative points that were needed to establish a reliable air quality monitoring network for ammonia was determined using a combined clustering and kriging approach. The results indicated that 40 samplers were sufficient to provide a reliable estimate for Madrid City.
Access options
Buy single article
Instant access to the full article PDF.
USD 39.95
Price includes VAT (USA)
Tax calculation will be finalised during checkout.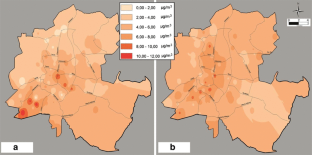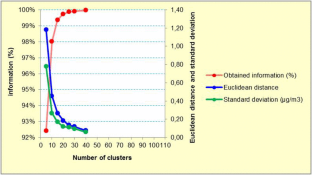 References
Adams PJ, Seinfeld JH, Koch DM (1999) Global concentration of tropospheric sulfate, nitrate and ammonium aerosol simulated in a general circulation model. J Geophys Res 104:13791–13823. https://doi.org/10.1029/1999JD900083

Baume OP, Gebhardt A, Gebhardt C et al (2011) Network optimization algorithms and scenarios in the context of automatic mapping. Comput Geosci 37:289–294. https://doi.org/10.1016/j.cageo.2010.04.014

Behera SN, Sharma M (2010) Investigating the potential role of ammonia in ion chemistry of fine particulate matter formation for an urban environment. Sci Total Environ 408:3569–3575. https://doi.org/10.1016/j.scitotenv.2010.04.017

Berry MJA, dan Linoff GS (2004) Data mining techniques for marketing, sales, and customer relationship management, 2nd edn. Wiley Publishing, Inc., Indianapolis, IN

Bittman S, Jones K, Vingarzan R et al (2015) Weekly agricultural emissions and ambient concentrations of ammonia: validation of an emission inventory. Atmos Environ 113:108–117. https://doi.org/10.1016/j.atmosenv.2015.04.038

Faiz A, Sturm PJ (2000) New directions: air pollution and road traffic in developing countries. Atmos Environ 34:4745–4746

Frati L, Santoni S, Nicolardi V et al (2007) Lichen biomonitoring of ammonia emission and nitrogen deposition around a pig stockfarm. Environ Pollut 146:311–316. https://doi.org/10.1016/j.envpol.2006.03.029

Ghosh A, Barman S (2016) Application of Euclidean distance measurement and principal component analysis for gene identification. Gene 583:112–120. https://doi.org/10.1016/j.gene.2016.02.015

Hien PD, Hangartner M, Fabian S, Tan PM (2014) Concentrations of NO2, SO2, and benzene across Hanoi measured by passive diffusion samplers. Atmos Environ 88:66–73. https://doi.org/10.1016/j.atmosenv.2014.01.036

Javadi S, Hashemy SM, Mohammadi K, Howard KWF, Neshat A (2017) Classification of aquifer vulnerability using K-means cluster analysis. J Hydrol 549:27–37. https://doi.org/10.1016/j.jhydrol.2017.03.060

Krupa SV (2003) Effects of atmospheric ammonia (NH3) on terrestrial vegetation: a review. Environ Pollut 124:179–221. https://doi.org/10.1016/S0269-7491(02)00434-7

Kusrini K (2015) Grouping of retail items by using k-means clustering. Procedia Comput Sci 72:495–502. https://doi.org/10.1016/j.procs.2015.12.131

Lin YY, Hwang YH, Chen PC et al (2012) Contribution of gestational exposure to ambient traffic air pollutants to fetal cord blood manganese. Environ Res 112:1–7. https://doi.org/10.1016/j.envres.2011.11.006

Losada AG, García AL, Mejías RP, González JC (2014) Finite mixture models to characterize and refine air quality monitoring networks. Sci Total Environ 485–486:292–299. https://doi.org/10.1016/j.scitotenv.2014.03.09

Malm WC, Schichtel BA, Barna MG et al (2013) Aerosol species concentrations and source apportionment of ammonia at Rocky Mountain National Park. J Air Waste Manag Assoc 63:1245–1263. https://doi.org/10.1080/10962247.2013.804466

Mofarrah A, Husain T (2010) A holistic approach for optimal design of air quality monitoring network expansion in an urban area. Atmos Environ 44:432–440. https://doi.org/10.1016/j.atmosenv.2009.07.045

Phan NT, Kim KH, Shon ZH, Jeon EC, Jung K, kim NJ (2013) Analysis of ammonia variation in the urban atmosphere. Atmos Environ 65:177–185. https://doi.org/10.1016/j.atmosenv.2012.10.049

Pienaar JJ, Bukes JP, Van Zyl PG, Lehmann CMB, Aherne J (2015) Chap. 2-passive diffusion sampling devices for monitoring ambient air concentrations. Compr Anal Chem 70:13–52. https://doi.org/10.1016/bs.coac.2015.09.002

Poddubny VA, Yushketova NA (2013) A physicochemical model of sorption processes in NO2 passive sampling with air humidity effects. Environ Monit Assess 185:3819–3829. https://doi.org/10.1007/s10661-012-2830-7

Pope R, Wu J (2014) A multi-objective assessment of an air quality monitoring network using environmental, economic, and social indicators and GIS-based models. J Air Waste Manag Assoc 64(6):721–737. https://doi.org/10.1080/10962247.2014.888378

Reche C, Viana M, Pandolfi M et al (2012) Urban NH3 levels and sources in a Mediterranean environment. Atmos Environ 57:153–164. https://doi.org/10.1016/j.atmosenv.2012.04.021

Shahraiyni HT, Sodoudi S, Kerschbaumer A, Cubasch U (2015) The development of a dense urban air pollution monitoring network. Atmos Pollut Res 6:904–915. https://doi.org/10.5094/APR.2015.100

Singh A, Yadav A, Rana A (2013) K-means with three different distance metrics. Int J Comput Appl 67:13–17. https://doi.org/10.5120/11430-6785

Stockwell WR, Watson JG, Robinson NF, Steiner W, Sylte W (2000) The ammonium nitrate particle equivalent of NOx emissions for wintertime conditions in Central California's San Joaquin Valley. Atmos Environ 34:4711–4717

Tanner PA (2009) Vehicle-related ammonia emissions in Hong Kong. Environ Chem Lett 7:37–40. https://doi.org/10.1007/s10311-007-0131-0

Tatari K, Gülay A, Thamdrup B, Albrechtsen HJ, Smets BF (2017) Challenges in using allylthiourea and chlorate as specific nitrification inhibitors. Chemosphere 182:301–305. https://doi.org/10.1016/j.chemosphere.2017.05.005

Webb J, Broomfield M, Jones S, Donovan B (2014) Ammonia and odor emissions from UK pig farms and nitrogen leaching from outdoor pig production. A review. Sci Total Environ 470–471:865–875. https://doi.org/10.1016/j.scitotenv.2013.09.091

WHO (1986) Environmental health criteria, number 54. International programme on chemical safety, Geneva, CH. http://www.inchem.org/documents/ehc/ehc/ehc54.htm

Wilson SM, Serre ML (2007) Examination of atmospheric ammonia levels near hog CAFOs, homes, and schools in Eastern North Carolina. Atmos Environ 41:4977–4987. https://doi.org/10.1016/j.atmosenv.2006.12.055

Wolseley PA, James PW, Theobald MR, Sutton MA (2006) Detecting changes in epiphytic lichen communities at sites affected by atmospheric ammonia from agricultural sources. Lichenologist 38(2):161–176. https://doi.org/10.1017/S0024282905005487

Wongniramaikul W (2012) Passive sampling for air quality monitoring. KKU Sci J 40:444–471

Woodard DB, Wolpert RL, O'Connell MA (2010) Spatial inference of nitrate voncentrations in groundwater. J Agric Biol Environ Stat 15:209–227. https://doi.org/10.1007/s13253-009-0006-x

Zheng JY, Feng XQ, Liu PW, Zhong LJ, Lai SC (2011) Site location optimization of regional air quality monitoring network in China: methodology and case study. J Environ Monitor 13:3185–3195. https://doi.org/10.1039/C1EM10560D

Zheng J, Ma Y, Chen et al (2015) Measurement of atmospheric amines and ammonia using the high resolution time-of-flight chemical ionization mass spectrometry. Atmos Environ 102:249–259. https://doi.org/10.1016/j.atmosenv.2014.12.002
Acknowledgements
The authors gratefully acknowledge the members of the Department of Atmospheric Pollution from the National Center for Environmental Health for their assistance in sample collection. This work was supported by the Municipality of Madrid.
About this article
Cite this article
Galán Madruga, D., Fernández Patier, R., Sintes Puertas, M.A. et al. Characterization and Local Emission Sources for Ammonia in an Urban Environment. Bull Environ Contam Toxicol 100, 593–599 (2018). https://doi.org/10.1007/s00128-018-2296-6
Received:

Accepted:

Published:

Issue Date:
Keywords
Ammonia levels

Diffusive samplers

Screening method

Air quality network