Abstract
The purpose of this investigation was to evaluate the effects of lead (Pb) and lead + zinc (Zn) combination on the oxidative stress, total ATPase and Pb accumulation in the tissues of Oreochromis niloticus (Linnaeus, 1758). The fish were exposed to 0.1 mg/L Pb (T1), 1.0 mg/L Pb (T2) and mixtures of 0.1 mg/L Pb and 0.5 mg/L Zn (M1); 1.0 mg/L Pb and 5.0 mg/L Zn (M2) for 7 and 21 days. Pb accumulation, total ATPase activity, several antioxidant enzyme activities such as catalase, glutathione peroxidase (GPX), glutathione S-transferase, glutathione reductase, and thiobarbituric acid reactive substances concentrations were measured in the liver and kidney tissues. Metal accumulation in the tissues was higher in Pb exposure compare with mixtures of Pb and Zn exposures. Beside the inhibition of liver GPX activity, general increases of antioxidant enzyme activities in the tissues were recorded after metal exposures. This investigation emphasizes the oxidative stress in O. niloticus caused by Pb, and adaptation of the organisms to the changes in enzyme activities.
Access options
Buy single article
Instant access to the full article PDF.
USD 39.95
Price includes VAT (USA)
Tax calculation will be finalised during checkout.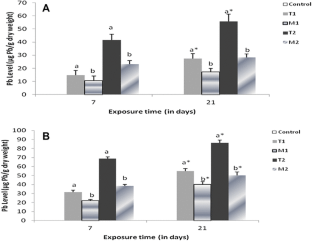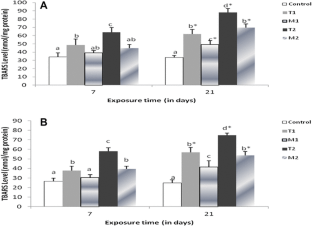 References
Ates B, Orun I, Talas ZS, Durmaz G, Yilmaz I (2008) Effects of sodium selenite on some biochemical and hematological parameters of rainbow trout (Oncorhynchus mykiss Walbaum, 1792) exposed to Pb2+ and Cu2+. Fish Physiol Biochem 34:53–59

Atkinson A, Gatenby AO, Lowe AG (1973) The determination of inorganic orthophosphate in biological systems. Biochim Biophys Acta 320:195–204

Atli G, Canli M (2007) Enzymatic responses to metal exposures in a freshwater fish Oreochromis niloticus. Comp Biochem Physiol C 145(2):282–287

Atli G, Canli M (2008) Responses of metallothionein and reduced glutathione in a freshwater fish Oreochromis niloticus following metal exposures. Environ Toxicol Pharmacol 25(1):33–38

Atli G, Canli M (2011) Alterations in ion levels of freshwater fish Oreochromis niloticus following acute and chronic exposures to five heavy metals. Turk J Zool 35(5):725–736

Barata C, Varob I, Navarro JC, Arun S, Porte C (2005) Antioxidant enzyme activities and lipid peroxidation in the freshwater cladoceran Daphnia magna exposed to redox cycling compounds. Comp Biochem Physiol C 140(2):175–186

Bergayou H, Mouneyrac C, Pellerin J, Moukrim A (2009) Oxidative stress responses in bivalves (Scrobicularia plana, Cerastoderma edule) from the Oued Souss estuary (Morocco). Ecotoxicol Environ Saf 72(3):765–769

Beutler E (1984) Red cell metabolism: a manual of biochemical methods, 2nd edn. Grune and Stratton, New York

Cambier S, Benard G, Mesmer-Dudons N, Gonzalez P, Rossignol R, Brethes D, Bourdineaud JP (2009) At environmental doses, dietary methylmercury inhibits mitochondrial energy metabolism in skeletal muscles of the zebra fish (Danio rerio). Int J Biochem Cell Biol 41(4):791–799

Cao L, Huanga W, Shana X, Yed Z, Doua S (2012) Tissue-specific accumulation of cadmium and its effects on antioxidative responses in Japanese flounder juveniles. Environ Toxicol Pharmacol 33:16–25

Carlberg I, Mannervik B (1975) Purification and characterization of the flavor enzyme glutathione reductase from rat liver. J Biol Chem 250:5475–5480

Carvalho CS, Bernusso VA, Araujo HSS, Espindola ELG, Fernandes MN (2012) Biomarker responses as indication of contaminant effects in Oreochromis niloticus. Chemosphere 89:60–69

Cooper NL, Bidwell JR, Kumar A (2009) Toxicity of copper, lead and zinc mixtures to Ceriodaphnia Dubai and Daphnia carinata. Ecotoxicol Environ Saf 72:1523–1528

Dabas A, Nagpure NS, Kumar R, Kushwaha B, Kumar P, Lakra WS (2012) Assessment of tissue-specific effect of cadmium on antioxidant defense system and lipid peroxidation in freshwater murrel, Channa punctatus. Fish Physiol Biochem 38:469–482

Dogan Z, Eroglu A, Kanak EG, Atli G, Canli M (2014) Response of antioxidant system of tilapia (Oreochromis niloticus) following exposure to chromium and copper in differing hardness. Bull Environ Contam Toxicol 92:680–686

Duran S, Tunçsoy M, Yeşilbudak B, Ay Ö, Cicik B, Erdem C (2015) Metal accumulation in various tissues of Clarias gariepinus exposed to copper, zinc, cadmium and lead singly and in mixture. Fresen Environ Bull 24(12c):4738–4742

Eisler R (1993) Zinc hazards to fish, wildlife, and invertebrates: a synoptic review. Contaminant hazard reviews report 26. U.S. Department of the Interior, Fish and Wildlife Service, Washington, DC

Fırat O, Cogun HY, Aslanyavrusu S, Kargın F (2009) Antioxidant responses and metal accumulation in tissues of Oreochromis niloticus under Zn, Cd and Zn + Cd exposures. J App Toxicol 29(4):295–301

Gerhard GS (2007) Small laboratory fish as models for aging research. Ageing Res Rev 6:64–72

Habig WH, Pabst MJ, Jakoby WB (1974) Glutathione S-transferases the first enzymatic step in mercapturic acid formation. Biol Chem 249:7130–7139

Heath AG (1987) Water pollution and fish physiology. CRC Press, Boca Raton

Jena KB, Verlecar XN, Chainy GBN (2009) Application of oxidative stress indices in natural populations of Perna viridis as biomarker of environmental pollution. Mar Pollut Bull 58:107–113

Jezierska B, Witeska M (2001) Metal toxicity to fish. Wydawnictwo Akademii Podlaskiej, Siedlce, Poland, p 318

Kamunde C, MacPhail R (2011) Metal–metal interactions of dietary cadmium, copper and zinc in Rainbow Trout, Oncorhynchus mykiss. Ecotoxicol Environ Saf 74:658–667

Kim JH, Kang JC (2015) Oxidative stress, neurotoxicity, and non-specific immune responses in juvenile red sea bream, Pagrus major, exposed to different waterborne selenium concentrations. Chemosphere 135:46–52

Kim SG, Jee JH, Kang JC (2004) Cadmium accumulation and elimination in tissues of juvenile olive flounder, Paralichthys olivaceus after sub-chronic cadmium exposure. Environ Pollut 127:117–123

Kulac B, Atli G, Canli M (2012) Investigations on the ATPase activities and cadmium uptake in freshwater fish Oreochromis niloticus following exposures to cadmium in increased salinity. Turk J Fish Aquat Sci 12:861­869

Kulikowska Karpinska E, Moniuszko Jakoniuk J (2001) Lead and zinc influence on antioxidant enzyme activity and malondialdehyde concentrations. Polish J Environ Stud 10(3):161­165

Liang Y, Cheung RYH, Wong MH (1999) Reclamation of wastewater for polyculture of freshwater fish: bioaccumulation of trace metals in fish. Water Res 33:2690–2700

Livingstone DR (2003) Oxidative stress in aquatic organism in relation to pollution and agriculture. Revue Med Vet Toulouse 154:427–430

Lowry OH, Rosebrough NJ, Farr AL, Randall RJ (1951) Protein measurement with the folin phenol reagent. J Biol Chem 193:266­275

Lushchak OV, Kubrak OI, Nykorak MZ, Storey KB, Lushchak VI (2008) The effect of potassium dichromate on free radical processes in goldfish: possible protective role of glutathione. Aquat Toxicol 87:108–114

Ohkawa H, Ohishi N, Yagi Y (1979) Assay of lipid peroxides in animal tissue by thiobarbituric acid reaction. Anal Biochem 95:351–358

Orun I, Talas ZS, Ozdemir I, Alkan A, Erdogan K (2008) Antioxidative role of selenium on some tissues of (Cd2+), (Cr3+)-induced rainbow trout. Ecotoxicol Environ Saf 71:71–75

Padmini E, Usha Rani M (2009) Evaluation of oxidative stress biomarkers in hepatocytes of grey mullet inhabiting natural and polluted estuaries. Sci Total Environ 407:4533–4541

Piner P, Üner N (2013) Oxidative stress and apoptosis was induced by bio-insecticide spinosad in the liver of Oreochromis niloticus. Environ Toxicol Pharm 36(3):956–963

Souid G, Souayed N, Yaktiti F, Maaroufi K (2013) Effect of acute cadmium exposure on metal accumulation and oxidative stress biomarkers of Sparus aurata. Ecotoxicol Environ Saf 89:1–7

Tripathi BN, Mehta SK, Amar A, Gaur JP (2006) Oxidative stress in Scenedesmus sp. during short-and long-term exposure to Cu2+ and Zn2+. Chemosphere 62:538–544

Velma V, Tchounwou PB (2010) Chromium induced biochemical, genotoxic, and histopathologic effects in liver and kidney of goldfish, Carassius auratus. Mutat Res 698:43–51

Vieria MC, Torronteras R, Cordoba F, Canalejo A (2012) Acute toxicity of manganese in goldfish Carassius auratus is associated with oxidative stress and organ specific antioxidant responses. Ecotoxicol Environ Saf 78:212–217

Yuan L, Li M, Zhang Y, Tao Z, Wang R (2016) The protective effects of dietary zinc on dietary copper toxicity in large yellow croaker Larimichthys croceus. Aquaculture 462:30–34
About this article
Cite this article
Firidin, G. Oxidative Stress Parameters, Induction of Lipid Peroxidation, and ATPase Activity in the Liver and Kidney of Oreochromis niloticus Exposed to Lead and Mixtures of Lead and Zinc. Bull Environ Contam Toxicol 100, 477–484 (2018). https://doi.org/10.1007/s00128-018-2281-0
Received:

Accepted:

Published:

Issue Date:
Keywords
Oreochromis niloticus

Lead

Zinc

Accumulation

Toxicity