Abstract
Intense human activities have led to increasing deterioration of the watershed environment via pollutant discharge, which threatens human health and ecosystem function. To meet a need of comprehensive environmental impact/risk assessment for sustainable watershed development, a biogeochemical process-based life cycle assessment and risk assessment (RA) integration for pollutants aided by geographic information system is proposed in this study. The integration is to frame a conceptual protocol of "watershed life cycle assessment (WLCA) for pollutants". The proposed WLCA protocol consists of (1) geographic and environmental characterization mapping; (2) life cycle inventory analysis; (3) integration of life-cycle impact assessment (LCIA) with RA via characterization factor of pollutant of interest; and (4) result analysis and interpretation. The WLCA protocol can visualize results of LCIA and RA spatially for the pollutants of interest, which might be useful for decision or policy makers for mitigating impacts of watershed development.
Access options
Buy single article
Instant access to the full article PDF.
USD 39.95
Price includes VAT (USA)
Tax calculation will be finalised during checkout.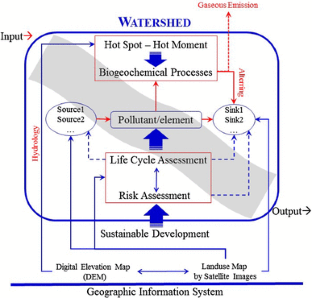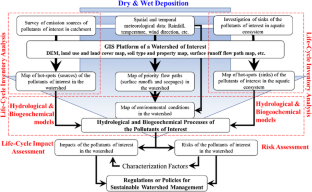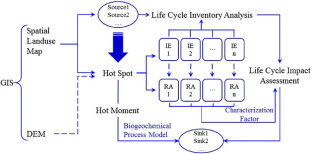 References
Alexander RB, Smith RA, Schwarz GE (2006) Comment on in-stream nitrogen attenuation: model-aggregation effects and implications for coastal nitrogen impacts. Environ Sci Technol 40:2485–2486

Alfonsín C, Hospido A, Omil F, Moreira MT, Feijoo G (2014) PPCPs in wastewater: update and calculation of characterization factors for their inclusion in LCA studies. J Clean Prod 83:245–255

Azapagic A, Chalabi Z, Fletcher T, Grundy C, Jones M, Leonardi G, Osammor O, Sharifi V, Swithenbank J, Tiwary A (2013) An integrated approach to assessing the environmental and health impacts of pollution in the urban environment: methodology and a case study. Process Saf Environ 91:111–116

Azevedo LB, Henderson AD, Van ZR, Jolliet O, Huijbregts MA (2013) Assessing the importance of spatial variability versus model choices in life cycle impact assessment: the case of freshwater eutrophication in Europe. Environ Sci Technol 47:13565–13570

Bare JC (2006) Risk assessment and life-cycle impact assessment (LCIA) for human health cancerous and noncancerous emissions: integrated and complementary with consistency within the USEPA. Hum Ecol Risk Assess 12:493–509

Beddington J (2010) Food security: contributions from science to a new and greener revolution. Philos T R Soc L 365:61–71

Boulay AM, Bulle C, Bayart JB, Deschenes L, Margni M (2011) Regional characterization of freshwater use in LCA: modeling direct impacts on human health. Environ Sci Technol 45:8948–8957

Boulay AM, Bayart JB, Bulle C, Franceschini H, Motoshita M, Muñoz I, Pfister S, Margni M (2015) Analysis of water use impact assessment methods (Part B): applicability for water footprinting and decision making with a laundry case study. Int J Life Cycle Assess 20:865–879

Chen YS, Yu S, Hong YW, Lin QY, Li HB (2013) Pharmaceutical residues in tidal surface sediments of three rivers in southeastern China at detectable and measurable levels. Environ Sci Pollut Res 20:8391–8403

Cosme N, Hauschild MZ (2017) Characterization of waterborne nitrogen emissions for marine eutrophication modelling in life cycle impact assessment at the damage level and global scale. Int J Life Cycle Assess 22:1–13

Dijkman TJ, Birkved M, Hauschild MZ (2012) PestLCI 2.0: a second generation model for estimating emissions of pesticides from arable land in LCA. Int J Life Cycle Assess 17:973–986

Drolc A, Zagorc KJ (2002) Estimation of sources of total phosphorus in a river basin and assessment of alternatives for river pollution reduction. Environ Int 28:393–400

Escamilla EZ, Habert G (2017) Method and application of characterisation of life cycle impact data of construction materials using geographic information systems. Int J Life Cycle Assess 22:1210–1219

Ewertowska A, Pozo C, Gavaldá J, Jiménez L, Guillén-Gosálbez G (2017) Combined use of life cycle assessment, data envelopment analysis and Monte Carlo simulation for quantifying environmental efficiencies under uncertainty. J Clean Prod 166:771–783

Fantke P, Jolliet O (2015) Life cycle human health impacts of 875 pesticides. Int J Life Cycle Assess 21:722–733

Finnveden G, Hauschild MZ, Ekvall T, Guinée J, Heijungs R, Hellweg S, Koehler A, Pennington D, Suh S (2009) Recent developments in life cycle assessment. J Environ Manag 91:1–21

Gasol CM, Gabarrell X, Rigola M, Gonzálezgarcía S, Rieradevall J (2011) Environmental assessment: (LCA) and spatial modelling (GIS) of energy crop implementation on local scale. Biomass Bioenerg 35:2975–2985

Guo L (2007) Doing battle with the green monster of Taihu Lake. Science 317:1166–1166

Hanafiah MM, Xenopoulos MA, Pfister S, Leuven RS, Huijbregts MA (2011) Characterization factors for water consumption and greenhouse gas emissions based on freshwater fish species extinction. Environ Sci Technol 45:5272–5278

Harder R, Holmquist H, Molander S, Svanström M, Peters GM (2015) Review of environmental assessment case studies blending elements of risk assessment and life cycle assessment. Environ Sci Technol 49:13083–13093

Hauschild M (2005) Spatial differentiation in life cycle impact assessment: a decade of method development to increase the environmental realism of LCIA. Int J Life Cycle Assess 11:11–13

Hellweg S (2014) Emerging approaches, challenges and opportunities in life cycle assessment. Science 344:1109–1113

Helmes RJK, Huijbregts MAJ, Henderson AD, Jolliet O (2012) Spatially explicit fate factors of phosphorous emissions to freshwater at the global scale. Int J Life Cycle Assess 17:646–654

Henderson AD, Hauschild MZ, Meent DVD, Huijbregts MAJ, Larsen HF, Margni M, Mckone TE, Payet J, Rosenbaum RK, Jolliet O (2011) USEtox fate and ecotoxicity factors for comparative assessment of toxic emissions in life cycle analysis: sensitivity to key chemical properties. Int J Life Cycle Assess 16:701–709

Hong YW, Yu S, Yu GB, Liu Y, Li GL, Wang M (2012) Impacts of urbanization on surface sediment quality: evidence from polycyclic aromatic hydrocarbons (PAHs) and polychlorinated biphenyls (PCBs) contaminations in the Grand Canal of China. Environ Sci Pollut Res 19:1352–1363

Huang J, Hong H (2010) Comparative study of two models to simulate diffuse nitrogen and phosphorus pollution in a medium-sized watershed, southeast China. Estuar Coast Shelf Sci 86:387–394

Hui L, Benoit G, Tao L, Yong L, Guo H (2015) An integrated system dynamics model developed for managing lake water quality at the watershed scale. J Environ Manag 155:11–23

Huijbregts MAJ, Norris G, Bretz R, Ciroth A, Maurice B, Bo VB, Bo W, Beaufort ASHD. (2001) Framework for modelling data uncertainty in life cycle inventories. Int J Life Cycle Assess 6:127–132

ISO (2006) ISO 14040: Environmental management—life cycle assessment—principles and framework. AFNOR Edition, Geneva

Johnson HM, Black RW, Wise DR (2013) Estimation of total nitrogen and phosphorus in streams of the Middle Columbia River Basin (Oregon, Washington, and Idaho) using SPARROW models, with emphasis on the Yakima River Basin, Washington, U. S. Geological Survey Scientific Investigations Report 2013–5199, p 28. https://doi.org/10.3133/sir20135199

Jury WA, Focht DD, Spencer WJ (1987) Evaluation of pesticide groundwater pollution from standard indices of soil-chemical adsorption and biodegradation. J Environ Qual 10:422–428

Kounina A, Margni M, Bayart JB, Boulay AM, Berger M, Bulle C, Frischknecht R, Koehler A, Canals LMI, Motoshita M (2013) Review of methods addressing freshwater use in life cycle inventory and impact assessment. Int J Life Cycle Assess 18:707–721

Lebailly F, Levasseur A, Samson R, Deschênes L (2014) Development of a dynamic LCA approach for the freshwater ecotoxicity impact of metals and application to a case study regarding zinc fertilization. Int J Life Cycle Assess 19:1745–1754

Lévová T, Hauschild MZ (2011) Assessing the impacts of industrial water use in life cycle assessment. CIRP Ann Manuf Technol 60:29–32

Lewis DB, Grimm NB (2007) Hierarchical regulation of nitrogen export from urban catchments: interactions of storms and landscapes. Ecol Appl 17:2347–2364

Li HB, Yu S, Li GL, Yi L, Yu GB, Hong D, Wu SC, Wong MH (2012) Urbanization increased metal levels in lake surface sediment and catchment topsoil of waterscape parks. Sci Total Environ 432:202–209

Li T, Zhang H, Liu Z, Ke Q, Alting L (2014) A system boundary identification method for life cycle assessment. Int J Life Cycle Assess 19:646–660

Li X, Wellen C, Liu G, Wang Y, Wang ZL (2015) Estimation of nutrient sources and transport using spatially referenced regressions on watershed attributes: a case study in Songhuajiang River Basin, China. Environ Sci Pollut Res 22:6989–7001

Li X, Yang Y, Xu X, Xu C, Hong J (2016) Air pollution from polycyclic aromatic hydrocarbons generated by human activities and their health effects in China. J Clean Prod 112:1360–1367

Linkov I, Trump BD, Wender BA, Seager TP, Kennedy AJ, Keisler JM (2017) Integrate life—cycle assessment and risk analysis results, not methods. Nat Nano 12:740–743

Liu FR, Hung MJ, Yeh PC, Kuo JY (2014) GIS-based regionalization of LCA. J Geosci Environ Prot 2:1–8

Loiseau E, Junqua G, Roux P, Bellon-Maurel V (2012) Environmental assessment of a territory: an overview of existing tools and methods. J Environ Manag 112:213–225

Lu Y, Shuai S, Wang R, Liu Z, Jing M, Sweetman AJ, Jenkins A, Ferrier RC, Hong L, Wei L (2015) Impacts of soil and water pollution on food safety and health risks in China. Environ Int 55:5–15

Ma J, Liu Y, Yu G, Li H, Yu S, Jiang Y, Li G, Lin J (2016) Temporal dynamics of urbanization-driven environmental changes explored by metal contamination in surface sediments in a restoring urban wetland park. J Hazard Mater 309:228–235

Mancini MS, Galli A, Niccolucci V, Lin D, Bastianoni S, Wackernagel M, Marchettini N (2015) Ecological footprint: refining the carbon footprint calculation. Ecol Indic 61:390–403

Margni M, Rossier D, Crettaz P, Jolliet O (2002) LCA of pesticides on human health and ecosystems. Agric Ecosyst Environ 93:379–392

Milà i Canals L, Chenoweth J, Chapagain A, Orr S, Antón A, Clift R (2009) Assessing freshwater use impacts in LCA: Part I: inventory modelling and characterisation factors for the main impact pathways. Int J Life Cycle Assess 14:28–42

Morais SA, Delerue-Matos C, Gabarrell X (2013) Accounting for the dissociating properties of organic chemicals in LCIA: an uncertainty analysis applied to micropollutants in the assessment of freshwater ecotoxicity. J Hazard Mater 248–249:461–468

Motoshita M, Itsubo N, Inaba A (2011) Development of impact factors on damage to health by infectious diseases caused by domestic water scarcity. Int J Life Cycle Assess 16:65–73

Mutel CL (2012) Framework and tools for regionalization in life cycle assessment. Am J Clin Hypn 46:156–158

Nitschelm L, Aubin J, Corson MS, Viaud V, Walter C (2016) Spatial differentiation in life cycle assessment (LCA) applied to an agricultural territory: current practices and method development. J Clean Prod 112:2472–2484

Núñez M, Pfister S, Vargas M, Antón A (2015) Spatial and temporal specific characterisation factors for water use impact assessment in Spain. Int J Life Cycle Assess 20:128–138

Pettit C, Azapagic A, Jefferis S (2005) Integrated systems approach to managing urban pollution. Eng Sustain 158:163–169

Pettit C, Chung W, Sharifi V, Chalabi Z, Fletcher T, Cleall P, Thomas H, Munck CD, Sinnett D, Jefferies S (2011) Sustainable management of urban pollution: an integrated approach. Build Serv Eng Res Technol 32:21–34

Pfister S, Koehler A, Hellweg S (2009) Assessing the environmental impacts of freshwater consumption in LCA. Environ Sci Technol 43:4098–4104

Rahman S (2013) Pesticide consumption and productivity and the potential of IPM in Bangladesh. Sci Total Environ 445–446:48–56

Reap J, Roman F, Duncan S, Bras B (2008) A survey of unresolved problems in life cycle assessment. Int J Life Cycle Assess 13:374–388

Rosenbaum RK, Bachmann TM, Gold LS, Huijbregts MAJ, Jolliet O, Juraske R, Koehler A, Larsen HF, Macleod M, Margni M (2008) USEtox—the UNEP-SETAC toxicity model: recommended characterisation factors for human toxicity and freshwater ecotoxicity in life cycle impact assessment. Int J Life Cycle Assess 13:532–546

Rosenbaum RK, Huijbregts MAJ, Henderson AD, Margni M, Mckone TE, Meent DVD, Hauschild MZ, Shaked S, Ding SL, Gold LS (2011) USEtox human exposure and toxicity factors for comparative assessment of toxic emissions in life cycle analysis: sensitivity to key chemical properties. Int J Life Cycle Assess 16:710–727

Rosenbaum RK, Anton A, Bengoa X, Bjørn A, Brain R, Bulle C, Cosme N, Dijkman TJ, Fantke P, Felix M, Geoghegan TS, Gottesbüren B, Hammer C, Humbert S, Jolliet O, Juraske R, Lewis F, Maxime D, Nemecek T, Payet J, Räsänen K, Roux P, Schau EM, Sourisseau S, van Zelm R, von Streit B, Wallman M (2015) The Glasgow consensus on the delineation between pesticide emission inventory and impact assessment for LCA. Int J Life Cycle Assess 20:765–776

Scherer L, Pfister S (2015) Modelling spatially explicit impacts from phosphorus emissions in agriculture. Int J Life Cycle Assess 20:785–795

Shah VP, Ries RJ (2009) A characterization model with spatial and temporal resolution for life cycle impact assessment of photochemical precursors in the United States. Int J Life Cycle Assess 14:313–327

Smith RA, Schwarz GE, Alexander RB (1997) Regional interpretation of water-quality monitoring data. Water Resour Res 33:2781–2798

Struijs J, Beusen A, de Zwart D, Huijbregts M (2011) Characterization factors for inland water eutrophication at the damage level in life cycle impact assessment. Int J Life Cycle Assess 16:59–64

Swaney DP, Hong B, Ti C, Howarth RW, Humborg C (2012) Net anthropogenic nitrogen inputs to watersheds and riverine N export to coastal waters: a brief overview. Curr Opin Environ Sustain 4:203–211

Uche J, Martínez-Gracia A, Carmona U (2014) Life cycle assessment of the supply and use of water in the Segura Basin. Int J Life Cycle Assess 19:688–704

USEPA (2017) National Summary of inpaired waters and TMDL information. http://iaspub.epa.gov/waters10/attains_nation_cy.control?p_report_type=T#causes_303d

van Zelm R, Larrey-Lassalle P, Roux P (2014) Bridging the gap between life cycle inventory and impact assessment for toxicological assessments of pesticides used in crop production. Chemosphere 100:175–181

Verones F, Bartl K, Pfister S, Jiménez VR, Hellweg S (2012) Modeling the local biodiversity impacts of agricultural water use: case study of a wetland in the coastal arid area of Peru. Environ Sci Technol 46:4966–4974

Wang J, Li X, Yan W, Fang W, Pei M (2014) Watershed nitrogen export model related to changing nitrogen balance and hydrology in the Changjiang River basin. Nutr Cycl Agroecosyst 98:87–95

Xue X, Hawkins TR, Ingwersen WW, Smith RL (2015) Demonstrating an approach for including pesticide use in life-cycle assessment: estimating human and ecosystem toxicity of pesticide use in Midwest corn farming. Int J Life Cycle Assess 20:1117–1126

Yan WJ, Mayorga E, Li XY, Seitzinger SP, Bouwman AF (2010) Increasing anthropogenic nitrogen inputs and riverine DIN exports from the Changjiang River basin under changing human pressures. Global Biogeochem Cycles 24:1134–1138

Yang Y, Heijungs R (2016) A generalized computational structure for regional life-cycle assessment. Int J Life Cycle Assess 22:213–221

Yi I, Itsubo N, Inaba A, Matsumoto K (2007) Development of the interregional I/O based LCA method considering region-specifics of indirect effects in regional evaluation. Int J Life Cycle Assess 12:353–364

Yu S, Yu GB, Liu Y, Li GL, Feng S, Wu SC, Wong MH (2012) Urbanization impairs surface water quality: eutrophication and metal stress in the Grand Canal of China. River Res Appl 28:1135–1148

Yu S, Wu Q, Li Q, Gao J, Lin Q, Ma J, Xu Q, Wu S (2014) Anthropogenic land uses elevate metal levels in stream water in an urbanizing watershed. Sci Total Environ 488–489:61–69
Acknowledgements
This study was supported by the Chinese Ministry of Science and Technology (No. 2014DFT90140) and the National Natural Science Foundation of China (Nos. 41571483, 41371474, 41301572).
About this article
Cite this article
Lin, X., Yu, S. & Ma, H. Integrative Application of Life Cycle Assessment and Risk Assessment to Environmental Impacts of Anthropogenic Pollutants at a Watershed Scale. Bull Environ Contam Toxicol 100, 41–48 (2018). https://doi.org/10.1007/s00128-017-2257-5
Received:

Accepted:

Published:

Issue Date:
Keywords
Biogeochemical process

Watershed pollutant inventory

Geographic information system

Decision support