Abstract
To determine whether discharges of contaminants from municipal wastewater treatment plants (WWTPs) may be contributing to the decline in populations of brook trout (Salvelinus fontinalis) in the watershed of the Credit River in ON, Canada, we caged juvenile brook trout upstream and downstream of the WWTPs of the small communities of Acton and Orangeville. Levels of vitellogenin were significantly elevated in liver tissue of trout caged downstream of both WWTPs, indicating exposure to estrogenic substances. Levels of thiobarbituric acid reactive substances indicative of oxidation of lipids were elevated in the gill tissue of brook trout caged downstream of the Orangeville WWTP, and levels of total glutathione were significantly lower in the gills of brook trout caged downstream of the Acton WWTP. Both biomarkers are indicative of oxidative stress, although many constituents of wastewater could be responsible for these responses. More work is needed to determine whether discharges of wastewater are contributing to the decline of brook trout in the Credit River and other cold-water streams in the Lake Ontario catchment basin.
Access options
Buy single article
Instant access to the full article PDF.
USD 39.95
Price includes VAT (USA)
Tax calculation will be finalised during checkout.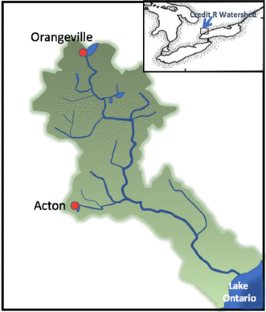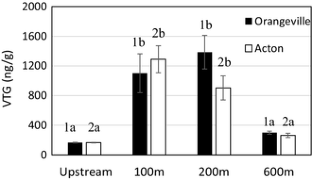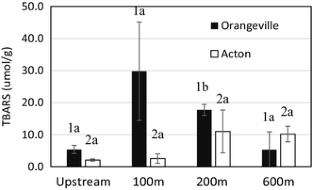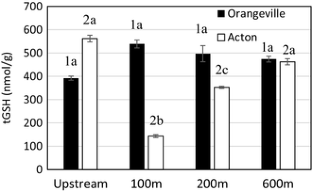 References
Almroth CB, Johansson A, Forlin L, Sturve J (2010) Early-age changes in oxidative stress in brown trout (Salmo trutta). Comp Biochem Physiol 4:442–448

Babich H, Palace M, Stern A (1993) Oxidative stress in fish cells: in vitro studies. Arch Environ Contam Toxicol 24:173–178

Bjerragaard LB, Madsen AH, Korsgaard B, Bjerragaard P (2006) Gonad histology and vitellogenin concentrations in brown trout (Salmo trutta) from Danish streams impacted by sewage effluent. Ecotoxicol 15:315–327

Burki O, Smythe GA, Schafer AJ (2005) Assessment of estrogenic exposure in brown trout (Salmo trutta) in a Swiss midland river: integrated analysis of passive samplers, wild and caged fish, and vitellogenin mRNA and protein. Environ Toxicol Chem 25:2077–2086

Cazenave J, Bacchetta C, Rossi A, Ale A, Campana M, Parma MJ (2014) Deleterious effects of wastewater on the health status of fish: a field caging study. Ecol Indic 38:104–112

Chadwick JG, Nislow KH, McCormick SD (2015) Thermal onset of cellular and endocrine stress responses corresponds to ecological limits in brook trout, an iconic cold-water fish. Conserv Physiol 3:1–12

Diamond RS, Sultana T, Servos RM, Metcalfe CD (2016) Biological responses to contaminants in darters (Etheostoma spp.) collected from rural and urban regions of the Grand River, ON, Canada. Comp Biochem Physiol 199:126–135

Fuzzen ML, Bennett CJ, Tetreault GR, McMaster ME, Servos MR (2015) Severe intersex is predictive of poor fertilization success in populations of rainbow darter (Etheostoma caeruleum). Aquat Toxicol 160:106–116

Hageman JJ, Bast A.,Vermeulen NPE (1992) Monitoring of oxidative free radical damage in vivo: analytical aspects. Chem Biol Interact 82:243–293

Jasinska EJ, Goss GG, Gillis PL, Van Der Kraak GJ, Matsumoto J, De Sousa Machado AA, Giacomin M, Moon TW, Massarsky A, Gagne F, Servos MR, Wilson J, Sultana T, Metcalfe CD (2015) Assessment of biomarkers for contaminants of emerging concern on aquatic organisms downstream of a municipal wastewater discharge. Sci Total Environ 530–531:140–153

Kamel N, Jebail J, Banni M, Khedher BS, Chouba L, Boussetta H (2012) Biochemical responses and metals levels in Ruditapes decussatus after exposure to treated municipal effluents. Ecotoxicol Environ Safety 147:6513–6524

Kurissery S, Kanavillil N, Verenitch S, Mazumder A (2012) Caffeine as an anthropogenic marker of domestic waste: a study from Lake Simcoe watershed. Ecol Indic 23:501–508

Li H, Helm PA, Metcalfe CD (2010) Sampling in the Great Lakes for pharmaceuticals, personal care products and endocrine disrupting substances using the passive polar organic chemical integrative sampler. Environ Toxicol Chem 29:751–762

Martin JD, Colson T-L, Langlois VS, Metcalfe CD (2017) Biomarkers of exposure to nanosilver and silver accumulation in yellow perch (Perca flavescens). Environ Toxicol Chem 36:1211–1220

Mawhinney DB, Young RB, Vanderford BJ, Borch T, Snyder SA (2011) Artificial sweetener sucralose in U.S. drinking water systems. Environ Sci Technol 45:8716–8722

Metcalfe CD, Hoque ME, Sultana T, Murray C, Helm P, Kleywegt S (2014) Monitoring for contaminants of emerging concern in drinking water using POCIS passive samplers. Environ Sci Process Impacts 16:473–481

Pascual P, Pedrajas JR, Toribio F, López-Barea J, Peinado J (2003) Effect of food deprivation on oxidative stress biomarkers in fish (Sparus aurata). Chem Biol Interact 145:19–199

Rodayan A, Afana S, Sagura P, Sultana T, Metcalfe CD, Yargeau V (2016) Linking drugs of abuse in wastewater to contamination of surface and drinking water. Environ Toxicol Chem 35:843–849

Stanfield LW, Scott F, Borwick JA (2006) Using a landscape approach to identify the distribution and density patterns of salmonids in Lake Ontario tributaries. Am Fish Soc Symp 48:601–621

Tanna RN, Tetreault GR, Bennett CJ, Smith BM, Bragg LM, Oakes KD, McMaster ME, Servos MR (2013) Occurrence and degree of intersex (testis–ova) in darters (Etheostoma sp.) across an urban gradient in the Grand River, Ontario, Canada. Environ Toxicol Chem 32:1981–1991

Tetreault GR, Bennett CJ, Shires K, Knight B, Servos MR, McMaster ME (2011) Intersex and reproductive impairment of wild fish exposed to multiple municipal wastewater discharges. Aquat Toxicol 104:278–290

Vermeirssen E, Burki R, Joris C, Peter A, Segner H, Suter M, Burkhardt-Holm P (2005) Characterization of the estrogenicity of Swiss midland rivers using a recombinant yeast bioassay and plasma vitellogenin concentrations in feral male brown trout. Environ Toxicol Chem 24:2226–2233

Zhang J, Shen H, Wang X, Wu J, Xue Y (2004) Effects of chronic exposure of 2,4-dichlorophenol on the antioxidant system in liver of freshwater fish Carassius auratus. Chemosphere 55:167–174
Acknowledgements
Special thank you to Valarie Schell, Patrick Levasseur, Mary-Claire Buell, Jonathan Martin, Chris Robinson and Mark Hanson for their assistance and advice.
Funding
Funding for this project was from the Ontario Wildlife Foundation and a Discovery Grant to CDM from the Natural Sciences and Engineering Research Council (NSERC) of Canada.
About this article
Cite this article
McGovarin, S., Sultana, T. & Metcalfe, C. Biological Responses in Brook Trout (Salvelinus fontinalis) Caged Downstream from Municipal Wastewater Treatment Plants in the Credit River, ON, Canada. Bull Environ Contam Toxicol 100, 106–111 (2018). https://doi.org/10.1007/s00128-017-2242-z
Received:

Accepted:

Published:

Issue Date:
Keywords
Brook trout

Estrogens

Oxidative stress

Wastewater

Credit River