Abstract
This study shows the effect of soil type and temperature on the adsorption and desorption behaviour of pendimethalin using a batch equilibration technique. Adsorption kinetics followed pseudo-second-order-model (R2 > 0.99). The shape of adsorption curve for studied soils was S-type at 30 and 40°C and L-type at 50°C. The isotherms were nonlinear and were well described by Freundlich equation. Adsorption capacity ranged from 1.4 to 2.2 μg1 − 1/n g−1 mL1/n and the order of adsorption was: clay loam > sandy loam > loamy sand indicating strong affinity of pendimethalin towards organic matter and clay content. Irrespective of soil type, the adsorption of pendimethalin increased with increase in temperature suggesting endothermic process. Freundlich desorption coefficient was greater than adsorption in all soils at studied temperatures indicating hysteresis. Thermodynamic parameters revealed spontaneous adsorption process which becomes more favourable at high temperature. The adsorption of pendimethalin was dominated by surface adsorption at lower equilibrium concentration and partition at high concentrations.
Access options
Buy single article
Instant access to the full article PDF.
USD 39.95
Price includes VAT (USA)
Tax calculation will be finalised during checkout.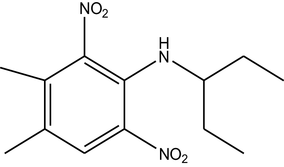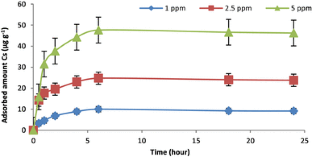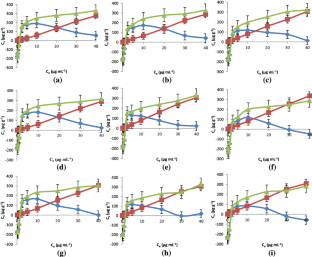 References
Alister CA, Gomez PA, Rojas S, Kogan M (2009) Pendimethalin and oxyfluorfen degradation under two irrigation conditions over four years application. J Environ Sci Health B 44:337–343

Appleby A, Valverde B (1989) Behaviour of dinitroaniline herbicides in plants. Weed Technol 3:198–206

Calvet R, Barriuso E, Bedos C, Benoit P, Charnay MP, Coquet Y (2005) Les pesticides dans les sols. Conséquences agronomiques et environnementales. Editions France Agricole), Dunod, Paris, ISBN 2-85557-119-7

Dao TH, Lavy TL (1978) Atrazine adsorption on soil as influenced by temperature, moisture content and electrolyte concentration. Weed Sci 26:303–308

Dimitro BD, Gadeva PG, Benova DK (2006) Comparative genotoxicity of the herbicides round up, stomp and reglone in plant and mammalian test systems. Mutagenesis 21:375–382

Durovic R, Gajic-Umiljendic J, Dordevic T (2009) Effects of organic matter and clay content in soil on pesticide adsorption processes. Pestic Phytomed 24:51–57

El-Sharkawy NI, Rasha MR, El-Araby IE (2011) Assessment of stomp (pendimethalin) toxicity on Oreochromis niloticus. J Am Sci 7:568–576

EPA (2012) Sustainable futures/p2 framework manual. pp 12–18

Federal Register (Fed Reg) (1997) Pendimethalin: pesticide tolerance for emergency exemption. Fed Reg 62:28355–28361

Fishel FM (2008) Pesticide characteristics. US Department of Agriculture. Extension Service, University of Florida, Institute of Food and Agricultural Sciences, Florida

Fruhstorfer P, Schneider RJ, Weil L, Niessner R (1993) Factors influencing the adsorption of atrazine on montmorillonitic and kaolinitic clays. Sci Total Environ 138:317–328

Gerstl Z, Mingelgrin U (1979) A note on the adsorption of organic molecules on clays. Clays Clay Miner 27:285–290

Hamilton DJ, Ambrus Á, Dieterle RM, Felsot AS, Harris CA, Holland PT, Katayama A, Kurihara N, Linders J, Unsworth J, Wong SS (2003) Regulatory limits for pesticide residues in water. Pure Appl Chem 75:1123–1155

Jackson ML (1958) Soil chemical analysis. Prentice Hall of India Pvt Ltd, New Delhi, p 498

Jackson ML (1971) Soil chemical analysis. Prentice Hall Inc, Eaglewood, pp 655–665

Jenkins SR, Wehtje GR, Morgan JM, Bollinger AF, Young DG (2000) Temperature effects on retention of atrazine andimazapyr on soils. Water Air Soil Pollut 118:169–178

Kadlag AD, Pawar AB, Nagmote MV (2011) Adsorption, desorption and quantity-intensity relationship of pre-emergence herbicides on inceptisol. Indian J Weed Sci 43:113–115

Mao M, Ren L (2010) Effects of ionic strength and temperature on adsorption of atrazine, deethylatrazine and deisopropylatrazine in an alkaline sandy loam. In: 19th World congress of soil science. Soil solutions for a changing world. Brisbane, Australia, pp 93–96

OECD (2000) Guidelines for the testing of chemicals. Test No. 106: adsorption desorption using a batch equilibrium method. Organization for Economic Co-operation and Development, Paris

Pignatello JJ (1989) Sorption dynamics of organic compounds in soils and sediments. In: Relation and movements of organic chemicals in soils. SSSA Special Publication No. 22, pp 45–80

Piper CS (1966) Soil and plant analysis. Hans Publisher, Bombay, pp 47–79

Rai AK, Chhonkar PK, Agnihotri NP (2000) Adsorption–desorption of pendimethalin in six soils of India. J Ind Soc Soil Sci 48:52–56

Raman S, Patnaik C (1993) Desorption of soil applied metoxuron from soils of Hyderabad. J Environ Toxicol Chem 7:30–37

Richard LA (1954) Diagnosis and improvement of saline and alkali soils. United States Department of Agriculture, Washington, DC, pp 7–33

Roberts TR, Hutson DH (1998) Metabolic pathways of agrochemicals: herbicide and plant growth regulators part-1. The Royal Society of Chemicals, Cambridge, pp 270–277

Roca E, Errico E, Izzo A, Strumia S, Esposito A, Fiorentino A (2009) In vitro saprotrophic basidiomycetes tolerance to pendimethalin. Int Biodeterior Biodegr 63:182–186

Sato T, Kohnosu S, Hartwig JF (1987) Adsorption of butachlor to soils. J Agric Food Chem 35:397–402

Sireesha A, Rao PC, Rao PV, Ramalakshmi CS, Swapna G (2013) Adsorption desorption of pendimethalin and oxyfluorfen in soils of Andhra Pradesh. J Res ANGRAU 41:1–10

Ten HTEM., Cornelissen G (1996) Effect of temperature on sorption equilibrium and sorption kinetics of organic micropollutants—a review. Chemosphere 32:609–626

US Environmental Protection Agency (1997) Reregistration eligibility decision for pendimethalin: USEPA Doc. No. 738-R-97–007, US Environmental Protection Agency, Washington, DC

Walkley A, Black IA (1934) An examination of the degtjareff method for determining soil organic matter and a proposed modification of the chromic acid titration method. Soil Sci 37:29–38

Weber JB (1990) Behavior of dinitroaniline herbicides in soils. Weed Technol 4:394–406

Zheng SQ, Cooper JF (1996) Adsorption, desorption and degradation of three pesticides in different soils. Arch Environ Contam Toxicol 30:15–20

Zhu LZ, Chen BL (2000) Sorption behavior of p-nitrophenol on the interface between anion cation organobentonite and water. Environ Sci Technol 34:2997–3002
Acknowledgements
The authors are obliged to The Directorate of Weed Research, Jabalpur and Punjab Agricultural University, Ludhiana, for necessary facilities to carry out these studies.
Electronic supplementary material
Below is the link to the electronic supplementary material.
About this article
Cite this article
Kaur, P., Makkar, A., Kaur, P. et al. Temperature Dependent Adsorption–Desorption Behaviour of Pendimethalin in Punjab Soils. Bull Environ Contam Toxicol 100, 167–175 (2018). https://doi.org/10.1007/s00128-017-2235-y
Received:

Accepted:

Published:

Issue Date:
Keywords
Clay

Hysteresis

Organic matter

Thermodynamic parameters