Abstract
One of the aims of ecotoxicology is the assessment of the effects of chemicals on the ecosystems. Bioassays assessing lethality are frequently used in ecotoxicology, however they usually employ supra-environmental toxic concentrations. Toxicity tests employing behavioral endpoints may present a balance between simplicity (i.e., laboratory bioassays) and complexity (i.e., relevant ecological effects). The aim of this study was to develop a feeding behavioral bioassay with the aquatic snail, Potamopyrgus antipodarum, which included a 2 days exposure to cadmium, followed by a 9 days post-exposure observational period. Several behavioral feeding endpoints were monitored, including percentage of actively feeding animals, percentage of animals in food quadrants and a mobility index. The percentage of actively feeding animals was reduced by the four cadmium treatments (0.009, 0.026, 0.091 and 0.230 mg Cd/L) with the stronger effect in the highest concentration. The two highest cadmium concentrations significantly reduced the percentage of animals in food quadrants and the mobility index. Therefore, the percentage of actively feeding animals was the most sensitive endpoint to cadmium toxicity as the four cadmium concentrations caused a significant decrease in this endpoint. It is concluded that feeding behavior is a useful endpoint to detect the exposure of aquatic snails to cadmium.
Access options
Buy single article
Instant access to the full article PDF.
USD 39.95
Price includes VAT (USA)
Tax calculation will be finalised during checkout.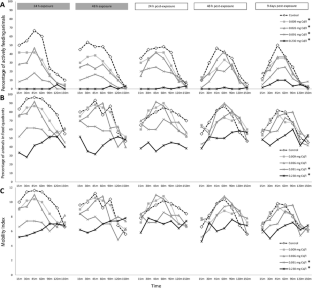 References
Alonso A, Camargo JA (2004) Toxic effects of unionized ammonia on survival and feeding activity of the freshwater amphipod Eulimnogammarus toletanus (Gammaridae, Crustacea). Bull Environ Contam Toxicol 72:1052–1058

Alonso A, Camargo JA (2009) Long-term effects of ammonia on the behavioral activity of the aquatic snail Potamopyrgus antipodarum (Hydrobiidae, Mollusca). Arch Environ Contam Toxicol 56:796–802

Alonso A, Camargo JA (2011) Toxic effects of fluoride ion on survival, reproduction and behaviour of the aquatic snail Potamopyrgus antipodarum (Hydrobiidae, Mollusca). Water Air Soil Poll 219:81–90

Alonso A, Camargo JA (2012) A video-based tracking analysis to assess the chronic toxic effects of fluoride ion on the aquatic snail Potamopyrgus antipodarum (Hydrobiidae, Mollusca). Ecotoxicol Environ Saf 81:70–75

Alonso A, Camargo JA (2013) Nitrate causes deleterious effects on the behaviour and reproduction of the aquatic snail Potamopyrgus antipodarum (Hydrobiidae, Mollusca). Environ Sci Pollut Res 20:5388–5396

Alonso A, De Lange HJ, Peeters ETHM. (2009) Development of a feeding behavioural bioassay using the freshwater amphipod Gammarus pulex and the multispecies freshwater biomonitor. Chemosphere 75:341–346

Alonso A, García-Periñán E, Camago JA (2016) Development of a low cost ecotoxicological bioassay based on the feeding behaviour of the aquatic snail Potamopyrgus antipodarum (Hydrobiidae, Mollusca). Arch Environ Contam Toxicol 71:553–560

APHA-American Public Health Association (1995) Standard methods for the examination of water and wastewater, 19th edn. APHA-AWWA-WPCF, Washington

Bernot RJ, Kennedy EE, Lamberti GA (2005) Effects of ionic liquids on the survival, movement, and feeding behavior of the freshwater snail, Physa acuta. Environ Toxicol Chem 24:1759–1765

Blechinger SR, Kusch RC, Haugo K, Matz C, Chivers DP, Krone PH (2007) Brief embryonic cadmium exposure induces a stress response and cell death in the developing olfactory system followed by long-term olfactory deficits in juvenile zebrafish. Toxicol Appl Pharmacol 224:72–80

Bondarenko O, Juganson K, Ivask A, Kasemets K, Mortimer M, Kahru A (2013) Toxicity of Ag, CuO and ZnO nanoparticles to selected environmentally relevant test organisms and mammalian cells in vitro: a critical review. Arch Toxicol 87:1181–1200

Chabicovsky M, Klepal W, Dallinger R (2004) Mechanisms of cadmium toxicity in terrestrial pulmonates: programmed cell death and metallothionein overload. Environ Toxicol Chem 23:648–655

Chapman PM (2002) Integrating toxicology and ecology: putting the "eco" into ecotoxicology. Mar Pollut Bull 44:7–15

Cheung SG, Tai KK, Leung CK, Siu YM (2002) Effects of heavy metals on the survival and feeding behaviour of the sandy shore scavenging gastropod Nassarius festivus (Powys). Mar Pollut Bull 45:107–113

Coulaud R, Geffard O, Vigneron A, Quéau H, François A, Chaumot A (2015) Linking feeding inhibition with reproductive impairment in Gammarus confirms he ecological relevance of feeding assays in environmental monitoring. Environ Toxicol Chem 34:1031–1038

Das S, Khangarot BS (2010) Bioaccumulation and toxic effects of cadmium on feeding and growth of an Indian pond snail Lymnaea luteola L. under laboratory conditions. J Hazard Mater 182:763–770

Dorgelo J, Meester H, van Velzen C (1995) Effects of diet and heavy metals on growth rate and fertility in the deposit-feeding snail Potamopyrgus jenkinsi (Smith) (Gastropod: Hydrobiidae). Hydrobiologia 316:199–210

Duft M, Schmitt C, Bachmann J, Brandelik C, Schulte-Oehlmann U, Oehlmann J (2007) Prosobranch snails as test organisms for the assessment of endocrine active chemicals: an overview and a guideline proposal for a reproduction test with the freshwater mudsnail Potamopyrgus antipodarum. Ecotoxicology 16:169–182

Field A (2005) Discovering statistics using SPSS, 2nd edn. SAGE Publications, London

Gerhardt A (2007) Aquatic behavioural ecotoxicology – prospects and limitations. Hum Ecol Risk Assess 13:481–491

Gerhardt A, Svensson E, Clostermann M, Fridlund B (1994) Monitoring of behavioral patterns of aquatic organisms with an impedance conversion technique. Environ Int 20:209–219

Habib MR, Mohamed AH, Osman GY, Mossalem HS, Sharf El-Din AT, Croll RP (2016) Biomphalaria alexandrina as bioindicator of metal toxicity. Chemosphere 157:97–106

Hellou J (2011) Behavioural ecotoxicology, an "early warning" signal to assess environmental quality. Environ Sci Pollut Res 18:1–11

Jensen A, Forbes VE (2001) Interclonal variation in the acute and delayed toxicity of cadmium to the European prosobranch gastropod Potamopyrgus antipodarum (Gray). Arch Environ Contam Toxicol 40:230–235

Jensen A, Forbes VE, Parker ED Jr (2001) Variation in cadmium uptake, feeding rate and life history effects in the gastropod Potamopyrgus antipodarum: linking toxicant effects on individuals to the population level. Environ Toxicol Chem 20:2503–2513

Kane AS, Salierno JD, Gipson GT, Molteno TCA, Hunter C (2004) A video-based movement analysis system to quantify behavioural stress responses of fish. Water Res 38:3993–4001

Klaschka U (2009) A new challenge: development of test systems for the infochemical effect. Environ Sci Pollut Res 16:370–388

Kusch RC, Krone PH, Chivers DP (2007) Chronic exposure to low concentrations of waterborne cadmium during embryonic and larval development results in the long-term hindrance of antipredator behaviour in zebrafish. Environ Toxicol Chem 27:705–710

Lefcort H, Wehner EA, Cocco PL (2013) Pre-exposure to heavy metals pollution and the odor of predation decrease the ability of snails to avoid stressors. Arch Environ Contam Toxicol 64:273–280

Maltby L, Naylor C, Calow P (1990) Field deployment of a scope for growth assay involving Gammarus pulex, a freshwater invertebrate. Ecotoxicol Environ Saf 19:292–300

Maltby L, Clayton SA, Wood RM, McLoughlin N (2002) Evaluation of the Gammarus pulex in situ feeding assay as a biomonitor of water quality: robustness, responsiveness, and relevance. Environ Toxicol Chem 21:361–368

Mark U, Solbé J (1998) Analysis of the ECETOC aquatic toxicity (EAT) database V-Relevance of Daphnia magna as a representative test species. Chemosphere 36:155–166

Martin B, Jager T, Nisbet RM, Preuss TG, Grimm V (2014) Limitations of extrapolating toxic effects on reproduction to the population level. Ecol Appl 24:1972–1983

Martins J, Oliva Teles L, Vasconcelos V (2007) Assays with Daphnia magna and Danio rerio as alert systems in aquatic toxicology. Environ Int 33:414–425

Melvin SD, Wilson SP (2013) The utility of behavioural studies for aquatic toxicology testing: a meta-analysis. Chemosphere 93:2217–2223

Michels E, Semsari S, Bin C, De Meester L (2000) Effect of sublethal doses of cadmium on the phototactic behaviour of Daphnia magna. Ecotoxicol Environ Saf 47:261–265

Moller V, Forbes VE, Depledge MH (1994) Influence of acclimation and exposure temperature on the acute toxicity of cadmium to the freshwater snail Potamopyrgus antipodarum (Hydrobiidae). Environ Toxicol Chem 13:1519–1524

Newman MC, Clements WH (2008) Ecotoxicology: a comprehensive treatment. CRC Press, Boca Raton

Nyman A-M, Hintermeister A, Schirmer K, Ashauer R (2013) The insecticide Imidacloprid causes mortality of the freshwater amphipod Gammarus pulex by interfering with feeding behaviour. PLoS ONE 8:1–13

Oehlmann J, Di Benedetto P, Tillmann M, Duft M, Oetken M, Schulte-Oehlmann U (2007) Endocrine disruption in prosobranch molluscs: evidence and ecological relevance. Ecotoxicology 16:29–43

Robinson PD (2009) Behavioural toxicity of organic chemical contaminants in fish: application to ecological risk assessment (ERA's). Can J Fish Aquat Sci 66:1179–1188

Rodrigues ET, Pardal MA (2014) The crab Carcinus maenas as a suitable experimental model in ecotoxicology. Environ Int 70:158–182

Ruppert K, Geiss C, Ostermann S, Theis C, Oehlmann J (2016) Comparative sensitivity of juvenile and adult Potamopyrgus antipodarum (Mollusca: Hydrobiidae) under chronic exposure to cadmium and tributyltin. J Environ Sci Health A 51:736–743

Scott GR, Sloman KA (2004) The effects of environmental pollutants on complex fish behaviour: integrating behavioural and physiological indicators of toxicity. Aquat Toxicol 68:369–392

Sornom P, Gismondi E, Vellinger C, Devin S, Férard J-F, Beisel J-N (2012) Effects of sublethal cadmium exposure on antipredator behavioural and antitoxic responses in the invasive amphipod Dikerogammarus villosus. PLoS ONE 7:1–10

Tallarico LF (2015) Freshwater gastropods as a tool for ecotoxicology assessments in Latin America. Am Malacol Bull 33:1–7

USEPA (2002) Short-term methods for estimating the chronic toxicity of effluents and receiving waters to freshwater organisms. Environmental Protection Agency, 821-R-02–013. 4th edn, USEPA, Washington, DC

Wang B, Du Y (2013) Cadmium and its neurotoxic effects. Oxid Med Cell Longev 2013:1–12

Wright DA, Welbourn PM (1994) Cadmium in the aquatic environment: a review of ecological, physiological, and toxicological effects on biota. Environ Rev 2:187–214

Zala SM, Penn DJ (2004) Abnormal behaviours induced by chemical pollution: a review of the evidence and new challenges. Anim Behav 68:649–664
Acknowledgements
Funds for this research came from the University of Alcalá (research project CCG2013/EXP-054 and CCG2016/EXP-054), the Spanish Ministry of Science and Innovation (Research Project CGL-2006-06804/BOS) and POII10˗0179˗4700 of the Junta de Comunidades de Castilla˗La Mancha. Our thanks to Julio Camargo for providing climatic chambers for this study. Our sincere gratitude to Pilar Castro for correcting the English text and for her useful comments to improve this work.
About this article
Cite this article
Alonso, Á., Valle-Torres, G. Feeding Behavior of an Aquatic Snail as a Simple Endpoint to Assess the Exposure to Cadmium. Bull Environ Contam Toxicol 100, 82–88 (2018). https://doi.org/10.1007/s00128-017-2230-3
Received:

Accepted:

Published:

Issue Date:
Keywords
Behavior

Sub-lethal effects

Post-exposure

Aquatic toxicity

Potamopyrgus antipodarum