Abstract
Phytoremediation of nutrients and pesticides in runoff is a growing conservation effort, particularly in agriculturally intensive areas such as the lower Mississippi River Valley. In the current study, rice (Oryza sativa) was examined for its mitigation capacity of nitrogen, phosphorus, diazinon, and permethrin. Twenty-two high density polyethylene circular containers (56 cm x 45 cm) were used as mesocosms, with 12 mesocosms planted with rice and 10 mesocosms remaining unvegetated. Mesocosms were hydraulically connected and arranged in a series of two, with each system providing a 4 h hydraulic retention time (HRT) for a total system retention time of 8 h. Two treatments (RICE/RICE and RICE/BARE) of four replicates each were utilized, with three replicates of controls (BARE/BARE). Systems with RICE/RICE (8 h HRT) significantly reduced diazinon (p = 0.0126), cis-permethrin (p = 0.0442), filtered orthophosphate (p = 0.0058), and total orthophosphate (p = 0.0123) compared to control systems. No significant differences were noted for trans-permethrin, nitrate, or ammonium. Results indicate promise in phytoremediation of agricultural runoff by rice. If further studies reveal contaminants are not transferred into seeds, then rice could potentially serve as both a remediation tool and food source in countries facing agricultural pollution challenges.
Access options
Buy single article
Instant access to the full article PDF.
USD 39.95
Price includes VAT (USA)
Tax calculation will be finalised during checkout.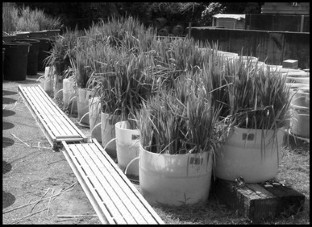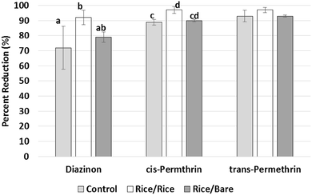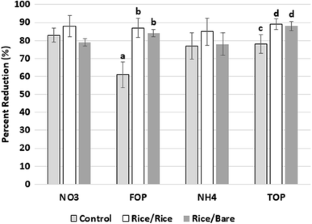 References
Adachi A, Takagi S, Okano T (2001) Studies on removal efficiency of rice bran for pesticides. J Health Sci 47(2):94–98

American Public Health Association (APHA) (2005) Standard methods for the examination of water and wastewater, 21st edn. American Public Health Association (APHA), Washington

Bennett ER, Moore MT, Cooper CM, Smith S Jr (2000) Method for the simultaneous extraction and analysis of two current use pesticides, atrazine and lambda-cyhalothrin, in sediment and aquatic plants. Bull Environ Contam Toxicol 64:825–833

Bhattacharjee S, Fakhruddin ANM, Chowdhury MAZ, Rahman MA, Alam MK (2012) Monitoring of selected pesticide residue levels in water samples of paddy fields and removal of cypermethrin and chlorpyrifos residues from water using rice bran. Bull Environ Contam Toxicol 89:348–353

Chu WK, Wong MH, Zhang J (2006) Accumulation, distribution, and transformation of DDT and PCBs by Phragmites australis and Oryza sativa L: I. Whole plant study. Environ Geochem Health 28:159–168

Kawahigashi H, Hirose S, Ohkawa H, Ohkawa Y (2006) Phytoremediation of the herbicides atrazine and metolachlor by transgenic rice plants expressing human CYP1A1, CYP2B6, and CYP2C19. J Agric Food Chem 54:2985–2991

Kröger R, Moore MT, Cooper CM, Holland MM (2009) Diazinon accumulation and dissipation in Oryza sativa L. following simulated agricultural runoff amendment in flooded rice paddies. Water Air Soil Pollut 201:209–218

Miyazaki A, Takeuchi T, Nakamura H, Yamamoto Y, Kubota F (2004) Characteristics of nutrient absorption and water purification in some plant species grown by floating culture system. Soil Sci Plant Nutr 50(3):357–363

Moore MT, Cooper CM, Kröger R (2007) Rice (Oryza sativa) as a remediation tool for nutrient runoff. Bioremed J 11(4):165–170

Moore MT, Kröger R, Cooper CM, Cullum RF, Smith S Jr, Locke MA (2009) Diazinon reduction and partitioning between water, sediment, and vegetation in stormwater runoff mitigation through rice fields. Pest Manag Sci 65:1182–1188

Moore MT, Kröger R, Locke MA, Tyler HL, Cooper CM (2013) Seasonal and interspecific nutrient mitigation comparisons of three emergent aquatic macrophytes. Bioremed J 17(3):148–158

Murphy R, Riley JP (1962) A modified single solution method for the determination of phosphate in natural waters. Anal Chim Acta 27:31–36

Omer AR, Prince Czarnecki JM, Baker BH, Hogue JA (2016) Characterizing nitrogen outflow from pre-harvest rice field drain events. Agric Water Manag 165:44–49

Prasad R, Shivay YS, Kumar D (2017) Current status, challenges, and opportunities in rice production. In: Chauhan BS, Jabran K, Mahajah G (eds) Rice production worldwide. Springer International Publishing, Cham, pp 1–32

Srivastava A, Chun S-J, Ko S-R, Kim J, Ahn C-Y (2017) Floating rice-culture system for nutrient remediation and feed production in a eutrophic lake. J Environ Manag 203:342–348

Tyler HL, Moore MT, Locke MA (2012a) Influence of three aquatic macrophytes on mitigation of nitrogen species from agricultural runoff. Water Air Soil Pollut 223:3227–3236

Tyler HL, Moore MT, Locke MA (2012b) Potential for phosphate mitigation from agricultural runoff by three aquatic macrophytes. Water Air Soil Pollut 223:4557–4564

USDA ERS (2017) Rice yearbook. http://www.ers.usda.gov/data-products/rice-yearbook/

USEPA (2017) Causes of impairment for 303(d) listed waters. https://iaspub.epa.gov/waters10/attains_nation_cy.control?p_report_type=T#causes_303d

Yasarer LMW, Bingner RL, Garbrecht JD, Locke MA, Lizotte RE Jr, Momm HG, Busteed PR (2017) Climate change impacts on runoff, sediment, and nutrient loads in an agricultural watershed in the lower Mississippi River Basin. Appl Eng Agric 33(3):379–392
Acknowledgements
Thanks to Lisa Brooks, Renee Russell, and Wood Dabbs for sample collection assistance, preparation, and analyses. Mention of trade names and commercial products in this article are solely for the purpose of providing specific information and do not imply recommendation or endorsement by the US Department of Agriculture (USDA). USDA is an equal opportunity employer and provider.
About this article
Cite this article
Moore, M.T., Locke, M.A. Can Rice (Oryza sativa) Mitigate Pesticides and Nutrients in Agricultural Runoff?. Bull Environ Contam Toxicol 100, 162–166 (2018). https://doi.org/10.1007/s00128-017-2225-0
Received:

Accepted:

Published:

Issue Date:
Keywords
Mesocosm

Diazinon

Permethrin

Nitrate

Phosphate