Abstract
Mercury concentrations were measured in eggs, larvae, and adult spawning-phase sea lampreys (Petromyzon marinus) collected in tributaries of Lake Superior to investigate spatial and ontogenetic variation. There were significant differences in mercury concentrations between all three life stages, with levels highest in adults (mean = 3.01 µg/g), followed by eggs (mean = 0.942 µg/g), and lowest in larvae (mean = 0.455 µg/g). There were no significant differences in mercury concentrations by location for any life stage or by sex in adults. Mercury was not correlated with adult or larval lamprey length or mass. Mercury levels in adult lampreys exceeded U.S. and Canadian federal guidelines for human consumption. Mercury concentrations in all life stages exceeded criteria for the protection of piscivorous wildlife, posing a threat to local fish, birds, and mammals. High mercury levels in adult lampreys combined with their semelparous life history make them a potential source of lake-derived mercury to spawning streams.
Access options
Buy single article
Instant access to the full article PDF.
USD 39.95
Price includes VAT (USA)
Tax calculation will be finalised during checkout.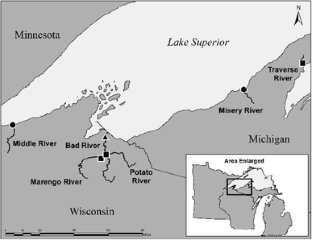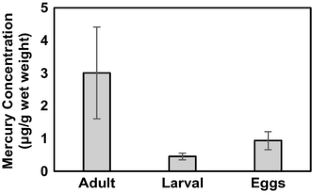 References
Adair R, Sullivan P (2015) Sea lamprey control in the Great Lakes 2014: Annual report to the Great Lakes Fishery Commission. http://www.glfc.org/annual-reports.php. Accessed 26 Sept 2017

Barbiarz C, Hoffmann S, Wieben A, Hurley J, Andren A, Shafer M, Armstrong D (2012) Watershed and discharge influences on the phase distribution and tributary loading of total mercury and methylmercury into Lake Superior. Environ Pollut 161:299–310

Bence JR, Berstedt RA, Christie GC, Cochran PA, Ebener MP, Koonce JF, Rutter MA, Swink WD (2003) Sea lamprey (Petromyzon marinus) parasite-host interactions in the Great Lakes. J Great Lakes Res 29(Suppl. 1):253–282

Bhavsar SP, Gewurtz SB, McGoldrick DJ, Keir MJ, Backus SM (2010) Changes in mercury levels in Great Lakes fish between 1970s and 2007. Environ Sci Technol 44:3273–3279

Bloom NS (1992) On the chemical form of mercury in edible fish and marine invertebrate tissue. Can J Fish Aquat Sci 49:1010–1017

Cohen M, Artz R, Draxler R, Miller P, Poissant L, Niemi D, Ratte D, Deslauriers M, Duval R, Laurin R, Slotnick J, Nettesheim T, McDonald J (2004) Modeling the atmospheric transport and deposition of mercury to the Great Lakes. Environ Res 95:247–265

Drevnick PE, Horgan MJ, Oris JT, Kynard BE (2006) Ontogenetic dynamics of mercury accumulation in Northwest Atlantic sea lamprey (Petromyzon marinus). Can J Fish Aquat Sci 63:1058–1066

Giblin FJ, Massaro EJ (1973) Pharmacodynamics of methyl mercury in the rainbow trout (Salmo gairdneri): tissue uptake, distribution and excretion. Toxicol Appl Pharmacol 24:81–91

Hansen MJ, Madenjian CP, Slade JW, Steeves TB, Almeida PR, Quintella BR (2016) Population ecology of the sea lamprey (Petromyzon marinus) as an invasive species in the Laurentian Great Lakes and an imperiled species in Europe. Rev Fish Biol Fish 26:506–535

Hardisty MW, Potter IC (1971) The general biology of adult lampreys. In: Hardisty MW, Potter IC (eds) The biology of lampreys, vol 1. Academic Press, New York, pp 127–206

Harvey CJ, Ebener MP, White CK (2008) Spatial and ontogenetic variability of sea lamprey diets in Lake Superior. J Great Lakes Res 34:434–449

Heinrich JW, Mullett KM, Hansen MJ, Adams JV, Klar GT, Johnson DA, Christie GC, Young RJ (2003) Sea lamprey abundance and management in Lake Superior, 1957 to 1999. J Great Lakes Res 29(Suppl. 1):566–583

Hubbs CL, Potter IC (1971) Distribution, phylogeny and taxonomy. In: Hardisty MW, Potter IC (eds) The biology of lampreys, vol 1. Academic Press, New York, pp 1–65

Linley T, Krogstad E, Mueller R, Gill G, Lasorsa B (2016) Mercury concentrations in pacific lamprey (Entosphenus tridentatus) and sediments in the Columbia River basin. Environ Toxicol Chem 35(10):2571–2576

Lobring LB, Potter BB (1991) Method 245.6, Revision 2.3: Determination of mercury in tissues by cold vapor atomic absorption spectrometry. Method from US Environmental Protection Agency, Office of Research and Development, Environmental Monitoring Systems Laboratory

MacEachen DC, Russell RW, Whittle DM (2000) Spatial distribution of mercury and organochlorine contaminants in Great Lakes sea lamprey (Petromyzon marinus). J Great Lakes Res 26(1):112–119

Madenjian CP, Johnson NS, Siefkes MJ, Dettmers JM, Blum JD, Johnson MW (2014) Mercury accumulation in sea lamprey (Petromyzon marinus) from Lake Huron. Sci Total Environ 470–471:1313–1319

Madenjian CP, Rediske RR, Krabbenhoft DP, Stapanian MA, Chernyak SM (2016) Sex differences in contaminant concentrations in fish: a synthesis. Biol Sex Differ 7(1):42

Maitland PS, Renaud CB, Quintella BR, Close DA, Docker MF (2015) Conservation of native lampreys. In: Docker MF (ed) Lamprey: biology, conservation, and control. Springer, Dordrecht, pp 376–428

Niimi AJ (1983) Biological and toxicological effects of environmental contaminants in fish and their eggs. Can J Fish Aquat Sci 40:306–312

Quintella BR, Andrade NO, Almeida PR (2003) Distribution, larval stage duration and growth of the sea lamprey ammocoetes, Petromyzon marinus L., in a highly modified river basin. Ecol Freshw Fish 12:1–8

Schneider CP, Owens RW, Bergstedt RA, O'Gorman R (1996) Predation by sea lamprey (Petromyzon marinus) on lake trout (Salvelinus namaycush) in southern Lake Ontario, 1982–1992. Can J Fish Aquat Sci 53:1921–1932

Smith BR (1971) Sea lampreys in the Great Lakes of North America. In: Hardisty MW, Potter IC (eds) The biology of lampreys, vol 1. Academic Press, New York, pp 207–247

Smith BR, Elliott OR (1953) Movement of parasitic-phase sea lampreys in Lakes Huron and Michigan. Trans Am Fish Soc 82:123–128

Sutton TM, Bowen SH (1994) Significance of organic detritus in the diet of larval lampreys in the Great Lakes basin. Can J Fish Aquat Sci 51:2380–2387

Swink WD (1991) Host-size selection by parasitic sea lamprey. Trans Am Fish Soc 120:637–643

United States Environmental Protection Agency (USEPA) (1997) Mercury study report to Congress, Volume VII: Characterization of human health and wildlife risks from mercury exposure in the United States. EPA-452/R-97-009, Washington DC

Vander Zanden MJ, Rasmussen JB (1996) A trophic position model of pelagic food webs: impact on contaminant bioaccumulation in lake trout. Ecol Monogr 66(4):451–477

Whittle DM (2000) Contaminant burdens in Great Lakes larval sea lamprey: A 1999 spatial survey. Report to the Great Lakes Fisheries Commission. http://www.glfc.org/pubs/pdfs/research/reports/Whittle99.pdf. Accessed 26 Sept 2017

Zanaski TJ, Holsen TM, Hopke PK, Crimmins BS (2011) Mercury temporal trends in top predator fish of the Laurentian Great Lakes. Ecotoxicology 20(7):1568–1576
Acknowledgements
The authors thank GLIFWC's Mike Plucinski and his team of interns (Hanna Fiorio, Peter Houle, Jalyn LaBine, Dalton Lebada, and Marissa Neitzke) for performing lamprey collections; Esteban Chiriboga for generating the map of sampling sites; and LSRI staff and students Olivia Anders, Cole Holstrom, and Colton Kennedy for assistance with lamprey mercury analysis. We are grateful to Jonathan Gilbert and John Coleman of GLIFWC and Kelsey Prihoda and Tom Markee of LSRI for providing critical reviews of the manuscript.
Declarations
Supporting data for this manuscript can be found at the website of the Great Lakes Indian Fish & Wildlife Commission (http://www.glifwc.org).
About this article
Cite this article
Moses, S.K., Polkinghorne, C.N., Mattes, W.P. et al. Spatial and Ontogenetic Variation in Mercury in Lake Superior Basin Sea Lamprey (Petromyzon marinus). Bull Environ Contam Toxicol 100, 95–100 (2018). https://doi.org/10.1007/s00128-017-2224-1
Received:

Accepted:

Published:

Issue Date:
Keywords
Sea lamprey

Mercury

Lake Superior

Ontogenetics