Abstract
In this study, we analyze the concentration of ten metals in two freshwater fish—the benthic catfish Trichomycterus areolatus and the limnetic silverside Basilichthys microlepidotus—in order to detect possible accumulation differences related to fish habitat (benthic or pelagic), tissue type (gill, liver and muscle), and the river of origin (four different rivers) in central Chile. The MANOVA performed with all variables and metals, revealed independent effects of fish, tissue and river. In the case of the fish factor, Cu, Cr, Mo and Zn showed statistically higher concentrations in catfish compared with silverside for all tissues and in all rivers (p < 0.05). In the case of the tissue factor, Al, Cr, Fe and Mn had statistically higher concentrations in liver and gills than in muscle (p  < 0.05). For the river effect, the analysis showed higher concentrations of Cr, Mn and Pb in the Cogoti river and the lower concentrations in the Recoleta river. These results suggest that not all metals have the same pattern of accumulation; however, some metals tend to accumulate more in readily catfish, probably due to their benthic habit, and in liver and gill tissue, probably as a result of accumulation from food sources and respiration.
Access options
Buy single article
Instant access to the full article PDF.
USD 39.95
Price includes VAT (USA)
Tax calculation will be finalised during checkout.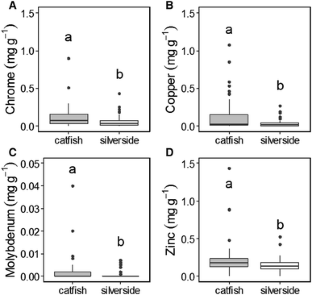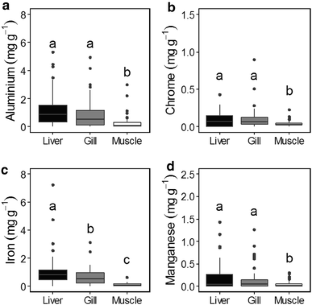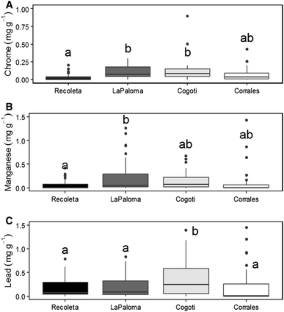 References
Agah H, Leermakers M, Elskens M, Fatemi SRM, Baeyens W (2009) Accumulation of trace metals in the muscle and liver tissue of five species from the Persian Gulf. Environ Monit Assess 157:499–514

Alipour H, Pourkhabbaz A, Hassanpour M (2013) Assessing of heavy metal concentrations in the tissues of Rutilus rutilus caspicus and Neogobius gorlap from Miankaleh international wetland. Bull Environ Contam Toxicol 91:517–521

Amundsen P, Staldvik FJ, Ludin AA, Kashulin NA, Popova OA (1997) Heavy metal contamination in freshwater fish from the border region between Norway and Russia. Sci Total Environ 201:204–224

Ayed N, Faure E, Quignard JP, Trabelsi M (2013) Determination of P, Ca, Zn, Cd and Pb concentrations in muscle, gills, liver gonads and skeleton of two natural populations of Atherina lagunae in north lake of Tunis (Tunisia). Bull Inst Natn Scien Tech Mer de Salammbô 40:141–149

Bharti S, Banerjee TK (2011) Bioaccumulation of metals in the edible catfish Heteropneustes fossilis (Bloch) exposed to coal mine effluent generated at northern coalfield limited, Singrauli, India. Bull Environ Contam Toxicol 87:393–398

Bradl HB (2004) Adsorption of heavy metals ions on soils and soils constitutuents. J Colloid Interface Sci 277:1–18

Bubb JM, Lester JN (1994) Anthropogenic heavy metal inputs to lowland river systems, a case study. The River Stour, UK. Water Air Soil Pollut 78:279

Canli M, Atli G (2003) The relationships between heavy metal (Cd, Cr, Cu, Fe, Pb, Zn) levels and the size of six Mediterranean fish species. Environ Pollut 121(1):129–136

Cheung KC, Leung HM, Wong MH (2008) Metal concentrations of common freshwater and marine fish from the Pearl River Delta, South China. Arch Environ Contam Toxicol 54:705–715

Clements WH, Rees DE (1997) Effects of heavy metals on prey abundance, feeding habits, and metal uptake of brown trout in the Arkansas River, Colorado. Trans Am Fish Soc 201:774–785

Copaja SV, Nuñez VR, Muñoz GS, Gonzalez GL, Vila I, Veliz D (2016a) Heavy metal concentration in water and sediments from affluents and eflluents of mediterranean chilean reservoirs. J Chil Chem Soc 60:2797–2804

Copaja SV, Pérez CA, Nuñez VR, Muñoz GS, Vila I, Veliz D (2016b) Effect of Rapel reservoir in the distribution of heavy metals in two native fish. Bull. Environ Contam Toxicol 97:24–30

Dural M, Goksu MLZ, Ozak AA (2007) Investigation of heavy metal level in economically important fish species captured from the Tuzla Lagoon. Food Chem 1:415–421

European Community (2005) Commission regulation N° 78/2005 (pp: L16/43_L16/45). Official J European Union 2005 [20.1.2005]

Evans DH (1987) The fish gill: site of action and model for toxic effects of environmental pollutants. Environ Health Perspect 71:47–58

Farag AM, Woodward DF, Goldstein JN, Brumbaugh W, Meyer JS (1998) Concentrations of metals associated with mining waste in sediments, biofilm, benthic macroinvertebrates, and fish from the Coeur d'Alene River Basin, Idaho. Arch Environ Contam Toxicol 34:119–127

Filgueiras AV, Lavilla I, Bendicho C (2004) Evaluation of distribution, mobility and binding behaviour of heavy metals in surficial sediments of Louro River (Galicia, Spain) using chemometric analysis: a case study. Sci Total Environ 330:115–129

Gibbs RJ (1973) Mechanisms of trace metal transport in rivers. Science 180:71–73

Hamilton SJ, Mehrle PM (1986) Metallothionein in fish: review of its importance in assessing stress from metal contaminants. Trans Am Fish Soc 11:596–609

Hermenean A, Damache G, Albu P, Ardelean A, Ardelean G, Ardelean DP, Horge M, Nagy T, Braun M, Zsuga M, Kéki S, Costache M, Dinischiotu A (2015) Histopatological alterations and oxidative stress in liver and kidney of Leuciscus cephalus following exposure to heavy metals in the Tur River, North Western Romania. Ecotoxicol Environ Saf 119:198–205

Horowitz AJ (1991) A primer on sediment-trace element chemistry. Lewis Publishers, Chelsea

Hua Z, Yinhui J, Tao Y, Mon W, Guangxun S, Mingjun D (2016) Heavy metal concentrations and risk assessment of sediments and Surface water of the Gan River, China. Pol J Environ Stud 25:1529–1540

Kargin F (1996) Seasonal changes in levels of heavy metals in tissues of Mullus barbatus and Sparus aurata collected from Iskenderun Gulf (Turkey). Water Air Soil Pollut 90:557–562

Lawrence AJ, Hemingway KL (2003) Effects of pollution on fish: molecular effects and population responses. Blackwell Science, Hoboken

Maceda-Veiga A, Monroy M, Sostoa A (2012) Metal bioacumulation in the Mediterranean barbel (Barbus meridionalis) in a Mediterranean River receiving effluents from urban industrial wastewater treatment plants. Ecotoxicol Environ Saf 76:93–101

Mahboob S, Alkahem HA, Al-Balawi F, Al-Misned F, Al-Quraishy S, Ahmad Z (2014) Tissue metal distribution and risk assessment for important fish species from Saudi Arabia. Bull Environ Contam Toxicol 92:61–66

Nieboer E, Richardson DHS (1980) The replacement of the nondescript term "heavy metals" by a biological and chemically significant classification of metal ions. Environ Pollut 1:3–26

Palaniappan PLRM, Karthikeyan S (2009) Bioaccumulation and depuration of chromium in the selected organs and whole pbody tissues of freshwater fish Cirrhinus mrigala individually and in binary solutions with nickel. J Environ Sci 21:229–236

Quezada-Romegialli C, Fuentes M, Veliz D (2010) Comparative population genetics of Basilichthys microlepidotus (Atheriniformes: Atherinopsidae) and Trichomycterus areolatus (Siluriformes: Trichomycteridae) in north central Chile. Environ Biol Fish 89:173–186

R Core Team (2017) R: A language and environment for statistical computing. R Foundation for Statistical Computing, Vienna. http://www.R-project.org

Ruiz VH, Lopez MT, Moyano HI, Marchant M (1993) Ictiología del alto Biobío: aspectos taxonómicos, alimentarios, reproductivos y ecológicos con una discusión sobre la hoya. Gayana 57:77–88

Saltes JG, Bailey GC (1984) Use of fish gill and liver tissue to monitor Zinc pollution. Bull Environ Contam Toxicol 32:233–237

Scanu S, Piazzolla D, Frattarelli F, Mancini E, Tiralongo F, Brundo MV, Tibullo D, Pecoraro R, Copat C, Ferrante M, Marcelli M (2016) Mercury enrichment in sediments of the coastal area of northern Latium, Italy. Bull Environ Contam Toxicol 97:593–600

Schalscha BE, Ahumada TI (1998) Heavy metals in rivers and soils of central Chile. Water Sci Technol 37:251–255

Schiaffino S, Reggiani C (1996) Molecular diversity of myofibrillar proteins: gene regulation and functional significance. Phys Rev 76:371–423

Squadrone S, Prearo M, Brizio P, Gavinelli S, Pellegrino M, Scanzio T, Guarise S, Benedetto A, Abete MC (2013) Heavy metals distribution in muscle, liver, kidney and gill of European catfish (Silurus glanis) from Italian Rivers. Chemosphere 90:358–365

Taylor D, Maddock B, Mance G (1985) The acute toxicity of nine "grey list" metals (arsenic, boron, chromium, copper, lead, nickel, tin, vanadium and zinc) to two marine fish species dab (Limanda lianda) and grey mullet (Chelon labrosus). Aquat Toxicol 7:135–144

Tovar-Sanchez A, Huerta-Diaz MA, Negro JJ, Bravo MA, Sanudo-Wilhelmy SA (2006) Metal contamination in interstitial waters of Donana Park. J Environ Manag 78:286–293

Tuncsoy M, Duran S, Ay O, Cicik B, Erdem C (2016) Accumulation of Copper in gill, liver, spleen, kidney and muscle tissues of Clarias gariepinus exposed to the metal singly and in mixture with chitosan. Bull Environ Contam Toxicol 97:486–489

Uluturhan E, Kucukszgin F (2007) Heavy metal contaminants in red Pandora (Pagellus erythrinus) tissues from the Eastern Aegen Sea, Turkey. Water Res 41:1185–1192

Vazquez FJ, Arellano FE, Fernandez-Cirelli A, Volpedo AV (2015) Monitoring of trace elements in silverside (Odontesthes bonariensis) from pampasic ponds, Argentina. Microchem J 120:1–5

Vega-Retter C, Muñoz-Rojas P, Vila I, Copaja S, Veliz D (2014) Living in a highly polluted environment: the case of the silverside Basilichthys microlepidotus (Teleostei: Atherinopsidae) in the Maipo River basin, central Chile. Popul Ecol 56:569–579

Veliz D, Catalan L, Pardo R, Acuña P, Diaz A, Poulin E, Vila I (2012) The genus Basilichthys (Teleostei: Atherinopsidae) revisited along its Chilean distribution range (21° to 40°S) using variation in morphology and mtDNA. Rev Chil Hist Nat 85:49–59

Vila I, Fuentes L, Contreras M (1999) Peces límnicos de Chile. Bol Mus Hist Nat 48:61–75

Wu Y, Falconer R, Lin B (2005) Modelling trace metal concentration distributions in estuarine waters. Estuar Coast Shelf Sci 64:699–709

Xu YJ, Liu XZ, Ma AJ (2004) Current research on toxicity effect and molecular mechanism of heavy metals on fish. J Mar Sci 28:67–70

Yousafzai AL, Chivers DP, Khan AR, Ahmad I, Siraj M (2010) Comparison of heavy metals burden in two freshwater fishes Wallago attu and Labeo dyocheilus with regard to their feeding habits in natural ecosystem. Pak J Zool 42:537–544
Acknowledgements
The authors thank T Walter for edition, GS Muñoz for metal analysis, S Scott, R Gauci and C Quezada-Romegialli for help during field work. DV thanks the Chilean Millennium Initiative, ESMOI, Basal Grant PFB 023 and ICM P05-002. CVR thanks Fondecyt 11150213.
Ethics declarations
Ethical Approval
All procedures performed in this study were in accordance with the ethical standard of the Universidad de Chile.
About this article
Cite this article
Copaja, S.V., Pérez, C.A., Vega-Retter, C. et al. Heavy Metal Content in Chilean Fish Related to Habitat Use, Tissue Type and River of Origin. Bull Environ Contam Toxicol 99, 695–700 (2017). https://doi.org/10.1007/s00128-017-2200-9
Received:

Accepted:

Published:

Issue Date:
Keywords
Silverside (Basilichthys microlepidotus)
Catfish (Trichomycterus areolatus)

Fish organs

Heavy metals