Abstract
Arundo donax (giant reed) has great potential for bioenergy biomass production in constructed wetlands. Large scale use of A. donax in constructed wetlands will require the use of either established plants sourced from nurseries, or the use of cuttings or rhizomes and stems from mother plants derived from nurseries or wild stands. The results of this study suggest that cuttings and rhizomes are not sensitive to salinity up to an EC ~ 4500 µS cm− 1. Plants used to establish a constructed wetland should have stems of at least 300 mm length, with well established roots. Moreover, culms will emerge from small pieces of stems with viable nodes regardless of salinity, albeit the fresher the water the less likely salinity will subsequently affect the emerging shoot. From a practical perspective, this suggests that wetlands can be planted with giant reed using horizontally laid stems. Unless using plants pre-stressed to a salinity matching that of the wastewater to be treated, giant reed should be established using reasonable quality water (EC < 1000 µS cm− 1) until the plants are of a reasonable size, e.g. > 500 mm in height, after which undiluted wastewater can be used.
Access options
Buy single article
Instant access to the full article PDF.
USD 39.95
Price includes VAT (USA)
Tax calculation will be finalised during checkout.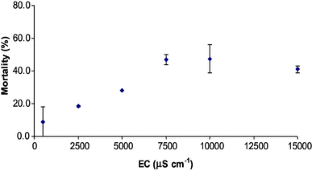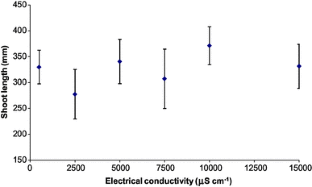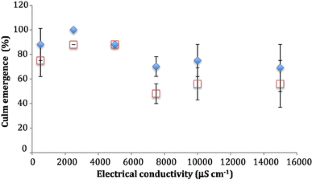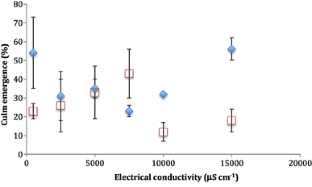 References
ABS (2012) 1301.0—Year Book Australia, 2012. Australian Bureau of Statistics. http://www.abs.gov.au/ausstats/abs@.nsf/Lookup/by%20Subject/1301.0~2012~Main%20Features~Water~279. Accessed June 2017

Allinson G, Halliwell DJ, Stokes J (2007) Closing the loop on a large, multi-disciplinary dairy waste project. Aust J Dairy Technol 62:135–153

Boland JM (2006) The importance of layering the rapid spread of Arundo donax (giant reed). Madrono 53:303–312

Bransby DI (2002) Method of propagating fibercane (Arundo). Patent no. US 6,389,746 B1. http://www.freepatentsonline.com/6389746.html

Brisson J, Chazarenc F (2009) Maximizing pollutant removal in constructed wetlands: should we pay more attention to macrophyte species selection? Sci Total Environ 407:3923–3930

Ceotto E, Di Candilo M (2010) Shoot cuttings propagation of giant reed (Arundo donax L.) in water and moist soil: the path forward? Biomass Bioenerg 34:1614–1623

Hamilton AJ, Stagnitti F, Xiong X, Kreidl SL, Benke KK, Maher P (2007) Wastewater irrigation: the state of play. Vadose Zone J 6(4):823–840

Hoshovsky M (2003) Element Stewardship Abstract for Arundo donax, Giant Reed. The Nature Conservancy, Arlington, Virginia. http://tncweeds.ucdavis.edu/esadocs/documnts/arundon.rtf. Accessed April 2007

Idris SM, Jones PL, Salzman SA, Croatto G, Allinson G (2012) Evaluation of the giant reed (Arundo donax) in horizontal subsurface flow wetlands for the treatment of dairy processing factory wastewater. Environ Sci Pollut Res 19(8):3525–3537

Lissner J, Schierup H-H (1997) Effects of salinity on the growth of Phragmites australis. Aquat Bot 55:247–260

Peck GG (1998) Hydroponic growth characteristics of Arundo donax L. under salt stress. In: Bell CE (ed) Arundo and saltcedar: the deadly duo, Proceedings of a workshop on combating the threat from Arundo and Saltcedar; June 17, 1998; Ontario, CA

Perdue RE (1958) Arundo donax—source of musical reeds and industrial cellulose. Econ Bot 12:368–404

Salzman SA, Scarborough H, Allinson G (2017) Exploring the economic viability of using constructed wetlands to manage waste-water in the dairy industry. Aust J Environ Manag. doi:10.1080/14486563.2017.1328711

Snapp SS, Shennan C (1992) Effects of salinity on root growth and death dynamics of tomato, Lycopersicon esculentum Mill. New Phytol 121:71–79

Williams C, Biswas T (2010) Commercial potential of giant reed for pulp, paper and biofuel production. Rural Industries Research and Development Corporation, Barton
Acknowledgements
The research was primarily supported by the Victorian Government Sustainability Fund, managed by Sustainability Victoria. Additional support was provided by the Department of Primary Industries (DPI Project# 08160). GA gives his thanks to staff at DPI Queenscliff centre for help sorting and labelling giant reed cuttings.
About this article
Cite this article
Allinson, G. Effect of Increasing Salinity on Development of Giant Reed (Arundo donax) from Rhizome and Culms. Bull Environ Contam Toxicol 99, 743–747 (2017). https://doi.org/10.1007/s00128-017-2197-0
Received:

Accepted:

Published:

Issue Date:
Keywords
Arundo donax

Hydroponic toxicity test

Shoot growth

Rhizome

Node

Culm emergence