Abstract
The need to develop an approach for the reclamation of contaminated site using locally available agricultural waste has been considered. The present study investigated the application of sawdust as an effective amendment in the immobilization of potentially toxic metals (PTMs) by conducting a greenhouse experiment on soil collected from an automobile dumpsite. The amended and non-amended soil samples were analyzed for their physicochemical parameters and sequential extraction of PTMs. The results revealed that application of amendment had positive impact on the physicochemical parameters as organic matter content and cation exchange capacity increased from 12.1% to 12.8% and 16.4 to 16.8 meq/100 g respectively. However, the mobility and bioavalability of these metals was reduced as they were found to be distributed mostly in the non-exchangeable phase of soil. Therefore, application of sawdust successfully immobilized PTMs and could be applied for future studies in agricultural soil reclamation.
Access options
Buy single article
Instant access to the full article PDF.
USD 39.95
Price includes VAT (USA)
Tax calculation will be finalised during checkout.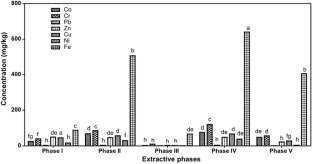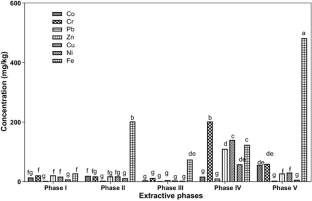 References
Adefemi SO, Awokunmi EE (2009) The impact of municipal solid waste disposal in Ado-Ekiti metropolis, Ekiti-State, Nigeria. Afr J Environ Sci Technol 3:186–189

Adelekan BA, Abegunde KD (2011) Heavy metals contamination of soil and groundwater at automobile mechanic villages in Ibadan Nigeria. Int J Phys Sci 6:1045–1058

Awokunmi EE (2015) Comparative chelate assisted phytoextraction of heavy metals by Jatropha curcas, Jatropha gossypifolia and Jatropha multifida cultivated on soil collected from selected dumpsites, Ekiti State, Nigeria. Br J Appl Sci Technol 5:354–370

Awokunmi EE, Asaolu SS, Ipinmoroti KO (2010) Effect of leaching on heavy metals concentration of soil in some dumpsites. Afr J Environ Sci Technol 4:495–499

Awokunmi EE, Ibigbami OA, Asaolu SS, Adefemi OS, Gbolagade AY (2015) Sequential extraction of heavy metals from soil samples collected from selected cocoa farmland in Erijiyan Ekiti, Ekiti state, Nigeria. Int J Environ Prot 5:52–56

Baker AJM, McGrath RO, Smith JAC (2000) Metal hyperaccumulator plants: A review of ecology and physiology of a biological resource for phytoremediation of metal-polluted soils. In: Terry N, Banuelos G (eds) Phytoremediation of contaminated soil and waters, Lewis Publishers, Boca Raton 85–107

Belviso C, Cavalcante C, Fiore S (2010) Immobilization of Ni by synthesizing zeolite at low temperature in polluted soil. Chemosphere 78:1172–1176

Bolan N, Nanthl N, Domy M, Senniapan K (2005) Adsorption, complexation, and phytoavailability of copper as influenced by organic manure. Environ Toxicol Chem 22:450–456

Charlesworth S, Everett M, McCarthy R, Ordonez A, de Miguel E (2003) Comparative study of heavy metal concentration and distribution in deposited street dusts in a large and a small urban area Birmingham and Coventry, West Midlands, United Kingdom. Environ Int 29:563–573

Chukwuka KS, Omotayo OE (2008) Effect of Tithonia green manure and water Hycinth compost application on nutrient depleted soil in south-western. Nigeria Int J Soil Sci 3:69–74

Fabio A, Reinaldo L (2012) Evaluation of cation exchange capacity (CEC) in tropical soils using four different analytical methods. J Agric Sci 4:278–289

Fagbote EO, Olanipekun EO (2010) Evaluation of the status of Heavy Metal pollution of soil and plant (Chromolaena Odorata) of Agbadu Bitumen deport Area, Nigeria. Am Eurasian J Sci Res 5:241–248

Hong C, Teresa C (2001) EDTA and HEDTA effects on Cd, Cr and Ni uptake by Helianthus annus. Chemosphere 45:21–28

Ismail BS, Farihah K, Khairiah J (2005) Bioaccumulation of metals in vegetables from selected agricultural areas. Bull Environ Contam Tox 74:320–327

Jackson ML (1962) Soil chemical analysis. Prentice Hall Inc., New York, p 498

Lacatusu R (2000) Appraising levels of soil contamination and pollution with heavy metals. Eur Soli Bureau 4:393–402

Lehmann J (2007a) A handful of carbon. Nature 447:143–144

Lehmann J (2007b) Bio-energy in the black. Front Ecol Environ 5:381–387

Lenntech Water Treatment (2009) Chemical properties, health and environmental effects of cobalt. Lenntech Water Treatment and Purification Holding, Delft. http://www.lenntech.com/periodic/elements/co.html

Ling W, Shen Q, Gao Y, Gu X, Yang Z (2007) Use of bentonite to control the release of copper from contaminated soils. Aust J Soil Res 45:618–623

Lombi E, Zhao FJ, Zhang G (2002) In situ fixation of metals in soils using bauxite residue: chemical assessment. Environ Pollut 118:435–443

Luke B, Onyeka SI, Gareth JN, Eduardo M, Tania P, Rafeal C, Julian JCD (2014) Assessing the influence of compost and biochar amendments on the mobility and toxicity of metals and arsenic in a naturally contaminated mine soil. Environ Pollut 186:195–202

McLaughlin MJ, Hamon RE, McLaren RG, Speir TW, Rogers SL (2000) Review: a bioavailability-based rationale for controlling metal and metalloid contamination of agricultural land in Australia and New Zealand. Aust J Soil Res 38:1037–1086

Mireles F, Davila JI, Pinedo JL, Reyes E, Speakman RJ, Glascock MD (2012) Assessing urban soil pollution in the cities of Zacatecas and Guadalupe, Mexico by instrumental neutron activation analysis. Microchem J 103:158–164

Ncube E, Phiri B (2015) Concentrations of heavy metals in Eucalyptus and Pinus wood saw dust and smoke copperbelt province, Zambia. Maderas Cliencia y Technologia 17:585–596

Nwachukwu AM, Feng H, Achilike K (2010) Integrated study for automobile wastes management and environmentally friendly mechanic villages in the Imo River Basin, Nigeria. Afr J Environ Sci Technol 4:234–294

Shinggu DT, Ogugbuaja VO, Barminas TT, Toma I (2007) Analysis of street dust for heavy metal pollutants in Mubi, Adamawa State, Nigeria. Int J Physical Sci 2:290–293

Tessier PGC, Campbell M, Bisson M (1979) Sequential extraction procedure for the speciation of particulate trace metals. Anal Chem 51:844–851

Yaylalı-Abanuz G (2011) Heavy metal contamination of surface soil around Gebze industrial area, Turkey. Microchem J 99:82–92

Yin-Chan K, Xu Z, (2009) Biochar: nutrient properties and their enhancement. In: Lehmann J, Joseph S (eds) Biochar for environmental management. Earth-Scan, New York

Yuan C, Shi J, He B, Lui J, Lang L, Jiang G (2004) Speciation of heavy metals in marine sediments from the East China Sea by ICP-MS with sequential extraction. Elsevier 30:769–783
Acknowledgements
I am grateful for the technical support received from Central Science Laboratory, Obafemi Awolowo University, Ile-Ife, Nigeria.
About this article
Cite this article
Awokunmi, E.E. Impact of Saw Dust Application on the Distribution of Potentially Toxic Metals in Contaminated Soil. Bull Environ Contam Toxicol 99, 765–770 (2017). https://doi.org/10.1007/s00128-017-2192-5
Received:

Accepted:

Published:

Issue Date:
Keywords
Reclamation

Agricultural soil

Field application

Saw dust