Abstract
The presence of microplastics in aquatic ecosystems is of increasing global concern. This study investigated ingestion, egestion and acute effects of polyethylene microplastics in Daphnia magna. Fate of regular shaped microplastic beads (10–106 µm) were compared with irregular shaped microplastic fragments (10–75 µm). Daphnia magna ingested regular and irregular microplastic with uptake between 0.7 and 50 plastic particles/animal/day when exposed to microplastic concentrations of 0.0001–10 g/L. Egestion of irregular fragments was slower than that of microplastic beads. The EC50 for irregular microplastic was 0.065 g/L whereas microplastic beads were less inhibitory. The potential of microplastic to act as vector for hydrophobic pollutants was examined using [14C]phenanthrene as tracer. Polyethylene microplastic sorbed less [14C]phenanthrene compared to natural plankton organisms (bacteria, algae, yeast). As microplastics are much less abundant in most aquatic ecosystems compared to plankton organisms this suggests a limited role as vector for hydrophobic pollutants under current environmental conditions.
Access options
Buy single article
Instant access to the full article PDF.
USD 39.95
Price includes VAT (USA)
Tax calculation will be finalised during checkout.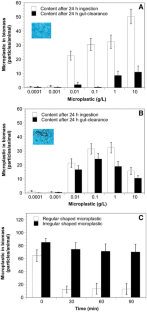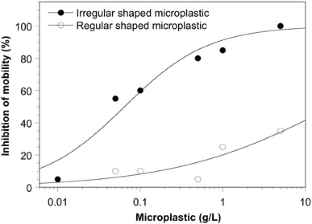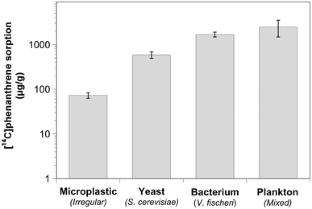 References
Ahn S, Werner D, Karapanagioti HK, McGlothlin DR, Zare RN, Luthy RG (2005) Phenanthrene and pyrene sorption and intraparticle diffusion in polyoxymethylene, coke, and activated carbon. Environ Sci Technol 39:6516–6526. doi:10.1021/es050113o

Bakir A, O'Connor IA, Rowland SJ, Hendriks AJ, Thompson RC (2016) Relative importance of microplastics as a parthway for the transfer of hydrophobic organic chemicals to marine life. Environ Pollut 219:56–65. doi:10.1016/j.envpol.2016.09.046

Bratbak G, Jacquet S, Larsen A, Pettersson LH, Sazhin AF, Thyrhaug R (2011) The plankton community in Norwegian coastal waters-abundance, composition, spatial distribution and diel variation. Continent Shelf Res 31:1500–1514. doi:10.1016/j.csr.2011.06.014

Browne MA, Galloway T, Thompson R (2007) Microplastic—an emerging contaminant of potential concern? Integr Environ Assess Manag 3:559–561. doi:10.1002/ieam.5630030412

Cole M, Lindeque P, Fileman E, Halsband C, Goodhead R, Moger J, Galloway T (2013) Microplastic ingestion by zooplankton. Environ Sci Technol 47:6646–6655. doi:10.1021/es400663f

Cunliffe M, Engel A, Frka S, Gašparović B, Guitart C, Murrell JC et al (2013) Sea surface microlayers: a unified physicochemical and biological perspective of the air–ocean interface. Prog Oceanogr 109:104–116. doi:10.1016/j.pocean.2012.08.004

Davidson K, Gilpin LC, Pete R, Brennan D, McNeill S, Moschonas G, Sharples J (2013) Phytoplankton and bacterial distribution and productivity on and around Jones Bank in the Celtic Sea. Prog Oceanogr 117:48–63. doi:10.1016/j.pocean.2013.04.001

de Ruyter van Steveninck ED, Admiraal W, Breebaart L, Tubbing GMJ, van Zanten B (1992) Plankton in the River Rhine: structural and functional changes observed during downstream transport. J Plankton Res 14:1351–1368. doi:10.1093/plankt/14.10.1351

Duis K, Coors A (2016) Microplastics in the aquatic and terrestrial environment: sources (with a specific focus on personal care products), fate and effects. Environ Sci Europe 28:2. doi:10.1186/s12302-015-0069-y

Ebert D (2005) Ecology, epidemiology, and evolution of parasitism in Daphnia. National Library of Medicine (US) and National Center for Biotechnology Information (US), Bethesda. ISBN-10: 1-932811-06-0

Eerkes-Medrano D, Thompson RT, Aldridge DC (2015) Microplastics in freshwater systems: a review of the emerging threats, identification of knowledge gaps and prioritisation of research needs. Water Res 75:63–82. doi:10.1016/j.watres.2015.02.012

Engler RE (2012) The complex interaction between marine debris and toxic chemicals in the ocean. Environ Sci Technol 46:12302–12315. doi:10.1021/es3027105

Fischer EH, Paglialonga L, Czech E, Taminga M (2016) Microplastic pollution in lakes and lake shoreline sediments—a case study on Lake Bolsena and Lake Chiusi (central Italy). Environ Pollut 213:648–657. doi:10.1016/j.envpol.2016.03.012

Fries E, Zarfl C (2012) Sorption of polycyclic aromatic hydrocarbons (PAHs) to low and high density polyethylene (PE). Environ Sci Pollut Res 19:1296–1304. doi:10.1007/s11356-011-0655-5

Galloway TS, Lewis CN (2016) Marine microplastics spell big problems for future generations. PNAS 113:2331–2333. doi:10.1073/pnas.1600715113

Grigorakis S, Mason SA, Drouillard KG (2017) Determination of the gut retention of plastic microbeads andmicrofibers in goldfish (Carassius auratus). Chemosphere 169:233–238. doi:10.1016/j.chemosphere.2016.11.055s

Heinanen A (1992) Bacterioplankton in a sub-arctic estuary—the Gulf of Bothnia (Baltic Sea). Mar Ecol Prog Ser 86:123–131. doi:10.3354/meps086123

Helm PA (2017) Improving microplatic sources apportionment: a role for microplatic morphology and taxonomy? Anal Methods 9:1328–1331. doi:10.1039/C7AY90016C

ISO 6341 (2012) Water quality—determination of the inhibition of the mobility of Daphnia magna Straus (Cladocera, Custacea)—acute toxicity test. International Organization for Standardization, Geneva

Karapanagioti HK, Klontza I (2008) Testing phenanthrene distribution properties of virgin plastic pellets and plastic eroded pellets found on Lesvos island beaches (Greece). Mar Environ Res 65:283–290. doi:10.1016/j.marenvres.2007.11.005

Koelmans AA, Bakir A, Burton GA, Janssen CR (2016) Microplastic as a vector for chemicals in the aquatic environment: critical review and model-supported reinterpretation of empirical studies. Environ Sci Technol 50:3315–3326. doi:10.1021/acs.est.5b06069

Lassen C, Hansen SF, Magnusson K, Hartmann NB, Rehne Jensen P, Nielsen TG, Brinch A (2015) Microplastics—occurrence, effects and sources of releases to the environment in Denmark. The Danish Environmental Protection Agency, Environmental project No. 1793

Ma Y, Huang A, Cao S, Sun F, Wang L, Guo H, Ji R (2016) Effects of nanoplastics and microplastics on toxicity, bioaccumulation, and environmental fate of phenanthrene in fresh water. Environ Pollut 219:166–173. doi:10.1016/j.envpol.2016.10.061

Napper IE, Bakir A, Rowland SJ, Thompson RC (2015) Characterisation, quantity and sorptive properties of microplastics extracted from cosmetics. Mar Pollut Bull 99:178–185. doi:10.1016/j.marpolbul.2015.07.029

Nørgaard LS, Roslev P (2016) Effects of ammonia and density on filtering of commensal and pathogenic Escherichia coli by the cladoceran Daphnia magna. Bull Environ Contam Toxicol 6:848–854. doi:10.1007/s00128-016-1963-8

Ørsted M, Roslev P (2015) A fluorescence based hydrolytic enzyme activity assay for quantifying toxic effects of Roundup® to D. magna. Environ Toxicol Chem 34:1841–1850. doi:10.1002/etc.2997

Rehse S, Kloas W, Zarfl C (2016) Short-term exposure with high concentrations of pristine microplastic particles leads to immobilization of Daphnia magna. Chemosphere 153:91–99. doi:10.1016/j.chemosphere.2016.02.133

Rosenkranz P, Qasim C, Stone V, Fernandes TF (2009). A comparison of nanoparticle and fine particle uptake by Daphnia magna.Environ Toxicol Chem 28:2142–2149. doi:10.1897/08-559.1

Setälä O, Fleming-Lehtinen V, Lehtiniemi M (2014) Ingestion and transfer of microplastics in the planktonic food web. Environ Pollut 185:77–83. doi:10.1016/j.envpol.2013.10.013

Song YK, Hong SH, Jang M, Kang JH, Kwon OY, Han GM, Shim WJ (2014) Large accumulation of micro-sized synthetic polymer particles in the sea surface microlayer. Environ Sci Technol 48:9014–9021. doi:10.1021/es501757s

Teuten EL, Rowland SJ, Galloway TS, Thompson RC (2007) Potential for plastics to transport hydrophobic contaminants. Environ Sci Technol 41:7759–7764. doi:10.1021/es071737s

Wright SL, Thompson RC, Galloway TS (2013) The physical impacts of microplastics on marine organisms: a review. Environ Pollut 178:483–492. doi:10.1016/j.envpol.2013.02.031

Ziccardi LM, Edgington A, Hentz K, Kulacki K, Driscoll SK (2016) Microplastics as vectors for bioaccumulation of hydrophobic organic chemicals in the marine environment: a state-of-the-science review. Environ Toxicol Chem 35:1667–1676. doi:10.1002/etc.3461
Acknowledgements
We thank Helle Blendstrup and Jens Eiby Hansen for laboratory assistance. This work was supported in part by an equipment grant from the Danish trust fond COWIfonden.
About this article
Cite this article
Frydkjær, C.K., Iversen, N. & Roslev, P. Ingestion and Egestion of Microplastics by the Cladoceran Daphnia magna: Effects of Regular and Irregular Shaped Plastic and Sorbed Phenanthrene. Bull Environ Contam Toxicol 99, 655–661 (2017). https://doi.org/10.1007/s00128-017-2186-3
Received:

Accepted:

Published:

Issue Date:
Keywords
Daphnia magna

Polyethylene microplastics

Phenanthrene

Sorption

Acute toxicity