Abstract
Contamination of agricultural soils with lead (Pb) is a widespread problem which is mainly due to anthropogenic activities. The present study investigated the effect of organic and inorganic amendments on wheat growth and reducing Pb concentration in the plant. A greenhouse experiment was conducted on Pb spiked soil (500 mg kg−1 of soil) with the application of farmyard manure, poultry manure, gypsum and di-ammonium phosphate (DAP). Plants were harvested after 120 days of growth and analyzed for Pb concentration in different plant parts. Under Pb stress, amendments significantly (p < 0.05) increased grain yield and root dry weights compared to the control. Grain yield and dry weights of shoots and roots were maximum with DAP compared to the control and other amendments. Amendments increased transpiration rate, stomatal conductance, chlorophyll contents and photosynthetic rate. The lowest Pb concentration was found in DAP treated plants which were about 88%, 84%, and 85% lower in root, shoots and grains than control respectively. DAP fertilizer was the most effective in improving these parameters than control and other amendments and can be used to reduce Pb concentration in wheat and probably other crops.
Access options
Buy single article
Instant access to the full article PDF.
US$ 39.95
Tax calculation will be finalised during checkout.
Subscribe to journal
Immediate online access to all issues from 2019. Subscription will auto renew annually.
US$ 119
Tax calculation will be finalised during checkout.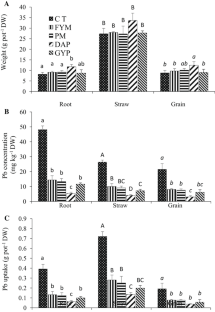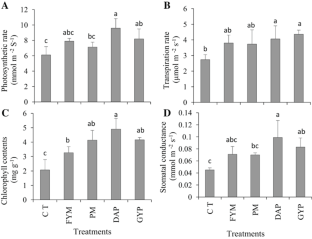 References
Adrees M, Ali S, Rizwan M, Rehman MZ, Ibrahim M, Abbas F, Farid M, Qayyum MF, Irshad MK (2015) Mechanisms of silicon-mediated alleviation of heavy metal toxicity in plants: a review. Ecotoxicol Environ Saf 119:186–197

Ali B, Mwamba TM, Gill RA, Yang C, Ali S, Daud MK, Wu Y, Zhou W (2014a) Improvement of element uptake and antioxidative defense in Brassica napus under lead stress by application of hydrogen sulfide. Plant Growth Regul 74:261–273

Ali B, Song WJ, Hu WZ, Luo XN, Gill RA, Wang J, Zhou WJ (2014b) Hydrogen sulfide alleviates lead-induced photosynthetic and ultrastructural changes in oilseed rape. Ecotoxicol Environ Saf 102:25–33

Anwar S, Nawaz MF, Gul S, Rizwan M, Ali S, Kareem A (2016) Uptake and distribution of minerals and heavy metals in commonly grown leafy vegetable species irrigated with sewage water. Environ Monit Assess 188:1–9

Arnich N, Lanhers MC, Laurensot F, Podor R, Montiel A, Burnel D (2003) In vitro and in vivo studies of lead immobilization by synthetic hydroxyapatite. Environ Pollut 124:139–149

Cao X, Ma LQ, Rhue DR, Appel CS (2004) Mechanisms of lead, copper, and zinc retention by phosphate rock. Environ Pollut 131:435–444

Chandra R, Bharagava RN, Yadav S, Mohan D (2009) Accumulation and distribution of toxic metals in wheat (Triticum aestivum L.) and Indian mustard (Brassica campestris L.) irrigated with distillery and tannery effluents. J Hazard Mater 162:1514–1521

Chen S, Chen L, Ma Y, Huang Y (2009) Can phosphate compounds be used to reduce the plant uptake of Pb and resist the Pb stress in Pb-contaminated soils? J Environ Sci 21:360–365

Dong D, Zhao X, Hua X, Liu J, Gao M (2009) Investigation of the potential mobility of Pb, Cd and Cr (VI) from contaminated farmland soil to groundwater in Northeast, China. J Hazard Mater 162:1261–1268

Ghasemi-Fasaei R (2012) Effects of EDTA and phosphorus levels on lead phytoremediation by maize. Int J Agric Crop Sci 4:1786–1790

Kabata-Pendias A, Pendias H (2001) Trace elements in soils and plants, 3rd edn. CRC Press, Boca Raton

Kaur G, Kaur S, Singh HP, Batish DR, Kohli RK, Rishi V (2015) Biochemical adaptations in Zea mays roots to short-term pb2+ exposure: ROS generation and metabolism. Bull Environ Contam Toxicol 95:246–253

Miretzky P, Fernandez-Cirelli A (2008) Phosphates for Pb immobilization in soils: a review. Environ Chem Lett 6:121–133

Murtaza G, Javed W, Hussain A, Wahid A, Murtaza B, Owens G (2015) Metal uptake via phosphate fertilizer and city sewage in cereal and legume crops in Zea mays Pakistan. Environ Sci Pollut Res 22:9136–9147

Park JH, Lamb D, Paneerselvam P, Choppala G, Bolan N, Chung JW (2011) Role of organic amendments on enhanced bioremediation of heavy metal(loid) contaminated soils. J Hazard Mater 185:549–574

Park JH, Bolan N, Megharaj M, Naidu R (2012) Relative value of phosphate compounds in reducing the bioavailability and toxicity of lead in contaminated soils. Water Air Soil Pollut 223:599–608

Rehman MZ, Rizwan M, Ghafoor A, Naeem A, Ali S, Sabir M, Qayyum MF (2015) Effect of inorganic amendments for in situ stabilization of cadmium in contaminated soil and its phyto-availability to wheat and rice under rotation. Environ Sci Pollut Res 22:16897–16906

Rehman MZ, Rizwan M, Ali S, Fatima N, Yousaf B, Naeem A, Sabir M, Ahmad HR, Ok YS (2016a) Contrasting effects of biochar, compost and farm manure on alleviation of nickel toxicity in maize (Zea mays L.) in relation to plant growth, photosynthesis and metal uptake. Ecotoxicol Environ Saf 133:218–225

Rehman MZ, Rizwan M, Sabir M, Shahjahan Ali S, Ahmed HR (2016b) Comparative effects of different soil conditioners on wheat growth and yield grown in saline-sodic soils. Sains Malays 45:339–346

Rehman MZ, Khalid H, Akmal F, Ali S, Rizwan M, Qayyum MF, Iqbal M, Khalid MU, Azhar M (2017) Effect of limestone, lignite and biochar applied alone and combined on cadmium uptake in wheat and rice under rotation in an effluent irrigated field. Environ Pollut 227:560–568

Richards L (1954) Diagnosis and improvement of saline and alkaline soils, United States salinity laboratory staff. United States Department of Agriculture, Government Printing Office, Washington, DC

Rizwan M, Ali S, Abbas T, Rehman MZ, Hannan F, Keller C, Al-Wabel MI, Ok YS (2016a) Cadmium minimization in wheat: a critical review. Ecotoxicol Environ Saf 130:43–53

Rizwan M, Ali S, Qayyum MF, Ibrahim M, Rehman MZ, Abbas T, Ok YS (2016b) Mechanisms of biochar-mediated alleviation of toxicity of trace elements in plants: a critical review. Environ Sci Pollut Res 23:2230–2248

Rizwan M, Ali S, Adrees M, Ibrahim M, Tsang DC, Rehman MZ, Zahir ZA, Rinklebe J, Tack FM, Ok YS (2017) A critical review on effects, tolerance mechanisms and management of cadmium in vegetables. Chemosphere 182:90–105

Sabir M, Ghafoor A, Saifullah MZR, Murtaza G (2008) Effect of organic amendments and incubation time on extractability of Ni and other metals from contaminated soils. Pak J Agric Sci 45:18–24

Sabir M, Hanafi MM, Aziz T, Ahmad HR, Saifullah MZR, Murtaza G, Hakeem KR (2013) Comparative effect of activated carbon, pressmud and poultry manure on immobilization and concentration of metals in maize (Zea mays) grown on contaminated soil. Int J Agric Biol 15:559–564

Shukla K, Kumar B, Agrawal R, Priyanka K, Venkatesh M (2017) Assessment of Cr, Ni and Pb pollution in rural agricultural soils of Tonalite-Trondjhemite series in Central India. Bull Environ Contaim Toxicol 98:856–866

Soltanpour PN (1985) Use of AB-DTPA soil test to evaluate elemental availability and toxicity. Commun Soil Sci Plant Anal 16:323–338

Steel RGD, Torrie JH (1993) Principles and procedure of statistics. McGraw hill Book Co., New York

Tian T, Ali B, Qin Y, Malik Z, Gill RA, Ali S, Zhou W (2014) Alleviation of lead toxicity by 5-aminolevulinic acid is related to elevated growth, photosynthesis, and suppressed ultrastructural damages in oilseed rape. Biomed Res Int 2014:1–11

Udeigwe TK, Eze PN, Teboh JM, Stietiya MH (2011) Application, chemistry, and environmental implications of contaminant-immobilization amendments on agricultural soil and water quality. Environ Int 37:258–267
Acknowledgements
The authors are highly thankful to the Higher Education Commission (HEC) Pakistan and University of Agriculture Faisalabad for their financial support.
About this article
Cite this article
ur Rehman, M.Z., Rizwan, M., Ali, S. et al. Contrasting Effects of Organic and Inorganic Amendments on Reducing Lead Toxicity in Wheat. Bull Environ Contam Toxicol 99, 642–647 (2017). https://doi.org/10.1007/s00128-017-2177-4
Received:

Accepted:

Published:

Issue Date:
Keywords
Amendments

DAP

Poultry manure

Lead

Immobilization

Wheat

Grain yield