Abstract
Thallium is a rare-earth element, but widely distributed in water environments, posing a potential risk to our health. This study was designed to investigate the chronic effects of thallium based on physiological responses, gene expression, and changes in the activity of relevant enzymes in adult zebra fish exposed to thallium at low doses. The endpoints assessed include mRNA expression of metallothionein (MT)2 and heat shock protein HSP70; enzymatic activities of superoxide dismutase (SOD) and Na+/K+-ATPase; and the histopathology of gill, gonad, and liver tissues. The results showed significant increases in HSP70 mRNA expression following exposure to 100 ng/L thallium and in MT2 expression following exposure to 500 ng/L thallium. Significantly higher activities were observed for SOD in liver and Na+/K+-ATPase activity in gill in zebra fish exposed to thallium (20 and 100 ng/L, respectively) in comparison to control fish. Gill, liver, and gonad tissues displayed different degrees of damage. The overall results imply that thallium may cause toxicity to zebra fish at environmentally relevant aqueous concentrations.
Access options
Buy single article
Instant access to the full article PDF.
USD 39.95
Price includes VAT (USA)
Tax calculation will be finalised during checkout.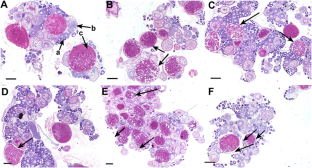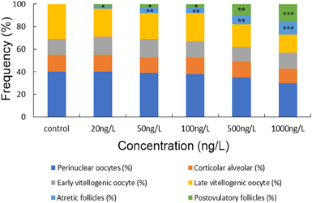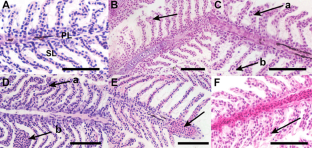 References
Ameur WB, El Megdiche Y, de Lapuente J, Barhoumi B, Trabelsi S, Ennaceur S, Camps L, Serret J, Ramos-López D, Gonzalez-Linares J (2015) Oxidative stress, genotoxicity and histopathology biomarker responses in Mugil cephalus and Dicentrarchus labrax gill exposed to persistent pollutants. A field study in the Bizerte Lagoon. Tunis Chemosphere 135:67–74

Aoyama H, Yoshida M, Yamamura Y (1988) Induction of lipid peroxidation in tissues of thallous malonate-treated hamster. Toxicology 53:11–18

Cataldo DA, Wildung RE (1983) The role of soil and plant metabolic processes in controlling trace element behavior and bioavailability to animals. Sci Total Environ 28:159–168

Cheam VJ, Garbai G, Lechner J, Rajkumar J (2000) Local impacts of coal mines and power plants across Canada. I. thallium in waters and sediments. Water Qual Res J Can 35:581–607

Chen YH, Xie WB, Wu YJ, Wang ZH (2001) Utilization of mineral resources containing thallium and thallium pollution in China. J Shenzhen Univ Sci Eng 18:57–63 ( in Chinese)

Chen YH, Xie WB, Wu YJ, Cao XA, Wang ZH, Yang CX, Chen SL, Wu HM, Zhang HY (2002) Thallium Migration and Diffusion in the Ecological Environment. J Guangzhou Univ 1:62–66 (in Chinese)

Craig PM, Wood CM, McClelland GB (2007) Oxidative stress response and gene expression with acute copper exposure in zebrafish (Danio rerio). Am J Physiol Regul Integr Comp Physiol 293:1882–1892

Dhavale DM, Masurekar V, Giridhar B (1988) Cadmium induced inhibition of Na+/K + ATPase activity in tissues of crabScylla serrata (Forskal). Bull Environ ContamToxicol 40:759–763

Ebrahimi M, Taherianfard M (2010) Concentration of four heavy metals (cadmium, lead, mercury, and arsenic) in organs of two cyprinid fish (Cyprinuscarpioand Capoeta sp.) from the Kor River (Iran). Environ Monit Assess 168:575–585

Formigari A, Irato P, Santon A (2007) Zinc, antioxidant systems and metallothionein in metal mediated-apoptosis: biochemical and cytochemical aspects. Comp Biochem Physiol C 146:443–459

Gernhofer M, Pawert M, Schramm M, Müller E, Triebskorn R (2001) Ultrastructural biomarkers as tools to characterize the health status of fish in contaminated streams. J Aquat Ecosyst Stress Recovery 8:241–260

Gonzalez P, Baudrimont M, Boudou A, Bourdineaud JP (2006) Comparative effects of direct cadmium contamination on gene expression in gills, liver, skeletal muscles and brain of the zebrafish (Danio rerio). Biometals 19:225–235

Helmut S (1985) Oxidative stress: Introductory remarks.Oxidative Stress1-8

Kim BM, Rhee JS, Jeong CB, Seo JS, Park GS, Lee YM, Lee JS (2014) Heavy metals induce oxidative stress and trigger oxidative stress-mediated heat shock protein (HSP) modulation in the intertidal copepod Tigriopusjaponicus. Comp Biochem Physiol C 166:65–74

LeBlanc GA, Dean JW (1984) Antimony and thallium toxicity to embryos and larvae of fathead minnows (Pimephalespromelas). Bull Environ Contam Toxicol 32:565–569

Lee SY, Stoliar O, Nam YK (2010) Transcriptional alteration of two metallothionein isoforms in mud loach (Misgurnusmizolepis) fry during acute heavy metal exposure. Fish Aquat Sci 13:112–117

Li W, Zha J, Li Z, Yang L, Wang Z (2009) Effects of exposure to acetochlor on the expression of thyroid hormone related genes in larval and adult rare minnow (Gobiocypris rarus). Aquat Toxicol 94:87–93

Li X, Qi J, Chen Y (2011) Prelmiinary health risk assessment of heavy metals in the main drinking water sources of Guangzhou. Acta Sci Circumst 31:547–553

Manzl C, Enrich J, Ebner H, Dallinger R, Krumschnabel G (2004) Copper-induced formation of reactive oxygen species causes cell death and disruption of calcium homeostasis in trout hepatocytes. Toxicology 196:57–64

Mulkey JP, Oehme FW (1993) A review of thallium toxicity. Vet Hum Toxicol 35:445–453

Peter AJ, Viraraghavan T (2005) Thallium: a review of public health and environmental concerns. Environ Int 31:493–501

Rajeshkumar S, Mini J, Munuswamy N (2013) Effects of heavy metals on antioxidants and expression of HSP70 in different tissues of Milk fish (Chanoschanos) of Kaattuppalli Island, Chennai, India. Ecotoxicol Environ Saf 98:8–18

Schmittgen TD, Livak KJ (2008) Analyzing real-time PCR data by the comparative CT method. Nat Protoc 3:1101–1108

Shen H, Wang X, Zhang J (2003) Application of the stress protein (HSP70) as the biomarker in studying zinc and copper, and the joint toxicity to fish live. Acta Sci Circumst 24:895–899

Shen H, Wang XR, Zhang JF, Zhao YJ (2004) Effects of pb~(2+) and cd~(2+) on the induction of HSP70 in the fish liver. Environ Pollut Control 26:244–246 (in Chinese)

Su LX, Chen YH, Liu J, Wang J, Qin SQ, Qi JY (2014) Distribution of containing thallium deposit in china and effects of resource development on environment. J Anhui Agric Sci 42:7588–7591 (in Chinese)

Wang C, Zhang F, Cao W, Wang J (2014) The identification of metallothionein in rare minnow (Gobiocypris rarus) and its expression following heavy metal exposure. Environ Toxicol Pharmacol 37:1283–1291

Watson T, Beamish F (1981) The effects of zinc on branchial adenosine triphosphatase enzymes in vitro from rainbow trout, Salmo gairdneri. Comp Biochem Physiol C 68:167–173

Wheeler JC, Bieschke ET, Tower J (1995) Muscle-specific expression of Drosophila hsp70 in response to aging and oxidative stress. Proc Natl Acad Sci USA 92:10408–10412

Wu ZW, Qing PL, Xia ZH, Yun RJ (2004) Effects of metal ions on Na~+-K~+-ATPase activity in gill of Litopenaeus vannamei. Mar Environ Sci 23:27–29 (in Chinese)

Wu SM, Tsai PR, Yan CJ (2012a) Maternal cadmium exposure induces mt2 and smtB mRNA expression in zebrafish (Danio rerio) females and their offspring. Comp Biochem Physiol C 156:1–6

Wu Z, You F, Liu H, Liu M, Li J, Zhang P (2012b) Effects of waterborne Fe (II) on juvenile turbot Scophthalmus maximus: analysis of respiratory rate, hematology and gill histology. Chin J Oceanol Limnol 30:193–199

Xiao T, Yang F, Li S, Zheng B, Ning Z (2012) Thallium pollution in China: a geo-environmental perspective. Sci Tot Environ 421:51–58

Zhang XD, Zhu YF, Cai LS, Wu TX (2008) Effects of fasting on the meat quality and antioxidant defenses of market-size farmed large yellow croaker (pseudosciaenacrocea). Aquaculture 280:136–139

Zitko V, Carson WV, Carson WG (1975) Thallium: occurrence in the environment and toxicity to fish. Bull Environ Contam Toxicol 13:23–30
Acknowledgements
The authors would like to acknowledge the financial support of the National Natural Science Foundation of China (NSFC21607032, 40821003, 21037001 and 41101462) and State Key Laboratory of Organic Geochemistry, GIGCAS (Grant No. SKLOG-2016).
About this article
Cite this article
Hou, LP., Yang, Y., Shu, H. et al. Changes in Histopathology, Enzyme Activities, and the Expression of Relevant Genes in Zebrafish (Danio rerio) Following Long-Term Exposure to Environmental Levels of Thallium. Bull Environ Contam Toxicol 99, 574–581 (2017). https://doi.org/10.1007/s00128-017-2176-5
Received:

Accepted:

Published:

Issue Date:
Keywords
Zebra fish

Thallium

Gene expression

Enzyme activity

Toxicity

Pathology