Abstract
We present here the results of the study on metal pollution by identifying source, abundance and distribution in soil and tailings of Khetri copper complex (KCC) mines, Rajasthan India. The region is highly contaminated by copper (Cu) with higher values in the soil near overburden material (1224 mg/kg) and tailings (111 mg/kg). The average Cu (231 mg/kg) concentration of soil is ~9, 5 and 32 times higher than upper crust, world average shale (WAS) and local background soil (LS), respectively. However this reaches to ~82, 46 and 280 times higher in case of tailing when compared. The correlation and principal component analysis for soil reveals that the source of Cu, Zn, Co, Ni, Mn and Fe is mining and Pb and Cd could be result of weathering of parent rocks and other anthropogenic activities. The source for Cr in soil is both mining activities and weathering of parent rocks. The values of index of geo-accumulation (Igeo) and pollution load index for soil using LS as background are higher compared to values calculated using WAS. The metal rich sulphide bearing overburden material as well as tailings present in the open environment at KCC mines region warrants a proper management to minimize their impact on the environment.
Access options
Buy single article
Instant access to the full article PDF.
USD 39.95
Price includes VAT (USA)
Tax calculation will be finalised during checkout.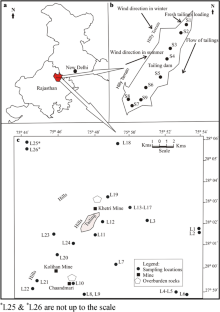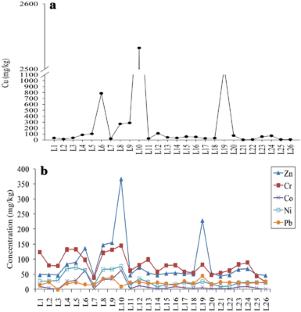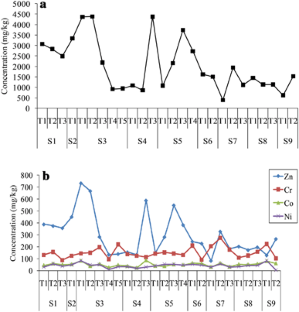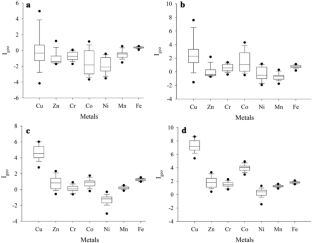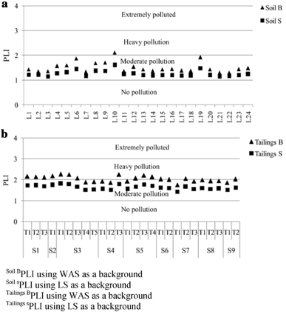 References
Akcil A, Koldas S (2006) Acid Mine Drainage (AMD): causes, treatment and case studies. J Clean Prod 14:1139–1145

Ali MF, Heng LY, Ratnam W, Nais J, Ripin R (2004) Metal distribution and contamination of the Mamut River, Malaysia, caused by copper mine discharge. Bull Environ Contam Toxicol 73:535–542

Carr MH, Turekian KK (1962) Chromium in granitic rocks. Geochim Cosmochimi Acta 26(3):411–415

Chen HM, Zheng CR, Tu C, Zhu YG (1999) Heavy metal pollution in soils in China status and counter measures. Ambio 28:130–134

Chuan MC, Shu GY, Liu JC (1996) Solubility of heavy metals in a contaminated soil: effects of redox potential and pH. Water Air Soil Pollut 90(3):543–556

Gómez-Álvarez A, Valenzuela-García JL, Meza-Figueroa D, O-Villanueva MDL, Ramírez-Hernández J, Almendariz-Tapia J, Pérez-Segura E (2011) Impact of mining activities on sediments in a semi-arid environment: San Pedro River, Sonora, Mexico. Appl Geochem 26:2101–2112

Kaur P, Chaudhri N, Raczek I, Kröner A, Hofmann AW (2007) Geochemistry, zircon ages and whole-rock Nd isotopic systematics for Palaeoproterozoic A-type granitoids in the northern part of the Delhi belt, Rajasthan, NW India: implications for late Palaeoproterozoic crustal evolution of the Aravallicraton. Geol Mag 144:361–378

Khorasanipour M, Aftabi A (2011) Environmental geochemistry of toxic heavy metals in soils around Sarcheshmeh porphyry copper mine smelter plant, Rafsanjan, Kerman, Iran. Environ Earth Sci 62:449–465

Kober B, Wessels M, Bollhofer A, Mangini A (1999) Pb isotopes in sediments of Lake Constance, Central Europe constrain the heavy metal pathways and the pollution history of the catchment, the lake and regional atmosphere - Constrains on the origin(s) and flux(es) of metals. Geochim Cosmochim Acta 63:1293–1303

Krishna AK, Mohan KR, Murthy NN, Periasamy V, Bipinkumar G, Manohar K, Rao SS (2013) Assessment of heavy metal contamination in soils around chromite mining areas, Nuggihalli, Karnataka, India. Environ Earth Sci 70(2):699–708

Li Z, Ma Z, Kuijp TJVD, Yvan Z, Huang L (2014) A review of soil heavy metal pollution from mines in china: pollution and health risk assessment. Sci Total Environ 468–469:843–853

McGregor RG, Blowes DW, Jambor JL, Robertson WD (1998) The solid-phase controls on the mobility of heavy metals at the Copper Cliff tailings area, Sudbury, Ontario, Canada. J Contam Hydro 33:247–271

Meza-Figueroa D, Maier RM, O-Villanueva MDL, Gómez-Alvarez A, Moreno-Zazueta A, Rivera J, Campillo A, Grandlic CJ, Anaya R, Palafox-Reyes J (2009) The impact of unconfined mine tailings in residential areas from a mining town in a semi-arid environment: Nacozari, Sonora, Mexico. Chemosphere 77:140–147

Mileusnić M, Mapani BS, Kamona AF, Ružičić A, Mapaure I, Chimwamurombe PM (2014) Assessment of agricultural soil contamination by potentially toxic metals dispersed from improperly disposed tailings, Kombat mine, Namibia. J Geochem Explor 144:409–420

Mishra M, Singh S, Das T, Kar RN, Rao KS, Sukla LB, Mishra BK (2008) Bio-dissolution of copper from Khetri lagoon material by adapted strain of Acidithiobacillusferrooxidans. Korean. J Chem Eng 25(3):531–534

Muller G (1969) Index of geoaccumulation in sediments of the Rhine River. Geoj 2:108–118

Navarro MC, Perez-Sirvent C, Martinez-Sanchez MJ, Vidal J, Tovar PJ, Bech J (2008) Abandoned mine sites as a source of contamination by heavy metals: a case study in a semi-arid zone. J Geochem Explor 96:183–193

Pandey PK, Sharma R, Roy M, Pandey M (2007) Toxic mine drainage from Asia's biggest copper mine at Malanjkhand, India. Environ Geochem Health 29:237–248

Qin C, Luo C, Chen Y, Shen Z (2012) Spatial-based assessment of metal contamination in agricultural soils near an abandoned copper mine of Eastern China. Bull Environ Contam Toxicol 89:113–118

Rastmanesh F, Moore F, Kharrati MK, Keshavarzi B, Behrouz M (2011) Heavy metal enrichment of soil in Sarcheshmeh copper complex, Kerman, Iran. Environ Earth Sci 62:329–336

Ribet I, Ptacek CJ, Blowes DW, Jambor JL (1995) The potential for metal release by reductive dissolution of weathered mine tailings. J Contam Hydrol 17:239–273

Sarkar SC, Dasgupta S (1980) Geologic setting, genesis and transformation of sulfide deposits in the northern part of Khetri copper belt, Rajasthan, India—an outline. Min Deposita 15:117–137

Sathawara NG, Parikh DJ, Agarwal YK (2004) Essential heavy metals in environmental samples from western India. Bull Environ Contam Toxicol 73:756–761

Taylor SR, McLennan SM (1985) The continental crust: its composition and evolution. Blackwell, London

Tembo BD, Sichilongo K, Cernak J (2006) Distribution of copper, lead, cadmium and zinc concentrations in soils around Kabwe town in Zambia. Chemosphere 63:497–501

Tomlinson DC, Wilson JG, Harris CR, Jeffery DW (1980) Problems in the assessment of heavy metals levels in estuaries and the formation of a pollution index. Helgol Wiss Meeresunters 33:566–575

Tripathi RM, Raghunath R, Krishnamoorthy TM (1997) Dietary intake of heavy metals in Bombay city, India. Sci Total Environ 208:149–159

Turekian KK, Wedepohl KH (1961) Distribution of the elements in some major units of the earth's crust. Geol Society Am 72:175–192

Wang C, Shen Z, Li X, Luo C, Chen Y, Yang H (2004) Heavy metal contamination of agricultural soils and stream sediments near a copper mine in Tongling, People's Republic of China. Bull Environ Contam Toxicol 73:862–869

Yadav S, Rajamani R (2003) Aerosol of NW India—a potential source of Cu. Scientific correspondence. Curr Sci 84(3):278–280
Acknowledgements
We thank the Dean, School of Environmental Sciences, Jawaharlal Nehru University for encouragement and DST (Purse-Phase-II) & UGC (UPE) for financial support. AP and SKS acknowledge the University Grant Commission for Junior Research Fellowship.
About this article
Cite this article
Punia, A., Siddaiah, N.S. & Singh, S.K. Source and Assessment of Metal Pollution at Khetri Copper Mine Tailings and Neighboring Soils, Rajasthan, India. Bull Environ Contam Toxicol 99, 633–641 (2017). https://doi.org/10.1007/s00128-017-2175-6
Received:

Accepted:

Published:

Issue Date:
Keywords
Metal sources

Principal component analysis

Pollution load

Khetri copper complex mines

Rajasthan

India