Abstract
Polycyclic aromatic hydrocarbons (PAHs) such as benz[a]anthracene (BA) and dibenz[a,h]anthracene (DBA), which are considered toxic, are frequently found in contaminated soils in Mexico. A laboratory-scale study monitored the degradation of the mixture of these two PAHs in three soils from different Mexican states (Tabasco, Morelos and Veracruz), each with different organic matter content, particle size distribution and incubated under different water content conditions. The hydrocarbons were extracted using microwave digestion and quantified by GC/MS. The removal of the PAHs, the growth of aerobic bacteria and microbial activity were determined in soil samples with and without a bacterial growth inhibitor (HgCl2). The conclusion is that more than 90% of both contaminants was removed from the three soils, independently of the soil water content or the application of a bacterial growth inhibitor. Biological properties of the soils showed changes at the end of the experiment, but the results of the removal of PAHs were similar in the three soils.
Access options
Buy single article
Instant access to the full article PDF.
USD 39.95
Price includes VAT (USA)
Tax calculation will be finalised during checkout.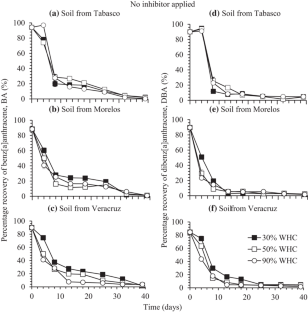 References
Alef K, Nannipieri P (1995) Methods in applied soil microbiology and biochemistry. Academic Press, GB

Amodu O, Ojumu T, Obed S, Ntwampe SK (2013) Bioavailability of high molecular weight polycyclic aromatic hydrocarbons using renewable resource. INTECH

ASTM D422-63 American Society of Testing Materials (2016) Standard test method for particle-size analysis of soils

ASTM D4972 American Society of Testing Materials (2001) Standard test method for pH of soils

ATSDR, Agency for Toxic Substances and Disease Registry (2005) Toxicology profile for polyaromatic hydrocarbons. ATSDR's Toxicological Profiles, CRC Press, Boca Raton

Bamforth SM, Singleton I (2005) Review Bioremediation of polycyclic aromatic hydrocarbons: current knowledge and future directions. J Chem Technol Biotechnol 80:723–736

Betancur GL, Álvarez BD, Ramos VA, Dendooven L (2006) Bioremediation of polycyclic aromatic hydrocarbon-contaminated saline-alkaline soils of the former Lake Texcoco. Chemosphere 62:1749–1760

Bojes HJ, Pope PG (2007) Characterization of EPA's 16 priority pollutant polycyclic aromatic hydrocarbons (PAHs) in tank bottom solids and associated contaminated soils at oil exploration and production sites in Texas. Regul Toxicol Pharmacol 47:288–295

Brady NC, Weil R (2002) The nature and properties of soils. Person Education, USA

Canet R, Birnstingl J, Malcolm D, López-Real J, Beck A (2001) Biodegradation of polycyclic aromatic hydrocarbons (PAHs) by native microflora and combinations of white-rot fungi in a coal-tar contaminated soil. Bioresour Technol 76:113–117

Cerniglia CE (1992) Biodegradation of polycyclic aromatic hydrocarbons. Biodegradation 3:351–368

Chiou CT, Sawhney BL, Brown K, Madison WI (1989) Theoretical considerations of the partition uptake of nonionic organic compounds by soil organic matter. Reactions and movement of organic chemicals in soils. Soil Sci Soc Am Inc:1–29

Cornelissen G, Van Noort P, Govers HA (1997) Desorption of chlorobenzenes, polycyclic aromatic hydrocarbons, and polychlorinated biphenyls: sediment extraction with tenax and effects of contact time and solute hydrophobicity. Environ Toxicol Chem 16:1351–1357

Couling N, Towell M, Semple K (2010) Biodegradation of PAHs in soil: Influence of the chemical structure, concentration and multiple amendment. Environ Pollut 158:3411–3420

Díaz R (2014) Mecánica de suelos. Naturaleza y propiedades. Trillas, México

Dilly O (2004) Effects of glucose, cellulose and humic acids on soil microbial ecophysiology. J Plant Nutr Soil Sci 167:261–266

Grosser RJ, Friedrich M, Ward DM, Inskeep WP (2000) Effect of model sorptive phases on phenanthrene biodegradation: different enrichment conditions influence bioavailability and selection of phenanthrene-degrading isolates. Appl Environ Microbiol 66:2695–2702

Haramaya S (1997) Polycyclic aromatic hydrocarbon bioremediation design. Environ Biotechnol 8:268–273

Haritash AK, Kaushik CP (2009) Biodegradation aspects of polycyclic aromatic hydrocarbons (PAHs): a review. J Hazard Mater 169:1–15

Kanaly RA, Haramaya S (2010) Advances in the field of high-molecular-weight polycyclic aromatic hydrocarbon biodegradation by bacteria. Microb Biotechnol 3:136–164

Kottler BD, White JC, Kelsey JW (2001) Influence of soil moisture on the sequestration of organic compound in soil. Chemosphere 42:893–898

Langmuir D (1997) Aqueous enviromental geochemistry. Prentice-Hall Hispanoamericana, New York

Li X, Lin X, Li P, Liu W, Wang L, Ma F, Chukwuka KS (2009) Biodegradation of the low concentration of polycyclic aromatic hydrocarbons in soil by microbial consortium during incubation. J Hazard Mater 172:601–605

López AV (1999) Sample preparation for environmental analysis. Crit Rev Anal Chem 29:195–230

Lors C, Ryngaert A, Périé F, Diels L, Damidot D (2010) Evolution of bacterial community during bioremediation of PAHs in a coal tar contaminated soil. Chemosphere 81:1263–1271

Lors C, Damidot D, Ponge J, Périé F (2012) Comparision of a bioremediaton process of PAHs in a PAH-contaminated soil at field and laboratory scales. Environ Pollut 165:11–17

Mao J, Luo Y, Teng Y, Li Z (2012) Bioremediation of polycyclic aromatic hydrocarbon-contaminated soil by a bacterial consortium and associated microbial community changes. Int Biodeter Biodegr 70:141–147

Olson RV, Ellis GW Jr, Dixon J (1982) Chemical and microbiological properties. In: Methods of soils analysis (Part 2). Soil Science Society of America, Wisconsin

Ortega CJ, Tejada AM, Jiménez SC, Congiu E, Sungthong R, Niqui AJ, Cantos M (2013) Is it posible to increase bioavailability but not environmental risk of PAHs in bioremediation? J Hazard Mat 261:733:745

Palma L, Cisneros J (1996) Plan de uso sustentable de los suelos de Tabasco. Editorial Fundación PROCEDE Tabasco A.C. Villahermosa, Tabasco

Pelaez A, Lores I, Sotres A, Mendez-García C, Fernández-Velaverde C, Santos J, Gallego J, Sanchez J (2013) Design and field-scale implementation of an "on site" bioremediation treatment in PAH-polluted soil. Environ Pollut 181:190–199

Reid BJ, Jones KC, Semple KT (2000) Bioavailability of persistent organic pollutants in soils and sediments: a perspective on mechanisms, consequences and assessment. Environ Pollut 108:103–112

Rivera EY, Dendooven L (2007) Dynamics of carbon and nitrogen in a mixture of polycyclic aromatic hydrocarbons contaminated soil amended with organic residues. Environ Technol 28:883–893

Seo J, Keum Y, Li Q (2009) Bacterial degradation of aromatic compounds. Int J Environ Heal R 6:278–309

Shu YY, Lai TL (2001) Effect of moisture on the extraction efficiency of polycyclic aromatic hydrocarbons from soils under atmospheric pressure by focused microwave-assisted extraction. J Chromatogr A 927:131–141

Sihag S, Pathak H, Jaroli D (2014) Factors affecting the rate of biodegradation of polyaromatic hydrocarbons. Int J Pure App Biosci 2:185–202

Smyth T, Zytner R, Stiver W (1999) Influence of water on the supercritical fluid extraction of naphthalene from soil. J Hazard Mater 67:183–196

Sumner ME (2000) Handbook of soil science. CRC Press LLC, Boca Ratón

US EPA Environmental Protection Agency (2002) Methods for the determination of total organic carbon (TOC) in soils and sediments

US EPA Environmental Protection Agency (2007) Method 3546, Microwave extraction. https://www.epa.gov/sites/production/files/2015-12/documents/3546.pdf

Weissenfels WD, Klewer HJ, Langhoff J (1992) Adsorption of polycyclic aromatic hydrocarbons (PAHs) by soil particles: influence on biodegradability and biotoxicity. Appl Microbiol Biotechnol 36:689–696

Wood DM, Wroth CP (1978) The use of cone penetrometer to determine the plastic limit of soils. Ground Eng 11:37

Wu YR, Luo ZH, Vrijmoed LL (2010) Biodegradation an anthracene and benz(a)anthracene by two Fusarium solani strains isolated from mangrove sediments. Bioresour Technol 101:9666–9672

Yang Y, Zhang N, Xue M, Lu S, Tao S (2011) Effects of soil organic matter on the development of the microbial polycyclic aromatic hydrocarbons (PAHs) degradation potentials. Environ Pollut 159:591–595
Acknowledgements
This research was funded by "Consejo Nacional de Ciencia y Tecnología" (CONACYT, Mexico) and L. C. received grant-aided support from CONACYT.
About this article
Cite this article
Corona, L., Dendooven, L., Chicken, A. et al. Removal of Two High Molecular Weight PAHs from Soils with Different Water Content. Bull Environ Contam Toxicol 99, 619–624 (2017). https://doi.org/10.1007/s00128-017-2168-5
Received:

Accepted:

Published:

Issue Date:
Keywords
Benz[a]anthracene

Dibenz[a,h]anthracene

Degradation

Organic matter

Water content