Abstract
The photoconversion of 2-chloronaphthalene (CN-2) in water in a simulated sunlight system was investigated. The photoconversion efficiency, photoproducts and mechanisms were inspected, and the effects of inorganic ions (NO3 −, NO2 −) and fulvic acid (FA) were discussed. The results showed that CN-2 could be transformed in water under the irradiation. NO3 − and NO2 − promoted the photoconversion of CN-2 owing to ·OH generated by the photolysis of NO3 − and NO2 −; FA at a lower concentration promoted the photoconversion, but it had an inhibition effect at a higher concentration. It was demonstrated that the acidic conditions promoted the photoconversion of CN-2 by the active groups such as superoxide radical anion, hydrogen peroxide and hydroxyl radical produced in the system. Eight photoproducts of CN-2 were characterized by the GC-MS method and the possible photoconversion mechanisms were proposed accordingly.
Access options
Buy single article
Instant access to the full article PDF.
USD 39.95
Price includes VAT (USA)
Tax calculation will be finalised during checkout.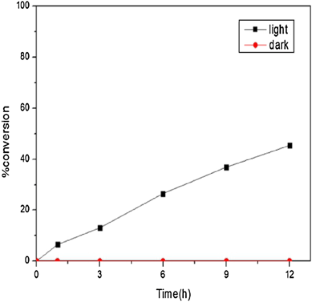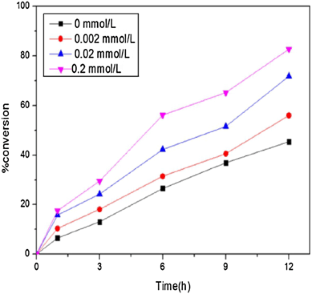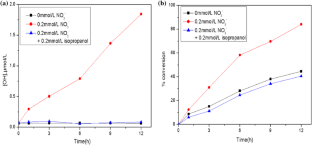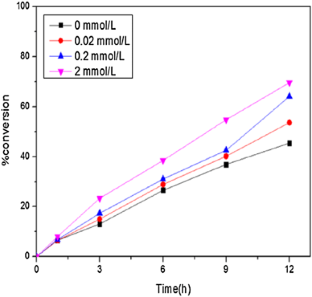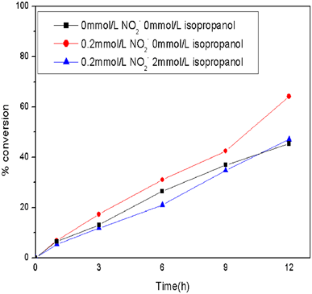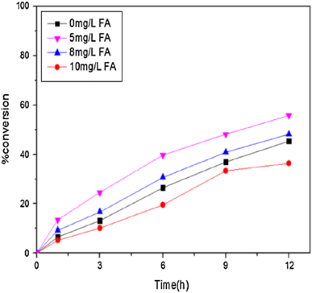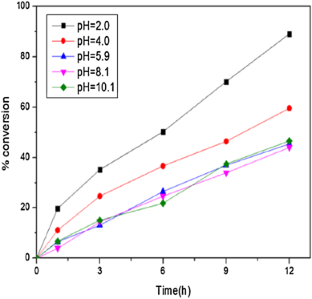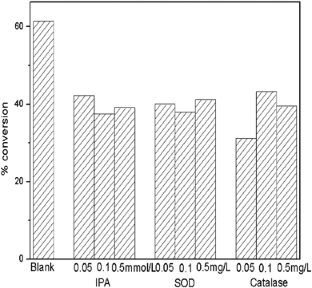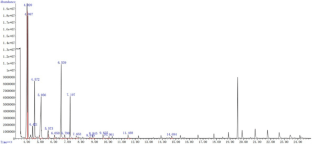 References
Ali U, Sanchez-Garcia L, Rehman MYA, Syed JH, Mahmood A, Li J, Zhang G, Jones KC, Malik RN (2016) Tracking the fingerprints and combined TOC-black carbon mediated soil-air partitioning of polychlorinated naphthalenes (PCNs) in the Indus River Basin of Pakistan. Environ Pollut 208:850–858

Barc J, Gregoraszczuk EL (2014) Effects of individual polychlorinated naphthalene(PCN) components of Halowax 1051 and two defined, artificial PCN mixtures on AHR and CYP1A1 protein expression, steroid secretion and expression of enzymes involved in steroidogenesis (CYP17, 17β-HSD and CYp19) in porcine ovarian follicles. Toxicology 322:14–22

Boxe CS, Colussi AJ, Hoffmann MR, Murphy JG, Wooldridge PJ, Bertram TH, Cohen RC (2005) Photochemical production and release of gaseous NO2 from nitrate-doped water ice. J Phys Chem A 109(38):8520–8525

Cetin B (2016) Investigation of PAHs, PCBs and PCNs in soils around a heavily industrialized area in Kocaeli, Turkey: concentarions, distributions, sources and toxicological effects. Sci Total Environ 560–561:160–169

Chu L, Anastasio C (2003) Quantum yields of hydroxyl radical and nitrogen dioxide from the photolysis of nitrate on ice. J Phys Chem A 107:9594–9602

Deng NS, Wu F (2003) Environmental photochemistry. Chemical Industry, Beijing

Die QQ, Nie ZQ, Fang YY, Yang YF, Gao XB, Tian YJ, He J, Liu F, Huang QF, Tian SL (2016) Seasonal and spatial distributions of atmospheric polychlorinated naphthalenes in Shanghai, China. Chemosphere 144:2134–2141

Fromme H, Cequier E, Kim JT, Hanssen L, Hilger B, Thomsen C, Chang YS, Volkel W (2015) Persistent and emerging pollutants in the blood of German adults: occurrence of deshloranes, polychlorinated naphthalenes, and siloxanes. Environ Int 85:292–298

Huang J, Yu G, Yamauchi M, Matsumura T, Yamazaki N, Weber R (2015) Congener-specific analysis of polychlorinated naphthalenes (PCNs) in the major Chinese technical PCB formulation from a stored Chinese electrical capacitor. Environ Sci Pollut Res 22:14471–14477

Jacobi HW, Annor T, Quansah E (2006) Investigation of the photochemical decomposition of nitrate, hydrogen peroxide, and formaldehyde in artificial snow. J Photochem Photobiol A 179:330–338

Jarnberg UG, Asplund LT, Egeback AL, Jansson B, Unger M, Wideqvist U (1999) Polychlorinated naphthalene congener profiles in background sediments compared to a degraded Halowax 1041 technical mixture. Environ Sci Technol 33(1):1–6

Jiang XX, Liu GR, Wang M, Liu WB, Tang C, Li L, Zheng MH (2015) Case study of polychlorinated naphthalenes emissions and factors influencing emission variations in secondary aluminum production. J Hazard Mater 286:545–552

Keum YS, Li QX (2004) Photolysis of octachloronaphthalene in hexane. Bull Environ ContamToxicol 72:999–1005

Kormali P, Troupis A, Triantis T, Hiskia A, Papaconstantinou E (2007) Photocatalysis by polyoxometallates and TiO2. Catal Today 124:149–155

Li F, Jin J, Gao Y, Geng NB, Tao DQ, Zhang HJ (2016) Occurrence distribution and source apportionment of polychlorinated naphthalenes(PCNs) in sediments and soils from the Liaohe River Basin, China. Environ Pollut 211:226–232

Lindsey ME, Tarr MA (2000) Quantitaion of hydroxyl radical during Fenton oxidation following a single addition of iron and peroxide. Chemosphere 41:409–417

Liu GR, Lv P, Jiang XX, Nie ZQ, Liu WB, Zheng MH (2015) Identification and preliminary evaluation of polychlorinated naphthalenes emissions from hot dip galvanizing plants. Chemosphere 118:112–116

Lou T, Wang XJ, Song GJ, Gui GP (2017) Synthesis and flocculation performance of a chitosan–acrylamide–fulvic acid ternary copolymer. Carbohydr Polym 170:182–189

Moukas AI, Thomaidis NS, Calokerinos AC (2016) Novel determination of polychlorinated naphthalence in water by liquid chromatography-mass spectrometry with atmospheric pressure photoionization. Res Paper 408:191–201

Russi H, Kotzias D, Korte F (1982) Photoinduzierte hydrox-ylierungsreaktionen organischer chemikalien in naturlichen gewassern: nitrate als potentielle OH-radikalquellen. Chemosphere 10:1041–1048

Ruzo LO, Bunce NJ, Safe S (1975) Photodegradation of polychloronaphthalenes in methanol solution. Bull Environ ContamToxicol 14 (3):341–345

Sinha A, Bose P (2006) Dehalogenation of 2-chloronapthalene by cast iron. Water Air Soil Pollut 172:375–390

Xu F, Zhang RM, Li YF, Zhang QZ (2015a) Homogeneous gas-phase formation of polychlorinated naphthalene from dimerization of 4-chlorophenoxy radicals and cross-condensation of phenoxy radical with 4-chlorophenoxy radical: mechanism and kinetics study. Chem Phys Lett 638:153–160

Xu F, Zhang RM, Li YF, Zhang QZ, Wang WX (2015b) Theoretical Mechanistic and Kinetic Studies on homogeneous gas-phase formation of polychlorinated naphthalenes from 2-chlorophenol as forerunner. Mol Sci 16:25641–25656

Zhan M, Yang X, Xian Q, Kong L (2006) Photosensitized degradation of bisphenol A involving reactive oxygen species in the presence of humic substances. Chemosphere 63:378–386

Zhang HY, Xiao K, Liu JY, Wang T, Liu GR, Wang YW, Jiang GB (2014) Polychlorinated naphthalenes in sewage sludge from wastewater treatment plants in China. Sci Total Environ 490:555–560
Acknowledgements
This research was supported by the National Natural Science Foundation of China (No. 41073063 and No. 41403101).
About this article
Cite this article
Kang, C., Bao, S., Chen, B. et al. Photoconversion of 2-Chloronaphthalene in Water. Bull Environ Contam Toxicol 99, 415–421 (2017). https://doi.org/10.1007/s00128-017-2146-y
Received:

Accepted:

Published:

Issue Date:
Keywords
2-Chloronaphthalene

Photoconversion

Water

Hydroxyl radical