Abstract
Multi-walled carbon nanotubes are adsorptive materials that have potential for remediation of organic contaminants in water. Sediment elutriate exposures were undertaken with Ceriodaphnia dubia to compare the toxic effects of diphenhydramine in the presence and absence of sediment and multi-walled carbon nanotubes. In both sediment and solution-only treatments, addition of 0.318 mg/g of carbon nanotubes significantly decreased 48-h mortality relative to control, with a 78.7%–90.1% reduction in treatments with nanotube-amended sediment and 40.7%–53.3% reduction in nanotube-amended water exposures. The greatest degree of relative mortality reduction occurred in sediments containing higher levels of natural organic matter, indicating a potential additive effect.
Access options
Buy single article
Instant access to the full article PDF.
USD 39.95
Price includes VAT (USA)
Tax calculation will be finalised during checkout.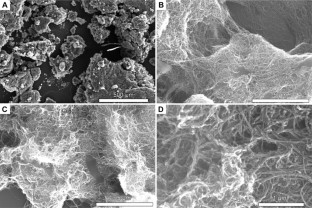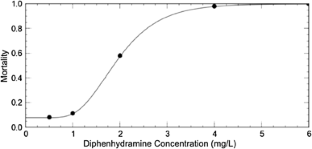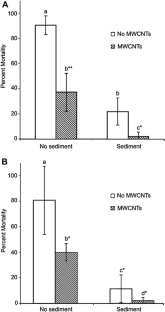 References
Allen BL, Kichambre PD, Gou P, Vlasova II, Kapralov AA, Konduru N, Kagan VE, Star A (2008) Biodegradation of single-walled carbon nanotubes through enzymatic catalysis. Nano Lett 8:3899–3903

Ayotamuno M, Kogbara R, Ogaji S, Probert S (2006) Petroleum contaminated ground-water: remediation using activated carbon. Appl Energy 83:1258–1264

Baughman RH, Zakhidov AA, de Heer WA (2002) Carbon nanotubes–the route toward applications. Science 297:787–792

De Volder MFL, Tawfick SH, Baughman RH, Hart AJ (2013) Carbon nanotubes: present and future commercial applications. Science 339:535–539

Goolsby E, Mason C, Wojcik J, Jordan A, Black M (2013) Acute and chronic effects of diphenhydramine and sertraline mixtures in Ceriodaphnia dubia. Environ Toxicol Chem 32:2866–2869

Gottschalk F, Sonderer T, Scholz RW, Nowack B (2009) Modeled environmental concentrations of engineered nanomaterials (TiO(2), ZnO, Ag, CNT, Fullerenes) for different regions. Environ Sci Technol 43:9216–9222

Gui X, Li H, Wang K, Wei J, Jia Y, Li Z, Fan L, Cao A, Zhu H, Wu D (2011) Recyclable carbon nanotube sponges for oil absorption. Acta Mater 59:4798–4804

Hyung H, Fortner JD, Hughes JB, Kim JH (2007) Natural organic matter stabilizes carbon nanotubes in the aqueous phase. Environ Sci Technol 41:179–184

Kar S, Bindal RC, Prabhakar S, Tewari PK, Dasgupta K, Sathiyamoorthy D (2008) Potential of carbon nanotubes in water purification: an approach towards the development of an integrated membrane system. Int J Nucl Desalin 3:143–150

Li G, Feng Y, Chai X, Yang Z, Zhang X (2015) Adsorption of cyclic organics generated during electrochemical oxidation of Orange II by activated carbon fibres and toxicity test. J Water Process Eng 7:21–26

Liao Q, Sun J, Gao L (2008) The adsorption of resorcinol from water using multi-walled carbon nanotubes. Colloids Surf A 312:160–165

Lin D, Liu N, Yang K, Xing B, Wu F (2010) Different stabilities of multiwalled carbon nanotubes in fresh surface water samples. Environ Pollut 158:1270–1274

Linard EN, van den Hurk P, Karanfil T, Apul OG, Klaine SJ (2015) Influence of carbon nanotubes on the bioavailability of fluoranthene. Environ Toxicol Chem 34:658–666

Liu J, Rinzler AG, Dai H, Hafner JH, Bradley RK, Boul PJ et al (1998) Fullerene pipes. Science 280:1253–1256

Long ER, Dutch M, Weakland S, Chandramouli B, Benskin JP (2013) Quantification of pharmaceuticals, personal care products, and perfluoroalkyl substances in the marine sediments of Puget Sound, Washington, USA. Environ Toxicol Chem 32:1701–1710

Murr LE, Bang JJ, Esquivel EV, Guerrero PA, Lopez DA (2004) Carbon nanotubes, nanocrystal forms, and complex nanoparticle aggregates in common fuel-gas combustion sources and the ambient air. J Nanopart Res 6:241–251

Petersen EJ, Pinto RA, Landrum PF, Weber JWJ (2009) Influence of carbon nanotubes on pyrene bioaccumulation from contaminated soils by earthworms. Environ Sci Technol 43:4181–4187

Reif AG, Crawford JK, Loper, CA, Proctor A, Manning R, Titler R (2012) Occurrence of pharmaceuticals, hormones, and organic wastewater compounds in Pennsylvania waters, 2006–09. US Geological Survey Scientific Investigations Report 5106, 40–43

Saikia N, Deka RC (2013) A comparison of the effect of nanotube chirality and electronic properties on the pi-pi interaction of single-wall carbon nanotubes with pyrazinamide antitubercular drug. Int J Quantum Chem 113:1272–1284

Schreiner KM, Filley TR, Blanchette RA, Bowen BB, Bolskar RD, Hockaday WC, Masiello CA, Raebiger JW (2009) White-rot basidiomycete-mediated decomposition of C60 fullerol. Environ Sci Technol 43:3162–3168

Shen M, Xia X, Zhai Y, Zhang X, Zhao X, Zhang P (2014) Influence of carbon nanotubes with preloaded and coexisting dissolved organic matter on the bioaccumulation of polycyclic aromatic hydrocarbons to Chironomus plumosus larvae in sediment. Environ Toxicol Chem 33:182–189

Simon A, Preuss T, Schäffer A, Hollert H, Maes H (2015) Population level effects of multiwalled carbon nanotubes in Daphnia magna exposed to pulses of triclocarban. Ecotoxicology 24(1199):1212

Upadhyayula VKK, Deng S, Mitchell MC, Smith GB (2009) Application of carbon nanotube technology for removal of contaminants in drinking water: a review. Sci Total Environ 408:1–13

USEPA (2004) Methods for measuring acute toxicity to freshwater and marine organisms. 40 CFR 136

Wang Y, Iqbal Z, Mitra S (2006) Rapidly functionalized, water-dispersed carbon nanotubes at high concentration. J Am Chem Soc 128:95–99

Yang J, Yu M, Chen W (2015) Adsorption of hexavalent chromium from aqueous solution by activated carbon prepared from longan seed: kinetics, equilibrium and thermodynamics. J Ind Eng Chem 21:414–422

You U, Das KK, Guo H, Chang CW, Navas-Moreno M, Chan JW, Verburg P, Poulson SR, Wang X, Xing B, Yang Y (2017) Microbial transformation of multiwalled carbon nanotubes by mycobacterium vanbaalenii PYR-1. Environ Sci Technol 51:2068–2076

Zhang S, Shao T, Karanfil T (2011) The effects of dissolved natural organic matter on the adsorption of synthetic organic chemicals by activated carbons and carbon nanotubes. Water Res 45:1378–1386

Zhang Z, Luo X, Liu Y, Zhou P, Ma G, Lei Z, Lei L (2015) A low cost and highly efficient adsorbent (activated carbon) prepared from waste potato residue. J Taiwan Inst Chem Eng 49:206–211
Acknowledgements
This work was funded by the University of Georgia College of Public Health. The authors would like to thank David Brew, Madison Hamilton, Rosemary Pearson-Clarke, and Ava Wilson for assistance in experimental setup and monitoring, and Chi-Yen Tseng for providing advice and methods for nanotube functionalization.
About this article
Cite this article
Myer, M.H., Black, M.C. Multi-walled Carbon Nanotubes Reduce Toxicity of Diphenhydramine to Ceriodaphnia dubia in Water and Sediment Exposures. Bull Environ Contam Toxicol 99, 321–327 (2017). https://doi.org/10.1007/s00128-017-2145-z
Received:

Accepted:

Published:

Issue Date:
Keywords
Carbon nanotube

Diphenhydramine

Acute toxicity

Ceriodaphnia dubia