Abstract
Filamentous mat-forming cyanobacteria are increasingly impairing uses of freshwater resources. To effectively manage, a better understanding of control measures is needed. Copper (Cu)-based algaecide formulations are often applied to reactively control nuisance cyanobacterial blooms. This laboratory research assessed typical field exposure scenarios for the ability of Cu to partition to, and accumulate in Lyngbya wollei. Exposure factors (Cu concentration × duration) of 4, 8, 16, 24, 32 h were tested across three aqueous Cu concentrations (1, 2, 4 ppm). Results indicated that internally accumulated copper correlated with control of L. wollei, independent of adsorbed copper. L. wollei control was determined by filament viability and chlorophyll a concentrations. Similar exposure factors elicited similar internalized copper levels and consequent responses of L. wollei. Ultimately, a "concentration-exposure-time" (CET) model was created to assist water resource managers in selecting an appropriate treatment regime for a specific in-water infestation. By assessing the exposure concentration and duration required to achieve the internal threshold of copper (i.e., critical burden) that elicits control, water management objectives can be achieved while simultaneously decreasing the environmental loading of copper and potential for non-target species risks.
Access options
Buy single article
Instant access to the full article PDF.
USD 39.95
Price includes VAT (USA)
Tax calculation will be finalised during checkout.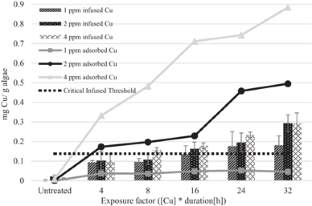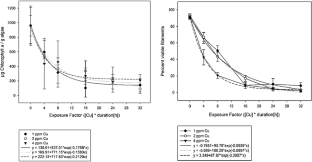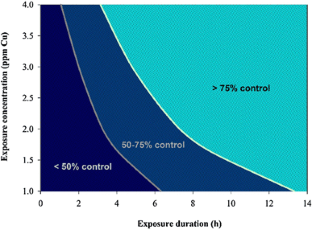 References
American Public Health Association (APHA) (2005) Standard methods for the examination of water and wastewater. 21st edn. American Public Health Association, Washington, DC

Bhadha JH, Lang TA, Alvarez OM, Giurcanu MC, Johnson JV, Odero DC, Daroub SH (2014) Allelopathic effects of Pistia stratiotes and Lyngbya wollei Farlow ex Gomont on seed germination and root growth. Sustain Agric Res 3:121–130

Bishop WM (2016) A Risk-based decision information system for selecting an algal management program (Doctoral dissertation, North Carolina State University)

Bishop WM, Rodgers Jr JH (2011) Responses of Lyngbya magnifica Gardner to an algaecide exposure in the laboratory and field. Ecotoxicol Environ Saf 74:1832–1838

Bishop WM, Rodgers JH Jr (2012) Responses of Lyngbya wollei to exposures of copper-based algaecides: the critical burden concept. Arch Environ Contam Toxicol 62:403–410

Bishop WM, Johnson BM, Rodgers JH Jr (2014) Comparative responses of target and non-target species to exposures of a copper-based algaecide. J Aquat Plant Manag 52:65–70

Bishop WM, Willis BE, Horton CT (2015) Affinity and Efficacy of copper following an algicide exposure: application of the critical burden concept for Lyngbya wollei control in Lay Lake, AL. Environ Manag 55:983–990

Briand J-F, Jacquet S, Bernard C, Humbert J-F (2003) Health hazards for terrestrial vertebrates from toxic cyanobacteria in surface water ecosystems. Vet Res 34:361–377

Cairns J, Pratt JR (1989) The scientific basis of bioassays. Hydrobiologia 188–189:5–20

Carmichael WW, Azevedo SM, An JS, Molica RJ, Jochimson EM, Lau S, Rinehart KL, Shaw GR, Eaglesham GK (2001) Human fatalities from cyanobacteria: Chemical and biological evidence for cyanotoxins. Environ Health Perspect 109:663–668

Corradi MG, Gorbi G (1993) Chromium toxicity on two linked trophic levels. II. Morphophysiological effects on Scenedesmus acutus. Ecotoxicol Environ Saf 25:72–78

Crist RH, Martin JR, Guptill PW, Eslinger JM, Crist DR (1990) Interaction of metals and protons with algae. 2. Ion exchange in adsorption and metal displacement by protons. Environ Sci Technol 24:337–342

Foss AJ, Phlips EJ, Yilmaz M, Chapman A (2012) Characterization of paralytic shellfish toxins from Lyngbya wollei dominated mats collected from two Florida springs. Harmful Algae 16:98–107

Hudon C, De Sève M, Cattaneo A (2014) Increasing occurrence of the benthic filamentous cyanobacterium Lyngbya wollei: a symptom of freshwater ecosystem degradation. Freshw Sci 33(2):606–618

Kaduková J, Virčíková E (2005) Comparison of differences between copper bioaccumulation and biosorption. Environ Int 31:227–232

Kiefer E, Sigg L, Schosseler P (1997) Chemical and spectroscopic characterization of algae surfaces. Environ Sci Technol 31:759–764

Knauer K, Behra R, Sigg L (1997) Adsorption and uptake of copper by the green algae Scenedesmus subspicatus (Chlorophyta). J Phycol 33:596–601

Lakeman MB, von Dassow P, Cattolico RA (2009) The strain concept in phytoplankton ecology. Harmful Algae 8:746–758

Lewis PA, Klemm DJ, Lazorchak JM, Norberg-King TJ, Peltier TJ, Peltier WH, Heber MA (1994) USEPA Short-term methods for estimating the chronic toxicity of effluents and receiving waters to freshwater organisms (Green alga, Selenastrum capricornutum, Growth 1003.0). 3rd ed. EPA/600.4–91/002, Cincinnati, OH

Microsoft (2010) Microsoft Excel [computer software]. Redmond, WA

Paerl HW, Gardner WS, Havens KE, Joyner AR, McCarthy MJJ, SE Newell, Qin B, Scott JT (2016) Mitigating cyanobacterial harmful algal blooms in aquatic ecosystems impacted by climate change and anthropogenic nutrients. Harmful Algae 54:213–222

Schrader KK, Blevins WT (1993) Geosmin-producing species of Streptomyces and Lyngbya from aquaculture ponds. Can J Microbiol 39:834–840

Seifert M, McGregor G, Eaglesham G, Wickramasinghe W, Shaw G (2007) First evidence for the production of cylindrospermopsin and deoxy-cylindrospermopsin by the freshwater benthic cyanobacterium, Lyngbya wollei (Farlow ex Gomont) Speziale and Dyck. Harmful Algae 6:73–80

Speziale BJ, Dyck LA (1992) Comparative taxonomy of Lyngbya wollei Comb. Nov. (Cyanobacteria). J Phycol 28:693–706

Stauber JL, Davies CM (2000) Use and limitations of microbial bioassays for assessing copper bioavailability in the aquatic environment. Environ Rev 8:255–301

Stauber JL, Florence TM (1987) Mechanism of toxicity of ionic copper and copper complexes to algae. Mar Biol 94:511–519

Sunda WG, Huntsman SA (1998) Processes regulating cellular metal accumulation and physiological effects: Phytoplankton as model systems. Sci Total Environ 219:165–181

Systat Software, Inc. (2014) SigmaPlot version 12.5, San Jose, CA

Tien CJ, Sigee DC, White KN (2005) Copper adsorption kinetics of cultured algal cells and freshwater phytoplankton with emphasis on cell surface characteristics. J Appl Phycol 17:379–389

Tripathi BN, Mehta SK, Amar A, Gaur JP (2006) Oxidative stress in Scenedesmus sp. during short- and long-term exposure to Cu+ 2 and Zn+ 2. Chemosphere 62:538–544

Twiss MR, Welbourn PM, Schwartzel E (1993) Laboratory selection for copper tolerance in Scenedesmus acutus (Chlorophyceae). Can J Bot 71:333–338

USEPA (1996) Microwave assisted acid digestion of siliceous and organically based matrices, method 3052. EPA SW-846, Ch. 3.2, US EPA. Washington, DC

USEPA (2002) Short-term methods for estimating the chronic toxicity of effluents and receiving waters to freshwater organisms (Green Alga, Selenastrum capricornutum, Growth 1003.0). 4th ed. EPA-821-R-02-012, Washington, DC 20460

USEPA (2011) National pollutant discharge elimination system (NPDES). Pesticide general permit (PGP) for discharges from the application of pesticides. Washington, DC

Veglio F, Beolchini F (1997) Removal of metals by biosorption: a review. Hydrometallurgy 44(3):301–316

Vijayavel K, Sadowsky MJ, Ferguson JA, Kashian DR (2013) The establishment of the nuisance cyanobacteria Lyngbya wollei in Lake St. Clair and its potential to harbor fecal indicator bacteria. J Great Lakes Res 39(4):560–568

Xue HB, Sigg L (1990) Binding of Cu(II) to algae in a metal buffer. Water Res 24:1129–1136

Yan H, Pan G (2002) Toxicity and bioaccumulation of copper in three green microalgal species. Chemosphere 49:471–476
Acknowledgements
The authors thank SePRO Corporation for use of their accredited laboratory to conduct this research. We also thank Mr. Jason Brown of the First Fruits Farm for facilitating this research.
About this article
Cite this article
Bishop, W.M., Lynch, C.L., Willis, B.E. et al. Copper-Based Aquatic Algaecide Adsorption and Accumulation Kinetics: Influence of Exposure Concentration and Duration for Controlling the Cyanobacterium Lyngbya wollei . Bull Environ Contam Toxicol 99, 365–371 (2017). https://doi.org/10.1007/s00128-017-2134-2
Received:

Accepted:

Published:

Issue Date:
Keywords
Copper

Exposure

Algaecide

Lyngbya wollei

Water resource management