Abstract
The aim of this study is to evaluate the effects of the effluent of Elazig Municipality Wastewater Treatment Plant on the oxidative defense capacity of aquatic plants (Lemna minor L. and Lemna gibba L.). For this purpose, malondialdehyde (MDA), glutathione (GSH), oxidized glutathione (GSSG), vitamin A (retinol), vitamin E (α-tocopherol), and vitamin C (Ascorbic acid) levels were determined by the HPLC (high performance liquid chromatography) in the control groups and the groups adapting to reactors fed with discharge water. The depletion of vitamins (A, E, and C), decrease of GSH/GSSG ratio, and increase of MDA that reflect a precarious state of the cell in L. minor L. and L. gibba L. were observed after exposure to wastewater. It can be suggested that the selected biomarkers are useful in understanding the biochemical mechanisms of the secondary effluents from wastewater treatment plant in L. minor L. and L. gibba L. as early warning indicators.
Access options
Buy single article
Instant access to the full article PDF.
USD 39.95
Price includes VAT (USA)
Tax calculation will be finalised during checkout.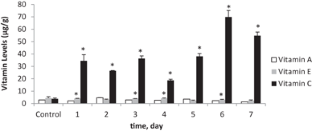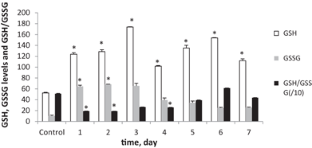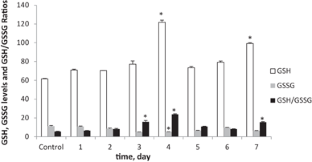 References
APHA, AWWA, WPCF (2005) American Public Health Association, American Water Works Association, Water Pollution Control Federation, Washington

Appenroth KL, Krech K, Keresztes A, Fischer W, Koloczek H (2010) Effects of nickel on the chloroplasts of the duckweeds Spirodela polyrhiza and Lemna minor and their possible use in biomonitoring and phytoremediation. Chemosphere 78:216–223

Barim O, Karatepe M (2010) The effects of pollution on the vitamins A, E, C, beta-carotene contents and oxidative stress of the freshwater crayfish, Astacus leptodactylus. Ecotoxicol Environ Saf 73:138–142

Bergmann BA, Cheng J, Classen J, Stomp AM (2000) In vitro selection of duckweed geographical isolates for potential use in swine lagoon effluent renovation. Bioresour Technol 73:13–20

Cerhata D, Bauerova A, Ginter E (1994) Determination of ascorbic acid in blood plant using high-performance liquid chromatography and its correlation with spectrophotometric. Caska Slov Farm 43:166–168

Chen Y, Wang C, Wang Z (2005) Residues and source identification of persistent organic pollutants in farmland soils irrigated by effluents from biological treatment plants. Environ Int 31:778–783

Cnubben NHP, Rietjens IMCM, Wortelboer H, van Zanden J, Van Bladeren PJ (2001) The interplay of glutathione-related processes in antioxidant defense. Environ Toxicol Pharmacol 10:141–152

Dickinson DA, Forman HJ (2002) Glutathione in defense and signaling: lessons from a small thiol. Ann N Y Acad Sci 973:488–504

Doganlar ZB (2013) Metal accumulation and physiological responses induced by copper and cadmium in Lemna gibba, L. minor and Spirodela polyrhiza. Chem Speciat Bioavailab 25:79–88

Doyotte A, Cossu C, Jacquin MC, Babut M, Vasseur P (1997) Antioxidant enzymes, glutathione and lipid peroxidation of experimental or field exposure in the gills and the digestive gland of the fresh water bivalve Unio tumidus. Aquat Toxicol 39:93–110

Gagne F, Andre C, Cejka P, Hausler R, Fournier M, Blaise C (2008) Immuno-toxic effects on freshwater mussels of a primary-treated wastewater before and after ozonation: a pilot plant study. Ecotoxicol Environ Saf 69:366–373

Halliwell B (1994) Free radical antioxidants in human disease. Curiosity cause or consequence. Lancet 344:721–724

Hamoutene D, Mathieu A, Hofmann P, Salaun JP, Lafaurie M (1995) Preparation and characterization of subcellular fractions suitable for studies of xenobiotic metabolism from leaf sheaths of a marine seagrass: Posidonia oceanica (Linnaeus) Delile. Mar Environ Res 39:249–253

Hercberg S, Galan P, Prezıosı P, Alfarez MJ, Vazquez C (1998) The potential role of antioxidant vitamins in preventing cardiovascular diseases and cancers. Nutrition 14:513–520

Hou W, Chen X, Song G, Wang Q, Chang CC (2007) Effects of copper and cadmium on heavy metal polluted waterbody restoration by duckweed (L. minor). Plant Physiol Biochem 45:62–69

Karatas F, Öbek Kamıslı EF (2009) Antioxidant capacity of Lemna gibba L. exposed to wastewater treatment. Ecol Eng 35:1225–1230

Lackner R (1998) Oxidative stress in fish by environmental pollutants. Fish Ecotoxicol 86:203–224

Miller KW, Lorr NA, Yang CS (1984) Simultaneous determination of plasma retinol a-tocoferol, iycopene, a-carotene, and b-carotene by high performance liquid chromatography. Anal Biochem 138:340–345

Mittler R (2002) Oxidative stress, antioxidants and stress tolerance. Trends Plant Sci 7:405–410

Morel Y, Barouki R (1999) Repression of gene expression by oxidative stress. Biochem J 342:481–496

Nunesa BAR, Gaioc F, Carvalhod L, Guilherminoa (2008) Behaviour and biomarkers of oxidative stress in Gambusia holbrooki after acute exposure to widely used pharmaceuticals and a detergent. Ecotoxicol Environ Saf 71:341–354

Ortega-Villasante C, Rellan-Alvarez R, Del Campo FF, Carpena Ruiz RO, Hernandez LE (2005) Cellular damage induced by cadmium and mercury in Medicago sativa. J Exp Bot 56:2239–2251

Penn MR, Pauer JJ, Mihelcic JR (2004) Environmental and ecological chemistry—vol. II—biochemical oxygen demand. Encyclopedia of Life Support Systems (EOLSS), Oxford

Petala M, Kokokiris L, Samaras P, Papadopoulos A, Zouboulis A (2009) Toxicological and ecotoxic impact of secondary and tertiary treated sewage effluents. Water Res 43:5063–5074

Prasad MN, Malec P, Waloszek A, Bojko M, Strzałka K (2001) Physiological responses of Lemna trisulca to cadmium and copper bioaccumulation. Plant Sci 161:881–889

Qiu-jin X, Yue-gang N, Xiang-can JIN, Chang-zhou Y, Jin L, Gao-ming J (2007) Effects of chitosan on growth of an aquatic plant (Hydrilla verticillata) in polluted waters with different chemical oxygen demands. J Environ Sci 19:217–221

Radic S, Stipanicev D, Cvjetko P, Sırac S, Pevalek-Kozlina B, Pavlica M (2011) Duckweed Lemna minor as a tool for testing toxicity and genotoxicity of surface waters. Ecotoxicol Environ Saf 74:182–187

Rama Devi S, Prasad MNV (1998) Copper toxicity in Ceratophyllum demersum L. (Coontail), a free floating macrophyte: response of antioxidant enzymes and antioxidants. Plant Sci 138:157–165

Razinger J, Dermastia M, Drinovec L, Drobne D, Zrimec A, Koce JD (2007) Antioxidative responses of duckweed (Lemna minor L.) to short-term copper exposure. Environ Sci Pollut Res Int 14:194–201

Rijstenbil JW, Derksen JWM, Gerringa LJA, Poortvliet TCW, Sandee A, Van der Berg M (1994) Oxidative stress induced by copper: defense and damage in the marine planktonic diatom Ditylum brightwellii, grown in continuous cultures with high and low zinc levels. Mar Biol 119:583–590

Stryer L (1995) Biochemistry, 4th edn. W.H. Freeman, New York, pp 452–455

Tavazzi B, Lazzarino G, Di-Pierro D, Giardina B (1992) Malondialdehyde production and Ascorbate decrease are associated to the reperfusion of the isolated postischemic rat heart. Free Radic Biol Med 13:75–78

Wang B, Zhou LP, Li W (2002) Preliminary studies on the purifying function and its physiological reaction of Potamogeton crispus under different water qualities. J Wuhan Bot Res 20(2):150–152

Yamamoto Y, Hachia A, Matsumoto H (1997) Oxidative damage to membranes by a combination of aluminium and iron in suspension-cultured tobacco cells. Plant Cell Physiol 38:1333–1339

Zhang JF, Lıub H, Sun YY, Wang XR, Wu JC, Xue YQ (2005) Responses of the antioxidant defenses of the Goldfish Carassius auratus, exposed to 2,4-dichlorophenol. Environ Toxicol Pharmacol 19:185–190

Zhao Z, Cai Y, Fu M, Bai Z (2008) Response of the soils of different land use types to drought: eco-physiological characteristics of plants grown on the soils by pot experiment. Ecol Eng 34:215–222
About this article
Cite this article
Tatar, S.Y., Obek, E. & Cikcikoglu Yildirim, N. Antioxidant Response in Duckweed After Exposure to Secondary Effluent from Municipal Wastewater Treatment Plant, Elazığ, Turkey. Bull Environ Contam Toxicol 99, 399–404 (2017). https://doi.org/10.1007/s00128-017-2133-3
Received:

Accepted:

Published:

Issue Date:
Keywords
Non-enzymatic antioxidants

MDA

Wastewater treatment

L. gibba L.
L. minor L.