Abstract
The concentrations of six metals (Hg, Cd, Cu, Pb, Cr and Zn) individual total metal load (IMBI) values and its relation to condition index were determined in water, sediment and tissues of crab (Callinectes sapidus) and two fish species (Mugil cephalus and Anguilla anguilla) inhabiting Köyceğiz Lagoon System. The average distribution of the IMBI values ranged from 0.033 to 0.265. Distribution patterns of IMBI in species follow the sequence: A. anguilla > M. cephalus > C. sapidus. Results showed that there are positive relationships between species sizes and metal levels in most cases. The concentrations of Pb in muscle in the three studied species were in all cases considerably higher than the maximum levels set by law. Average Cd, Cu and Zn values in M. cephalus were also higher than the limits proposed for fish by FAO/WHO, EC and TFC. Therefore, the human consumption of all analysed species is not recommended.
Access options
Buy single article
Instant access to the full article PDF.
USD 39.95
Price includes VAT (USA)
Tax calculation will be finalised during checkout.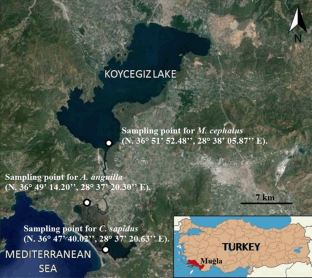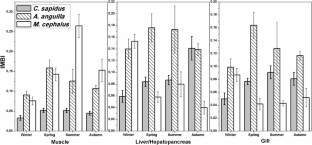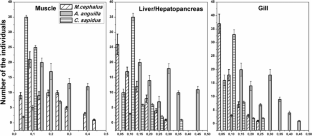 References
Alibabić V, Vahčić N, Bajramović M (2007) Bioaccumulation of metals in fish of salmonidae family and the impact on fish meat quality. Environ Monit Assess 131(1):349–364

Bayari CS, Kazanci N, Koyuncu H, Caglar SS, Gokce D (1995) Determination of the origin of the waters of Köyceğiz Lake, Turkey. J Hydrol 166:171–191

Burger J, Gochfeld M, Jeitner C, Burke S, Stamm T (2007) Metal levels in flathead sole (Hippoglossoides elassodon) and great sculpin (Myoxocephalus polyacanthocephalus) from Adak Island, Alaska: potential risk to predators and fishermen. Environ Res 103(1):62–69

Burkhard LP (2003) Factors in fluencing the design of bioaccumulation factor and biota sediment accumulation factor field studies. Environ Toxicol Chem 22:351–361

Burkhard LP, Cook PM, Lukasewycz MT (2005) Comparison of biota–sediment accumulation factors across ecosystems. Environ Sci Technol 39:5716–5721

Canli M, Atli G (2003) The relationships between heavy metal (Cd, Cr, Cu, Fe, Pb, Zn) levels and the size of six Mediterranean fish species. Environ Pollut 121(1):129–136

Dallinger R (1993) In ecotoxicology of metals in invertebrates, strategies of metal detoxification in terrestrial invertebrates. Lewis Publisher, BocaRaton, pp 246–332

Demirak A, Yilmaz F, Levent AT, Ozdemir N (2006) Heavy metals in water, sediment and tissues of Leuciscus cephalus from a stream in southwestern Turkey. Chemosphere 63:1451–1458

EC (2006) Commission Regulation No. 1881/2006 of 19 December 2006 setting maximum levels for certain contaminants in foodstuffs. Official Journal of European Union

Engin MS (2015) The assessment of trace metals at gill, muscle and liver tissue in Mugil cephalus. Environ Monit Assess 187:255

Esteve C, Elena A, Urena R (2012) The effect of metals on condition and pathologies of European eel (Anguilla anguilla): in situ and laboratory experiments. Aquat Toxicol 109:176–184

FAO/WHO (2011) Working document for information and use in discussions related to contaminants and toxins in the GSCTFF, Fifth Session, The Hague, The Netherlands, 21–25 March

Genç TO, Yilmaz F (2015) Bioaccumulation indexes of metals in blue crab (Callinectes sapidus Rathbun, 1896) inhabiting specially protected area Köycegiz Lagoon (Turkey). Indian J Anim Sci 85(1):94–99

Genç TO, Yilmaz F (2016a) Risk assessement and accumulation of metals in sediment of Köyceğiz Lagoon System Turkey. J Adv Agric 6(1):804–812

Genç TO, Yilmaz F, Sen B (2016b) Metal accumulation in tissues of Capoeta bergamae Karaman, 1969 (Cyprinidae, Teleostei) from Köyceğiz Lagoon System, South-West Turkey. J Appl Biol Sci 10(2):29–34

Guilherme S, Valega M, Pereira ME, Santos MA, Pacheco M (2008) Antioxidant and biotransformation responses in Liza aurata under environmental mercury exposure relationship with mercury accumulation and implications for public health. Mar Pollut Bull 56(5):845–859

Hung SSO, Deng DF (2002) Sturgeon, Acipenser spp. In: Webster CD, Lim C (eds), Nurient requirements and feeding of finfish for aquaculture, CABI Publishing, Walligford, pp 344–357

Karadede H, Oymak SA, Ünlü E (2004) Heavy metals in mullet, Liza abu and catfish, Silurus triostegus from the Atatürk Dam Lake (Euphrates), Turkey. Environ Int 30:183–188

Kir I, Tekin-Ozan S, Tuncay Y (2007) The seasonal variations of some heavy metals in Kovada Lake's water and sediment. Ege Univ J Fish Aquat Sci 24 (1–2):155–158

Küçük F, Gumus E, Gulle U (2005) Determination of entrance seasons of elvers (Anguilla anguilla L. ,1766) in Gözlen Creek and assessment of different catching methods. Turk J Vet Anim Sci 29: 1061–1066

Maes GE, Raeymaekers JAM, Pampoulie C, Seynaeve A, Goemans G, Belpaire C, Volckaert FAM (2005) The catadromous European eel Anguilla anguilla (L.) as a model for freshwater evolutionary ecotoxicology: relationship between heavy metal bioaccumulation, condition and genetic variability. Aquat Toxicol 73:99–114

Maes J, Belpaire C, Goemans G (2008) Spatial variations and temporal trends between 1994 and 2005 in polychlorinated biphenyls, organochlorine pesticides and heavy metal in European eel (Anguilla anguilla) in Flanders, Belgium. Environ Pollut 153:223–237

Marcovecchio JE (2004) The use of Micropogonias furnieri and Mugil liza as bioindicators of heavy metals pollution in La Plata river estuary, Argentina. Sci Total Environ 323:219–226

Medeiros RJ, dos Santos LM, Freire AS, Santelli RE, Braga AMCB, Krauss TM (2012) Determination of inorganic trace elements in edible marine fish from Rio de Janeiro State, Brazil. Food Control 23:535–541

Nehring S (2011) Invasion history and success of the American blue crab Callinectes sapidus in European and adjacent waters. In: Galil BS, Clark PF, Carlton JT (eds), In the wrong place - alien marine crustaceans: Distribution, biology and impacts. Invading Nature - Springer Series in Invasion Ecology, 6, pp 607–624

Oglu B, Yorulmaz B, Genc TO, Yilmaz F (2015) The Assessment of Heavy Metal Content By Using Bioaccumulation Indices In European Chub, Squalius cephalus (Linnaeus, 1758). Carpath J Earth and Env 10(2):85–94

Rao LM, Padmaja G (2000) Bioaccumulation of heavy metals in M. cyprinoids from the harbor waters of Visakhapatnam. Bull Pure Appl Sci 19(2):77–85

Streftaris N, Zenetos A (2006) Alien marine species in the Mediterranean - the 100 'Worst Invasives' and their Impact. Mediterr Mar Sci 7(1):87–118

Tapia J, Vargas-Chacoff L, Bertran C, Pena-Cortes F, Hauenstein E, Schlatter R, Jimenez C, Tapia C (2012) Heavy metals in the liver and muscle of Micropogonias manni fish from Budi Lake, Araucania Region, Chile: potential risk for humans. Environ Monit Assess 184:3141–3151

Tekin-Özan S, Aktan N (2012) Relationship of heavy metals in water, sediment and tissues with total length, weight and seasons of Cyprinus carpio L., 1758 from Işikli Lake (Turkey). Pak J Zool 44:1405–1416

TFC (2002) Official Gazette, 23 September, No: 24885

Thomann RV, Mahony JD, Mueller R (1995) Steady state model of biota sediment accumulation factor for metals in two marine bivalves. Environ Toxicol Chem 4:989–998

Türkmen A, Türkmen M, Tepe Y, Mazlum Y, Oymael S (2006) Metal concentrations in blue crab (Callinectes sapidus) and mullet (Mugil cephalus) in İskenderun Bay, Northern East Mediterranean, Turkey. Environ Contam Toxicol 77:186–193

U.S. EPA (2001) Methods for Collection, Storage and Manipulation of Sediments for Chemical and Toxicological Analyses: Technical Manual. EPA-823-B-01-002. Office of Water, Washington, DC

Usero J, Izquierdo C, Morillo J, Gracia I (2003) Heavy metals in fish (Solea vulgaris, Anguilla anguilla and Liza aurata) from salt marshes on southern Atlantic coast of Spain. Environ Int 29:949–956

Uysal K, Köse E, Bülbül M, Dönmez M, Erdogan Y, Koyun M, Ömeroglu Ç, Özmal F (2009) The comparison of heavy metal accumulation ratios of some fish species in Enne Dame Lake (Kutahya/Turkey). Environ Monit Assess 157:355–362

Van der Oost R, Beyer J, Vermeulen NPE (2003) Fish bioaccu- mulation and biomarkers in environmental risk assessment: a review. Environ Toxicol Phar 13:57–149

Wang WX, Rainbow PS (2008) Comparative approaches to understand metal bioaccumulation in aquatic animals. Comp Biochem Physiol 148:315–323

Yi YJ, Zhang SH (2012) The relationships between fish heavy metal concentrations and fish size in the upper and middle reach of Yangtze River. Procedia Environm Sci 13: 1699–1707

Yilmaz F (2006) Bioaccumulation of heavy metals in water, sediment, aquatic plant and tissues of Cyprinus carpio from Kizilirmak, Turkey. Fresen Environ Bull 15(5):360–369

Yilmaz AB (2009) The comparison of heavy metal concentrations (Cd, Cu, Mn, Pb and Zn) in tissues of three economically important fish (Anguilla anguilla, Mugil cephalus and Oreochromis niloticus) inhabiting Köycegiz Lake-Mugla (Turkey). Turk J Sci Tech 4(1):7–15

Yilmaz F, Özdemir N, Demirak A, Tuna AL (2007) Heavy metal levels in two fish species Leuciscus cephalus and Lepomis gibbosos. Food Chem 100(2):830–835

Zorita I, Ortiz-Zarragoitia M, Apraiz I, Cancio I, Orbea A, Soto M, Marigomez I, Cajaraville MP (2008) Assessment of biological effects of environmental pollution along the NW Mediterranean Sea using red mullets as sentinel organisms. Environ Pollut 153:157–168
Acknowledgements
The authors are grateful to the Scientific and Technological Research Council of Turkey (TUBITAK) for financial support. This study is a part of TUBITAK CAYDAG project (108Y261).
About this article
Cite this article
Genç, T.O., Yilmaz, F. Metal Accumulations in Water, Sediment, Crab (Callinectes sapidus) and Two Fish Species (Mugil cephalus and Anguilla anguilla) from the Köyceğiz Lagoon System–Turkey: An Index Analysis Approach. Bull Environ Contam Toxicol 99, 173–181 (2017). https://doi.org/10.1007/s00128-017-2121-7
Received:

Accepted:

Published:

Issue Date:
Keywords
Metal index

Pollution

Callinectes sapidus
Mugil cephalus
Anguilla anguilla

Turkey