Abstract
House dust associated with organic pollutants is not only a potential source of pollutants to the outdoor environment, but also a source to human exposure. The present study investigated the occurrence and concentrations of organophosphate flame retardants (OPFRs) in house dust collected from South China dwellings (n = 20). The results revealed a universal presence of most target OPFRs in house dust, with concentrations of ΣOPFRs ranging from 2.06 to 19.95 μg/g. The median concentration of ΣOPFR (9.20 μg/g) was one order of magnitude greater than that of polybrominated diphenyl ethers (0.80 μg/g). The composition of OPFR chemicals in house dust was dominated by chlorinated OPFRs, such as tris(1,3-dichloro-2-propyl) phosphate (TDCPP) and tris(1-chloro-2-propyl) phosphate (TCPP). This compositional pattern was different from what has been reported in indoor dust from many other countries, where tris(2-butoxyethyl) phosphate (TBEP) was generally dominant. The daily intake of OPFRs by adults was estimated to be 1.6 and 4.2 ng/kg body weight/day under average and high exposure scenarios, respectively, and 31.7 and 127 ng/kg body weight/day for toddlers.
Access options
Buy single article
Instant access to the full article PDF.
USD 39.95
Price includes VAT (USA)
Tax calculation will be finalised during checkout.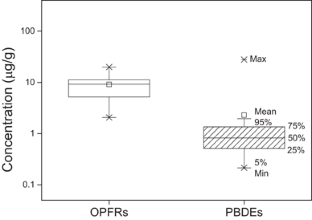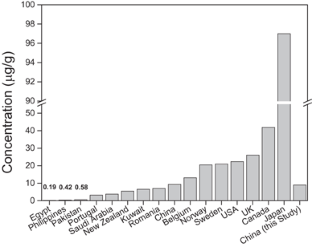 References
Abdallah MA-E, Covaci A (2014) Organophosphate flame retardants in indoor dust from Egypt: implications for human exposure. Environ Sci Technol 48:4782–4789

Ali N, Dirtu AC, Van den Eede N, Goosey E, Harrad S, Neels H, Mannetje A, Coakley J, Douwes J, Covaci A (2012) Occurrence of alternative flame retardants in indoor dust from New Zealand: indoor sources and human exposure assessment. Chemosphere 88:1276–1282

Ali N, Ali L, Mehdi T, Dirtu AC, Al-Shammari F, Neels H, Covaci A (2013) Levels and profiles of organochlorines and flame retardants in car and house dust from Kuwait and Pakistan: implication for human exposure via dust ingestion. Environ Int 55:62–70

Ali N, Eqani SAMAS, Ismail IMI, Malarvannan G, Kadi MW, Albar HMS, Rehan M, Covaci A (2016) Brominated and organophosphate flame retardants in indoor dust of Jeddah, Kingdom of Saudi Arabia: implications for human exposure. Sci Total Environ 569–570:269–277

Bergh C, Torgrip R, Emenius G, Ostman C (2011) Organophosphate and phthalate esters in air and settled dust – a multi-location indoor study. Indoor Air 21:67–76

Boyles E, Tan H, Wu Y, Nielsen CK, Shen L, Reiner EJ, Chen D (2017) Halogenated flame retardants in bobcats from the Midwestern United States. Environ Pollut 221:191–198

Brommer S, Harrad S (2015) Sources and human exposure implications of concentrations of organophosphate flame retardants in dust from UK cars, classrooms, living rooms, and offices. Environ Int 83:202–207

Butt CM, Diamond ML, Truong J, Ikonomou MG, Ter Schure AFH (2004) Spatial distribution of polybrominated diphenyl ethers in southern Ontario as measured in indoor and outdoor window organic films. Environ Sci Technol 38:724–731

Cao Z, Xu F, Covaci A, Wu M, Yu G, Wang B, Deng S, Huang J (2014) Differences in the seasonal variation of brominated and phosphorus flame retardants in office dust. Environ Int 65:100–106

Chapin RE, Sloane RA, Haseman JK (1997) The relationships among reproductive endpoints in Swiss mice, using the reproductive assessment by continuous breeding database. Fundam Appl Toxicol 38:129–142

Chen D, Letcher RJ, Chu S (2012) Determination of non-halogenated, chlorinated and brominated organophosphate flame retardants in herring gull eggs based on liquid chromatography-tandem quadrupole mass spectrometry. J Chromatogr A 1220:169–174

Coelho SD, Sousa ACA, Isobe T, Kim J-W, Kunisue T, Nogueira AJA, Tanabe S (2016) Brominated, chlorinated and phosphate organic contaminants in house dust from Portugal. Sci Total Environ 569–570:442–449

Cristale J, Hurtado A, Gómez-Canela C, Lacorte S (2016) Occurrence and sources of brominated and organophosphorus flame retardants in dust from different indoor environments in Barcelona, Spain. Environ Res 149:66–76

Darnerud PO (2003) Toxic effects of brominated flame retardants in man and in wildlife. Environ Int 29:841–853

Dirtu AC, Ali N, Van den Eede N, Neels H, Covaci A (2012) Country specific comparison for profile of chlorinated, brominated and phosphate organic contaminants in indoor dust. Case study for Eastern Romania, 2010. Environ Int 49:1–8

Dishaw LV, Powers CM, Ryde IT, Roberts SC, Seidler FJ, Slotkin TA, Stapleton HM (2011) Is the PentaBDE replacement, tris(1,3-dichloropropyl) phosphate (TDCPP), a developmental neurotoxicant? Studies in PC12 cells. Toxicol Appl Pharmacol 256:281–289

Dodson RE, Perovich LJ, Covaci A, Van den Eede N, Ionas AC, Dirtu AC, Brody JG, Rudel RA (2012) After the PBDE phase-out: a broad suite of flame retardants in repeat house dust samples from California. Environ Sci Technol 46:13056–13066

Fan X, Kubwabo C, Rasmussen PE, Wu F (2014) Simultaneous determination of thirteen organophosphate esters in settled indoor house dust and a comparison between two sampling techniques. Sci Total Environ 491–492:80–86

Harrad S, de Wit CA, Abdallah MA-E, Bergh C, Björklund JA, Covaci A, Darnerud PO, de Boer J, Diamond M, Huber S, Leonards P, Mandalakis M, Ostman C, Haug LS, Thomsen C, Webster TF (2010) Indoor contamination with hexabromocyclododecanes, polybrominated diphenyl ethers, and perfluoroalkyl compounds: an important exposure pathway for people? Environ Sci Technol 44:3221–3231

He C, Zheng J, Qiao L, Chen S, Yang J, Yuan J, Yang Z, Mai B (2015) Occurrence of organophosphorus flame retardants in indoor dust in multiple microenvironments of southern China and implications for human exposure. Chemosphere 133:47–52

Johnson PI, Stapleton HM, Mukherjee B, Hauser R, Meeker JD (2013) Associations between brominated flame retardants in house dust and hormone levels in men. Environ Int 445–446:177–184

Kim J, Isobe T, Sudaryanto A, Malarvannan G, Chang K, Muto M, Prudente M, Tanabe S (2013) Organophosphorus flame retardants in house dust from the Philippines: occurrence and assessment of human exposure. Environ Sci Pollut Res 20:812–822

Klepeis NE, Nelson WC, Ott WR, Robinson JP, Tsang AM, Switzer P, Behar JV, Hern SC, Engelmann WH (2001) The National Human Activity Pattern Survey (NHAPS): a resource for assessing exposure to environmental pollutants. J Expo Sci Environ Epidemiol 11:231–252.

Law RJ, Covaci A, Harrad S, Herzke D, Abdallah, MA-E, Fernie K, Toms LL, Takigami H (2014) Levels and trends of PBDEs and HBCDs in the global environment: status at the end of 2012. Environ Int 65:147–158

Liao C, Liu F, Guo Y, Moon H, Nakata H, Wu Q, Kannan K (2012) Occurrence of eight bisphenol analogues in indoor dust from the United States and several Asian countries: implications for humane exposure. Environ Sci Technol 46:9138–9145

Meeker JD, Stapleton HM (2010) House dust concentrations of organophosphate flame retardants in relation to hormone levels and semen quality parameters. Environ Health Perspect 118:318–323

Mizouchi S, Ichiba M, Takigami H, Kajiwara N, Takamuku T, Miyajima T, Kodama H, Someya T, Ueno D (2015) Exposure assessment of organophosphorus and organochlorine flame retardants via indoor dust from elementary schools and domestic houses. Chemosphere 123:17–25

Reemtsma T, Quintana JB, Rodil R, García-López M, Rodríguez I (2008) Organophosphorus flame retardants and plasticizers in water and air I. Occurrence and fate. Trends Anal Chem 27(9):727–737

Tilson HA, Veronesi B, McLamb RL, Matthews HB (1990) Acute exposure to tris(2-chloroethyl) phosphate produces hippocampal neuronal loss and impairs learning in rats. Toxicol Appl Pharmacol 106:254–269

Umezu T, Yonemoto J, Soma Y, Suzuki T (1998) Tris(2-chloroethyl) phosphate increases ambulatory activity in mice: pharmacological analyses of its neurochemical mechanism. Toxicol Appl Pharmacol 148:109–116

Van den Eede N, Dirtu A, Neels H, Covaci A (2011) Analytical developments and preliminary assessment of human exposure to organophosphate flame retardants from indoor dust. Environ Int 37:454–461

van der Veen I, de Boer J (2012) Phosphorus flame retardants: properties, production, environmental occurrence, toxicity and analysis. Chemosphere 88:1119–1153

Vorkamp K, Thomsen M, Frederiksen M, Pedersen M, Knudsen LE (2011) Polybrominated diphenyl ethers (PBDEs) in the indoor environment and associations with prenatal exposure. Environ Int 37:1–10

Whitehead T, Metayer C, Buffler P, Rappaport SM (2011) Estimating exposure to indoor contaminants using residential dust. J Expo Sci Environ Epidemiol 21:549–564

World Health Organization (1998) EHC 209: Flame retardants: tris-(chloropropyl)phosphate and tris-(2-chloroethyl)phosphate, Geneva, Switzerland

Xu F, Giovanoulis G, van Waes S, Padilla-Sanchez JA, Papaadopoulou E, Magnér J, Haug LS, Neels H, Covaci A (2016) Comprehensive study of human external exposure to organophosphate flame retardants via air, dust, and hand wipes: the importance of sampling and assessment strategy. Environ Sci Technol 50:7752–7760

Zheng X, Xu F, Chen K, Zeng Y, Luo X, Chen S, Mai B, Covaci A (2015) Flame retardants and organochlorines in indoor dust from several e-waste recycling sites in South China: composition variations and implications for human exposure. Environ Int 78:1–7
Acknowledgements
The authors thank financial support from the Guangdong (China) Special Funding for Public Research and Capacity Development (2014A020213009). We also thank the families participating in this project.
Additional information
Hongli Tan and Changfeng Peng are Co-first author and contributed equally to do this work.
About this article
Cite this article
Tan, H., Peng, C., Guo, Y. et al. Organophosphate Flame Retardants in House Dust from South China and Related Human Exposure Risks. Bull Environ Contam Toxicol 99, 344–349 (2017). https://doi.org/10.1007/s00128-017-2120-8
Received:

Accepted:

Published:

Issue Date:
Keywords
Organophosphate flame retardants

Polybrominated diphenyl ethers

House dust

Daily intake

South China