Abstract
This study was carried out to assess the groundwater pollution in the northern Develi Closed Basin by using the heavy metal pollution index (HPI). Samples from 10 wells and 5 springs were collected in dry and wet seasons and concentrations of Pb, Zn, Cr, Mn, Fe, Cu, Cd, As and B were determined. In both seasons, for more than half of the samples, As, B and Fe concentrations exceeded the Turkish drinking water guideline values. Due to the occurrence of these metals in high concentrations in some samples HPI values are up to 1740. The source of these metals is geogenic and attributed to the interaction of these waters with highly altered volcanic and pyroclastic rocks. The overall HPI for wet and dry periods are reported as 360 and 440, respectively. Accordingly, the pollution level in the groundwater of this area is unacceptable.
Access options
Buy single article
Instant access to the full article PDF.
USD 39.95
Price includes VAT (USA)
Tax calculation will be finalised during checkout.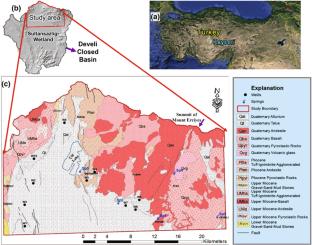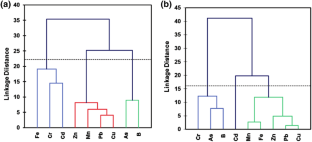 References
Abou Zakhem B, Hafez R (2015) Heavy metal pollution index for groundwater quality assessment in Damascus Oasis, Syria. Environ Earth Sci 73:6591–6600. doi:10.1007/s12665-014-3882-5

Arslan S, Yucel C, Celik M (2016) Geogenic arsenic and other trace elements in the groundwater system of Develi Closed Basin, Kayseri, Turkey. 43rd International Association of Hydrogeologists Congress, Montpellier, France, Abstract number 1418

Bayari S, Yildiz FE (2012) Effects of the North Atlantic oscillation and groundwater use on the contraction of Sultansazligi Wetland. Hydrogeol J 20:369–383

Bhuiyan MAH, Bodrud-Doza M, Islam A, Rakib MA, Rahman MS, Ramanathan AL (2016). Assessment of groundwater quality of Lakshimpur district of Bangladesh using water quality indices, geostatistical methods, and multivariate analysis. Environ Earth Sci 75(12)

CCME (Canadian Council of Ministers of the Environment) (1993) Appendix XV—Protocols for deriving water quality guidelines for the protection of agricultural water uses (October 1993). In: Canadian water quality guidelines, Canadian Council of Resource and Environment Ministers. 1987. Prepared by the Task Force on Water Quality Guidelines.

Dadaser-Celik F, Cengiz E (2013) A neural network model for simulation of water levels at the Sultan Marshes wetland in Turkey. Wetl Ecol Manag 21:297–306

Dadaser-Celik F, Brezonik PL, Stefan HG (2007) Hydrologic sustainability of the Sultan Marshes in Turkey. Water Int 32 (5):856–876

Dadaser-Celik F, Bauer ME, Brezonik PL, Stefan HG (2008) Changes in the Sultan Marshes ecosystem (Turkey) in satellite images 1980–2003. Wetlands 28:852–865

Davis JC (1986) Statistics and data analysis in geology. 2nd edn, Wiley, New York

Donmez M, Turkecan A, Akçay AE (2003) Tertiary volcanics of Kayseri Niğde Nevşehir region. General Directorate of Mineral Research and Exploration Institute, Ankara, Turkey, Report No: 10575

Donmez M, Akçay AE, Turkecan A (2005) Turkish Geological Maps Report of Kayseri K34 section. General Directorate of Mineral Research and Exploration Institute, Ankara, pp 2–19

Guler C, Thyne GD, McCray JE, Turner KA (2002) Evaluation of graphical and multivariate statistical methods for classification of water chemistry data. Hydrogeol J 10:455–474

Guler C, Kurt MA, Alpaslan M, Akbulut C (2012) Assessment of the impact of anthropogenic activities on the groundwater hydrology and chemistry in Tarsus coastal plain (Mersin, SE Turkey) using fuzzy clustering, multivariate statistics and GIS techniques. J Hydrol 414:435–451

Horton RK (1965) An index number system for rating water quality. J Water Pollut Control Fed 37(3):300–306

Huang GX, Sun JC, Zhang Y, Chen ZY, Liu F (2013) Impact of anthropogenic and natural processes on the evolution of groundwater chemistry in a rapidly urbanized coastal area, South China. Sci Total Environ 463:209–221. doi:10.1016/j.scitotenv.2013.05.078

Imamul Huq SM (2008) Fate of arsenic in irrigation water and its potential impact on the food chain. In: Ahuja S (ed) Arsenic contamination of groundwater: mechanism, analysis and remediation, Ch 2. Wiley, Hoboken, pp 23–49

Imamul Huq SM, Joardar JC, Parvin S, Correll R, Naidu R (2006) Arsenic contamination in food chain: transfer of arsenic into food materials through groundwater irrigation. J Health Popul Nutr 24:305–306

ITASHY (2005) Regulation on waters for human consumption. Official Gazette dated 17/02/2005, No. 25730, Ankara (in Turkish)

Kemper KE (2003) Groundwater from development to management. Hydrogeol J 12(1):3–5. doi:10.1007/s10040-003-0305-1

Kumar PJS, Delson PD, Babu PT (2012) Appraisal of heavy metals in groundwater in Chennai city using a HPI model. Bull Environ Contam Toxicol 89:793–798. doi:10.1007/s00128-012-0794-5

Lugoli F, Leopizzi MI, Bagordo F, Grassi T, Guido M, De Donno A (2011) Widespread microbiological groundwater contamination in the South-eastern Salento (Puglia-Italy). J Environ Monit 13(1):192–200. doi:10.1039/c0em00193g

Marcovecchio JE, Botte SE, Freije RH (2007) Heavy metals, major metals, trace elements. In: Nollet LML, De Gelder LSP (eds) Handbook of water analysis. 2nd edn, CRC Press, London, pp 273–309

Milivojević J, Krstić D, Šmit B, Djekić V (2016) Assessment of heavy metal contamination and calculation of its pollution index for Uglješnica River, Serbia. Bull Environ Contam Toxicol 97:737–742. doi:10.1007/s00128-016-1918-0

Mohan SV, Nithila P, Reddy SJ (1996) Estimation of heavy metals in drinking water and development of heavy metal pollution index. J Environ Sci Health Part a-Environ Sci Eng Tox Hazard Subst Control 31(2):283–289

Nimick DA, Moore JN (1991) Prediction of water-soluble metal concentrations in fluvially deposited tailings sediments, Upper Clark Fork Valley, Montana, USA. Appl Geochem 6:635–646. doi:10.1016/0883-2927(91)90074-Y

Nishida H, Miyai M, Tada F, Suzuki S (1982) Computation of the index of pollution caused by heavy-metals in river sediment. Environ Pollut Ser B-Chem Phys 4(4):241–248. doi:10.1016/0143-148x(82)90010-6

Nriagu JO (1994) Arsenic in the environment: Part II, human health and ecosystem effects. Wiley, New York

Parkhurst DL, Appelo CAJ (1999) User's guide to PHREEQC (version 2)—A computer program for speciation, batch-reaction, one-dimensional transport, and inverse geochemical calculations: U.S. Geological Survey Water-Resources Investigations Report 99-4259, p 312

Prasad B, Jaiprakas KC (1999) Evaluation of heavy metals in ground water near mining area and development of heavy metal pollution index. J Environ Sci Health Part a-Tox/Hazard Subst Environ Eng 34(1):91–102

Prasad B, Sangita K (2008) Heavy metal pollution index of groundwater of an abandoned open cast mine filled with fly ash: a case study. Mine Water Environ 27(4):265–267. doi:10.1007/s10230-008-0050-8

Prasanna MV, Praveena SM, Chidambaram S, Nagarajan R, Elayaraja A (2012) Evaluation of water quality pollution indices for heavy metal contamination monitoring: a case study from Curtin Lake, Miri City, East Malaysia. Environ Earth Sci 67:1987–2001

Sheyki V, Moore F (2012) Geochemical characterization of Kor River water quality, Fars Province, southwest Iran. Water Qual Expo Health (Lond) 4:25–38

SHW (1995) Revised hydrogeological study report of Kayseri Develi-Yeşilhisar plains. State Hydraulic Works 12nd district, Kayseri 1–19 (in Turkish)

Somay AM, Gemici U, Filiz S (2008) Hydrogeochemical investigation of Kucuk Menderes River coastal wetland, Selcuk-Izmir, Turkey. Eviron Geol 55: 149–164

Turkecan A, Acarlar M, Donmez M, Hepsen N, Bilgin R (1998) Petrology of volcanic rocks and geology of Kayseri area (Bünyan-Develi-Tomarza). Miner Res and Explor Inst, Turkey, Report No:10186 (in Turkish)

van der Grift B, Rozemeijer JC, Griffioen J, van der Velde Y (2014) Iron oxidation kinetics and phosphate immobilization along the flow-path from groundwater into surface water. Hydrol Earth Syst Sci 18:4687–4702

Varghese J, Jaya DS (2014) Metal pollution of groundwater in the vicinity of Valiathura Sewage Farm in Kerala, South India. Bull Environ Contam Toxicol 93:694–698. doi:10.1007/s00128-014-1410-7

Ward JH (1963) Hierarchical grouping to optimize an objective function. J Am Stat Assoc 58:236–244

WHO (2008) World Health Organization guidelines for drinking-water quality (3rd edn). WHO Press, Geneva

Yildiz FE (2007) Determination of relationship between surface water and groundwater in Sultansazligi wetland-Kayseri, PhD Thesis, Gazi University Department of Civil Engineering, Ankara

Yildiz FE, Gurer I (2009) An integrated water resources management of Sultansazligi Closed Basin in Kayseri Turkey (in Turkish). GU J Sci 22(3):203–213

Yildiz FE, Gurer I (2014) Comparison of the evaporation methods for Sultansazligi Wetland (in Turkish). GU J Sci Part C 2(3):247–254

Yolcubal I, Gunduz OC, Sonmez F (2016) Assessment of impact of environmental pollution on groundwater and surface water qualities in a heavily industrialized district of Kocaeli (Dilovasi), Turkey. Environ Earth Sci 75(2):170. doi:10.1007/s12665-015-4986-2
Acknowledgements
The authors wish to express their grateful appreciation to Nurhan Öztürk from the 12th District Office of the State Hydraulic Works for her help throughout the study. Part of the data published in this paper will also be included in the master's thesis of the second author. The authors are grateful for the constructive comments and suggestions of Editor-in-Chief Erin Bennett, editorial board editor and two anonymous reviewers for improving the manuscript.
About this article
Cite this article
Arslan, Ş., Yücel, Ç., Çallı, S.S. et al. Assessment of Heavy Metal Pollution in the Groundwater of the Northern Develi Closed Basin, Kayseri, Turkey. Bull Environ Contam Toxicol 99, 244–252 (2017). https://doi.org/10.1007/s00128-017-2119-1
Received:

Accepted:

Published:

Issue Date:
Keywords
Geogenic water pollution

Heavy metal pollution index

Groundwater

Kayseri

Turkey