Abstract
Cholinesterase (ChE) activity was measured in Astyanax bifasciatus maintained in controlled conditions. Muscle ChE activity of individuals collected in field conditions in two seasons was compared among specimens collected in seven streams (forest and rural) of the lower Iguaçu river basin in association with physical, chemical, pesticides and biological factors. Significant differences in muscle ChE activity between control fish and fish collected in streams in both seasons were found, with higher activity in natural conditions. This the first time that differences in muscle ChE activity have been found among fish collected from different streams, suggesting synergism among multiple factors (e.g. temperature, pH, animal weight) and ecological attributes (richness and abundance) as influencing the variation in biomarkers. It is necessary to evaluate the quality of aquatic environments for a more accurate biomonitoring approach.
Access options
Buy single article
Instant access to the full article PDF.
USD 39.95
Price includes VAT (USA)
Tax calculation will be finalised during checkout.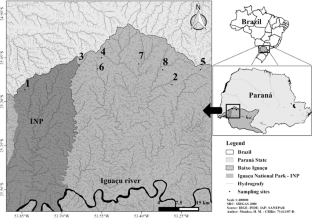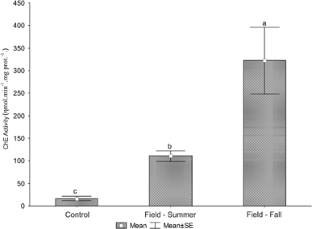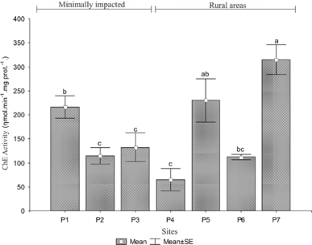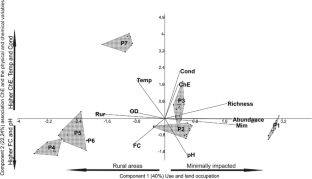 References
Ahmad I, Pacheco M, Santos M (2006) Anguilla anguilla L. oxidative stress biomarkers: an in situ study of freshwater wetland ecosystem (Pateira de Fermentelos, Portugal). Chemosphere 65:952–962

Assis CRD, Castro PF, Amaral IPG et al (2010) Characterization of acetylcholinesterase from the brain of the Amazonian tambaqui (Colossoma macropomum) and in vitro effect of organophosphorus and carbamate pesticides. Environ Toxicol Chem 29:2243–2248

Bradford MM (1976) A rapid and sensitive method for the quantification of microgram of protein utilizing the principal of protein-dye binding. Anal Biochem 72:248–254

Brasil (2010) Ministério da Saúde. Secretaria Nacional de Assistência à Saúde. Anvisa divulga resultado do monitoramento de agrotóxico em alimentos. Brasília

Bueno-Krawczyk ACD, Guiloski IC, Piancini LDS et al (2015) Multibiomarker in fish to evaluate a river used to water public supply. Chemosphere 135:247–264

Cazenave J, Bacchetta C, Parma MJ et al (2009) Multiple biomarkers responses in Prochilodus lineatus allowed assessing changes in the water quality of Salado River basin (Santa Fe, Argentina). Environ Pollut 157:3025–3033

Chiang G, Munkittrick KR, Urrutia R et al (2012) Liver ethoxyresorufin-O-deethylase and brain acetylcholinesterase in two freshwater fish species of South America; the effects of seasonal variability on study design for biomonitoring. Ecotoxicol Environ Saf 86:147–155

Costa-Silva DG, Nunes ME, Wallau GL et al (2015) Oxidative stress markers in fish (Astyanax sp. and Danio rerio) exposed to urban and agricultural effluents in the Brazilian Pampa biome. Environ Sci Pollut Res 22:15526–15535

Durieux EDH, Farver TB, Fitzgerald PS, Eder KJ, Ostrach DJ (2011) Natural factors to consider when using acetylcholinesterase activity as neurotoxicity biomarker in Young-Of-Year striped bass (Morone saxatilis). Fish Physiol Biochem 37:21–29

Ellman GL, Courtney KO, Andrres V, Featherstone RM (1961) A new and rapid colorimetric determination of acetylcholinesterase activity. Biochem Pharmacol 7:88–95

Fernandes VC, Domingues VF, Mateus N, Delerue-Matos C (2012) Multiresidue pesticides analysis in soils using modified QuEChERS with disposable pipette extraction and dispersive solid-phase extraction. J Sep Sci 36:376–382

Freire MM, Santos VG, Ginuino ISF, Arias ARL (2008) Biomarcadores na avaliação da saúde ambiental dos ecossistemas aquáticos. Oecologia Brasiliensis 12:347–354

Freire CA, Souza-Bastos LR, Chiesse J et al (2015) A multibiomarker evaluation of urban, industrial, and agricultural exposure of small characins in a large freshwater basin in southern Brazil. Environ Sci Pollut Res 22:13263–13277

Hammer DA, Harper T, Ryan PD (2001) PAST: paleontological Statistics Software package for education and data analysis. Paleontol Electron 4:1–9

Herbert A, Guilhermino L, Silva de Assis HC, Hansen PD (1995) Acetylcholinesterase activity in aquatic organisms as pollution biomarker. Angew Zoo 3:1–5.

Hochachka PW (1974) Temperature and pressure adaptation of the binding site of acetylcholinesterase. Biochem J 143:535–539

IBGE (2010) Instituto Brasileiro de Geografia e Estatística. Indicadores de desenvolvimento sustentável (IDS). Brasília.http://www.ibge.gov.br/home/default.php. Accessed 21 Feb 2017

Jesus TB, Colombi JS, Ribeiro CAO et al (2013) Cholinestarase activity in methylmercury and Mercury chloride exposure fish. Ecotoxicol Environ Contam 8:147–148

Klemz C, Silva de Assis HC (2005) Effects of endosulfan on acetylcholinesterase activity of "cascudo" (Ancistrus multispinnis, fish, Teleostei). Animal 3:51–58

Latini AO, Petrere M (2004) Reduction of a native fish fauna by alien species: an example from Brazilian freshwater tropical lakes. Fish Manage Ecol 11:71–79

Lopes MR, Silva Filho MV, Salles JB et al (2014) Cholinesterase activity of muscle tissue from freshwater fishes: characterization and sensitivity analysis to the organophosphate methyl-paraoxon. Environ Toxicol Chem 33:1331–1336

Marchesan E, Sartori GMS, Avila LA et al (2010) Residues of pesticides in the water of the Depression Central rivers in the State of Rio Grande do Sul, Brazil. Ciência Rural 40:1053–1059.

McCune B, Grace JB (2002) Analysis of ecological communities. MjM software, Gleneden Beach, Oregon

Menéndez-Helman RJ, Ferreyroa GV, Afonso MS, Salibián A (2015) Circannual rhythms of acetylcholinesterase (AChE) activity in the freshwater fish Cnesterodon decemmaculatus. Ecotoxicol Environ Saf 111:236–241

Payne JF, Mathieu A, Melvin W, Fancey LL (1996) Acetylcholinesterase, an old biomarker with a new future? Field trials in association with two urban rivers and a paper mill in Newfoundland. Mar Pollut Bull 32:225–231

Pelicice FM, Agostinho AA (2009) Fish fauna destruction after the introduction of a non-native predator (Cichla kelberi) in a Neotropical reservoir. Biol Invasions 11:1789–1801

Rebelo RM, Caldas ED (2014) Avaliação de risco ambiental de ambientes aquáticos afetados pelo uso de agrotóxicos. Química Nova 37:1199–1208.

Sanchez W, Katsiadaki I, Piccini B et al (2008) Biomarker responses in wild three-spined stickleback (Gasterosteus aculeatus L.) as a useful tool for freshwater biomonitoring: a multiparametric approach. Environ Int 34:490–498

SANCO/12495 (2011) Method validation and quality control procedures for pesticide residues analysis in food and feed, eu reference laboratories for residues of pesticides. European Commission, Brussels

SEMA (2010) Bacias hidrográficas do Paraná – Série Histórica. Secretaria de Estado do Meio Ambiente e Recursos Hídricos. Curitiba

Tong F, Islam RM, Carlier PR et al (2013) Effects of anticholinesterases on catalysis and induced conformational change of the peripheral anionic site of murine acetylcholinesterase. Pestic Biochem Physiol 106:79–84

Vazzoler AEAM (1996) Biologia da reprodução de peixes teleósteos: teoria e prática. Nupelia, Maringá

Vidal ML, Basseres A, Narbonne JF (2002) Influence of temperature, pH, oxygenation, water-type and substrate on biomarker responses in the freshwater clam Corbicula flumínea (Müller). Comp Biochem Physiol Part C 132:93–104

Vieira CED, Almeida MS, Galindo BA et al (2014) Integrated biomarker response index using a Neotropical fish to assess the water quality in agricultural areas. Neotrop Ichthyol 12:153–164
Acknowledgements
We are grateful to the support of the Western Paraná State University. This research was supported by grants from the CAPES.
About this article
Cite this article
Nimet, J., Guimarães, A.T.B. & Delariva, R.L. Use of Muscular Cholinesterase of Astyanax bifasciatus (Teleostei, Characidae) as a Biomarker in Biomonitoring of Rural Streams. Bull Environ Contam Toxicol 99, 232–238 (2017). https://doi.org/10.1007/s00128-017-2111-9
Received:

Accepted:

Published:

Issue Date:
Keywords
Environmental variables

Cholinesterase Activity

Contamination

Fish