Abstract
The toxicity of chlortetracycline (CTC), oxytetracycline (OTC) and enrofloxacin (ENF) was tested on two green algal species: the international standard Pseudokirchneriella subcapitata and the native Argentine species Ankistrodesmus fusiformis. All three antibiotics inhibited the algal growth. The most sensitive species was P. subcapitata, for which the EC50 for CTC, OTC and ENF were 1.19 ± 0.53, 0.92 ± 0.30 and 5.18 ± 3.80 mg L−1, respectively. The EC50 for A. fusiformis, were 3.23 ± 0.53, 7.15 ± 2.69 and 10.6 ± 1.28 mg L−1, respectively. The genotoxicity of these veterinary antibiotics was also assessed using chromosome aberration (CA) and micronuclei (MN) induction in Allium cepa roots. Three concentrations were tested (0.1, 1 and 10 mg L−1). Only ENF at 1 and 10 mg L−1 showed any significant MN induction. These data revealed that CTC, OTC and ENF could cause toxicity on green algae, whereas ENF could cause genotoxicity on A. cepa plants.
Access options
Buy single article
Instant access to the full article PDF.
USD 39.95
Price includes VAT (USA)
Tax calculation will be finalised during checkout.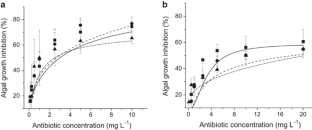 References
Archibald PA, Bold HC (1970) Phycological studies. XI. The genus Chlorococcum Meneghini. University of Texas Publication, Austin, p 86

Batchelder AR (1982) Chlortetracycline and oxytetracycline effects on plant growth anddevelopment in soil systems. J Environ Qual 11:675–678

Ebert I, Bachmann J, Kühnen U, Küster A, Kussatz C, Maletzki D, Schlüter C (2011) Toxicity of the fluoroquinolone antibiotics enrofloxacin and ciprofloxacin to photoautotrophic aquatic organisms. Environ Toxicol Chem 30(12):2786–2792

Environmental Canada (2007) Biological test method: growth inhibition test using a freshwater algae, EPS 1/RM/25 2nd edn. Environmental Canada, Ottawa, p 53

European Chemicals Agency (2008) Guidance on information requirements and chemical safety assessment. Chapter R. 10: characterisation of dose (concentration)-response for environment. European Chemicals Agency, Helsinki

Gibson DP, Mo X, Switzer AG, Murphy VA, Ardema MJ (1998) Comparative genotoxicity of quinolone and quinolonyl-lactam antibacterials in the in vitro micronucleus assay in Chinese hamster ovary cells. Environ Mol Mutagen 31:345–351

Gorla N, Garcia Ovendo H, Larripa I (1999) Chromosomal aberrations in human lymphocytes exposed in vitro to enrofloxacin and ciprofloxacin. Toxicol Lett 104:43–48

Grant WF (1999) Higher plant assays for the detection of chromosomal aberrations and gene mutation—a brief historical background on their use for screening and monitoring environmental chemicals. Mutat Res 426:107–112

Halling-Sørensen B (2000) Algal toxicity of antibacterial agents used in intensive farming. Chemosphere 40:731–739

Hamscher G, Sczesny S, Höper H, Nau H (2002) Determination of persistent tetracycline residues in soil fertilized with liquid manure by high performance liquid chromatography with electrospray ionization tandem mass spectrometry. Anal Chem 74:1509–1518

Hartmann A, Alder AC, Koller T, Widmer RM (1998) Identification of fluoroquinolone antibiotics as the main source of umuC genotoxicity in native hospital wastewater. Environ Toxicol Chem 17(3):377–382

Holten-Lützhøft H-C, Halling-Sørensen B, Jørgensen SE (1999) Algal toxicity of antibacterial agents applied in Danish fish farming. Environ Contam Toxicol 6:1–6

Isidori M, Lavorgna M, Nardelli A, Pascarella L, Parrella A (2005) Toxic and genotoxic evaluation of six antibiotics on non-target organisms. Sci Total Environ 346:87–98

Khadra A, Pinelli E, Lacroix MZ, Bousquet-Melou A, Hamdi H, Merlina G, Guiresse M, Hafidi M (2012) Assessment of the genotoxicity of quinolone and fluoroquinolones contaminated soil with the Vicia faba micronucleus test. Ecotoxicol Environ Saf 76:187–192

Khan SJ, Roser DJ, Davies CM, Peters GM, Stuetz RM, Tucker R, Ashbolt NJ (2008) Chemical contaminants in feedlot wastes: concentrations, effects and attenuation. Environ Int 34:839–859

Kümmerer K (2009) Antibiotics in the aquatic environment – a review – part II. Chemosphere 75:435–441

Kϋmmerer K, Al-Ahmad A, Mersch-Sundermann V (2000) Biodegradability of some antibiotics, elimination of the genotoxicity and affection of wastewater bacteria in a simple test. Chemosphere 40:701–710

Leme DM, Marin-Morales MA (2009) Allium cepa test in environmental monitoring: a review on its application. Mutat Res 682:71–81

Lewis MA (1995) Use of fresh water plants for phytotoxicity testing: a review. Environ Pollut 87:319–336

Li XW, Xie YF, Li CL, Zhao HN, Zhao H, Wang N, Wang JF (2014) Investigation of residual fluoroquinolones in a soil-vegetable system in an intensive vegetable cultivation area in Northern China. Sci Total Environ 468–469:258–264

Lin D, Zhou Q, Xu Y, Chen C, Li Yl (2012) Physiological and molecular responses of the earthworm (Eisenia fetida) to soil chlortetracycline contamination. Environ Pollut 171:46–51

Liu BY, Nie XP, Liu WQ, Snoeijs P, Guan C, Tsui MT (2011) Toxic effects of erythromycin, ciprofloxacin and sulfamethoxazole on photosynthetic apparatus in Selenastrum capricornutum. Ecotoxicol Environ Saf 74:1027–1035

Liu X, Lee J, Ji K, Takeda S, Choi K (2012) Potentials and mechanisms of genotoxicity of six pharmaceuticals frequently detected in freshwater environment. Toxicol Lett 211:70–76

Magdaleno A, Vélez CG, Wenzel MT, Tell G (2014) Effects of cadmium, copper and zinc of four isolated algae from a highly polluted Argentina river. Bull Environ Contam Toxicol 92:202–207. doi:10.1007/s00128-013-1171-8

Mann SK (1978) Interaction of tetracycline (TCA) with chromosomes in Allium cepa. Environ Exp Bot 18:201–205

Matsumoto ST, Mantovani MS, Malagutti MIA, Dias AL, Fonseca IC, Marin-Morales MA (2006) Genotoxicity and mutagenicity of water contaminated with tannery effluents, as evaluated by the micronucleus test and comet assay using the fish Oreochromis niloticus and chromosome aberrations in onion root-tips. Genet Mol 29:148–158

Migliore L, Cozzolino S, Fiori M (2003) Phytotoxicity to and uptake of enrofloxacin in crop plants. Chemosphere 52:1233–1244. 10.1016/S0045-6535(03)00272-8

Migliore L, Rotini A, Cerioli NL, Cozzolino S, Fiori M (2010) Phytotoxic sulfadimethoxine elicits a complex hormetic response in the weed Lythrum salicaria L. Dose Response 8(4):414–427

Prescott JF, Baggot JD, Walker RD (2000) Antimicrobial therapy in veterinary medicine. Iowa State University Press, Ames

Sabater C, Carrasco JM (2001) Effects of pyridaphenthion on growth of five freshwater species of phytoplankton. A laboratory study. Chemosphere 44:1775–1781. doi:10.1016/S0045-6535(00)00575-0

Santos LHMLM, Araújo AN, Fachini A, Pena A, Delerue-Matos C, Montenegro MCBSM (2010) Ecotoxicological aspects related to the presence of pharmaceuticals in the aquatic environment - a review. J Hazard Mater 175:45–95

Van der Grinten E, Pikkemaat MG, Van den Brandhof E-J, Stroomberg GJ, Kraak MHS (2010) Comparing the sensitivity of algal, cyanobacterial and bacterial bioassays to different groups of antibiotics. Chemosphere 80:1–6

Xie X, Zhou Q, He Z, Bao Y (2010) Physiological and potential genetic toxicityof chlortetracycline as an emerging pollutant in wheat (Triticum aestivum L.). Environ Toxicol Chem 29:922–928
Acknowledgements
This study was financially supported by the Buenos Aires University, Argentina, under the Project UBACyT No. 20020150200116BA.
About this article
Cite this article
Magdaleno, A., Carusso, S. & Moretton, J. Toxicity and Genotoxicity of Three Antimicrobials Commonly Used in Veterinary Medicine. Bull Environ Contam Toxicol 99, 315–320 (2017). https://doi.org/10.1007/s00128-017-2091-9
Received:

Accepted:

Published:

Issue Date:
Keywords
Chlortetracycline

Oxytetracycline

Enrofloxacin

Pseudokirchneriella subcapitata

Allium cepa