Abstract
Larval gray tree frogs (Hyla chrysoscelis) were exposed to inorganic Se (SeO2) added to the diet (10.2 and 86.3 ug/g dw) and monitored for accumulation and effect. Background concentrations of Hg were also measured in food and carcasses to assess possible effects of Se on Hg accumulation. Selenium was accumulated in a dose dependent manner, and life stages did not differ. No effects of Se exposure were observed on survival, growth, or time to metamorphosis. Mercury concentrations in carcasses, resulting from background concentrations in food, were significantly affected by the presence of Se. In the high Se treatment, Hg concentrations were significantly decreased relative to those in the low Se treatment and the control. Our study suggests that exposure to inorganic Se as SeO2 at the concentrations tested do not elicit adverse biological effects, but exposure to relatively high concentrations of Se may reduce accumulation of Hg from food.
Access options
Buy single article
Instant access to the full article PDF.
USD 39.95
Price includes VAT (USA)
Tax calculation will be finalised during checkout.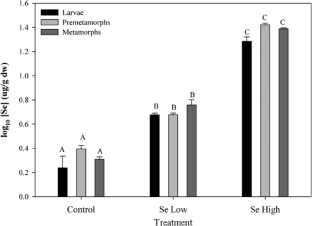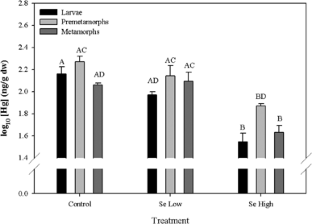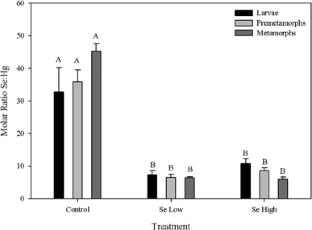 References
Belzile N, Chen YW, Gunn JM, Tong J, Alarie Y, Delonchamp T, Lang CY (2006) The effect of selenium on mercury assimilation by freshwater organisms. Can J Fish Aquat Sci 63:1–10

Bjerregaard P, Christensen A (2012) Selenium reduces the retention of methyl mercury in the brown shrimp Crangon crangon. Environ Sci Technol 46:6324–6329

Bjerregaard P, Andersen BW, Rankin JC (1999) Retention of methyl mercury and inorganic mercury in rainbow trout Oncorhynchus mykiss (W): effect of dietary selenium. Aquat Toxicol 45:171–180

Chen Y-W, Belzile N, Gunn JM (2001) Antagonistic effect of selenium on mercury assimilation by fish populations near sudbury metal smelters? Limnol Oceanog 46:1814–1818

Dang F, Wang W-X (2011) Antagonistic interaction of mercury and selenium in a marine fish is dependent on their chemical species. Environ Sci Technol 45:3116–3122

Dellantonio A, Fitz WJ, Repmann F, Wenzel WW (2010) Disposal of coal combustion residues in terrestrial systems: contamination and risk management. J Environ Qual 39:761–775

E.P.R.I. (2006) Characterization of field leachates at coal combustion product management sites: arsenic, selenium chromium, and mercury speciation, Report 1012578. Electric Power Research Institute, Palo Alto, CA

Gosner KL (1960) A simplified table for staging anuran embryos and larvae with notes on identification. Herpetologica 16:183–190

Heyes A, Rowe CL, Conrad P (2014) Differential patterns of accumulation and retention of dietary trace elements associated with coal ash during larval development and metamorphosis of an amphibian. Arch Environ Contam Toxicol 66:78–85

Hopkins WA, Rowe CL, Congdon JD (1999) Elevated trace element concentrations and standard metabolic rate in banded water snakes, Nerodia fasciata, exposed to coal combustion wastes. Environ Toxicol Chem 18:1258–1263

Hopkins WA, DuRant SE, Staub BP, Rowe CL, Jackson BP (2006) Reproduction, embryonic development, and maternal transfer of trace elements in the amphibian Gastrophryne carolinensis. Environ Health Perspect 114:661–666

Lemly AD (1985) Toxicology of selenium in a freshwater reservoir: implications for environmental hazard evaluation and safety. Ecotoxicol Environ Saf 10:314–338

Lemly AD (2002) Symptoms and implications of selenium toxicity in fish: the Belews Lake case example. Aquat Toxicol 57:39–49

Lockard LL, Rowe CL, Heyes A (2013) Dietary selenomethionine exposure induces physical malformations and reduces growth and survival to metamorphosis in an amphibian (Hyla chrysoscelis). Arch Environ Contam Toxicol 64:504–513

Metts BS, Buhlmann KA, Scott DE, Tuberville TD, Hopkins WA (2012) Interactive effects of maternal and environmental exposure to coal combustion wastes decrease survival of larval southern toads (Bufo terrestris). Environ Poll 164:211–218

Raimondo SM, Rowe CL, Congdon JD (1998) Exposure to coal ash impacts swimming behavior and predator avoidance in larval bullfrogs (Rana catesbeiana). J Herpetol 32:289–292

Reash RJ (2012) Selenium, arsenic, and mercury in fish inhabiting a fly ash exposure gradient: interspecific bioaccumulation patterns and elemental associations. Environ Toxicol Chem 31:739–747

Reash RJ, Lohner TW, Wood KV, Willet VE (1999) Ecotoxicological assessment of bluegill sunfish inhabiting a selenium-enriched fly ash stream, vol 8. American Society for Testing and Materials, West Conshohocken, PA

Roe JH, Hopkins WA, Jackson BP (2005) Species- and stage-specific differences in trace element tissue concentrations in amphibians: implications for the disposal of coal-combustion wastes. Environ Poll 136:353–363

Rowe CL (2014) Bioaccumulation and effects of metals and trace elements from aquatic disposal of coal combustion residues: recent advances and recommendations for further study. Sci Total Environ 485:490–496

Rowe CL, Kinney OM, Fiori AP, Congdon JD (1996) Oral deformities in tadpoles (Rana catesbeiana) associated with coal ash deposition: effects on grazing ability and growth. Freshwater Biol 37:723–730

Rowe CL, Kinney OM, Nagle RD, Congdon JD (1998) Elevated maintenance costs in an anuran (Rana catesbeiana) exposed to a mixture of trace elements during the embryonic and early larval periods. Physiol Zool 71:27–35

Rowe CL, Hopkins WA, Coffman VR (2001) Failed recruitment of southern toads (Bufo terrestris) in a trace element–contaminated breeding habitat: direct and indirect effects that may lead to a local population sink. Arch Environ Contam Toxicol 40:399–405

Rowe CL, Hopkins WA, Congdon JD (2002) Ecotoxicological implications of aquatic disposal of coal combustion residues in the United States: a review. Environ Monit Assess 80:207–276

Rowe CL, Heyes A, Hilton J (2011) Differential patterns of accumulation and depuration of dietary selenium and vanadium during metamorphosis of the gray treefrog (Hyla versicolor). Arch Environ Contam Toxicol 60:336–342

Snodgrass JW, Hopkins WA, Roe JH (2003) Relationships among developmental stage, metamorphic timing, and concentrations of elements in bullfrogs (Rana catesbeiana). Environ Toxicol Chem 22:1597–1604  

Snodgrass JW, Hopkins WA, Broughton J, Gwinn D, Baionno JA, Burger J (2004) Species-specific responses of developing anurans to coal combustion wastes. Aquat Toxicol 66:171–182

Snodgrass JW, Hopkins WA, Jackson BP, Baionno JA, Broughton J (2005) Influence of larval period on responses of overwintering green frog (Rana clamitans) larvae exposed to contaminated sediments. Environ Toxicol Chem 24:1508–1514

Unrine JM, Hopkins WA, Romanek CS, Jackson BP (2007) Bioaccumulation of trace elements in omnivorous amphibian larvae: Implications for amphibian health and contaminant transport. Environ Poll 149:182–192

Wang WX, Wong RSK, Wang JF, Yen YF (2004) Influences of different selenium species on the uptake and assimilation of Hg(II) and methylmercury by diatoms and green mussels. Aquat Toxicol 68:39–50

Yang D-Y, Chen Y-W, Gunn JM, Belzile N (2008) Selenium and mercury in organisms: Interactions and mechanisms. Environ Rev 16:71–92
Acknowledgements
Contribution 5315 of the University of MD Center for Environmental Science.
About this article
Cite this article
Rowe, C.L., Heyes, A. Dietary Accumulation of Inorganic Selenium by a Larval Amphibian (Hyla chrysoscelis) and Influence on Accumulation of Background Mercury. Bull Environ Contam Toxicol 99, 182–186 (2017). https://doi.org/10.1007/s00128-017-2087-5
Received:

Accepted:

Published:

Issue Date:
Keywords
Coal ash

Coal combustion residues

Bioaccumulation

Metals

Antagonism