Abstract
In the present study, a simple, mono step deep eutectic solvent (DES) extraction was developed for selective extraction of copper from sediment samples. The optimization of all experimental parameters, e.g. DES type, sample/DES ratio, contact time and temperature were performed with using BCR-280 R (lake sediment certified reference material). The limit of detection (LOD) and the limit of quantification (LOQ) were found as 1.2 and 3.97 µg L−1, respectively. The RSD of the procedure was 7.5%. The proposed extraction method was applied to river and lake sediments sampled from Serpincik, Çeltek, Kızılırmak (Fadl and Tecer region of the river), Sivas-Turkey.
Access options
Buy single article
Instant access to the full article PDF.
USD 39.95
Price includes VAT (USA)
Tax calculation will be finalised during checkout.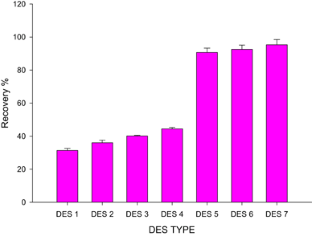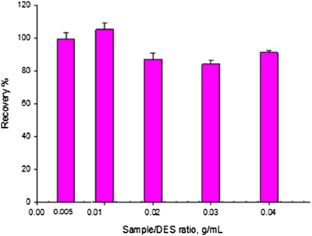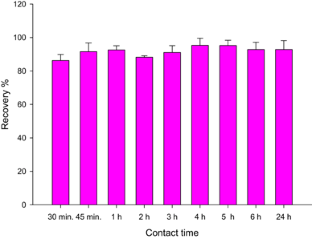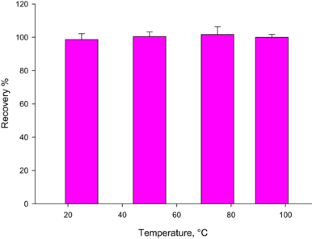 References
Abbott AP, Capper G, Davies DL, Rasheed RK, Tambyrajah V (2003) Novel solvent properties of choline chloride/urea mixtures. Chem Commun 7:70–71. doi:10.1039/b210714g

Abbott AP, Capper G, Davies DL (2005) Selective extraction of metals from mixed oxide matrixes using choline-based ionic liquids. Inorg Chem 44:6497–6499. doi:10.1021/ic0505450

Abbott AP, Capper G, Davies DL (2006) Solubility of metal oxides in deep eutectic solvents based on choline chloride. J Chem Eng Data 51:1280–1282. doi:10.1021/je060038c

Abo-Hamad A, Hayyan M, AlSaadi MA, Hashim MA (2015) Potential applications of deep eutectic solvents in nanotechnology. Chem Eng J 273:551–567. doi:10.1016/j.cej.2015.03.091

Altintig E, Altundag H, Tuzen M (2014) Determination of multi element levels in leaves and herbal teas from Turkey by ICP-OES. Bull Chem Soc Ethiop 28:9–16.

Alves FL, Cadore S, Jardim WF, Arruda MAZ (2001) River sediment analysis by slurry sampling FAAS: determination of copper, Zinc and lead. J Braz Chem Soc 12:799–803. doi:10.1590/S0103-50532001000600018

Arain MB, Yilmaz E, Soylak M (2016) Deep eutectic solvent based ultrasonic assisted liquid phase microextraction for the FAAS determination of cobalt. J Mol Liq 224:538–543. doi:10.1016/j.molliq.2016.10.005

Armenta S, Garrigues S, de la Guardia M (2015) The role of green extraction techniques in green analytical chemistry. TrAC Trends Anal Chem 71:2–8. doi:10.1016/j.trac.2014.12.011

Bağda E, Altundağ H, Soylak M (2017) Highly simple deep eutectic solvent extraction of manganese in vegetable samples prior to its ICP-OES analysis. Biol Trace Elem Res doi:10.1007/s12011-017-0967-5

Bi W, Tian M, Row KH (2013) Evaluation of alcohol-based deep eutectic solvent in extraction and determination of flavonoids with response surface methodology optimization. J Chromatogr A 1285:22–30. doi:10.1016/j.chroma.2013.02.041

Cui Q, Peng X, Yao X-H (2015) Deep eutectic solvent-based microwave-assisted extraction of genistin, genistein and apigenin from pigeon pea roots. Sep Purif Technol 150:63–72. doi:10.1016/j.seppur.2015.06.026

Das AK, Sharma M, Mondal D, Prasad K (2015) Deep eutectic solvents as efficient solvent system for the extraction of K-carrageenan from Kappaphycus alvarezii. Carbohydr Polym 136:930–935. doi:10.1016/j.carbpol.2015.09.114

de Vallejuelo SFO, Barrena A, Arana G (2009) Ultrasound energy focused in a glass probe: an approach to the simultaneous and fast extraction of trace elements from sediments. Talanta 80:434–439. doi:10.1016/j.talanta.2009.07.002

Espino M, Fernández MDLÁ, Gomez FJV, Silva MF (2015) Natural designer solvents for greening analytical chemistry. Trends Anal Chem. doi:10.1016/j.trac.2015.11.006

Frena M, Quadros DPC, Castilho INB (2014) A novel extraction-based procedure for the determination of trace elements in estuarine sediment samples by ICP-MS. Microchem J 117:1–6. doi:10.1016/j.microc.2014.05.014

Helalat-Nezhad Z, Ghanemi K, Fallah-Mehrjardi M (2015) Dissolution of biological samples in deep eutectic solvents: an approach for extraction of polycyclic aromatic hydrocarbons followed by liquid chromatography-fluorescence detection. J Chromatogr A 1394:46–53. doi:10.1016/j.chroma.2015.03.053

Karimi M, Dadfarnia S, Mohammad A (2015) Talanta deep eutectic liquid organic salt as a new solvent for liquid-phase microextraction and its application in ligandless extraction and pre- concentraion of lead and cadmium in edible oils. Talanta 144:648–654. doi:10.1016/j.talanta.2015.07.021

Khezeli T, Daneshfar A, Sahraei R (2015) Emulsification liquid–liquid microextraction based on deep eutectic solvent: an extraction method for the determination of benzene, toluene, ethylbenzene and seven polycyclic aromatic hydrocarbons from water samples. J Chromatogr A 1425:25–33. doi:10.1016/j.chroma.2015.11.007

Kudlak B, Owczarek K, Namieśnik J (2015) Selected issues related to the toxicity of ionic liquids and deep eutectic solvents—a review. Environ Sci Pollut Res 22:11975–11992. doi:10.1007/s11356-015-4794-y

Li X, Row KH (2016) Development of deep eutectic solvents applied in extraction and separation. J Sep Sci. doi:10.1002/jssc.201600633

Matong JM, Nyaba L, Nomngongo PN (2017) Determination of As, Cr, Mo, Sb, Se and V in agricultural soil samples by inductively coupled plasma optical emission spectrometry after simple and rapid solvent extraction using choline chloride-oxalic acid deep eutectic solvent. Ecotoxicol Environ Saf 135:152–157. doi:10.1016/j.ecoenv.2016.09.033

Mendil D, Ünal ÖF, Tüzen M, Soylak M (2010) Determination of trace metals in different fish species and sediments from the River Yesilirmak in Tokat, Turkey. Food Chem Toxicol 48:1383–1392. doi:10.1016/j.fct.2010.03.006

Mohammad FAH, Amin NAS (2012) An overview of ionic liquids as solvents in biodiesel synthesis. Renew Sustain Energy Rev 16:5770–5786. doi:10.1016/j.rser.2012.06.022

Moreda-Piñeiro J (2015) Recent advances in combining microextraction techniques for sample pre-treatment. Trends Anal Chem 71:265–274. doi:10.1016/j.trac.2015.02.025

Naozuka J, Carvalho Vieira E, Nascimento AN, Oliveira PV (2011) Elemental analysis of nuts and seeds by axially viewed ICP OES. Food Chem 124:1667–1672. doi:10.1016/j.foodchem.2010.07.051

Smith EL, Abbott AP, Ryder KS (2014) Deep eutectic solvents (DESs) and their applications. Chem Rev 114:11060–11082. doi:10.1021/cr300162p

Soylak M, Turkoglu O (1999) Trace metal accumulation caused by traffic in an agricultural soil near a motorway in Kayseri, Turkey. J Trace Microprobe Tech 17:209–217

Tan T, Zhang M, Wan Y, Qiu H (2015) Utilization of deep eutectic solvents as novel mobile phase additives for improving the separation of bioactive quaternary alkaloids. Talanta 149:85–90. doi:10.1016/j.talanta.2015.11.041

Tang B, Row KH (2013) Recent developments in deep eutectic solvents in chemical sciences. Monatshefte für Chem-Chem Mon 144:1427–1454. doi:10.1007/s00706-013-1050-3

Tang B, Zhang H, Row KH (2015) Application of deep eutectic solvents in the extraction and separation of target compounds from various samples. J Sep Sci 38:1053–1064. doi:10.1002/jssc.201401347

Tiwari BK (2015) Ultrasound: a clean, green extraction technology. TrAC Trends Anal Chem 71:100–109. doi:10.1016/j.trac.2015.04.013

Tobiasz A, Walas S (2014) Solid-phase-extraction procedures for atomic spectrometry determination of copper. TrAC Trends Anal Chem 62:106–122. doi:10.1016/j.trac.2014.06.018

Tuzen M, Sari H, Soylak M (2004) Microwave and wet digestion procedures for atomic absorption spectrometric determination of trace metals contents of sediment samples. Anal Lett 37:1925–1936. doi:10.1081/AL-120039436

Wang H, Ding J, Ren N (2015) Recent advances in microwave-assisted extraction of trace organic pollutants from food and environmental samples. Trends Anal Chem 75:197–208. doi:10.1016/j.trac.2015.05.005

Wang Z, Lu X, Zhang K (2016) Distribution and contamination of metals and biogenic elements in sediments from Zhifu Bay of the Yellow Sea, China. J Environ Sci 41:6–15. doi:10.1016/j.jes.2015.06.009

Wei Z, Qi X, Li T (2015) Application of natural deep eutectic solvents for extraction and determination of phenolics in Cajanus cajan leaves by ultra performance liquid chromatography. Sep Purif Technol 149:237–244. doi:10.1016/j.seppur.2015.05.015

Wu SH, Zeng YF, Chen L (2016) Amplified electrochemical DNA sensor based on hemin/G-quadruplex DNAzyme as electrocatalyst at gold particles modified heated gold disk electrode. Sens Actuators B 225:228–232. doi:10.1016/j.snb.2015.11.020

Yao X-H, Zhang D-Y, Duan M-H (2015) Preparation and determination of phenolic compounds from Pyrola incarnata Fisch. with a green polyols based-deep eutectic solvent. Sep Purif Technol 149:116–123. doi:10.1016/j.seppur.2015.03.037

Yilmaz E, Soylak M (2015) Ultrasound assisted-deep eutectic solvent extraction of iron from sheep, bovine and chicken liver samples. Talanta 136:170–173. doi:10.1016/j.talanta.2014.12.034
Acknowledgements
The authors are fully grateful for the financial support of the Unit of the Scientific Research Projects of Cumhuriyet University, Sakarya University, Gaziosmanpaşa University and Erciyes University and Cumhuriyet University Advanced Technology Research Center (CÜTAM).
About this article
Cite this article
Bağda, E., Altundağ, H., Tüzen, M. et al. A Novel Selective Deep Eutectic Solvent Extraction Method for Versatile Determination of Copper in Sediment Samples by ICP-OES. Bull Environ Contam Toxicol 99, 264–269 (2017). https://doi.org/10.1007/s00128-017-2065-y
Received:

Accepted:

Published:

Issue Date:
Keywords
Extraction

Deep eutectic solvent

Sediment

Inductively coupled plasma optical emission spectrometry