Abstract
The aim of this study was to determine the remediation efficiency of petroleum-contaminated soil from an oilfield using different types of remediation treatments under laboratory conditions. Compared with unamended soil as the control treatment (T1), soil samples were amended with bulrush straw powder (T2), with biochar alone (T3) and in combination with nutrients (nitrogen and phosphorus) (T4). The remediation experiment was carried out for 8 weeks. The extent of hydrocarbon degradation was monitored gravimetrically, and the residual oil fractions were analyzed by gas chromatography. The characteristics of the polluted soil (water-holding capacity and nutrients) were improved significantly by biochar addition (p < 0.05). The total microbial count increased significantly in the treatment containing biochar and added nutrients (t = 23.429, p = 0.002). The degradation of total petroleum hydrocarbons (TPH) and the main hydrocarbon fractions was higher in T3 and T4, especially in T4, than in T1 and T2. The intensities of the n-alkane fraction, C27–C29 steranes and C33–C35 homohopanes were efficiently decreased in T4 compared to the other treatments. According to the results, petroleum-contaminated soil can be remediated efficiently by adding biochar and nutrients simultaneously, and this combination of remediation was superior to that observed with added bulrush straw powder.
Access options
Buy single article
Instant access to the full article PDF.
USD 39.95
Price includes VAT (USA)
Tax calculation will be finalised during checkout.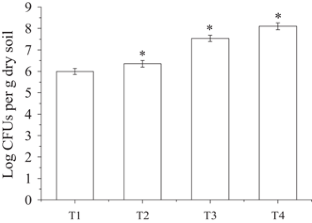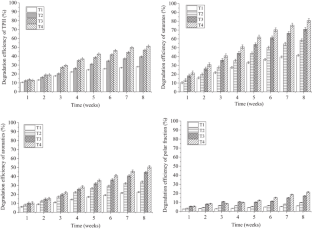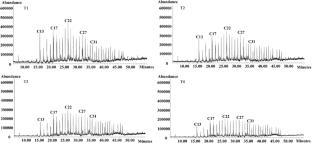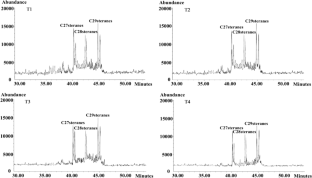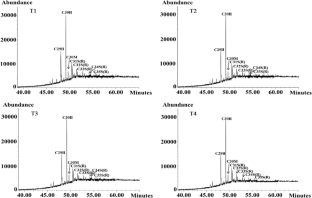 References
Bost FD, Frontera-Suau R, McDonald TJ, Peters KE, Morris PJ (2001) Aerobic biodegradation of hopanes and norhopanes in Venezuelan crude oils. Org Geochem 32:105–114. doi:10.1016/S0146-6380(00)00147-9

Bushnaf KM, Puricelli S, Saponaro S, Werner D (2011) Effect of biochar on the fate of volatile petroleum hydrocarbons in an aerobic sandy soil. J Contam Hydrol 126:208–215. doi:10.1016/j.jconhyd.2011.08.008

Cao Y, Yang B, Song Z, Wang H, He F, Han X (2016) Wheat straw biochar amendments on the removal of polycyclic aromatic hydrocarbons (PAhs) in contaminated soil. Ecotoxicol Environ Saf 130:248–255. doi:10.1016/j.ecoenv.2016.04.033

Dadrasnia A, Agamuthu P (2013) Dynamics of diesel fuel degradation in contaminated soil using organic wastes. Int J Environ Sci Technol 10:769–778. doi:10.1007/s13762-013-0224-1

Dindar E, Şağban FOT, Başkaya HS (2013) Bioremediation of petroleum-contaminated soil. J Bio Environ Sci 7:39–47

Douglas GS, Hardenstine JH, Liu B, Uhler AD (2012) Laboratory and field verification of a method to estimate the extent of petroleum biodegradation in soil. Environ Sci Technol 46:8279–8287. doi:10.1021/es203976a

Gallotta FDC, Christensen JH (2012) Source identification of petroleum hydrocarbons in soil and sediments from Iguaçu River watershed, Paraná, Brazil using the CHEMSIC method (CHEMometric analysis of selected Ion chromatograms). J Chromatogr A 1235:149–158. doi:10.1016/j.chroma.2012.02.041

García-Delgado C, Alfaro-Barta I, Eymar E (2015) Combination of biochar amendment and mycoremediation for polycyclic aromatic hydrocarbons immobilization and biodegradation in creosote-contaminated soil. J Hazard Mater 285:259–266. doi:10.1016/j.jhazmat.2014.12.002

Gojgic-Cvijovic GD, Milic JS, Solevic TM, Beskoski VP, Ilic MV, Djokic LS, Narancic TM, Vrvic MM (2012) Biodegradation of petroleum sludge and petroleum polluted soil by a bacterial consortium: a laboratory study. Biodegradation 23:1–14. doi:10.1007/s10532-011-9481-1

Guerin TF (2015) A safe, efficient and cost effective process for removing petroleum hydrocarbons from a highly heterogeneous and relatively inaccessible shoreline. J Environ Manag 162:190–198. doi:10.1016/j.jenvman.2015.07.016

Karamalidis AK, Evangelou AC, Karabika E, Koukkou AI, Drainas C, Voudrias EA (2010) Laboratory scale bioremediation of petroleum-contaminated soil by indigenous microorganisms and added Pseudomonas aeruginosa strain Spet. Bioresour Technol 101:6545–6552. doi:10.1016/j.biortech.2010.03.055

Lehmann J, Gaunt J, Rondon M (2006) Bio-char sequestration in terrestrial ecosystems – a review. Mitig Adapt Strategy Glob Change 11:395–419. doi:10.1007/s11027-005-9006-5

Lehmann J, Rillig MC, Thies J, Masiello CA, Hockaday WC, Crowley D (2011) Biochar effects on soil biota: a review. Soil Biol Biochem 43:1812–1836. doi:10.1016/j.soilbio.2011.04.022

Li X, Tong D, Allinson G, Jia C, Gong Z, Liu W (2016) Adsorption of pyrene onto the agricultural by-product: corncob. Bull Environ Contam Toxicol 96:113–119. doi:10.1007/s00128-015-1687-1

Marchal G, Smith KEC, Rein A, Winding A, Wollensen de Jonge L, Trapp S, Karlson UG (2013) Impact of activated carbon, biochar and compost on the desorption and mineralization of phenanthrene in soil. Environ Pollut 181:200–210. doi:10.1016/j.envpol.2013.06.026

Masakorala K, Yao J, Chandankere R, Yuan H, Liu H, Yu C, Cai M (2013) Effects of petroleum hydrocarbon contaminated soil on germination, metabolism and early growth of green gram, Vigna radiata L. Bull Environ Contam Toxicol 91:224–230. doi:10.1007/s00128-013-1042-3

Meynet P, Moliterni E, Davenport RJ, Sloan WT, Camacho JV, Werner D (2014) Predicting the effects of biochar on volatile petroleum hydrocarbon biodegradation and emanation from soil: a bacterial community finger-print analysis inferred modelling approach. Soil Biol Biochem 68:20–30. doi:10.1016/j.soilbio.2013.09.015

Mukherjee AK, Bordoloi NK (2011) Bioremediation and reclamation of soil contaminated with petroleum oil hydrocarbons by exogenously seeded bacterial consortium: a pilot-scale study. Environ Sci Pollut Res Int 18:471–478. doi:10.1007/s11356-010-0391-2

Qin G, Gong D, Fan MY (2013) Bioremediation of petroleum-contaminated soil by biostimulation amended with biochar. Int Biodeterior Biodegradation 85:150–155. doi:10.1016/j.ibiod.2013.07.004

Quilliam RS, Marsden KA, Gertler C, Rousk J, DeLuca TH, Jones DL (2012) Nutrient dynamics, microbial growth and weed emergence in biochar amended soil are influenced by time since application and reapplication rate. Agr Ecosyst Environ 158:192–199. doi:10.1016/j.agee.2012.06.011

Salminen JM, Tuomi PM, Suortti AM, Jørgensen KS (2004) Potential for aerobic and anaerobic biodegradation of petroleum hydrocarbons in boreal subsurface. Biodegradation 15:29–39. doi:10.1023/B:BIOD.0000009954.21526.e8

Sanscartier D, Reimer K, Koch I, Laing T, Zeeb B (2009) An investigation of the ability of a 14C-labeled hydrocarbon mineralization test to predict bioremediation of soils contaminated with petroleum hydrocarbons. Biorem J 13:92–101. doi:10.1080/10889860902902057

Steinbeiss S, Gleixner G, Antonietti M (2009) Effect of biochar amendment on soil carbon balance and soil microbial activity. Soil Biol Biochem 41:1301–1310. doi:10.1016/j.soilbio.2009.03.016

Takaya CA, Fletcher LA, Singh S, Okwuosa UC, Ross AB (2016) Recovery of phosphate with chemically modified biochars. J Environ Chem Eng 4:1156–1165. doi:10.1016/j.jece.2016.01.011

Tang J, Zhu W, Kookana R, Katayama A (2013) Characteristics of biochar and its application in remediation of contaminated soil. J Biosci Bioeng 116:653–659. doi:10.1016/j.jbiosc.2013.05.035

Yanto DHY, Tachibana S (2014) Potential of fungal co-culturing for accelerated biodegradation of petroleum hydrocarbons in soil. J Hazard Mater 278:454–463. doi:10.1016/j.jhazmat.2014.06.039

Yi YM, Park S, Munster C, Kim G, Sung K (2016) Changes in ecological properties of petroleum oil-contaminated soil after low-temperature thermal desorption treatment. Water Air Soil Pollut 227:1–10. doi:10.1007/s11270-016-2804-4
Acknowledgements
This work was supported by the National Natural Science Foundation of China (No. 41571464), Program of Liaoning Education Department (No. LR2015035) and Environmental Science and Engineering Innovation Team Programme of Liaoning Shihua University ([2014]-11).
About this article
Cite this article
Wang, Y., Li, F., Rong, X. et al. Remediation of Petroleum-contaminated Soil Using Bulrush Straw Powder, Biochar and Nutrients. Bull Environ Contam Toxicol 98, 690–697 (2017). https://doi.org/10.1007/s00128-017-2064-z
Received:

Accepted:

Published:

Issue Date:
Keywords
Petroleum hydrocarbons

Biochar

Nutrients

Microorganisms