Abstract
Water samples were collected to evaluate the groundwater quality in the shallow unconfined alluvial aquifer in the eastern part of Abu-Dhabi Emirate, UAE. The chemical monitoring revealed some spatial variability in chemical parameters as influenced by matrix aquifer changes in geological formations. Results show that changes in groundwater chemistry in the aquifer is mainly controlled by evaporation, silicate mineral dissolution, evaporite dissolution, and cation exchange. The concentration increases were accounted for primarily by dissolved sodium, chloride, and sulphate. The high value of total dissolved solids of shallow groundwater is mainly controlled by evaporation. The dominance of sodium ion was evident among the cationic compositions with an average of 2621.1 mg/L, while the chloride ion was the dominant among the anionic constituents with an average of 6249 mg/L. The prevalence of those two elements in most water samples contributes to the existence of saline water occurrence in the study area.
Access options
Buy single article
Instant access to the full article PDF.
USD 39.95
Price includes VAT (USA)
Tax calculation will be finalised during checkout.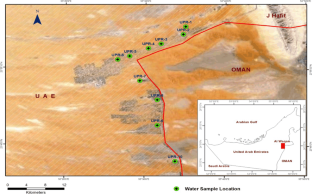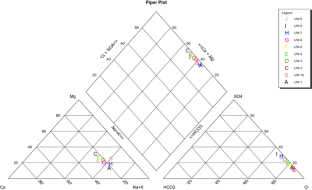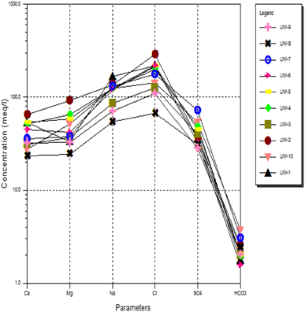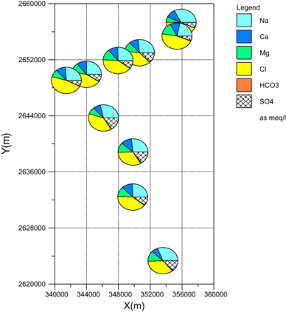 References
Ahmad K (2010) Investigating the source of thermal anomalies in the northern United Arab Emirates (UAE) desert using geophysical method. PhD thesis, Missouri University, p 148

Al-Katheeri ES (2008) Towards the establishment of water management in Abu Dhabi Emirate. Water Resour Manag 22: 205–215

Allison GB, Cook PG, Barnett SR, Walker GR, Jolly ID, Hugues MW (1990) Land clearance and river salinisation in the western Murray Basin, Australia. J Hydrol 119:1–20

American Public Health Association (APHA) (2005) Standard methods for the examination of water and waste water, 22th edn. American Public Health Association, Washington, D.C.

Bassuony MA, Ali ME, Abdel Hameed AH, Jahin HS (2014) Evaluation of irrigation water quality in different regions of North East Delta-Egypt'. Int J Eng Appl Sci 5:10–16

El-Ghawaby MA, El-Sayed MI (1997) The structural and sedimentological setting of the Quaternary deposits in Al-Ain area, UAE. J Arid Environ 35:627–640

Elmahdy S, Mohamed M (2012) Topographic attributes controlling groundwater flow and salinity in Al-Ain, UAE: a prediction method using remote sensing and GIS. J Environ Earth Sci 2:1–13

Elmahdy S, Mohamed M (2013a) Influence of geological structures on groundwater accumulation and groundwater salinity in Northern UAE. Geocarto Int 28: 453–472

Elmahdy S, Mohamed M (2013b) Natural hazards susceptibility mapping: an assessment using remote sensing and geographic information system (GIS). Geomat Nat Hazards Risk J 4:71–91

Elmahdy S, Mohamed M (2014a) Groundwater potential modeling using remote sensing and GIS: a case study of the Al Dhaid area, United Arab Emirates. Geocarto Int 29:433–450

Elmahdy S, Mohamed M (2014b) Relationship between geological structures and groundwater flow and groundwater salinity in Al Ain, UAE; mapping and analysis by means of remote sensing and GIS. Arab J Geosci 7: 1249–1259

Elmahdy S, Mohamed M (2015) Automatic detection of near surface geological and hydrological features and investigating their influence on groundwater accumulation and salinity using remote sensing and GIS. Geocarto Int 30:132–144

Howari F (2004) Heavy metal speciation and mobility assessment of arid soils in the vicinity of Al Ain landfill, United Arab Emirates. Int J Environ Pollut 22:721–729

Hydroconsult (1978) Reconnaissance report and development proposals, Abu Dhabi, United Arab Emirates, eastern region water resources. Government of Abu Dhabi, Ministry of Petroleum and Mineral Resources report, p 126

Mohamed M (2014) An integrated water resources management strategy for Al-Ain City, United Arab Emirates. Proc Int Assoc Hydrol Sci 364: 273–278

Mohamed M, Almualla A (2010a) Water demand forecasting in Umm Al-Quwain (UAE) using the IWR-MAIN specify forecasting model. Water Resour Manag 24:4093–4120

Mohamed M, Almualla A (2010b) Water demand forecasting in Umm Al-Quwain using the constant rate model. Desalination 259:161–186

Mohamed M, Hatfield K, Perminova IV (2007) Evaluation of Monod kinetic parameters in the subsurface using moment analysis: theory and numerical testing. Adv Water Resour 30:2034–2050

Mohamed M, Saleh N, Sherif M (2010a) Modeling in-situ benzene bioremediation in the contaminated Liwa aquifer (UAE) using the slow-release oxygen source technique. Environ Earth Sci 61: 1385–1399

Mohamed M, Saleh N, Sherif M (2010b) Sensitivity of natural attenuation to variations in kinetic and transport parameters. Bull Environ Contam Toxicol 84:443–449

Murad AA, Hussein SM, Al-Abdouli A (2012a) Hydrogeochemical and isotopic evaluation of groundwater in Jabal Hafit area, Eastern Abu Dhabi Emirate, United Arab Emirates (UAE). Sci Res Essays 7:2731–2743

Murad A, Mahgoub F, Hussein S (2012b) Hydrochemical variations of groundwater of the northern Jabal Hafit in eastern part of Abu Dhabi Emirate, United Arab Emirates (UAE). Int J Geosci 3:410–429

Phillips FM (1994) Environmental tracers for water movement in desert soils of the American Southwest. Soil Sci Soc Am J 58:14–24

Rizk ZS, Al Sharhan AS (2003) Water resources in the United Arab Emirates. In: Al Sharhan AS, Wood WW (eds) water resources perspectives: evaluation, management and policy, developments in water, vol. 50. Elsevier, Amsterdam, pp 245–264

Sherif M, Mohamed M, Shetty A, Almulla M (2011a) Rainfall-runoff modeling of three wadis in the northern area of UAE. J Hydrol Eng (ASCE) 16:10–20

Sherif M, Mohamed M, Kacimov A, Shetty A (2011b) Assessment of groundwater quality in the northeastern coastal area of UAE as precursor for desalination. Desalination 273:436–446

Sundaram B, Feitz A, de Caritat P, Plazinska A, Brodie R, Coram J, Ransley T (2009) Groundwater sampling and analysis—a field guide. Geoscience Australia, Record 2009/27, p 95

Walvoord MA, Stonestrom DA, Andraski BJ (2004) Constraining the inferred paleohydrologic evolution of a deep unsaturated zone in the Amargosa Desert. Vadose Zone J 3:502–512

WHO (2012) World health Statistics. http://www.who.int/gho/publications/world_health_statistics/EN_WHS2012_Full.pdf

Wood WW, Imes JL (1995) How wet is wet? Precipitation constraints on late Quaternary climate in the southern Arabian Peninsula. J Hydrol 164:263–268

Wood WW, Sanford WE (2007) Atmospheric bromide flux from the coastal Abu Dhabi sabkhat: a ground-water mass balance investigation. Geophys Res Lett. doi:10.1029/2007GL029922

Wood WW, Sanford WE, Frape S (2005) Chemical openness and potential for misinterpretation of the solute environment of coastal sabkhat. Chem Geol 215(1–4):361–372

Zaineldeen UF (2011) Paleostress reconstructions of Jabal Hafit structures, Southeast of Al Ain City, United Arab Emirates (UAE). J Afr Earth Sci 59:323–335
Acknowledgements
The authors would like to express their sincere appreciation to the National Water Center, UAE and the United Arab Emirates University for the financial support of this project under fund Grant Numbers 31R008 and 31R093.
About this article
Cite this article
Mohamed, M.M., Murad, A. & Chowdhury, R. Evaluation of Groundwater Quality in the Eastern District of Abu Dhabi Emirate, UAE. Bull Environ Contam Toxicol 98, 385–391 (2017). https://doi.org/10.1007/s00128-016-2017-y
Received:

Accepted:

Published:

Issue Date:
Keywords
Groundwater quality

Arid region

UAE