Abstract
Chromate-resistant microorganisms with the ability of reducing toxic Cr(VI) to less toxic Cr(III), are candidates for bioremediation. An alternative culture medium to reduce Cr(VI) using Wickerhamomyces anomalus M10 was optimized. Using the Plackett-Burman design, it was determined that sucrose, K2HPO4 and inoculum size had significant effects on chromate removal (i.e., reduction) at 24 h. Concentrations of these significant factors were adjusted using a complete factorial design. In this case, only the K2HPO4 effect was significant at 12 h of culture, with greater Cr(VI) removal at low concentration (1.2 g L−1). The optimum medium was validated at the fermenter scale level. Optimal culture conditions for complete removal of Cr(VI) (1 mM) were 400 rpm agitation and air flow of 1 vvm. Moreover, W. anomalus M10 completely removed consecutively added pulses of Cr(VI) (1 mM). These results show interesting characteristics from the standpoint of biotechnology because the development of a future remediation process using W. anomalus M10 can represent an efficient and highly profitable technology for removing the toxic form of Cr.
Access options
Buy single article
Instant access to the full article PDF.
USD 39.95
Price includes VAT (USA)
Tax calculation will be finalised during checkout.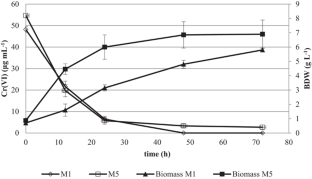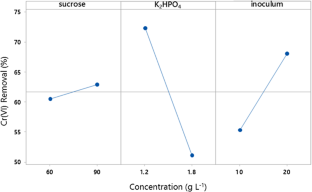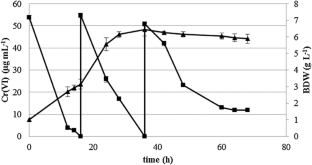 References
Alam MZ, Ahmad S (2012) Toxic chromate reduction by resistant and sensitive bacteria isolated from tannery effluent contaminated soil. Ann Microbiol 62:113–121

APHA, AWWA, WPCF (1975) Determination of metals (part 307): chromium. In: Rand MC, Greenberg AE, Taras MJ (eds) Standard methods for the examination of water and wastewater. American Public Health Association, Washington, pp 192–195

Cheung KH, Gu JD (2007) Mechanisms of hexavalent chromium detoxification by microorganisms and bioremediation application potential: a review. Int Biodeterior Biodegrad 59(1):8–15

Di Bona KR, Love S, Rhodes NR, McAdory D, Sinha SH, Kern N, Kent J, Strickland J, Wilson A, Beaird J, Ramage J, Rasco LF, Vincent JB (2011) Chromium is not an essential trace element for mammals: effects of a "low-chromuim" diet. J Biol Inorg Chem 16:381–390

Fernández PM, Figueroa LIC, Fariña JI (2009) Critical influence of culture medium and Cr(III) quantification protocols on the interpretation of Cr(VI) bioremediation by environmental fungal isolates. Water Air Soil Poll 206:283–293

Fernández PM, Cabral ME, Delgado OD, Fariña JI, Figueroa LIC (2013) Textile dye polluted waters as an unusual source for selecting chromate-reducing yeasts through Cr(VI)-enriched microcosms. Int Biodeterior Biodegrad 79:28–35

Juvera-Espinosa J, Morales-Barrera L, Cristiani-Urbina E (2006) Isolation and characterization of a yeast strain capable of removing Cr(VI). Enzyme Microb Technol 40:114–121

Kaszycki P, Fedorovych D, Ksheminska H, Babyak L, Wójcik D, Koloczek H (2004) Chromium accumulation by living yeast at various environmental conditions. Microbiol Res 159:11–17

Krishna KR, Philip L (2005) Bioremediation of Cr(VI) in contaminated soils. J Hazard Mater 121:109–117

Lu Z, Ouyang X, Zhang W, Lu X (2013) Isolation of Cr(VI) resistant bacteria and exploration of Cr(VI) removal mechanism of strain n-9. Appl Mech Mater 295:74–77

Mabrouk MEM (2008) Statistical optimization of medium components for chromate reduction by halophilic Streptomyces sp. MS-2. Afr J Microbiol Res 2:103–109

Martorell MM, Fernández PM, Fariña JI, Figueroa LIC (2012a) Cr(VI) reduction by cell-free extracts of Pichia jadinii and Pichia anomala isolated from textile-dye factory effluents. Int Biodeterior Biodegrad 71:80–85

Martorell MM, Pajot HF, Rovati JI, Figueroa LIC (2012b) Optimization of culture medium composition for manganese peroxidase and tyrosinase production during reactive black 5 decolourization by the yeast Trichosporon akiyoshidainum. Yeast 29:137–144

Montgomery DC (1991) Using factional factorial designs for robust process developments. Qual Eng 3:193–205

Pal A, Paul AK (2004) Aerobic chromate reduction by chromium-resistant bacteria isolated from serpentine soil. Microbiol Res 150:347–354

Paš M, Milačič R, Drašlar K, Pollack N, Raspor P (2004) Uptake of chromium(III) and chromium(VI) compounds in the yeast cell structure. Biometals 17:25–33

Pazouki M, Keyanpour-Rad M, Shafie SH, Shahhoseini SH (2007) Efficiency of Penicillum chrysogenum PTCC 5037 in reducing low concentration of chromium hexavalent in a chromium electroplating plant wastewater. Bioresour Technol 98:2116–2122

Plackett RL, Burman JP (1946) The design of optimum multifactorial experiments. Biometrika 33:305–325

Poljsak B, Pócsi I, Raspor P, Pesti M (2010) Interference of chromium with biological systems in yeasts and fungi: a review. J Basic Microbiol 50:21–36

Poljsak B, Pócsi I, Pesti M (2011) Interference of chromium with cellular functions. In: Banfalvi G (ed) Cellular effects of heavy metals. Springer, Netherlands, pp 59–86

Ramírez-Ramírez R, Calvo-Méndez C, Avila-Rodríguez M, Lappe P, Ulloa M, Vázquez-Juárez R, Gutiérrez-Corona JF (2004) Cr(VI) reduction in a chromate-resistant strain of Candida maltosa isolated from the leather industry. Anton Leeuw 85:63–68

Romero CM, Pera LM, Loto F, Baigorí MD (2012) Specific enzyme-catalyzed hydrolysis and synthesis in aqueous and organic medium using biocatalysts with lipase activity from Aspergillus niger MYA 135. Catal Lett 142(11):1361–1368

Sen M, Dastidar MG, Roychoudhury PK (2014) A Comparative study on biological removal of Cr(VI) by Fusarium Solani under different modes of operational strategies. Int J Eng Technol Innov 4:117–125

Sultan S, Hasnain S (2005) Chromate reduction capability of a gram positive bacterium isolated from effluent of dying industry. Bull Environ Contam Toxicol 75:699–706

Sultan S, Hasnain S (2007) Reduction of toxic hexavalent chromium by Ochrobacterium intermedium strain SDCr-5 stimulated by heavy metals. Bioresour Technol 98:340–344

Thacker U, Parikh R, Shouche Y, Madamwar D (2007) Reduction of chromate by cell-free extract of Brucella sp. isolated from Cr(VI) contaminated sites. Bioresour Technol 9:1541–1547

Urone PF (1955) Stability of colorimetric reagent for chromium, S-diphenylcarbazide, in various solvents. Anal Chem 27:1354–1355

Venil CK, Mohan V, Lakshmanaperumalsamy P, Yerima MB (2011) Optimization of chromium removal by the indigenous Bacterium Bacillus spp. REP02 using the response surface methodology. ISRN Microbiol. doi:10.5402/2011/951694

Villegas LB, Fernández PM, Amoroso MJ, Figueroa LIC (2008) Chromate removal by yeasts isolated from sediments of a tanning factory and a mine site in Argentina. Biometals 21:591–600

Xu WH, Liu YG, Zeng GM, Li X, Song HX, Peng QQ (2009) Characterization of Cr(VI) resistance and reduction by Pseudomonas aeruginosa. Trans Nonferrous Met Soc China 19:1336–1341

Zhitkovich A (2011) Chromium in drinking water: sources, metabolism, and cancer risks. Chem Res Toxicol 24:1617–1629
Acknowledgments
This work was supported by Agencia Nacional de Promoción Científica y Tecnológica and Fondo para la Investigación Científica y Tecnológica FONCYT (PICT 1154/2013); Consejo Nacional de Investigaciones Científicas y Técnicas (PIO CONICET YPF 133201301000022CO); Secretaría de Ciencia, Arte e Innovación Tecnológica de la Universidad Nacional de Tucumán SCAIT UNT (PIUNT D509).
About this article
Cite this article
Fernández, P.M., Cruz, E.L., Viñarta, S.C. et al. Optimization of Culture Conditions for Growth Associated with Cr(VI) Removal by Wickerhamomyces anomalus M10. Bull Environ Contam Toxicol 98, 400–406 (2017). https://doi.org/10.1007/s00128-016-1958-5
Received:

Accepted:

Published:

Issue Date:
Keywords
Cr(VI)

Bioremediation

Cr(VI)-resistant yeasts

Plackett-Burman

Factorial design

Bioreactor