Abstract
Pretilachlor treatments, namely, recommended dose at 600 g a.i. ha−1 (RD), double the recommended dose at 1200 g a.i. ha−1 (2RD), ten times of the recommended dose at 6000 g a.i. ha−1 (10RD) along with control, were used to study the effects of pretilachlor on soil enzymes in tropical rice soil. Pretilachlor, at recommended dose completely dissipated 30 days after herbicide application. Twenty days after herbicide application, the dehydrogenase activity was inhibited up to 27 %, 28 % and 40 % of initial values of RD, 2RD and 10RD treatments, respectively. Increase in fluorescein diacetate hydrolase activity was observed during the first 25 days post herbicide application up to 29 %, 36 % and 10 % of initial values of RD, 2RD and 10RD treatments, respectively. β-Glucosidase activity in the experiment did not provide a specific trend. In general, urease and acid phosphatase activities were not influenced by pretilachlor application. There were significant differences in alkaline phosphatase activities among the treatments until 25 days after herbicide application. Hence, pretilachlor may cause short term transitory changes in soil enzyme parameters. However, it has negative impact on soil enzymes at very high dose.
Access options
Buy single article
Instant access to the full article PDF.
USD 39.95
Price includes VAT (USA)
Tax calculation will be finalised during checkout.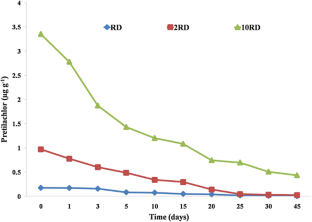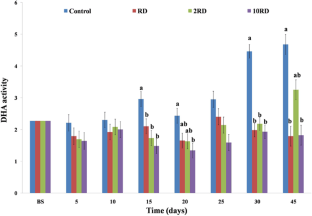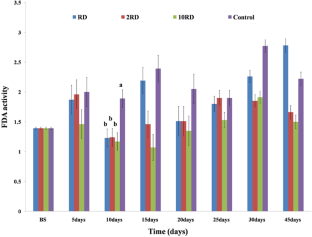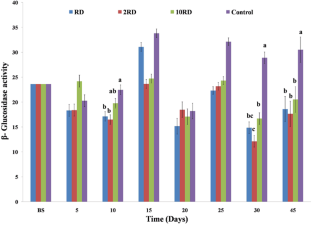 References
Adam G, Duncan H (2001) Development of a sensitive and rapid method for the measurement of total microbial activity using fluorescein diacetate (FDA) in a range of soils. Soil Biol Biochem 33:943–951

Cai X, Sheng G, Liu W (2007) Degradation and detoxification of acetochlor in soils treated by organic and thiosulfate amendments. Chemosphere 66:286–292

Casida LE, Klein DA, Santoro T (1964) Soil dehydrogenase activity. Soil Sci 98:371–376

Cycoń M, Piotrowska-Seget Z (2015) Biochemical and microbial soil functioning after application of the insecticide imidacloprid. J Environ Sci 27:147–158

Das S, Bhattacharyya P, Adhya TK (2011) Interaction effects of elevated CO2 and temperature on microbial biomass and enzyme activities in tropical rice soils. Environ Monit Assess 182:555–569

Dharumarajan S, Sankar R, Arun S (2011) Persistence and dissipation of pretilachlor in soil, plant and water of coastal rice ecosystem. Indian J Weed Sci 43(3&4):199–202

Dick RP (1994) Soil enzyme activities as indicators of soil quality. In: Doran JW et al (eds) Defining soil quality for a sustainable environment. Special Publication 35, Soil Science Society of America, Madison, pp 107–124

Eivazi F, Tabatabai MA (1977) Phosphates in soils. Soil Biol Biochem 9:167–172

Faruk MSA, Salam MA, Jannat M, Rabbani MG (2013) Effect of herbicide Prechlor on the performance of T. aman rice. J Bangladesh Agril Univer 11(2):257–264

Hussain S, Siddique T, Saleem M, Arshad M and Khalid A (2009) Impact of pesticides on soil microbial diversity, enzymes, and biochemical reactions. Adv Agron 102:159–200

Ingram CW, Coyne MS, Williams DW (2005) Effects of commercial diazinon and imidacloprid on microbial urease activity in soil and sod. J Environ Qual 34:1573–1580

Ismail BS, Handah M (1999) Bioactivity, adsorption and persistence of pretilachlor in paddy field soils. Toxicol Environ Chem 68:393–402

Ismail BS, David I, Omar O (1996) Effects of metolachlor on activities of enzymes in a Malaysian soil. J Environ Sci Health B 31:1267–1278

Ismail BS, Yapp KF, Omar O (1998) Effects of metsulfuron-methyl on amylase, urease, and protease activities in two soils. Aust J Soil Res 36:449–456

Johnsen K, Jacobsen CS, Torsvik V (2001) Pesticide effects on bacterial diversity in agricultural soils: a review. Biol Fert Soils 33:443–453.

Kalam A, Tah J, Mukherjee AK (2004) Pesticide effects on microbial population and soil enzyme activities during vermin composting of agricultural waste. J Environ Biol 25:201–208

Kaur P, Kaur P, Bhullar MS (2015) Persistence behaviour of pretilachlor in puddled paddy fields under subtropical humid climate. Environ Monit Assess. doi:10.1007/s10661-015-4756-3

Marcote I, Hernandez T, Garcia C, Polo A (2001) Influence of one or two successive annual applications of organic fertilizers on the enzyme activity of a soil under barley cultivation. Bioresour Technol 79:147–154

Min H, Ye Y, Chen Z, Wu W, Yufeng D (2001) Effects of butachlor on microbial populations and enzyme activities in paddy soil. J Environ Sci Health Part B 36:581–595

Monkiedje A, Spiteller M, Maniepi SJN, Sukul P (2007) Influence of metalaxyl and mefenoxam-based fungicides on chemical and biochemical attributes of soil quality under field conditions in a southern humid forest zone of Cameroon. Soil Biol Biochem 34:1939–1948

Nannipieri P, Ascher J, Ceccherini MT, Landi L, Pietramellara G, Renella G (2003) Microbial diversity and soil functions. European J Soil Sci 54:655–670

Perucci P, Dumontet S, Bufo SA, Mazzatura A and Casucci C (2000) Effects of organic amendment and herbicide treatment on soil microbial biomass. Biol Fert Soil 32:17–23

Ramudu AC, JafferMohiddin G, Srinivasulu M, Madakka M and Rangaswamy V (2011) Impact of fungicides chlorothalonil and propiconazole on microbial activities in groundnut (Arachis hypogaea L.) soils. ISRN Microbiol. doi:10.5402/2011/623404

Rashid MH, Alam MM, Rao AN, Ladha JK (2012) Comparative efficacy of pretilachlor and hand weeding in managing weeds and improving the productivity and net income of wet-seeded rice in Bangladesh. Field Crops Res 128:17–26

Saha S, Dutta D, Karmakar, Ray DP (2012) Structure–toxicity relationship of chloroacetanilide herbicides: relative impact on soil microorganisms. Environ Toxic Pharmaco 34:307–314

Sahid IB, Wei CC (1993) Degradation of two acetanilide herbicides in a tropical soil. Bull Environ Contam Toxicol 50:24

Sahoo S, Adak T, Bagchi TB, Kumar U, Munda S, Saha S, Berliner J, Jena M, Mishra BB (2016) Non-target effects of pretilachlor on microbial properties in tropical rice soil. Environ Sci Pollut Res 23:7595–7602. doi:10.1007/s11356-015-6026-x

Sarathchandra SU, Perrott KW, Upsdell MP (1984) Microbiological and biochemical characteristics of a range of New Zealand soils under established pasture. Soil Biol Biochem 16:177–183

Schnurer J, Rosswall T (1982) Fluorescein diacetate hydrolysis as a measure of total microbial activity in soil and litter. Appl Environ Microbiol 43(6):1256–1261

Singh J, Singh DK (2005) Dehydrogenase and phosphomonoesterase activities in groundnut (Arachis hypogea L.) field after diazinon imidacloprid and lindane treatments. Chemosphere 60:32–42

Tabatabai MA (1994) Soil enzymes. In: Weaver RM, Angle S, Bottomley P, Bezdicek D, Smith S, Tabatabai A, Wollum A (eds) Method of soil analysis. Part 2. Microbiological and biochemical properties'. Soil Science Society of America, Wisconsin

Tu CM (1993) Influence of ten herbicides on activities of microorganisms and enzymes in soil. Bull Environ Contam Toxicol 51:30–39

Wlodarczyk T, Stepniewski W, Brzezinska M (2002) Dehydrogenase activity, redox potential, and emissions of carbon dioxide and nitrous oxide from Cambisols under flooding conditions. Biol Fert Soils 36:200–206

Zantua MI, Bremner JM (1977) Stability of urease in soils. Soil Biol Biochem 9:135–140
Acknowledgments
Authors sincerely thank Director, ICAR-NRRI for constant support in formulating the project, funding as well as providing all the facilities required.
About this article
Cite this article
Sahoo, S., Adak, T., Bagchi, T.B. et al. Effect of Pretilachlor on Soil Enzyme Activities in Tropical Rice Soil. Bull Environ Contam Toxicol 98, 439–445 (2017). https://doi.org/10.1007/s00128-016-1943-z
Received:

Accepted:

Published:

Issue Date:
Keywords
Dehydrogenase

Dissipation

Fluorescein diacetate hydrolase

β-Glucosidase

Phosphatase

Urease