Abstract
The periodic trend to cetacean mass stranding events in the Australian island state of Tasmania remains unexplained. This article introduces the hypothesis that domoic acid poisoning may be a causative agent in these events. The hypothesis arises from the previously evidenced role of aeolian dust as a vector of iron input to the Southern Ocean; the role of iron enrichment in Pseudo-nitzschia bloom proliferation and domoic acid production; and importantly, the characteristic toxicosis of domoic acid poisoning in mammalian subjects leading to spatial navigation deficits. As a pre-requisite for quantitative evaluation, the plausibility of this hypothesis was considered through correlation analyses between historical monthly stranding event numbers, mean monthly chlorophyll concentration and average monthly atmospheric dust loading. Correlation of these variables, which under the domoic acid stranding scenario would be linked, revealed strong agreement (r = 0.80–0.87). We therefore advocate implementation of strategic quantitative investigation of the role of domoic acid in Tasmanian cetacean mass stranding events.
Access options
Buy single article
Instant access to the full article PDF.
USD 39.95
Price excludes VAT (USA)
Tax calculation will be finalised during checkout.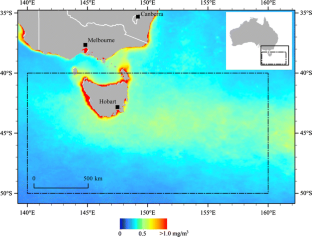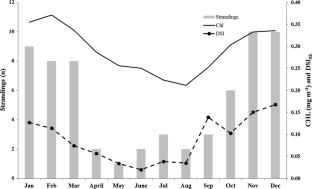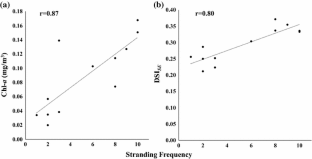 References
Brabyn M, McLean I (1992) Oceanography and coastal topography of herd-stranding sites for whales in New Zealand. J Mamm 73:469–476

Burgess N, Maguire E, O'Keefe J (2002) The human hippocampus and spatial and episodic memory. Neuron 35:625–641

Cook P, Reichmuth C, Rouse A, Libby L, Dennison S, Carmichael O, Kruse-Elliott K, Bloom J, Van Bonn W, Gulland F, Ranganath C (2015) Algal toxin impairs sea lion memory and hippocampal connectivity, with implications for strandings. Science 350:1545–1546

Cropp RA, Gabric A, Levasseur M, McTainsh G, Bowie A, Hassler C, Law C, McGowan H, Tindale N, Viscarra Rosse R (2013) The likelihood of observing dust-stimulated phytoplankton growth in waters proximal to the Australian continent. J Mar Syst 117–118:43–52

Edebo L, Edebo A, Haamer J, Lange S (1998) Toxicity and metabolism of phycotoxins. In: Miraglia M, van Egmond H, Brera C, Gilbert J (eds) Mycotoxins and phycotoxins – developments in chemistry, toxicology and food safety. Alaken Inc, Fort Collins, pp 529–545

Eichenbaum H, Dudchenko P, Wood E, Shapiro M, Tanila H (1999) The hippocampus, memory and place cells: is it spatial memeory or a memory space? Neuron 23:209–226

Evans K, Morrice M, Hindell M (2002) Three mass strandings of sperm whales (Physester macrocephalus) in southern Australian waters. Mar Mamm Sci 18(3):622–643

Evans K, Thresher R, Warneke RM, Bradshaw CJA, Pook M, Thiele D, Hindell M (2005) Periodic variability in cetacean strandings: links to large scale climate events. Biol Lett 1:147–150

Fernandez A, Edwards JF, Rodriguez F, De Los Monteros E, Herraez P, Castro P, Jaber J, Martin V, Arbelo M (2005) "Gas and fat embolic syndrome" involving mass stranding of beaked whales (Family Ziphiidae) exposed to anthropogenic sonar signals. Vet Pathol 42:446–457

Fuquay J, Muha N, Wang Z, Ramsdell J (2012) Toxicokinetics of domoic acid in the fetal rat. Toxicology 294:36–41

Gabric AJ, Cropp R, Ayers GP, McTainsh G, Braddock R (2002) Coupling between cycles of phytoplankton biomass and aerosol optical depth as derived from SeaWiFS time series in the Subantarctic Southern Ocean. Geophys Res Lett 29:7. doi:10.1029/2001gl013545

Gales R, Alderman R, Thalmann S, Carlyon K (2012) Satellite tracking of long-finned pilot whales (Globicephala melas) following stranding and release in Tasmania, Australia. Wildl Res 39:520–531

Gervais F, Riebesell U (2002) Changes in primary productivity and chlorophyll a in response to iron fertilization in the Southern Polar Frontal Zone. Limnol Oceanogr 47:1324–1335

Havens K, Paerl H (2015) Climate change at a crossroads for control of harmful algal blooms. Environ Sci Technol 49:12605–12606

Jickells TD et al (2005) Global iron connections between desert dust, ocean biogeochemistry, and climate. Science 308:67–71

Kim JH, Park BS, Kim JH, Wang P, Han MS (2015) Intraspecific diversity and distribution of the cosmopolitan species Pseudo-nitzschia pungens (Bacillariophyceae): morphology, genetics, and ecophysiology of the three clades. J Phycol 51(1):159–172

Kolb B, Wishaw IQ (1996) Fundamentals of human neuro-psychology. W H Freeman and Company, New York

Kopczynska E, Savoye N, Dehairs F, Cardinal D, Elskens M (2007) Spring phytoplankton assemblages in the Southern Ocean between Australia and Antarctica. Polar Biol 31:77–88

Lefebvre K, Bargu S, Kieckhefer T, Silver M (2002) From sanddabs to blue whales: the pervasiveness of domoic acid. Toxicon 40:971–977

Lefebvre K, Robertson A, Frame ER, Colegrave KM, Nance S, Baugh KA, Wiedenhoft H, Gulland F (2010) Clinical signs and histopathology associated with domoic acid poisening in northern fur seals (Callorhinus ursinus) and comparison of toxin detection methods. Harmful Algae 9:374–383

Mazzariol S et al (2011) Sometimes sperm whales (Physester macrocephalus) cannot find their way back to high seas: a multidiscipliniary study on mass stranding. PLoS One 6:1–17

McTainsh GH, Lynch AW, Tews EK (1998) Climatic controls upon dust storm occurrences in eastern Australia. J Arid Environ 39:457–466

Montie E, Wheeler E, Pussini N, Battey T, Van Bonn W, Gulland F (2012) Magnetic resonance imaging reveals that brain atrophy is more severe in older Californian sea lions with domoic acid toxicosis. Harmful Algae 20:19–29

O'Loingsigh T, McTainsh GH, Tews EK, Strong CL, Leys JF, Shinkfield P, Tapper NJ (2014) The Dust Storm Index (DSI): a method for monitoring broadscale wind erosion using meteorological records. Aeolian Res 12:29–40

Perl TM, Bedard L, Kosatsky T, Hockin JC, Todd ECD, Remis RS (1990) An outbreak of toxic encephalopathy caused by eating mussels contaminated with domoic acid. N Engl J Med 322:1775–1780

Pulido O (2008) Domoic acid toxicology pathology: a review. Mar Drugs 6:180–219

Scholin C et al (2000) Mortality of sea lions along the central California coast linked to a toxic diatom bloom. Nature 403:80–84

Sedwick PN, DiTullio GR, Hutchins DA, Boyd PW, Griffiths FB, Crossley AC, Trull T, Queguiner B (1999) Limitation of algal growth by iron deficiency in the Australian Subantarctic Region. Geophys Res Lett 26:2865–2868. doi:10.1029/1998gl002284

Torres de la Riva G, Johnson CK, Gulland F, Langlois GW, Heyning JE, Rowles TK, Mazet JAK (2009) Association of an unusual marine mammal mortality event with Pseudonitzschia spp. blooms along the southern California coastline. J Wildl Dis 45:109–121

Trick C, Bill B, Cochlan W, Wells M, Trainer V, Pickell L (2010) Iron enrichment stimulates toxic diatom production in high-nitrate, low-chlorophyll areas. PNAS 107:5887–5892

Wilson C et al (2015) Southern right whale (Eubalaena australis) calf mortality at Península Valdés, Argentina: are harmful algal blooms to blame? Mar Mamm Sci 32(2):423–451
Acknowledgments
The authors acknowledge the Princess Melikoff Trust Marine Mammal Conservation Program of the Tasmanian Department of Primary Industries, Parks, Water and Environment (DPIPWE) for sharing of stranding record data for the production of this manuscript. Authors also acknowledge Frances Gulland for various discussions relating to DA poisoning in marine mammals and Robert Warneke and Rosemary Gales for early guidance on stranding events in the region.
About this article
Cite this article
Bengtson Nash, S.M., Baddock, M.C., Takahashi, E. et al. Domoic Acid Poisoning as a Possible Cause of Seasonal Cetacean Mass Stranding Events in Tasmania, Australia. Bull Environ Contam Toxicol 98, 8–13 (2017). https://doi.org/10.1007/s00128-016-1906-4
Received:

Accepted:

Published:

Issue Date:

DOI: https://doi.org/10.1007/s00128-016-1906-4
Keywords