Abstract
We aimed to evaluate the elemental (W, Mo, Zn, Fe, Cu, Co, Bi, Mn, Cd, Cr, As) composition of some plant species spread around the abandoned tungsten mining area of Uludağ Mountain. The plant species tested were Anthemis cretica and Trisetum flavescens which are grown in this area and they are pioneer species on these contaminated sites. W levels in soils were found up to 1378.6 ± 672.3 mg/kg dry weight in contaminated areas. The leaf W contents of the selected plant species were found 41.1 ± 24.4 and 31.1 ± 15.5 mg/kg dry weight for A. cretica and T. flavescens, respectively. Our results indicate that the elemental composition of species changed by the increased tungsten and some element concentrations in soil without detrimental effect. So, these species can be useful tungsten removal and some elements from contaminated sites.
Access options
Buy single article
Instant access to the full article PDF.
USD 39.95
Price includes VAT (USA)
Tax calculation will be finalised during checkout.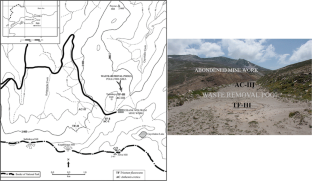 References
Adamakis IDS, Panteris E, Eleftheriou EP (2012) Tungsten toxicity in plants. Plants 1:82–99

Brown G (1995) The effects of lead and zinc on the distribution of plants-species at former mining areas of Western-Europe. Flora 190:243–249

Clausen JL, Korte N (2009) Environmental fate of tungsten from military use. Sci Total Environ 407:2887–2893

Ellenberg H (1988) Vegetation ecology of Central Europe, 4th edn. Cambridge University Press, Cambridge

Ernst WHO (1990) Mine vegetation in Europe. In: Shaw AJ (ed) Heavy metal tolerance in plants: evolutionary aspects. CRC Press, Boca Raton, pp 22–36

Ernst WHO (1996) Bioavailibility of heavy metals and decontamination of soils by plants. Appl Geochem 11:163–167

Greger M (1999) Metal availibility and bioconcentration in plants. In: Prasad MNV, Hagemeyer J (eds) Heavy metal stress in plants: from molecules to ecosystems. Springer, Berlin, pp 155–176

Guleryuz G, Arslan H, Kırmızı S, Gucer S (2002) Investigation of influence of tungsten mine wastes on the elementalcomposition of some alpine and subalpine plants on Mount Uludağ, Bursa, Turkey. Environ Pollution 120:707–716

Gurmen S, Timur S, Arslan C, Dunman I (1999) Acidic leachingof scheelite concentrate and production of hetero-poly-tugstate salt. Hydrometallurgy 51:227–238

Kabata-Pendias A, Mukherjee AB (2007) Trace elements from soil to human. Springer, Berlin

Kobiashvili VI (1964) Biogeochemical significance of dispersed tungsten. Sobsch Akad Naukgruz SSR 33:36–83 (in Russian)

Koutsospyros A, Braida W, Christodoulatos C, Dermatas D, Strigul N (2006) A review of tungsten: from environmental obscurity to scrutiny. J Hazard Mater 136:1–19

Lepp NW (1981) Effect of heavy metal pollution on plants. Metals in the environment, vol 2. Applied Science Publishers, London

Lin C, Li R, Cheng H, Wang J, Shao X (2014) Tungsten distribution in soil and rice in the vicinity of the world's largest and longest-operating tungsten. mine in China. Plos One 9(3) Article number e9 1981

Marcshner H (1995) Mineral nutrition of higher plants, 2nd edn. Academic Press, London

Markert B (1994) Plants as biomonitors potential advantages and problems. In: Adriano DC, Chen ZS, Yang SS (eds) Biogeochemistry of trace elements. Science and Technology Letters, Northwood, NY, pp. 601–613

Pratas J, Prasad MNV, Freitas H, Conde L (2005) Plants growing in abandoned mines of Portugal are useful for biogeochemical exploration of arsenic, antimony, tungsten and mine reclamation. J Geochem Expl 85:99–107

Rodushkina I, Ödmana F, Holmströmb H (1999) Multi-element analysis of wild berries from northern Sweden by ICP techniques. Sci Total Environ 231:53–65

Steinberg KK, Relling MV, Gallagher ML, Greene CN, Rubin CS, French D, Holmes AK, Carroll WL, Koontz DA, Sampson EJ, Satten GA (2007) Genetic studies of a cluster of acute lymphoblastic leukaemia cases in Churchill County, Nevada. Environ Health Persp 115:158–164

Strigul N, Koutsospyros A, Arienti P, Christodoulatos C, Dermatas D, Braida W (2005) Effects of tungsten on environmental systems. Chemosphere 61:248–258

Wilson B, Pyatt FB (2006) Bio-availability of tungsten in the vicinity of an abandoned mine in the English Lake District and some potential health implications. Sci Total Environ 370:401–408

Wilson B, Pyatt FB (2009) Bioavailability of tungsten and associated metals in calcareous soils in the vicinity of an ancient metalliferous mine in the Corbières Area, Southwestern France. J Toxicol Env Health A 72:807–816

Yucel O, Ozcelebi MA (2000) Reduction smelting of Bursa-Uludağ, tungsten concentrates by the aluminothermic process. Scand J Metall 29:108–113
Acknowledgments
This work was presented at the 14th International Conference on Environmental Science and Technology (CEST 2015) and was supported by the Commission of Scientific Research Projects of Uludag University [Project No. KUAP(F)-2015/64]. This project was studied under permission of General Directorate of Nature Protection and Natural Parks of Republic of Turkey Ministry of Forestry and Water Affairs. The authors thank Ayca Cicek (M.S.c) and Gozde Dede (B.S.c) from the biology department for their help with sample preparation.
Ethics declarations
Conflict of interest
The authors declare that they have no conflicts of interest. This article does not contain any studies with human participants or animals performed by any of the authors.
About this article
Cite this article
Erdemir, Ü.S., Arslan, H., Güleryüz, G. et al. Elemental Composition of Plant Species from an Abandoned Tungsten Mining Area: Are They Useful for Biogeochemical Exploration and/or Phytoremediation Purposes?. Bull Environ Contam Toxicol 98, 299–303 (2017). https://doi.org/10.1007/s00128-016-1899-z
Received:

Accepted:

Published:

Issue Date:
Keywords
Tungsten

Mining activity

Trace element

Phytoremediation