Abstract
Bioaugmentation-assisted phytoremediation implies the administration of selected plant growth promoting bacteria, which significantly improve plant growth and sequestration of heavy metals. In this work, 184 bacterial strains associated with roots of Pistacia lentiscus were isolated from plants spontaneously growing in the abandoned Sardinian mining areas (SW Sardinia, Italy) and phylogenetically characterised. Twenty-one bacterial isolates were assayed for properties relevant for plant growth promotion and metal tolerance. Five different strains, belonging to the genera Novosphingobium, Variovorax, Streptomyces, Amycolatopsis, Pseudomonas, were selected based on their properties for the greenhouse phytoremediation tests. Among the tested inocula, the strain Variovorax sp. RA128A, able to produce ACC deaminase and siderophore, was able to significantly enhance germination and increase length and weight of shoots and roots. Irrespective of the applied treatment, mastic shrub was able to accumulate Cd, Pb and Zn especially in roots.
Access options
Buy single article
Instant access to the full article PDF.
USD 39.95
Price includes VAT (USA)
Tax calculation will be finalised during checkout.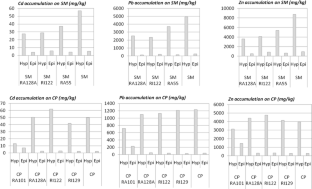 References
Arshad M, Saleem M, Hussain S (2007) Perspectives of bacterial ACC deaminase in phytoremediation. Trends Biotechnol 25:356–362

Bacchetta G, Cao A, Cappai G, Carucci A, Casti M, Fercia ML, Lonis R, Mola F (2012) A field experiment on the use of Pistacia lentiscus L. and Scrophularia canina L. subsp. bicolor (Sibth. et Sm.) Greuter for the phytoremediation of abandoned mining areas. Plant Biosyst 146:1–10

Bacchetta G, Cappai G, Carucci A, Tamburini E (2015) Use of native plants for the remediation of abandoned mine sites in mediterranean semiarid environments. Bull Environ Contam Toxicol 94:326–333

Boni M, Costabile S, De Vivo B, Gasparrini M (1999) Potential environmental hazard in the mining district of southern Iglesiente (SW Sardinia, Italy). J Geochem Explor 67:417–430

Concas S, Lattanzi P, Bacchetta G, Barbafieri M, Vacca A (2015) Zn, Pb and Hg contents of Pistacia lentiscus L. grown on heavy metal-rich soils: implications for phytostabilization. Water Air Soil Pollut 226:1–15

Dandurand LC, Knudsen GR (1997) Sampling microbes from the rhizosphere and phyllosphere. In: Hurst CJ, Knudsen GR, McInerney MJ, Stetzenbach LD, Walter MV (eds) Manual of environmental microbiology. American Society of Microbiology, Washington, pp 391–399

Dimkpa CO, Merten D, Svatoš A, Büchel G, Kothe E (2009) Metal-induced oxidative stress impacting plant growth in contaminated soil is alleviated by microbial siderophores. Soil Biol Biochem 41:154–162

D.Lgs. n 152, 03/04/2006 (2006) Norme in materia ambientale. Gazzetta Ufficiale della Repubblica Italiana S.O. n. 96 del 14/4/2006

Dominguez MT, Marañón T, Murillo JM, Schulin R, Robinson BH (2008) Trace element accumulation in woody plants of the Guadiamar Valley, SW Spain: a large-scale phytomanagement case study. Environ Pollut 152:50–59

Dworkin M, Foster JW (1958) Experiments with some microorganisms which utilize ethane and hydrogen. J Bacteriol 75:592–603

Fuentes D, Disante KB, Valdecantos A, Cortina J, Vallejo VR (2007) Sensitivity of Mediterranean woody seedlings to copper, nickel and zinc. Chemosphere 66:412–420

Gordon SA, Weber RP (1951) Colorimetric estimation of indoleacetic acid. Plant Physiol 26:192–195

Grandlic CJ, Mendez MO, Chorover J, Machado B, Mater RM (2008) Plant growth-promoting bacteria for phytostabilization of mine tailings. Environ Sci Technol 42:2079–2084

Izumi H (2011) Diversity of endophytic bacteria in forest trees. In: Pirttilä AM, Frank AC (eds) Endophytes of forest trees: biology and applications. Springer, Berlin, pp 95–105

Kabata-Pendias A, Pendias H (1992) Trace elements in soils and plants, 2nd edn. CRC Press, Florida

Kuffner M, Puschenreiter M, Wieshammer G, Gorfer M, Sessitsch A (2008) Rhizosphere bacteria affect growth and metal uptake of heavy metal accumulating willows. Plant Soil 304:35–44

Lopes SP, Azevedo NF, Pereira MO (2014) Emergent bacteria in cystic fibrosis: in vitro biofilm formation and resilience under variable oxygen conditions. Biomed Res Int. doi:10.1155/2014/678301

Ma Y, Prasad MNV, Rajkumar M, Freitas H (2011) Plant growth promoting rhizobacteria and endophytes accelerate phytoremediation of metalliferous soils. Biotechnol Adv 29:248–258

Manjanatha MG, Loynachan TE, Atherly AG (1992) Tn5 mutagenesis of chinese Rhizobium fredii for siderophore overproduction. Soil Biol Biochem 24:151–155

Mendez M, Maier R (2008) Phytoremediation of mine tailings in temperate and arid environments. Rev Environ Sci Biotechnol 7:47–59

Mergey M (1995) Heavy metal resistances in microbial ecosystems. In: Akkermans ADL, van Elsas JD, De Bruijn FJ (eds) Molecular microbial ecology manual. Kluwer Academic Publishers, Dordrecht, p 6.1.7-1-17

Nautiyal Shekar C (1999) An efficient microbiological growth medium for screening phosphate solubilizing microorganisms. FEMS Microbiol Lett 170:265–270

Park JH, Bolan N, Megharaj M, Naidu R (2011) Isolation of phosphate solubilizing bacteria and their potential for lead immobilization in soil. J Hazard Mater 185:829–836

Pulford ID, Watson C (2003) Phytoremediation of heavy metal-contaminated land by trees: a review. Environ Int 29:529–540

Tamburini E, Gordillo León A, Perito B, Di Candilo M, Mastromei G (2004) Exploitation of bacterial pectinolytic strains for improvement of hemp water retting. Euphytica 140:47–54

Wong MH (2003) Ecological restoration of mine degraded soils, with emphasis on metal contaminated soils. Chemosphere 50:775–780

Zhang X, Lin L, Zhu Z, Yang X, Wang Y, An Q (2013) Colonization and modulation of host growth and metal uptake by endophytic bacteria of Sedum alfredii. Int J Phytoremediat 15:51–64
Acknowledgments
This research has been funded by the Regional Sardinian Government, in the framework of "L.R. 7/2007, Promotion of scientific research and technological innovation in Sardinia".
About this article
Cite this article
Tamburini, E., Sergi, S., Serreli, L. et al. Bioaugmentation-Assisted Phytostabilisation of Abandoned Mine Sites in South West Sardinia. Bull Environ Contam Toxicol 98, 310–316 (2017). https://doi.org/10.1007/s00128-016-1866-8
Received:

Accepted:

Published:

Issue Date:
Keywords
Phytoremediation

Bioaugmentation

Heavy metal

Pistacia lentiscus

Plant growth promoting bacteria