Abstract
In efforts to reduce nonpoint source runoff and improve water quality, Best Management Practices (BMPs) were implemented in the Outlet Larkin Creek Watershed. Farmers need to make scientifically informed decisions concerning BMPs addressing contaminants from agricultural fields. The BMP Tool was developed from previous studies to estimate BMP effectiveness at reducing nonpoint source contaminants. The purpose of this study was to compare the measured percent reduction of dissolved phosphorus (DP) and total suspended solids to the reported percent reductions from the BMP Tool for validation. Similarities were measured between the BMP Tool and the measured water quality parameters. Construction of a sedimentation pond resulted in 74 %–76 % reduction in DP as compared to 80 % as predicted with the BMP Tool. However, further research is needed to validate the tool for additional water quality parameters. The BMP Tool is recommended for future BMP implementation as a useful predictor for farmers.
Access options
Buy single article
Instant access to the full article PDF.
USD 39.95
Price includes VAT (USA)
Tax calculation will be finalised during checkout.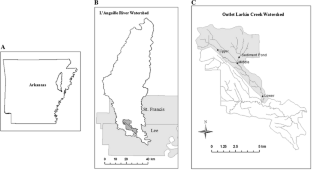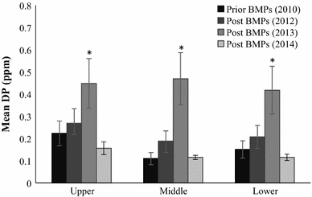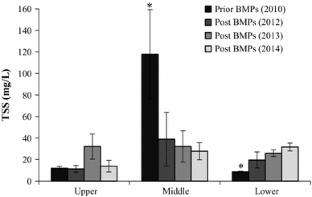 References
American Public Health Association (2005) Standard methods for the examination of water and wastewater, 21st edn. American Public Health Association, Washington

Arkansas Natural Resource Commission (2012) The Arkansas annual report: prepared pursuant to section 319(h) of the Federal Clean Water Act-Larkin Creek Sedimentation Prevention Demonstration Project. Arkansas Natural Resource Commission, Little Rock, AR, 47 pp

Brooks KN, Ffolliott PF, Magner JF (2013) Hydrology and the management of watersheds, 4th edn. Wiley-Blackwell, Ames

Center for Advanced Spatial Technologies (2006) Arkansas watershed information system a module of the Arkansas automated reporting and mapping system: outlet of larkin creek, University of Arkansas. http://watersheds.cast.uark.edu/viewhuc.php?hucid=080202050506. Accessed 26 Mar 2014

Clean Water Act of 1972, 33 U.S.C. § 1251 et seq. (2002) USEPA. U. S. Government Printing Office. Accessed 4 Apr 2014

Havlin JL, Tisdale SL, Nelson WL, Beaton JD (2014) Soil fertility and fertilizers an introduction to nutrient management, 8th edn. Pearson, Upper Saddle River

Meals DW, Dressing SA, Davenport TE (2010) Lag time in water quality response to best management practices: a review. J Environ Qual 39:85–96. doi:10.2134/jeq2009.0108

Merriman KR, Gitau MS, Chaubey I (2009) A tool for estimating best management practice effectiveness in Arkansas. Am Soc Agric Biol Eng 25(2):199–213. doi:10.13031/2013.26333

Natural Resources Conservation Service (2014) Web soil survey. United States Department of Agriculture, Washington D.C. http://websoilsurvey.nrcs.usda.gov/app/WebSoilSurvey.aspx. Accessed 14 Oct 2014

United States Department of Agriculture, Natural Resources Conservation Service (2011) Arkansas conservation practice catalog Natural Resource Conservation Service. Little Rock, AR

United States Geological Survey (2001) TMDL for turbidity and fecal coliforms for the L'Anguille River, AR. Prepared for United Stated Environmental Agency Region VI. FTN Associates Ltd. Little Rock, AR. Contract #68-C-99-249

Vogt SK (2015) Agricultural conservation practice effectiveness: impacts measured in the outlet larkin creek watershed in Northeastern Arkansas. Arkansas State University, Thesis

Zhang X, Zhang M (2011) Modelling effectiveness of agricultural BMPs to reduce sediment load and organophosphate pesticides in surface runoff. Sci Tot Environ 409:1949–1958. doi:10.1016/j.scitotenv.2011.02.012
Acknowledgments
This study was made possible with financial support from the partnership between the Arkansas Natural Resource Commission and the St. Francis County Conservation District. Other funding for this project was provided by University of Arkansas Division of Agriculture, A-State Ecotoxicology Research Facility, and the Arkansas Game and Fish Commission. Special thanks to Rebecca Cooper, Chuck Vaughan, Jennifer Cobb, and Joshua Cook for their assistance in sampling. A special thanks goes to Pat Perry for her enthusiasm and information given for this project.
About this article
Cite this article
Frasher, S.K., Woodruff, T.M. & Bouldin, J.L. Comparison of Measured to Predicted Estimations of Nonpoint Source Contaminants Using Conservation Practices in an Agriculturally-Dominated Watershed in Northeast Arkansas, USA. Bull Environ Contam Toxicol 96, 762–766 (2016). https://doi.org/10.1007/s00128-016-1823-6
Received:

Accepted:

Published:

Issue Date:
Keywords
Agricultural best management practices

Water quality

BMP Tool

Sediment loading