Abstract
Steady increases in agricultural irrigation raise concerns about environmental impacts. Rice producing regions face declining irrigation groundwater and have started reusing irrigation water as a substitute. The goal of this project was to determine if reused irrigation water is potentially toxic compared to conventional well irrigation water. Reused and well water samples, collected from three Arkansas rice farms at field inlets and outlets on three dates corresponding to fertilizer/chemical applications or crop management, were used in acute 48-h (Pimephales promelas) and chronic (Ceriodaphnia dubia) toxicity evaluations. Acute toxicity tests indicated no effects on P. promelas. Fecundity of C. dubia was significantly increased in the reused water inlet and in both the reused and well water rice field outlets compared to well water inlets and laboratory reference water. This study suggests that, compared to well water, reused rice irrigation water has reduced potential for significant negative environmental impact on biota in receiving waters.
Access options
Buy single article
Instant access to the full article PDF.
USD 39.95
Price includes VAT (USA)
Tax calculation will be finalised during checkout.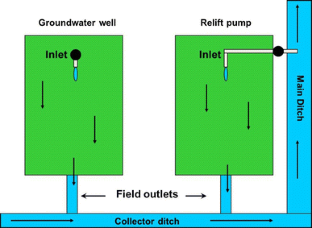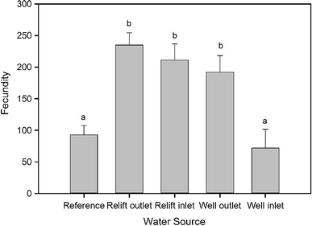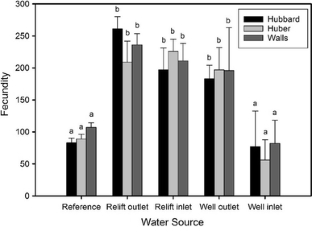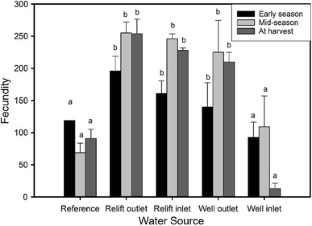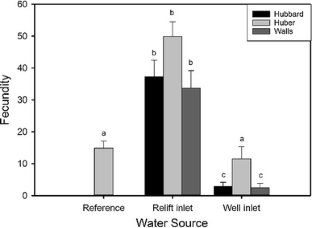 References
Hardke JT (ed) (2011) Arkansas rice production handbook, water management. Cooperative Extension Service University of Arkansas. MP192-2M-11-13RV

Manning E (1997) Biggest irrigation District East of Utah. Progressive farmer. March 1997. pp 61

Moore MT (1996) Comparison of Biological Responses in Laboratory, Microcosm, and Field Exposure from the Herbicide Stam M-4. Masters Thesis, Department of Biological Sciences, Arkansas State University, Abstract

Moore PA Jr, Baugh KK, Norman RJ, Wells BR, Helms RS (1992) Nutrient runoff from rice fields. Arkansas Rice Res Stud 1992:142–149

Parolari AJ, Katul GG, Porporato A (2015) The Doomsday equation and 50 years beyond:new perspectives on the human-water system. Wiley Interdiscip Rev Water 2(4):407–414

Smith GJ, Hall RJ (1994) Basic environmental toxicology. In: Cockerham LG, Shane BS (eds) Wildlife toxicology. CRC Press, Boca Raton

Sreekumar S, Balakrishnan M, Goulas K, Gunbas G, Gokhale AA, Louie L, Grippo A, Scown CD, Bell AT, Toste FD (2015) Upgrading lignocellulosic products to drop-in biofuels via dehydrogenative cross-coupling and hydrodeoxygenation sequence. ChemSusChem 8:2609–2614. doi:10.1002/cssc.201500754

Toze S (2004) Reuse of effluent water—benefits and risks. In: New directions for a diverse planet, proceedings of the 4th international crop science congress, 26 Sept–1 Oct 2004, Brisbane, Australia

US EPA (2012) Nonpoint source pollution: the nation's largest water quality problem (EPA841-F-96-004A). Retrieved from United State Environmental Protection Agency website: http://water.epa.gov/polwaste/nps/outreach/point1.cfm

USDA (2015) United States Department of Agriculture National Agricultural Statistics Service. Delta Regional Office: Arkansas County Estimates

USEPA (2002) Methods for measuring the acute toxicity of effluents and receiving waters to freshwater and marine organisms. 5th edn. United States Environmental Protection Agency. Environmental Monitoring and Support Laboratory. Cincinnati, OH 45268. EPA-821-R-02-012

USGS (2005) United States Geological Survey, Water Science School (water.usgs.gov/edu/wateruse-total.html)

Wilson CE Jr, Moore PA Jr, Norman RJ, Wells BR (1993) Nutrient content of runoff water from rice fields. Arkansas Water Resource Center University of Arkansas Publication No. 164
Acknowledgments
The authors thank H. Carter, C Milam, and the rest of the staff at the A-State Ecotoxicology Research Facility for their vital assistance. The cooperation of rice farmers C. Hubbard, B. Huber, and B. Walls is gratefully acknowledged. The Arkansas Water Resources Laboratory provided funding and analysis of water samples.
About this article
Cite this article
Grippo, R.S., McNeely, V.M. & Farris, J.L. Unexpected Increases in Fecundity of Ceriodaphnia dubia Exposed to Reused Rice Irrigation Water. Bull Environ Contam Toxicol 96, 720–724 (2016). https://doi.org/10.1007/s00128-016-1818-3
Received:

Accepted:

Published:

Issue Date:
Keywords
Rice

Reused irrigation water

Aquatic toxicity

Agriculture

Arkansas