Abstract
The Cache River Watershed (CRW) in Arkansas is part of one of the largest remaining bottomland hardwood forests in the US. Although wetlands are known to improve water quality, the Cache River is listed as impaired due to sedimentation and turbidity. This study measured turbidity and total suspended solids (TSS) in seven sites of the lower CRW; six sites were located on the Bayou DeView tributary of the Cache River. Turbidity and TSS levels ranged from 1.21 to 896 NTU, and 0.17 to 386.33 mg/L respectively and had an increasing trend over the 3-year study. However, a decreasing trend from upstream to downstream in the Bayou DeView tributary was noted. Sediment loading calculated from high precipitation events and mean TSS values indicate that contributions from the Cache River main channel was approximately 6.6 times greater than contributions from Bayou DeView. Land use surrounding this river channel affects water quality as wetlands provide a filter for sediments in the Bayou DeView channel.
Access options
Buy single article
Instant access to the full article PDF.
USD 39.95
Price includes VAT (USA)
Tax calculation will be finalised during checkout.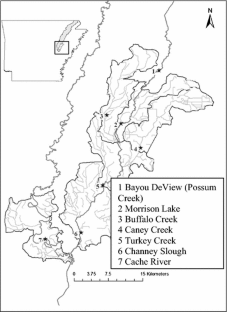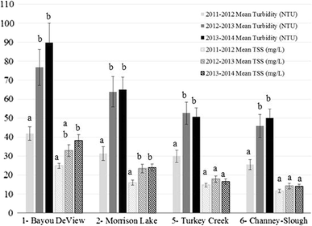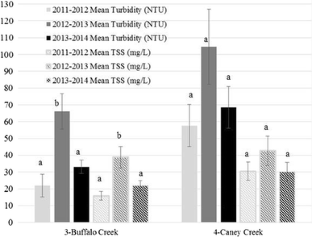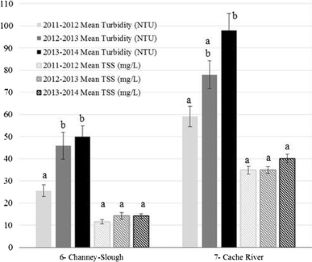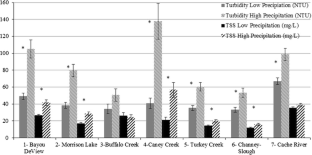 References
ADEQ (2012) Arkansas Department of Environmental Quality. 2012 Integrated water quality monitoring and assessment report. Prepared pursuant to sections 305(b) and 303(d) of the Federal Water Pollution Control Act. http://www.adeq.state.ar.us/water

Ahearn DS, Sheibley RW, Dahlgren RA, Anderson M, Johnson J, Tate KW (2005) Land use and land cover influence on water quality in the last free-flowing river draining theWestern Sierra Nevada, California. J Hydrol 313:234–247. doi:10.1016/j.jhydrol.2005.02.038

Alabaster JS, Lloyd R (eds) (1982) Water quality criteria for freshwater fish, 2nd edn. Butterworths, London, p 361

American Public Health Association (APHA) (2005) Standard methods for the examination of water and wastewater. 21st edn. American Public Health Association, American Public Works Association, Water Environment Federation, Washington

Arkansas Watershed Information System (2015) http://watersheds.cast.uark.edu/viewhuc.php?hucid=08020302. Accessed Aug 2015

ASTM (2003) D1889-00 Standard test method for turbidity of water, in ASTM International, Annual Book of ASTM Standards, Water and Environmental Technology. Version 11.01 West Conshohocken, Pennsylvania, p 6

Bateni F, Fakheran S, Soffianian A (2013) Assessment of land cover changes & water quality changes in the Zayandehroud River Basin between 1997–2008. Environ Monit Assess 185:10511–10519. doi:10.1007/s10661-013-3348-3

Beschta RL, Jackson WL (1979) The intrusion of fine sediments into a stable gravel bed. J Fish Res Board Can 36:204–210

Bouldin JL, Farris JL, Moore MT, Cooper CM (2004) Vegetative and structural characteristics of agricultural drainages in the Mississippi Delta landscape. Environ Poll 132:403–411

Broussard W, Turner RE (2009) A century of changing land use and water quality relationships in the continental US. Front Ecol Environ 7(6):302–307. doi:10.1890/080085

Foley JA, DeFries R, Asner GP, Barford C, Bonan G, Carpenter SR, Stuart Chapin F, Coe MT, Daily GC, Gibbs HK, Helkowski JH, Holloway T, Howard EA, Kucharik CJ, Monfreda C, Patz JA, Colin Prentice I, Ramankutty N, Snyder PK (2005) Global consequences of land use. Science 309:570–574. doi:10.1126/science.1111772

Henley WF, Patterson MA, Neves RJ, Dennis Lemly A (2000) Effects of sedimentation and turbidity on lotic food webs: a concise review for natural resource managers. Rev Fish Sci 8(2):125–139

Hill BH, Bolgrien DW (2011) Nitrogen removal by streams and rivers of the Upper Mississippi River basin. Biogeochemistry 102(1):183–194. doi:10.1007/s10533-010-9431-8

Johnston CA, Detenbeck NE, Niemi GJ (1990) The cumulative effect of wetlands on stream water quality and quantity: a landscape approach. Biogeochemistry 10(2):105–141

Jones KB, Neale AC, Nash MS, Van Remortel RD, Wickham JD, Riiters KH, O'Neill RV (2001) Predicting nutrient and sediment loadings to streams from landscape metrics: a multiple watershed study from the United States Mid-Atlantic Region. Landscape Ecol 16(4):301–312

Kleiss BA (1996) Sediment retention in a bottomland hardwood wetland in eastern Arkansas. Wetlands 16(3):321–333

Lenat DR, Penrose DL, Eagleson KW (1981) Variable effects of sediment addition on stream benthos. Hydrobiologia 79:187–194

NOAA (2014) http://www.ncdc.noaa.gov/cdo-web/results. Accessed 22 Jan 2015

Roggio RG, Steele KF, Vendrell PF, Nelson MA (1998) Effects of agricultural practices on nutrient concentrations and loads in two small watersheds, Northwestern Arkansas. J Ark Acad Sci 52:85–91

Ryan PA (1991) Environmental effects of sediment on New Zealand streams: a review. New Zeal J Mar Freshwat Res 25:207–221

The Nature Conservancy (TNC) (2015) http://www.nature.org/index.htm. Accessed 28 Sept 2015

Turner RE, Rabalais NN (2003) Linking landscape and water quality in the Mississippi River basin for 200 years. Bioscience 53(6):563–572

USFWS (2015) http://www.fws.gov/wetlands/Data/Data-Download.html Accessed 25 Sept 2015

USGS (2015a) http://waterdata.usgs.gov/ar/nwis/measurements/?site_no=07077700&agency_cd = USGS Accessed 11 Feb 2015

USGS (2015b) http://waterdata.usgs.gov/ar/nwis/measurements/?site_no=07077500&agency_cd=USGS Accessed 11 Feb 2015
Acknowledgments
Funding was provided by Lower Cache River 319 Grant through AR Natural Resource Commission, the Arkansas Game and Fish Commission. Many thanks to the staff and students at the Ecotoxicology Research Facility at Arkansas State University for assistance with this project, especially Katie Kilmer for her help with mapping.
About this article
Cite this article
Rosado-Berrios, C.A., Bouldin, J.L. Turbidity and Total Suspended Solids on the Lower Cache River Watershed, AR. Bull Environ Contam Toxicol 96, 738–743 (2016). https://doi.org/10.1007/s00128-016-1793-8
Received:

Accepted:

Published:

Issue Date:
Keywords
Total suspended solids

Turbidity

Cache River, Arkansas

Bottomland hardwood forests

Sediment loading

Water quality impairment