Abstract
The potential use of acanthocephalans as bioindicators of Lead (Pb) pollution in Sampaloc Lake, Laguna, Philippines was investigated. Nile tilapias (Oreochromis niloticus) were collected and Pb concentrations were determined in fish tissues and in their acanthocephalan parasites, Acanthogyrus sp. Significantly higher levels of Pb were detected in the parasites relative to the fish host tissues (p = 0.001). Bioaccumulation capacity of the parasites against fish tissues were 102, 119, and 147 times higher than the fish intestine, liver, and muscles, respectively. Pb sensitivity of the parasites was quantified by exact logistic analysis showing higher odds of Pb detection ranging from 18 to 45 folds (p = 0.001–0.009). Interestingly, infected fish showed significantly lower Pb concentration in their tissues compared to uninfected fish (p = 0.001), suggesting parasites were able to sequester Pb and served as active biosinks. The Pb levels in the parasites were also hundred folds higher (988 times) relative to the ambient waters, indicating a potential role of fish parasites as metal biosinks in aquatic ecosystems.
Access options
Buy single article
Instant access to the full article PDF.
USD 39.95
Price includes VAT (USA)
Tax calculation will be finalised during checkout.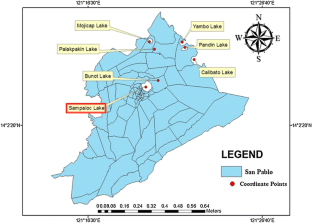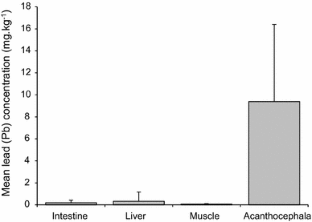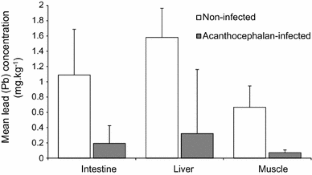 References
Anderson M, Gordon DM (1982) Processes influencing the distribution of parasite numbers within host populations with special emphasis on parasite-induced host mortalities. Parasitology 85:373–398. doi:10.1017/S0031182000055347

Anderson RM, May RM (1978) Regulation and stability of host-parasite population interactions I: regulatory processes. J Anim Ecol 47:219–247. doi:10.2307/3934

de la Cruz CPP, Bandal MZ Jr, Avila ARB, Paller VGV (2013) Distribution pattern of Acanthogyrus sp. (Acanthocephala: Quadrigyridae) in Nile tilapia (Oreochromis niloticus L.) from Sampaloc Lake, Philippines. J Nat Stud 12:11–17

Ebrahimi M, Taherianfard M (2010) Concentration of four heavy metals (cadmium, lead, mercury and arsenic) in organs of two cyprinid fish (Cyprinus carpio and Capoeta sp.) from the Kor River (Iran). Environ Monit Assess 168:575–585. doi:10.1007/s10661-009-1135-y

Ebrahimi M, Taherianfard M (2011) The effects of heavy metal exposure on reproductive systems of cyprinid fish from Kor River. Iran J Fish Sci 10:13–24

Galli P, Crosa G, Occhipinti-Ambrogi A (1998) Heavy metals concentrations in acanthocephalan parasites compared to their fish host. Chemosphere 37:2983–2988. doi:10.1016/S0045-6535(98)00340-3

Has-Schon E, Bogut I, Kralik G, Bogut S, Horvatic J, Cacic I (2007) Heavy metal concentration in fish tissues inhabiting waters of "Busko blato" reservoir (Bosnia and Berzegovina). Environ Monit Assess 54:75–83. doi:10.1007/s10661-007-9627-0

Jankovska I, Miholova D, Petrtyl M, Romocusky S, Kalous L, Vadleschj J, Cadkova Z, Langrova I (2011) Intestinal parasite Acanthocephalus lucii (Acanthocephala) from European Perch (Perca fluviatilis) as a bioindicator for lead pollution in the stream "Jevansky potok" near Prague, Czech Republic. Bull Environ Contam Toxicol 86:342–346. doi:10.1007/s00128-011-0210-6

Jezierska B, Witeska M (2006) The metal uptake and accumulation in fish living in polluted waters. Soil Water Pollut Monit Prot Remediat (Nato Sci Ser) 69:10–114. doi:10.1007/978-1-4020-4728-2_6

Khaled A (2004) Heavy metals concentrations in certain tissues of five commercially important fishes from El-Mex Bay, Alexandria, Egypt. Egypt J Aquat Biol Fish 8:51–64

Nachev M, Schertzinger G, Sures B (2013) Comparison of the metal accumulation capacity between the acanthocephalan Phomphorynchus laevis and larval nematodes of the genus Eustrongyloides sp. infecting barbel (Barbus barbus). Parasit Vectors 6:21. doi:10.1186/1756-3305-6-21

Ohtaka A, Saito T, Kakizaki T, Ogasawara S, Ohtomo C, Nagasawa K (2002) Seasonal and regional occurrence of Acanthocephalus sp. (Acanthocephala: Echinorhynchidae) in fishes and isopods (Asellushilgen dorfi) in lake system in northern Japan. Limnology 3:143–150

Olsson PE, Kling P, Hogstrand C (1998) Mechanisms of heavy metal accumulation and toxicity in fish. In: Langston WJ, Bebianno MJ (eds) Metal metabolism in aquatic environments. Chapman and Hall, London, pp 321–350

Paller VGV, Sy RAR, Bandal MZ Jr (2016) Hematology and histopathology of Nile tilapia (Oreochromis niloticus L.) infected with Acanthogyrus sp. (Acanthocephala: Auadrigyridae). Ecol Environ Conser 22:509–516

Platon RR (2001) SEAFDEC Contribution to the ecological awareness of Philippine lakes. In: CB Santiago, ML Cuvin-Aralar and ZU Basiao (Eds.) Conservation and Ecological Management of Philippine Lakes in Relation to Fisheries and Aquaculture, pp. 13–17. Southeast Asian Fisheries Development Center, Aquaculture Department, Iloilo, Philippines; Philippine Council for Aquatic and Marine Research and Development, Los Baños, Laguna, Philippines; and Bureau of Fisheries and Aquatic Resources, Quezon City, Philippines

Retief NR, Avenant-Oldewage A, du Preez HH (2009) Seasonal study on Bothriocephalus as indicator of metal pollution in yellowfish, South Africa. Water SA 35:315–322

Sanil N, Asokan P, John L, Vijayan K (2010) Pathological manifestations of the acanthocephallan parasite Tenuiproboscis sp. in the mangrove red snapper (Lutjanus argentimaculatus) (Forsskal, 1775), a candidate species for aquaculture from southern India. Aquaculture 310:1–8. doi:10.1016/j.aquaculture.2010.10.027

Santiago AE, Arcilla RP (1993) Tilapia cage culture and the dissolved oxygen trends in Sampaloc Lake, the Philippines. Environ Monit Assess 24:243–255. doi:10.1007/BF00545981

Sta. Ana JG, Rivera AC, Encarnacion BP, Cabrera RR, Alcantara FMB, Dalisay JS, Nicolas JU, de la Cruz AR, Pascual MS (2006) Water quality report on Sampaloc Lake (1996–2005). Laguna Lake Development Authority (LLDA). Laguna Lake Development Authority, Pasig City, pp 1–31

Sures B (2003) Accumulation of heavy metals by intestinal helminths in fish: an overview and Perspective. Parasitology 126:53–60. doi:10.1017/S003118200300372X

Sures B, Siddall R (1999) Pomphorhynchus laevis: The intestinal acanthocephalans as a lead sink for its fish host, chub (Leuciscus cephalus). Exp Parasitol 93:66–72. doi:10.1006/expr.1999.4437

Sures B, Taraschewski H, Rydlo M (1997) Intestinal fish parasites as heavy metal bioindicators: a comparison between Acanthocephalus lucii (Palaeacanthocephala) and the Zebra Mussel, Dreissena polymorpha. Bull Environ Contam Toxicol 59:14–21. doi:10.1007/s001289900437

Thielen F, Zimmermann S, Baska F, Taraschewski H, Sures B (2004) The intestinal parasite Phomphorynchus laevis (Acanthocephala) from barbel as a bioindicator for metal pollution in the Danube River near Budapest, Hungary. Environ Pollut 129:421–429

Velma V, Tchounwou PB (2010) Chromium-induced biochemical, genotoxic and histopathologic effects in liver and kidney of goldfish, carassius auratus. Mutat Res 698:43–51. doi:10.1016/j.mrgentox.2010.03.014

Vinodhini R, Narayanan M (2008) Bioaccumulation of heavy metals in organs of fresh water fish Cyprinus carpio (Common Carp). Int J Environ Sci Technol 5:179–182. doi:10.1007/BF03326011

Wang S, Shi X (2001) Molecular mechanisms of metal toxicity and carcinogenesis. Mol Cell Biochem 222:3–9
Acknowledgments
This research study was funded by the National Research Council of the Philippines (NRCP) under the implementation of the Parasitology Research Laboratory of the Animal Biology Division, Institute of Biological Sciences, University of the Philippines Los Baños.
About this article
Cite this article
Paller, V.G.V., Resurreccion, D.J.B., de la Cruz, C.P.P. et al. Acanthocephalan Parasites (Acanthogyrus sp.) of Nile Tilapia (Oreochromis niloticus) as Biosink of Lead (Pb) Contamination in a Philippine Freshwater Lake. Bull Environ Contam Toxicol 96, 810–815 (2016). https://doi.org/10.1007/s00128-016-1790-y
Received:

Accepted:

Published:

Issue Date:
Keywords
Acanthocephala

Acanthogyrus

Heavy metal

Lead

Philippines

Sampaloc Lake