Abstract
Drainage systems are integral parts of agricultural landscapes and have the ability to intercept nutrient loading from runoff to surface water. This study investigated nutrient removal efficiency within replicated experimental agricultural drainage ditches during a simulated summer runoff event. Study objectives were to examine the influence of routine mowing of vegetated ditches on nutrient mitigation and to assess spatial transformation of nutrients along ditch length. Both mowed and unmowed ditch treatments decreased NO3 −-N by 79 % and 94 % and PO4 3− by 95 % and 98 %, respectively, with no significant difference in reduction capacities between the two treatments. This suggests occasional ditch mowing as a management practice would not undermine nutrient mitigation capacity of vegetated drainage ditches.
Access options
Buy single article
Instant access to the full article PDF.
USD 39.95
Price includes VAT (USA)
Tax calculation will be finalised during checkout.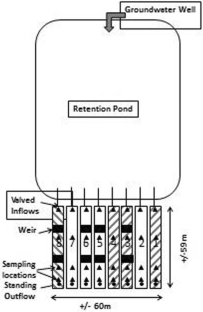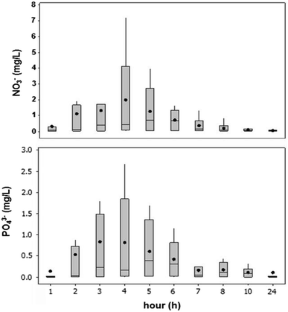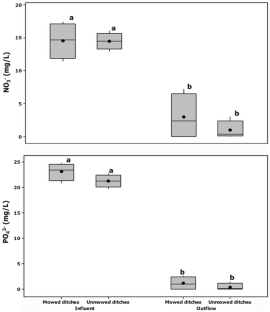 References
American Public Health Association (APHA) (1998) Standard methods for the examination of water and wastewater, 21st edn. American Public Health Association, Washington

Ayars JE, Christen EW, Hornbuckle JW (2006) Controlling drainage for improved water management in arid regions irrigated agriculture. Agric Water Manage 86:128–139

Brix H (1994) Functions of macrophytes in constructed wetlands. Water Sci Technol 29:71–78

Brix H, Schlerup H (1989) The use of aquatic macrophytes in water pollution control. Ambio 18(2):100–107

Cooper CM, Moore MT, Bennett ER, Smith SS Jr, Farris JL, Milam CD, Shields FD Jr (2004) Innovative uses of vegetated drainage ditches for reducing agricultural runoff. Water Sci Technol 49(3):117–123

Evans R, Skaggs RW, Gilliam JW (1995) Controlled versus conventional drainage effects on water quality. J Irrig Drain Eng 121(4):271–276

Fu D, Gong W, Xu Y, Singh RP, Surampalli RY, Zhang TC (2014) Nutrient mitigation capacity of agricultural drainage ditches in Tai lake basin. Ecol Eng 71:101–107

Kovacic DA, David MB, Gentry LE, Starks KM, Cooke RA (2000) Effectiveness of constructed wetlands in reducing nitrogen and phosphorous export from agricultural tile drainage. J Environ Qual 29:1262–1274

Kröger R, Holland MM, Moore MT, Cooper CM (2007) Hydrological variability and agricultural drainage ditch inorganic nitrogen reduction capacity. J Environ Qual 36:1646–1652

Kröger R, Holland MM, Moore MT, Cooper CM (2008a) Agricultural drainage ditches mitigate phosphorus loads as a function of hydrological variability. J Environ Qual 37:107–113

Kröger R, Cooper CM, Moore MT (2008b) A preliminary study of an alternative controlled drainage strategy in surface drainage ditches: low-grade weirs. Agric Water Manage 95:678–684

Kröger R, Holland MM, Moore MT, Cooper CM (2009a) Seasonal patterns of nitrogen and phosphorus losses in agricultural drainage ditches in northern Mississippi. In: Hudspeth CA, Reeve TE (eds) Agricultural runoff, coastal engineering and flooding. Nova Science, Hauppauge, pp 279–289

Kröger R, Moore MT, Locke MA, Cullum RF, Steinriede RW, Testa S, Bryant C, Cooper CM (2009b) Evaluating the influence of wetland vegetation on chemical residence time in Mississippi Delta drainage ditches. Agric Water Manage 96(7):1175–1179

Kröger R, Moore MT, Farris JL, Gopalan M (2011) Evidence for the use of low-grade weirs in drainage ditches to improve nutrient reduction from agriculture. Water Air Soil Pollut 221(1–4):223–234

Lalonde V, Madramootoo C, Trenholm L, Broughton RS (1996) Effect of controlled drainage on nitrate concentrations in subsurface drain discharge. Agric Water Manage 29:187–199

Lemke AM, Kirkham KG, Lindenbaum TT, Herbert ME, Tear TH, Perry WL, Herkert JR (2011) Evaluating agricultural best management practices in tile-drained subwatersheds of the Mackinaw River, Illinois. J Environ Qual 40:1215–1228

Littlejohn A (2012) Nutrient mitigation capacity of low -grade weirs in agricultural drainage ditches (Masters Thesis, Mississippi State University, 2012) (pp. 1–78). ProQuest LLC, Ann Arbor

Marttila H, Kløve B (2009) Retention of sediment and nutrient loads with peak runoff control. J Irrig Drain Eng 135(2):210–216

Minitab 16 Statistical Software (2010) Computer software. Minitab, Inc., State College. www.minitab.com

Moore MT, Rodgers JH, Cooper CM, Smith S Jr (2000) Constructed wetlands for mitigation of atrazine-associated agricultural runoff. Environ Pollut 110:393–399

Moore MT, Bennett ER, Cooper CM, Smith S Jr, Farris JL, Drouillard KG, Schulz R (2006) Influence of vegetation in mitigation of methyl parathion runoff. Environ Pollut 142:288–294

Moore MT, Kröger R, Locke MA, Cullum RF, Steinriede RW Jr, Testa S III, Lizotte RE Jr, Bryant CT, Cooper CM (2010) Nutrient mitigation capacity in Mississippi Delta, USA drainage ditches. Environ Pollut 158:175–184

Moore MT, Kröger R, Locke MA, Tyler HL, Cooper CM (2013) Seasonal and interspecific nutrient mitigation comparisons of three emergent aquatic macrophytes. Biorem J 17(3):148–158

Needelman BA, Kleinman PJ, Strock JS, Allen AL (2007) Improved management of agricultural drainage ditches for water quality protection: an overview. J Soil Water Conserv 62(4):171–177

US EPA (2012) Nonpoint source pollution: the nation's largest water quality problem (EPA841-F-96-004A). Retrieved from United State Environmental Protection Agency website: http://water.epa.gov/polwaste/nps/outreach/point1.cfm

Vymazal J (2011) Plants used in constructed wetlands with horizontal subsurface flow: a review. Hydrobiologia 674:133–156

Wesstrom I, Messing I, Linner H, Lindstrom J (2001) Controlled drainage—effects on drains outflow and water quality. Agric Water Manage 47:85–100
Acknowledgments
The authors will like to thank Traci Hudson, Ethan Leonard, Geoffrey Pyne and Levi Hass for laboratory and technical assistance. We also thank Mr. Mike Johnson, ASU Farm Facility Manager and Arkansas State University College of Agriculture and Technology for providing the research field site. This research was funded by the United States Department of Agriculture, ARS Cooperative Agreement 58-6408-9-351 and the Judd Hill Foundation.
About this article
Cite this article
Iseyemi, O.O., Farris, J.L., Moore, M.T. et al. Nutrient Mitigation Efficiency in Agricultural Drainage Ditches: An Influence of Landscape Management. Bull Environ Contam Toxicol 96, 750–756 (2016). https://doi.org/10.1007/s00128-016-1783-x
Received:

Accepted:

Published:

Issue Date:
Keywords
Ditches

Nutrients

Flow rates

Runoff