Abstract
Limited evidence exists on the latent effects of toxicant exposure on the seawater adaptability of anadromous salmon and steelhead. It is unclear whether such an effect exists for the widely used and relatively non-toxic herbicide endothall. Coho salmon, Oncorhynchus kisutch (coho), Chinook salmon, O. tshawytscha (Chinook), and anadromous rainbow trout, O. mykiss (steelhead) were subjected to a 10-day seawater challenge following freshwater treatments [0–12 mg acid equivalent (a.e)./L at 96 h]. Mean survival resulted in 82 % (n = 225), 84 % (n = 133), 90 % (n = 73) and 59 % (n = 147) survival for 0, 3–5, 6–8, and 9–12 mg a.e./L, respectively. Our results indicate a lower toxicity threshold compared with previously reported acute toxicity results, but higher compared with previous seawater challenge studies. We demonstrate the utility of the seawater challenge assay to accurately define toxic effects of pesticides on salmonids with complex life-histories.
Access options
Buy single article
Instant access to the full article PDF.
USD 39.95
Price includes VAT (USA)
Tax calculation will be finalised during checkout.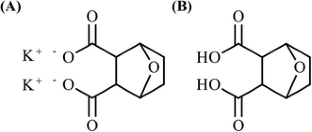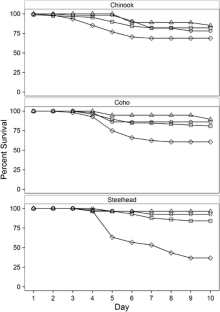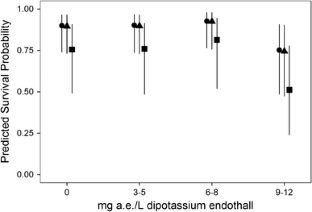 References
Bates D, Maechler M, Bolker B (2011) lme4: linear mixed-effects models using S4 classes, version 0.999375-40. R Foundation for Statistical Computing, Vienna

Berggren TJ, Filardo MJ (1993) An analysis of variables influencing the migration of juvenile salmonids in the Columbia River basin. N Am J Fish Manag 13(1):48–63

Bettencourt M (1993) Aquathol K (dipotassium salt of endothall)—acute toxicity to rainbow trout (Oncorhynchus mykiss) under flow-through conditions; Project Number: 92-3-4163: 12442.0591.6132.10; MRID 42695402. Final Technical Report. Springborn Labs, Inc

Bjornsson BT, Stefansson SO, McCormick SD (2011) Environmental endocrinology of salmon smoltification. Gen Comp Endocrinol 170(2):290–298

Bond EE, Lewis RH, Fryer JL (1960) Toxicity of various herbicides and herbicidal materials to fish. W-60-3 Final Technical Report. Robert A. Taft Sanitary Engineering Center, Cincinatti

Bouck GR, Johnson DA (1979) Medication inhibits tolerance to seawater in coho salmon smolts. Trans Am Fish Soc 108:63–66

Cairns J Jr, Heath AG, Parker BC (1975) Temperature influence on chemical toxicity to aquatic organisms. J Water Pollut Control Fed 47(2):267–280

Clarke WC, Blackburn J (1977) A seawater challenge test to measure smolting of juvenile salmon. Research and Development Directorate, Pacific Biological Station, B.C., Canada

Courter II, Child DB, Hobbs JA, Garrison TM, Glessner JJ, Duery S, Fraser D (2013) Resident rainbow trout produce anadromous offspring in a large interior watershed. Can J Fish Aquat Sci 70(5):701–710

Folmar LC, Sanders HO, Julin AM (1979) Toxicity of the herbicide glyphosphate and several of its formulations to fish and aquatic invertebrates. Arch Environ Contam Toxicol 8(3):269–278

Giorgi A, Hillman T, Stevenson J, Hays S, Peven C (1997) Factors that influence the downstream migration rates of juvenile salmon and steelhead through the hydroelectric system in the mid-Columbia River basin. N Am J Fish Manag 17(2):268–282

Gustafson RG, Waples RS, Myers JM, Weitkamp LA, Bryant GJ, Johnson OW, Hard JJ (2007) Pacific salmon extinctions: quantifying lost and remaining diversity. Conserv Biol 21(4):1009–1020

Johnson JW, Finley MT (1980) Handbook of acute toxicity of chemicals to fish and aquatic invertebrates. U.S. Department of the Interior, Fish and Wildlife Service, Washington

Liguori VM, Zakour HR, Landolt ML, Felton SP (1983) Toxicity of the herbicide endothall to juvenile chinook salmon (Oncorhynchus tshawytscha). In: Bishop WE, Cardwell RD, Heidolph BB (eds) Aquatic toxicology and hazard assessment: sixth symposium. Special technical publication 802. American Society for Testing and Materials, Philadelphia, pp 530–544

Mathews SB, Buckley R (1976) Marine mortality of Puget Sound coho salmon (Oncorhynchus kisutch). J Fish Res Board Can 33:1677–1684

Mayer FL, Ellersieck MR (1986) Manual of acute toxicity: interpretation and data base for 410 chemicals and 66 species of freshwater animals. U.S. Department of the Interior, U.S. Fish and Wildlife Service, Washington D.C.

McCormick SD, Saunders RL (1987) Preparatory physiological adaptations for marine life of salmonids: osmoregulation, growth, and metabolism. Proc Am Fish Soc Symp 1:211–244

Morgan JD, Iwama GK (1991) Effects of salinity on growth, metabolism, and ion regulation in juvenile rainbow and steelhead trout (Oncorhynchus mykiss) and fall Chinook Salmon (Oncorhynchus tshawytscha). Can J Fish Aquat Sci 48(11):2083–2094

NRC (2013) assessing risks to endangered and threatened species from pesticides. National Academy Press, Washington

Parker RR (1971) Size selective predation among juvenile salmonid fishes in a British Columbia inlet. J Fish Res Board Can 28:1503–1510

Quinn TP (2005) The behavior and ecology of Pacific salmon and trout. University of Washington Press, Seattle

RDC Team (2011) R: a language and environment for statistical computing. R Foundation for Statistical Computing, Vienna

Serdar DM, Johnson AF (1996) Seawater challenge of coho salmon smolts following exposure to the herbicide endothall. Prog Fish Cult 58:131–134

Walters CJ, Hilborn R, Peterman RM, Staley MJ (1978) Model for examining early ocean limitation of Pacific salmon production. J Fish Res Board Can 35:1303–1315

WDOE (2000) Herbicide risk assessment for the aquatic plant management final supplemental environmental impact statement; endothall, section 4. Final Report. Washington Department of Ecology, Olympia

Westerdahl HE, Getsinger KD (1988) Aquatic plant identification and herbicide use guide. Final report. U.S. Army Corps of Engineers, Vicksburg
Acknowledgments
The Washington Water Resources Association funded this research, and United Phosphorus, Inc. provided publication funding. We thank the Washington Department of Ecology and WDFW for contributions toward the experimental design. D. Child, S. Duery, D. Cramer, E. Buckner, T. Hanna, and M. Chaney assisted with fish delivery, husbandry, and daily data collection. Our technical reviewers included A. Kolosseus, P. Harvester, and R. Marshall.
About this article
Cite this article
Courter, L.A., Garrison, T.M. & Courter, I.I. Latent Toxicity of Endothall to Anadromous Salmonids During Seawater Challenge. Bull Environ Contam Toxicol 96, 573–579 (2016). https://doi.org/10.1007/s00128-016-1781-z
Received:

Accepted:

Published:

Issue Date:
Keywords
Salmonids

Herbicide

Endothall

Seawater challenge

Latent lethality