Abstract
The concentrations of six elements (Cd, Cr, Cu, Ni, Pb and Zn) were measured in moss (Haplocladium microphyllum) samples collected from 55 urban sites in the summer of 2013. The objectives were to evaluate variations in the heavy metal concentrations in mosses across Xuzhou, and to develop maps of metal pollution for this region. Despite great variations in the concentrations of the six heavy metals in the mosses, significant correlations among certain heavy metals were identified, suggesting that these pollutants likely originated from identical sources. With the exception of Cr, there was no significant correlation in metal concentration between the moss tissues and adhering soils. The highest concentration of Cr occurred in the west. However, the spatial distribution for the other metals generally showed higher concentrations in the northeast, likely due to greater contamination by industrial activities and higher traffic volume.
Access options
Buy single article
Instant access to the full article PDF.
USD 39.95
Price includes VAT (USA)
Tax calculation will be finalised during checkout.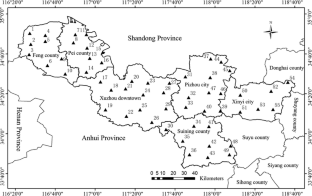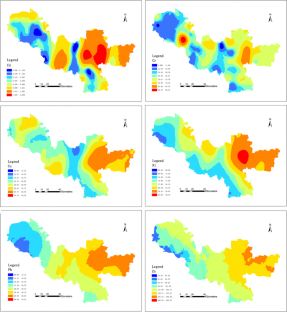 References
An L, Cao T, Yu YH (2006) Contents of heavy metals in moss Haplocladium plants and its relationship with the environments in Shanghai City. Chin J Appl Ecol 17:1490–1494

Bargagli R (1995) The elemental composition of vegetation and the possible incidence of soil contamination of samples. Sci Total Environ 176:121–128

Cameron AJ, Nickless G (1977) Use of mosses as collectors of airborne heavy metals near a smelting complex. Water Air Soil Pollut 7:117–125

Cao T, An L, Wang M et al (2008) Spatial and temporal changes of heavy metal concentrations in mosses and its indication to the environments in the past 40 years in the city of Shanghai, China. Atmos Environ 42:5390–5402

Carballeira A, Couto JA, Fernández JA (2002) Estimation of background levels of various elements in terrestrial mosses from Galicia (NW Spain). Water Air Soil Pollut 133:235–252

Coskun M, Cayir A, Coskun M et al (2011) Heavy metal deposition in moss samples from East and South Marmara Region, Turkey. Environ Monit Assess 174:219–227

Culicov OA, Yurukova L (2006) Comparison of element accumulation of different moss-and lichen-bags, exposed in the city of Sofia (Bulgaria). J Atmos Chem 55:1–12

Ermakova EV, Frontasyeva MV, Steinnes E (2004) Air pollution studies in Central Russia (Tula Region) using the moss biomonitoring technique, INAA and AAS. J Radioanal Nucl Chem 259:51–58

Fernández JA, Ederra A, Núñez E et al (2002) Biomonitoring of metal deposition in northern Spain by moss analysis. Sci Total Environ 300:115–127

Gerdol R, Bragazza L, Marchesini R et al (2000) Monitoring of heavy metal deposition in Northern Italy by moss analysis. Environ Pollut 108:201–208

Gramatica P, Battaini F, Giani E (2006) Analysis of mosses and soils for quantifying heavy metal concentrations in Sicily: a multivariate and spatial analytical approach. Environ Sci Pollut Res 13:28–36

Han YM, Du PX, Cao JJ et al (2006) Multivariate analysis of heavy metal contamination in urban dusts of Xi'an, Central China. Sci Total Environ 355:176–186

Huang CB, Guo SL, Li HB (2004) Determination and analysis of heavy metal elements in plant of bryophytes in Jinhua Suburb, Zhejiang Province. J Shanghai Jiaotong Univ 22:231–236

Lee CSL, Li X, Zhang G, et al (2005) Biomonitoring of trace metals in the atmosphere using moss (Hypnum plumaeforme) in the Nanling Mountains and the Pearl River Delta, Southern China. Atmos Environ 39:397–407

Manning WJ, Feder WA (1980) Biomonitoring air pollutants with plants. Applied Science Publishers LTD, London

Matejflorek B, Oszlányi J, Frontasyeva MV et al (2007) The Slovak heavy metals survey by means the bryophyte technique. Ekol Bratisl 26:99–114

Økland T, Økland RH, Steinnes E (1999) Element concentrations in the boreal forest moss Hylocomium splendens: variation related to gradients in vegetation and local environmental factors. Plant Soil 209:71–83

Poikolainen J, Kubin E, Piispanen J et al (2004) Atmospheric heavy metal deposition in Finland during 1985–2000 using mosses as bioindicators. Sci Total Environ 318:171–185

Ruhling A, Tyler G (1968) An ecological approach to lead problem. Bot Not 122:248–342

Rühling Å, Steinnes E, Larsen MM (1998) Atmospheric heavy metal deposition in Europe 1995–1996. Nordic Council of Ministers, Copenhagen

Schilling JS, Lehman ME (2002) Bioindication of atmospheric heavy metal deposition in the Southeastern US using the moss Thuidium delicatulum. Atmos Environ 36:1611–1618

Shakya K, Chettri MK, Sawidis T (2014) Use of mosses for the survey of heavy metal deposition in ambient air of the Kathmandu Valley applying active technique. Int J Ecol 19:17–29

Thöni L, Schnyder N, Krieg F (1996) Comparison of metal concentrations in three species of mosses and metal freights in bulk precipitations. Fresenius' J Anal Chem 354:703–708

Wei SH, Zhou QX (2004) Identification of weed species with hyperaccumulative characteristics of heavy metals. Prog Nat Sci 14:495–503

Wei S, Zhou Q, Koval PV (2006) Flowering stage characteristics of cadmium hyperaccumulator Solanum nigrum L. and their significance to phytoremediation. Sci Total Environ 369:441–446

Zhu P, Liew KM (2011) Free vibration analysis of moderately thick functionally graded plates by local Kriging meshless method. Compos Struct 93(11):2925–2944
Acknowledgments
This study was supported by the Priority Academic Program Development of Jiangsu High Education Institutions. We wish to thank the Co-Innovation Center for Sustainable Forestry in Southern China and College of Biology and the Environment, Nanjing Forestry University for providing laboratory facilities.
Electronic supplementary material
Below is the link to the electronic supplementary material.
About this article
Cite this article
Liu, C., Zhou, P. & Fang, Y. Monitoring Airborne Heavy Metal Using Mosses in the City of Xuzhou, China. Bull Environ Contam Toxicol 96, 638–644 (2016). https://doi.org/10.1007/s00128-016-1777-8
Received:

Accepted:

Published:

Issue Date:
Keywords
Biomonitoring

Heavy metals

Mosses

GIS